10th March 1943 - 22nd March 1943
My Marines are loaded into my landing fleet, and they are on their way to do landings near Washington. I wanted to do it around New York first, but decided against it. I want to keep my landing nearer the front line, because I want to do more encircling of US divisions.
Nebraska City is being attacked (again). I attack Saint Joseph from Kansas City to help out the defense of Nebraska City. I immidiate win the battle of Saint Joseph.
Just finished researching "1942 Mountain Infantry Division". Next up is doing nuclear research so I can field (early) atomic bombs.
I help out with another milita division to clear out the partisans in Shreveport. I have to say these milita divisions really struggle 1on1 against partisans. I am going to get the MP brigade on all of my militia, and their job will be to suppress the resistance in the provinces.
Got attacked in Ashville, so had to retreat.
I am trying an attack on Fort William, but it is heavily defended.
I quickly stop the attack. I don't want to do battles I am not winning clearly, as I will lose a lot of organization on it.
Victory in the attack on Saint Joseph.
To help out my divisions in Fargo that are under attack, I attack the US attackers in Minneapolis with 2 MTN divisions from Grand Forks.
Springfield is under attack. So I attack Saint Louis to help out.
Just captured Saint Joseph, and the immediately attack Saint Charles to help out my divisions in Springfield.
Success in defending Springfield. I stop the attack on Saint Charles.
I am being attacked in Chattanooga. I do the same again, and attack the US attackers from other provinces.
I then decide to instead of attack Knoxville with 4 MOT, I reinforce Chattanooga directly as they arrive there in 2 days.
I am doing amphibious assault on Baltimore since the province is undefended (and right next to Washington).
Victory in defending Chattanooga after 4 MOT divisions arrived there as reinforcements. I also stop the attacks on Knoxville and Nashville, as they were only to help out Chattanooga.
I have landed in Baltimore. Finally! I am half a year delayed, but I feel like the timing was really good anyways. I am really close to my other troops now, and I will hopefully break havoc on the US frontline when I do landing behind it.
I am moving all 5 corps (10 divisions). The attack on Washington has "support attack" from 2 divisions in Baltimore that later will move north.
I use a transport fleet to pick up 4 INF (w brigades) in Korea, so I can bring them first to Japan, then to USA.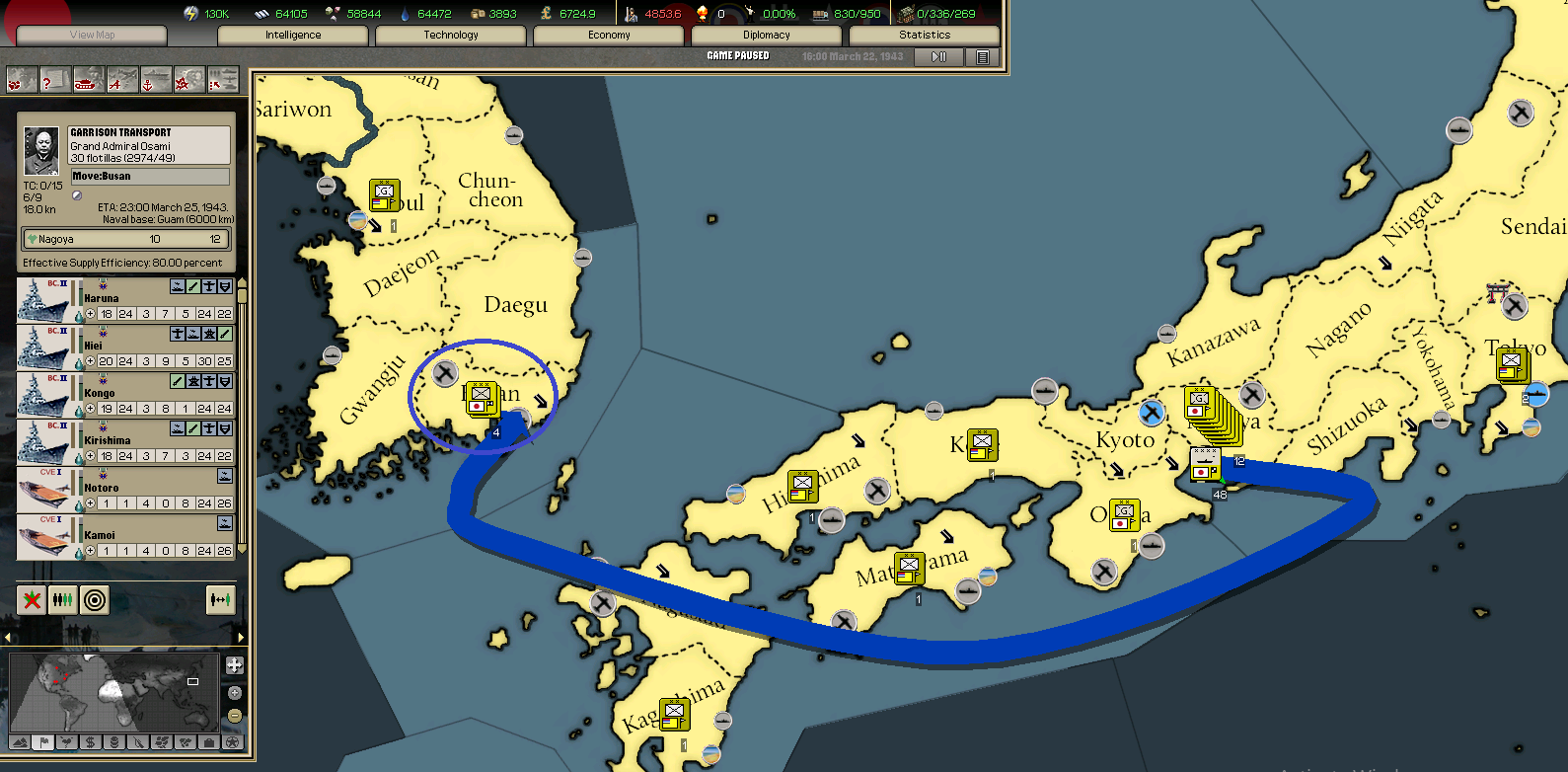 1
Reactions: