4th February 1944 - 25th March 1944
Victory in the attack on Harrisburg.
Being attacked at Hartford but does not look dangerous.
Harrisburg is mine, and soon I can destroy many US divisions.
Two new technologies finished researching; "Semi-Modern Battlecruiser" and "Infantery Equipment - Tropical Climate". Giving me all "Infantery Equipment" technologies. Next up I start researching "Advanced Medium Tank" and "Strategic Bomber 1939".
Destroying US divisions.
I sank an US ship outside Washington.
Washington is mine, and destroyed some US divisions there.
Destroying more US divisions.
Sinking more US ships; 3 Transports.
Attacking Boston, the last Victory-Point province of USA.
USA down to 17 INF divisions.
Marquette is revolting. I send Milita divisions there to take out the partisan division.
4 more infantery divisions ready for deployment.
The battle for Boston.
One more US division arrived in Boston. I am also launching an attack on Syracuse.
I have Boston!
But I can't annex.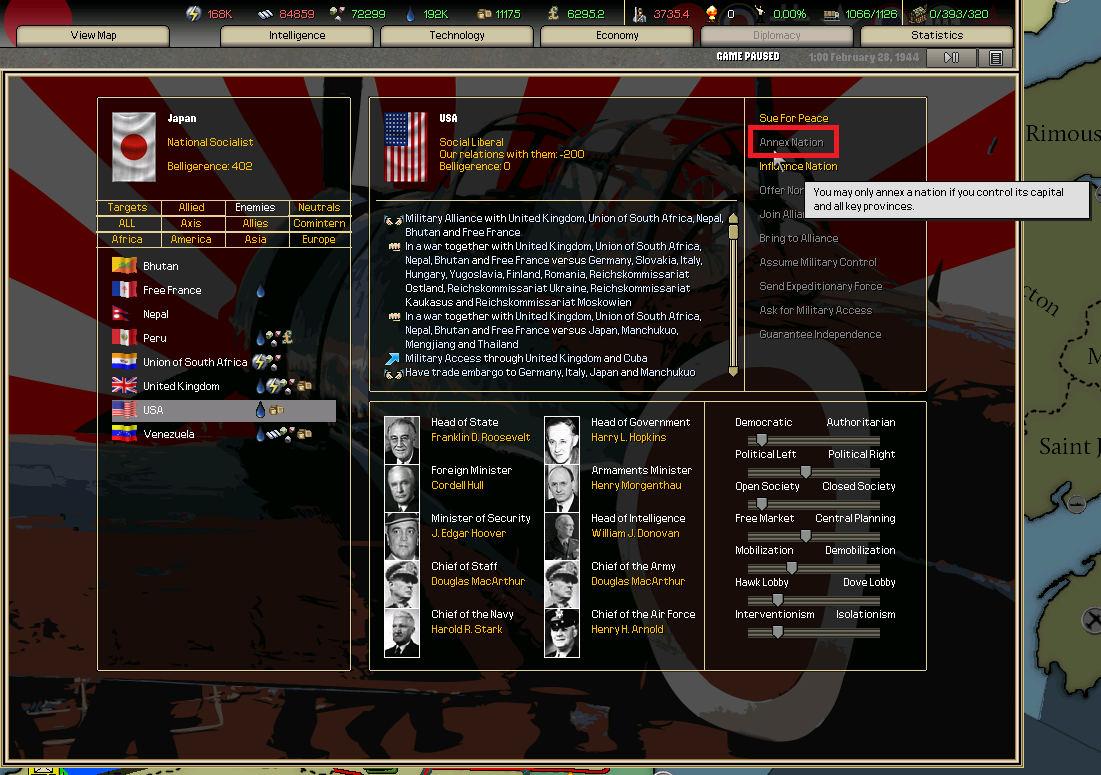 Because I had not seen that there is a Victory-Point province more in the Pacific; Midway. So irritating. Time wasted for the world conquest.
I immediately send my main fleet back to the Pacific.
The remaining of USA is not much.
I send some screen fleet to outside Midway.
2 INF, 2 GAR, 2 TP and 4 MIL ready for deployment.
Doing an Amphibious Assault on Midway.
I sink one UK Transport ship outside East Coast USA.
"Advanced Encryption Device" is finished researching. Next up is "Close Air Support 1940".
Midway is mine. But I used Manchukuo divisions, hehe, so it ended up in my puppets hands.
I can annex.
Done! I annexed USA
. I did it.
Current IC is at 477 now!
1
Reactions: