Chapter 4​
The Navarra campaign part 2 (1088-1091)​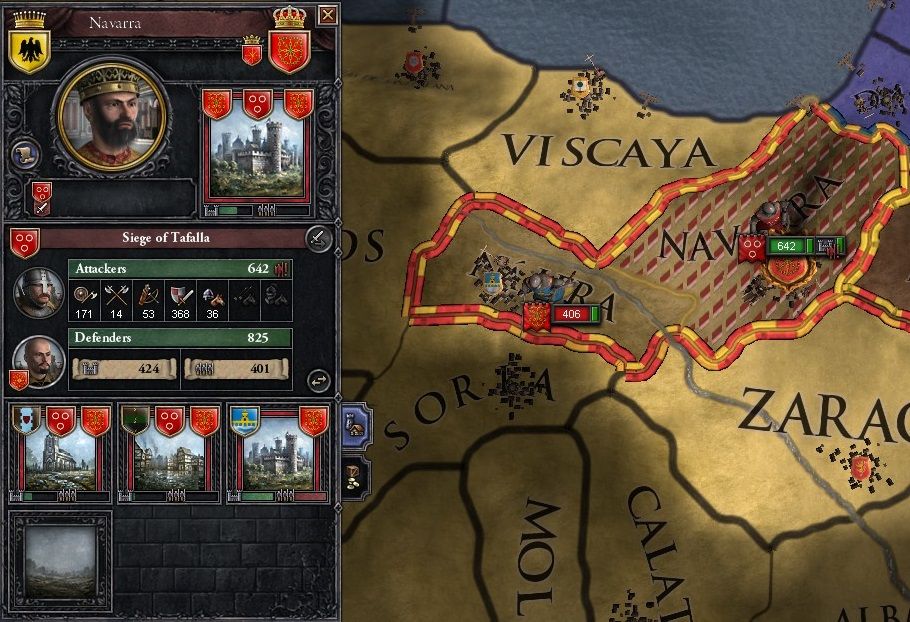 Siege impossible
By summer 1089, the Free Count controlled all holdings in Navarra, except the castle of Tafalla. The castle proved a formidable stronghold and the Count would need a larger army to effectuate a siege. Erramun had fled to Najera and fortified his army remnants. The campaign reached a stalemate. If left unattended, Erramun's army could recapture Navarra. If Guy attempted to assault Najera, he risked a costly defeat. Erramun's army was well positioned and had the terrain advantage.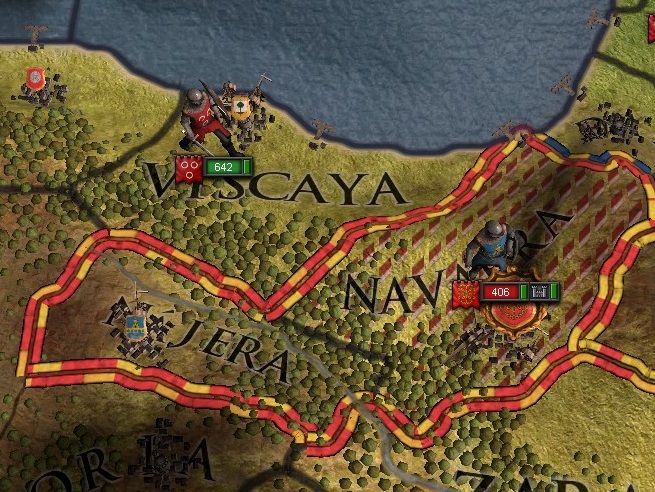 Mâcon feigns retreat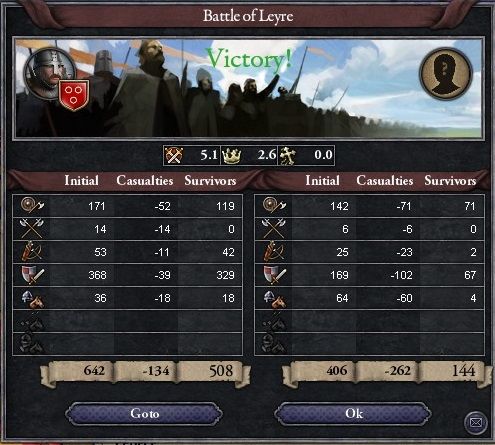 Erramun's remnants are routed
Instead, Guy feigned a retreat from Navarra in order to draw out Erramun's army from his defensive position. The trick worked: Erramun immediately ordered the recapture of Navarra once Guy's forces moved. Guy had chosen the place where the battle would take place: in the plains of Leyre, where his superior numbers could fight unhindered.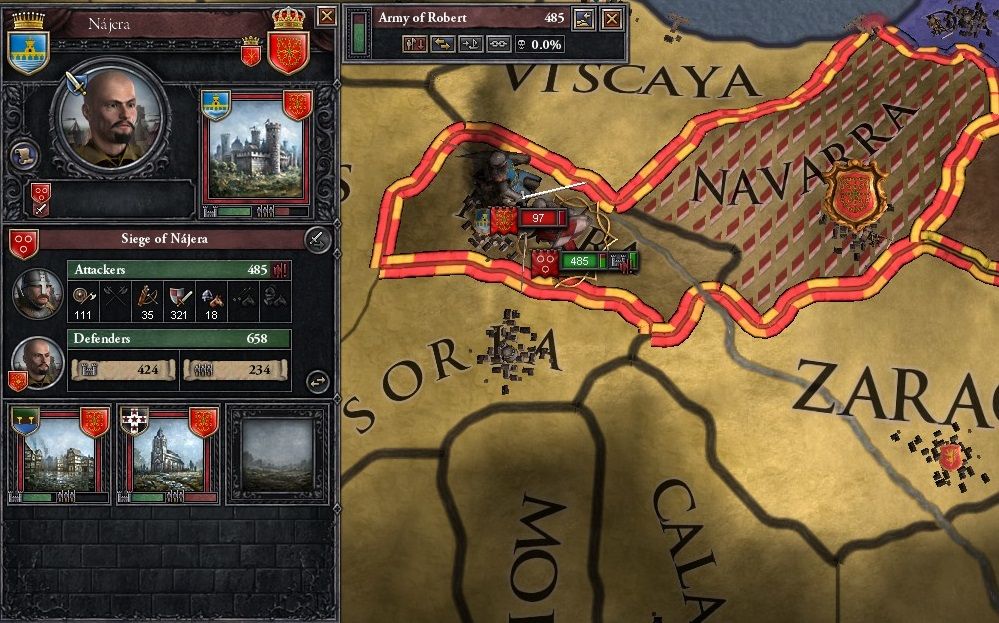 Spanish castles are tough
At the battle of Leyre, Guy routed Errramun's forces and pursued them back to Najera, annihilating them. Even so, the fortifications in Najera proved unassailable. Guy's army was unable to force a siege, but Erramun's army was destroyed. The army was recalled back to the Free Counties. Guy had another opportunity in mind.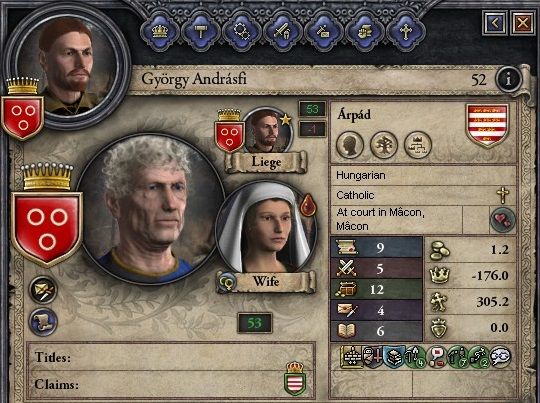 My son-in-law is older than me
Pernelle, his second daughter, turns 16 on 15th August 1089 and Guy seeks a worthy husband. Looking again in the east, he finds an old Hungarian bastard prince, György Andràsfi. The matrilineal marriage is sealed. Despite being 36 years her senior, Pernelle was grateful to her father. Indeed, the prince proved to be a suitable husband. The union would bear its fruits.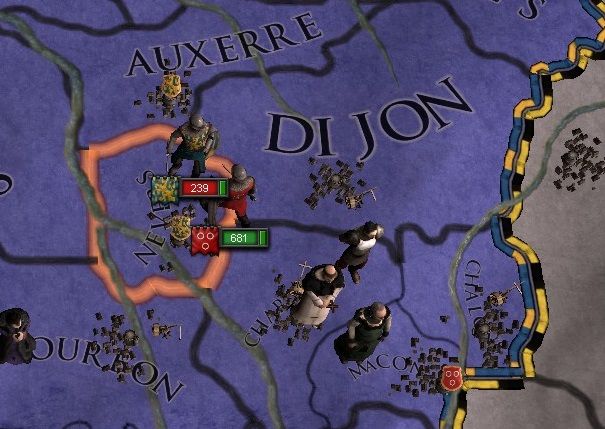 Mâcon marches to Nevers
Autumn 1089, the Free Count laid out an ambitious plan. Since the Navarra's army was destroyed, he hired mercenaries to finish the job. The sell swords would siege the remaining fortifications and subdue Erramun. Meanwhile, he used his personal levies to conquer the County of Nevers, his neighbor.
Guy underestimated Renaud of Nevers. The Count called Auxerre and Vendôme for help and they responded in kind. If all 3 armies managed to unite, they could prove an even match against Mâcon. Time was of the essence, and the Free Count quickly gathered his army before Nevers could withdraw to Auxerre. Guy then marched to Nevers where he caught the Nevers forces by surprise. Auxerre joined in the fight, but the alliance had suffered too many losses to recover. Vendôme never entered the Free Counties.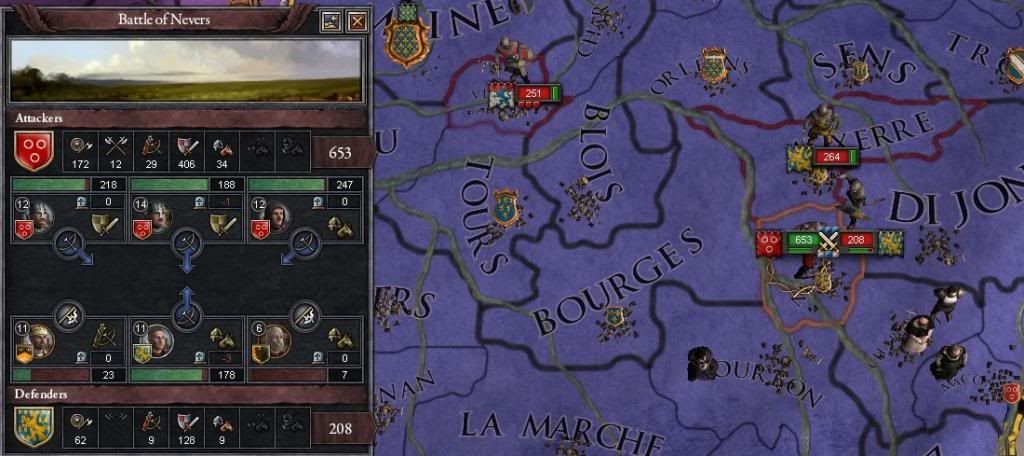 The alliance is struck before they join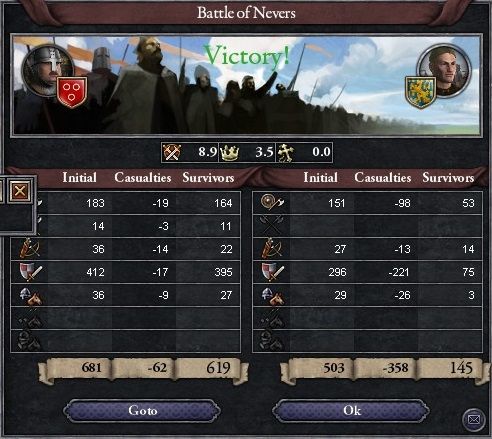 Mâcon defeats Nevers and Auxerre
In spring 1090, the mercenaries enter Navarra and lay siege to the barony of Tafalla. It was now only a matter of time before Erramun would surrender. Castille remained silent to his call for arms.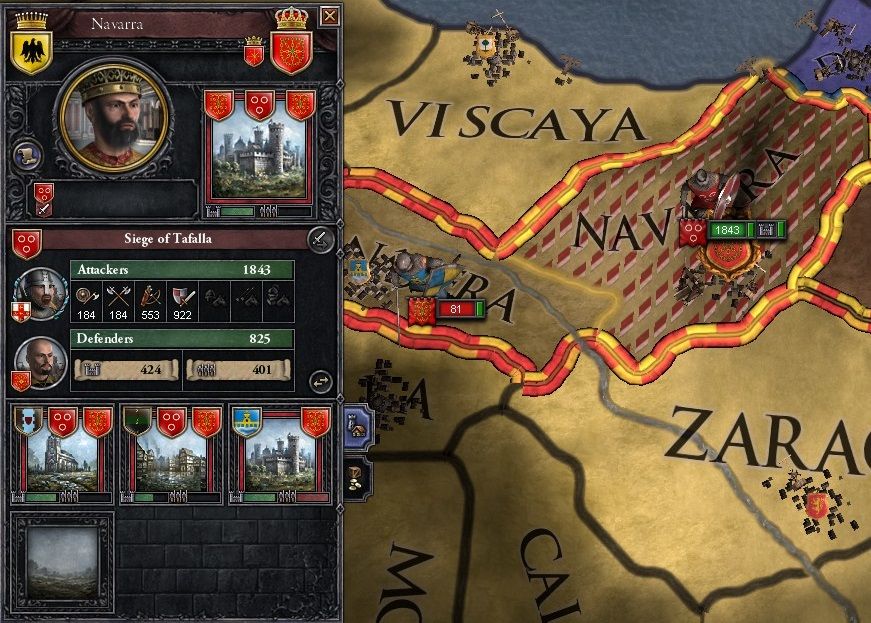 Give up already Erramun!
The First Crusade is launched
13th September 1090, Pope Paul II pronounced a lengthy sermon in Rome. He calls for all Christian rulers to unite as one and march to the Holy Land in order to liberate it from the Muslims under the Caliph al-Mustansir I. The charismatic Pope then launches the First Crusade, shouting "Deus Vult!" The long march to Jerusalem started. Henri II of France answered the call, but he never sent his forces east. Something was brewing in France that made him wary. Rumours about Philippe I' supporters preparing another revolt grew louder than whispers.
"Deus Vult!"
- Pope Paul II​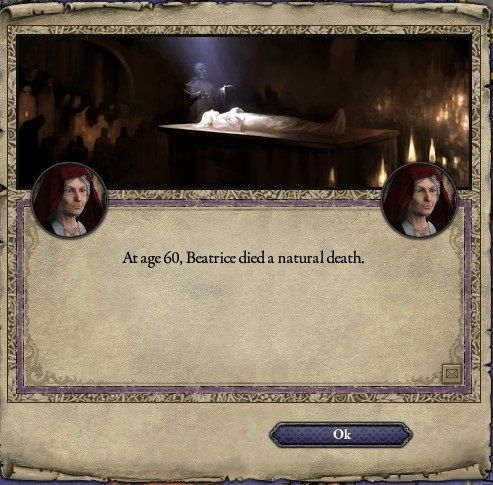 Farewell dear mother
3 days later, Guy's mother dies of old age. 16th September 1090. The Anscarids kept a small record of her last words on her deathbed.
"Your father would be so proud of you, my little Guy. I go to the Lord in peace and I keep the memory of my children and my grand-children with me. I'll wait for you in Heaven, where we all return after we have sinned on this earth."
- Béatrice, regent mother of Mâcon​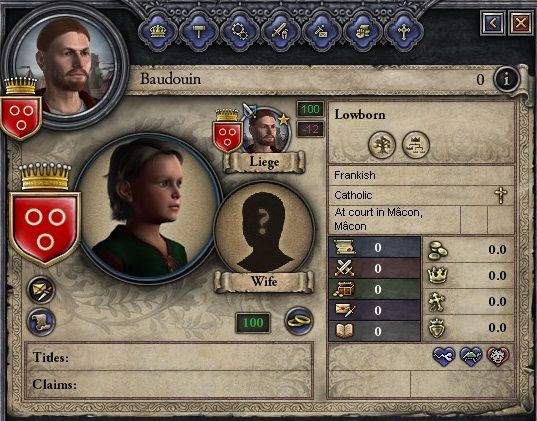 Poor little guy... I don't give him 10 years
This is not relevant to the story, but this young courtier was born around this time. I wonder if his lowborn parents were really brother and sister... They had no parents. Ah well.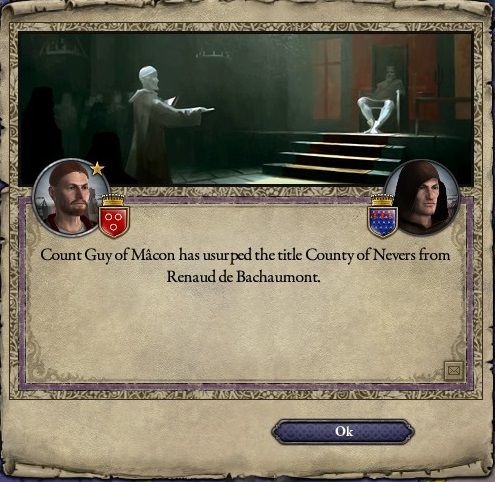 I'm getting used to it
March 1091, Nevers surrenders to Mâcon. Guy now controlled 4 of the 6 Counties in Burgundy. Only Auxerre and Dijon remained out of his sphere of influence. Auxerre's ruler was a young unmarried woman named Douce de Bachaumont while Dijon was part of the royal demesne. Guy attempted to secure a marriage between his oldest son Richard and the countess, but she refused. Douce's advisors were extremely wary of the ambitious Free Count about his increasing political power. Since a marriage would not happen, Guy would have to resort to force.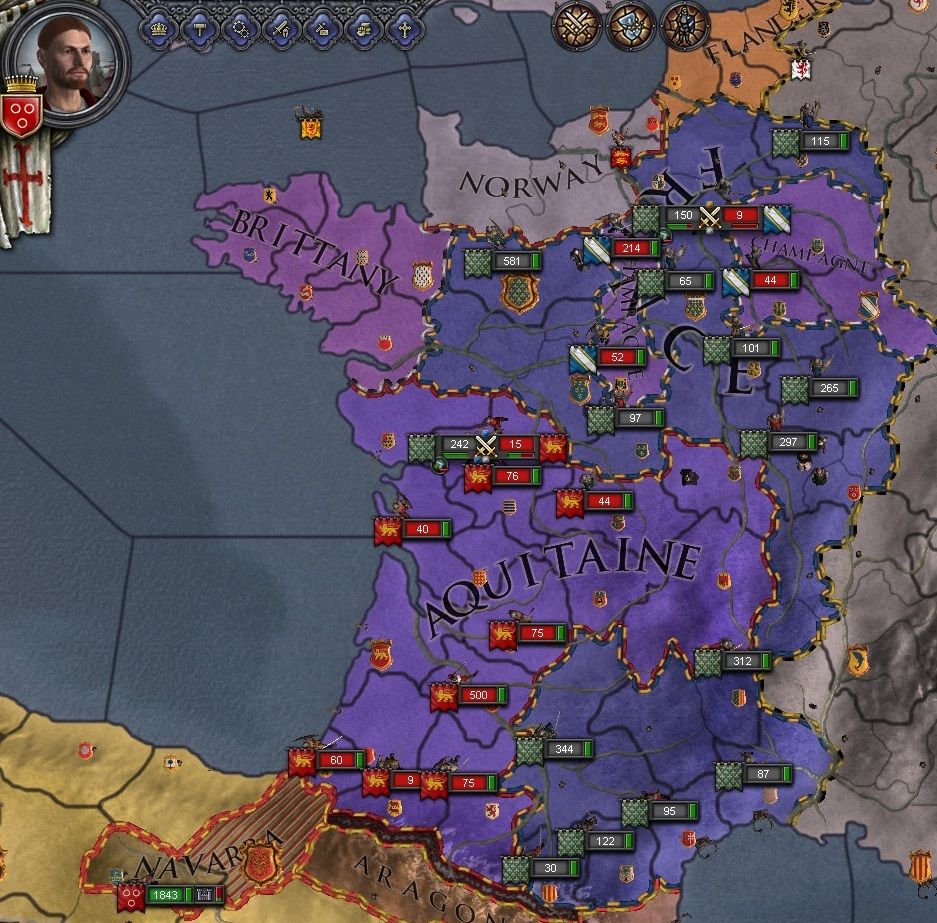 The 18 year war begins
Henri's II fears were confirmed in summer 1091. Philippe I's faction awakens and takes up arms against the king. This time, Aquitaine and Champagne oppose Henri II, both sides counting half of France. This long civil war marked a dark period in the history of France. The civil war could have been averted if Henri had executed Philippe, thus making the war void. He refused.
"I cannot risk executing my prisoner Philippe, lest my court views me as a tyrant. An honourless man cannot hope to lead for long."
– Henri II, King of France​
For those familiar with France's history, this is the beginning of the 18 year war (1091-1109). The civil war sapped so much strength from France that the country's frontiers diminished under Henri II and his following successor. Foreign forces seized the occasion to plunder France and conquer territory. The northern duchy of Flanders broke free from France's vassalage, only to be gradually absorbed into the Holy Roman Empire. Even Aquitaine would have to fight both the crown and their rebelling vassals. Only the Free Counties in Burgundy remained loyal to the French crown. We will return to discuss the civil war in the next chapters. There is much to describe about this dark period.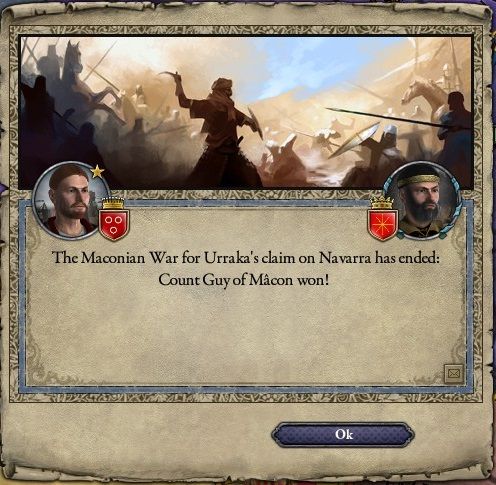 A count bests a king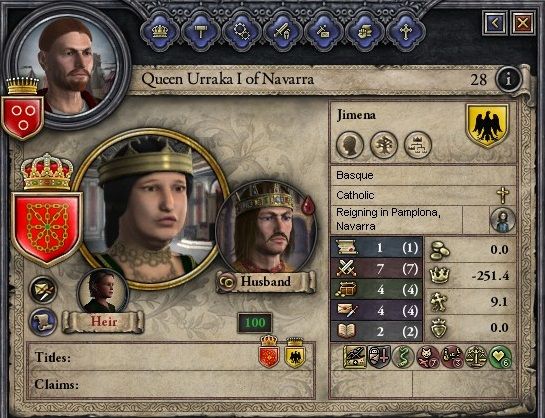 The new Queen of Navarra
But for now, let us return to Guy's story. In November 1091, the Navarra campaign ends with Guy as the victor. Urraka Antsez becomes Queen of Navarra with Guilhèm d'Ivrea as king consort. Guy boasted how a count managed to best a king.
"Nobles value blood. Clergymen value faith. I value power. In the end, it's always the more powerful who emerges victorious. Navarra is only one example where word and sword triumphed over blue blood."
- Guy d'Ivrea​
What Guy doesn't mention is that he used sell swords to accomplish all this. He kept this lesson close to heart. Prestige and faith cannot win wars on their own. However, diplomacy and coin make the difference when it counts. He taught the lesson to his children and descendants. After all, he would later say that nobles are fickle at best and treacherous at worst. Unfortunately, I was unable to find any contemporary source about Erramun or Navarra before their defeat. All that is known is that Erramun remained duke of Najera until his death.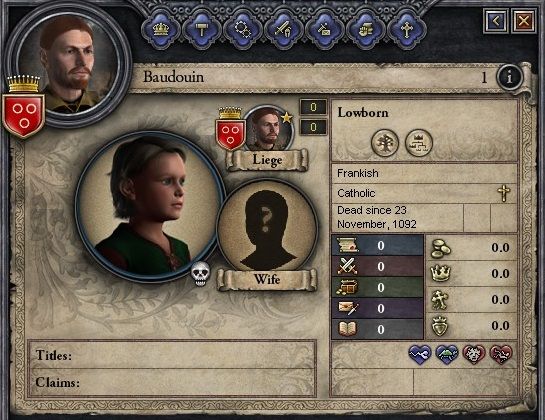 I had one zero too many
Last edited: