Anscarid d'Ivrea, the Free Count of France​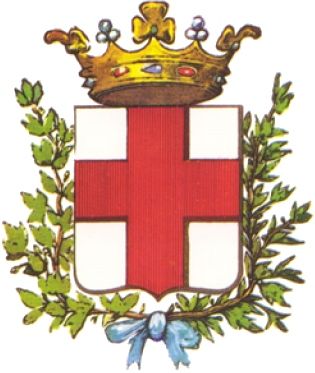 Mutantur omnia nos et mutamur in illis
All things change and we change with them.​
Last update 04/05/2014:
The Last Years of Richard III
Table of contents
here
Color legend
Green = Author comments
Red = Protagonist quote
Yellow = Contemporary quote
Gray = Narration
Introduction
Hello! Welcome to my first attempt at recreating a story. The main goal of this report is to recreate one of my previous game as the Count of Mâcon. I had first chosen this character because I liked how the name d'Ivrea sounded. Over time, I discovered there was more than just a name behind it... Hidden depths possess a nice potential to bring out a good story. Hopefully, I will succeed as well as I did in my previous incarnation. I have chosen to write this story in a historical way. More precisely, a historian is discovering this dynasty's history in the Middle Ages and is trying to separate fact from fiction. I plan to include quotations during key events. Hopefully, I'll be able to keep this promise. I shall let this fellow historian (fake) take you back to 1066.
Dear reader, I am Alexandre de Beaumont, historian, researcher and man of letters. I have been given the great honour of perusing through multiple ancient documents to write a concise history of the Anscarids, also known as the house of Ivrea, a noble family hailing from Burgundy.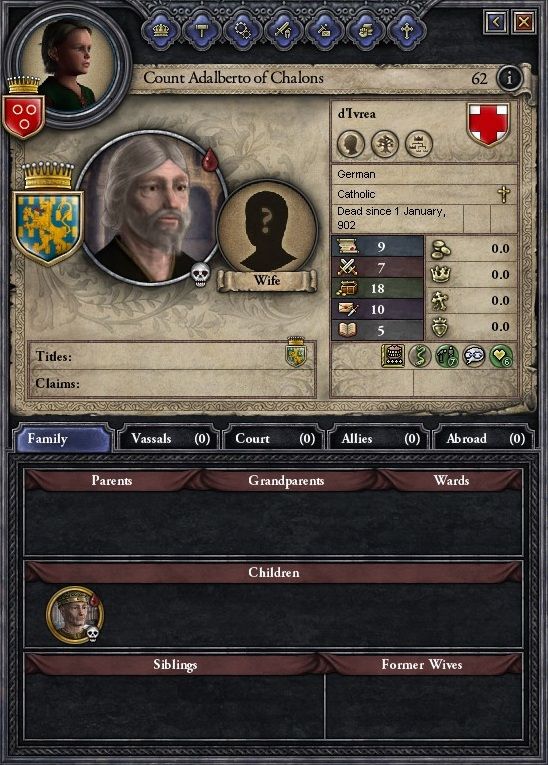 Founder of the dynasty
The history of the Free Counts begins with Anscar, the Count of Burgundy. In 887, he supported the duke of Spoleto, Guy III, in his attempt to claim the throne of West Francia after the deposition of Charles the Fat. They failed at claiming the throne; however, Guy III became king of Italy in 889. In recognition of his loyalty, the new king created the March of Ivrea in Piedmont and appointed Anscar as Margrave. He would bequeath his position to his son Adalbert on his death. His grandson, Berengar II, would become king of Italy.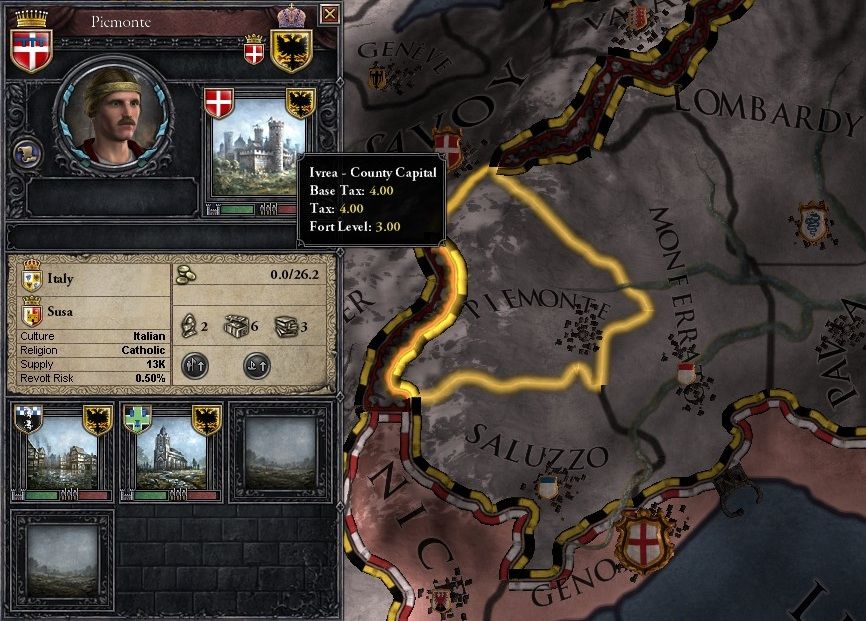 The March of Ivrea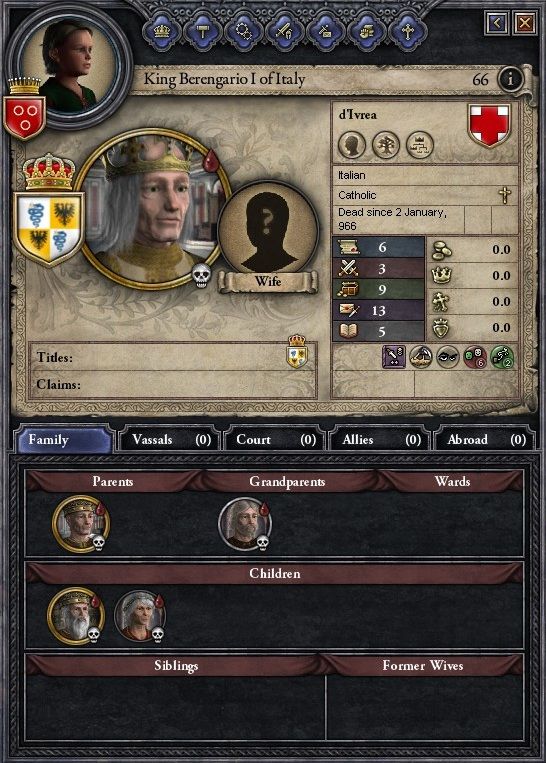 Berengar II, King of Italy
Berengar has been negatively portrayed in the Church documents I was lucky enough to read, despite his noble lineage. Berengar II was a direct descendant of Louis the Pious, emperor of the West, by his daughter Gisela. This makes Berengar a descendant of the noble line of France's forefathers: Charles Martel, Pepin the Short and Charlemagne. This fact would sear the defiant attitude of the Anscarids regarding succession laws. They would never accept the Salic law, which disqualified women from succession.

In 940, Berengar revolted against his uncle Hugh II, King of Italy. Initially unsuccessful, he fled to the court of Otto I, King of Germany. Otto refused to choose sides, but allowed Berengar to return to Italy in 945. Finally, in 950, Hugh II relinquished the crown to his son Lothair, though the real power rested with Berengar. The puppet king would only reign briefly before dying from poison.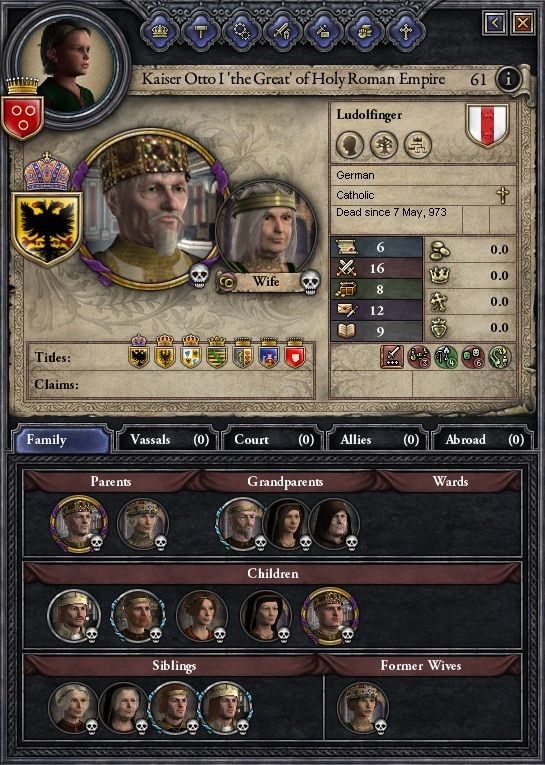 Otto I
Berengar II and his son Adalbert, now Kings of Italy, attempted to affirm their authority by marrying Lothair's widow to Adalbert. Adelaide, the young widow, refused and was imprisoned. She managed to escape to the court of Otto I in Germany. Himself a widow, Otto I married her and invaded Italy. He crowned himself King of the Lombards and forced the Kings of Italy into vassalage. The Anscarids remained Kings of Italy, but would never become loyal servants of the future emperor.

In 953, Otto's son revolted against him and Berengar seized the opportunity to break free from his yoke. However, in 960, he marched against the Papacy and the Pope called Otto I for help. The German King once again marched to Italy, although this time, he would kill two birds with one stone. Berengar's troops deserted him and Otto I declared him deposed on Christmas 961. February 2nd 962, Otto I was crowned Holy Roman Emperor and then turned his attention on Berengar. The Italian King was eventually captured and died in prison, in 966. Adalbert fled to Burgundy in disgrace.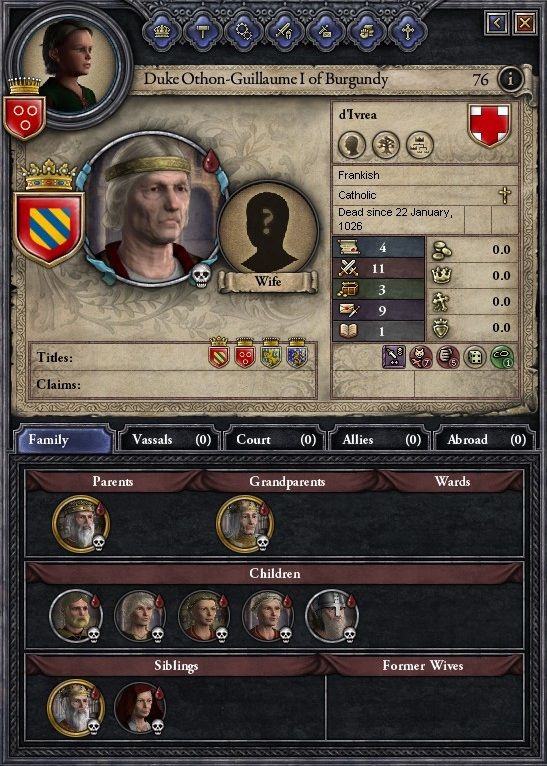 Otto-William, duke of Burgundy
Few contemporary sources mention the fate of Adalbert's family at this point, but one name kept appearing: Otto-William, Adalbert's son. According to these sources, Otto-William rose to prominence by unifying the counties of Mâcon, Nevers and Burgundy under his rule. He inherited the duchy of Burgundy from his step-father Henri the Great. His great ambition saw the Free County of Burgundy independent from German rule. The Free Count's legacy would not live long after his death in 1026. Soon after his passing, the three counties were split among his children and the Free County of Burgundy was incorporated into the Holy Roman Empire. The Anscarids were now split by a border, reduced to a mere shadow of their Italian glory.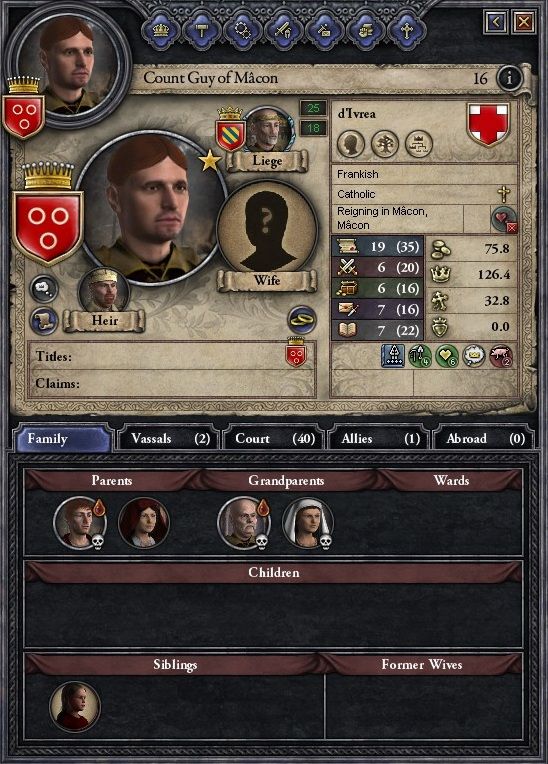 Guy d'Ivrea, Count of Mâcon, age 16
Ah, but here's where things start to get interesting. A few generations later, the name d'Ivrea appears once again in France's history. The year 1065, around the time when William the Bastard embarked on his campaign to conquer England, a young boy becomes Count of Mâcon after his father died suddenly... His name was Guy d'Ivrea, Count of Mâcon, age 10.

From this point, it is now possible to go in further details. Sources have been very well preserved and provided me with a detailed account of their successive title holders. One must not be over enthusiastic and should take in consideration that even contemporary sources can be misleading. As your guide, I shall do my best to provide a clear understanding of the events regarding this dynasty. Together, perhaps we can find one of the many truths hidden under the various sources that shared their legacy with their heirs: us.

Will you accompany me to learn about this forgotten dynasty? Will they prove themselves as rightful heirs of the grandfathers of Central Europe? Will you journey with their sons and daughters as they struggle to restore their former glory? I invite you to travel with me, fellow reader, so that we may relive the events of this family and learn what they have to tell us.
- Alexandre de Beaumont
Last edited: