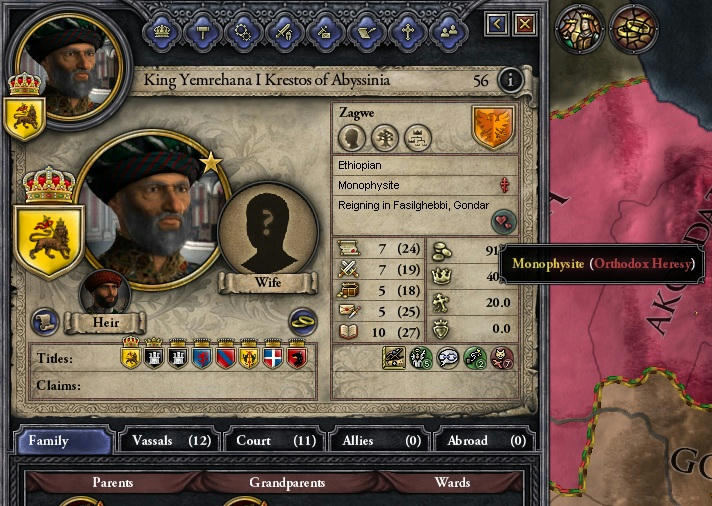 This is me. I'm 56, Monophysite, and looking for love. Monophysite is not a skin condition, but rather a sect of the Orthodox Church. We view ourselves as the only true version of the Orthodox Church. "We" meaning the Duke of Axum, myself, and the people of our small, respective realms. The rest of the Orthodox Church (including the Byzantium Empire, mind you, and all the Russians) consider us heretics and worse than infidels. The main point of difference is a bit subtle, something to do with believing that Jesus was of one divine nature after incarnation, whereas the rest of the Orthodox world believes he had two natures, divine and natural. I notice that the religion tab of the ledger doesn't even bother mentioning us. I do have the option of converting to Orthodox, but at a cost of 500 piety (I currently have 30). So I can be a slightly pious heretic or an extremely impious Orthodox. On a side note, most Catholics don't mind us, except for the zealous Pope, who hates us with a passion. Here is one of the rock-hewn churches for which my Zagwe Dynasty is famous: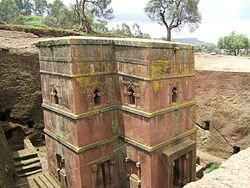 I'm pretty average at most everything, except my career at which I am clueless. But I don't have any traits that would anger vassals, which is a plus. Not that I have any vassals that could do anything about it at the moment. Also somehow I manage to combine the trait of moderation with being an intemperate wastrel. Maybe I spend a lot of money not on myself but on stupid and frivolous ventures.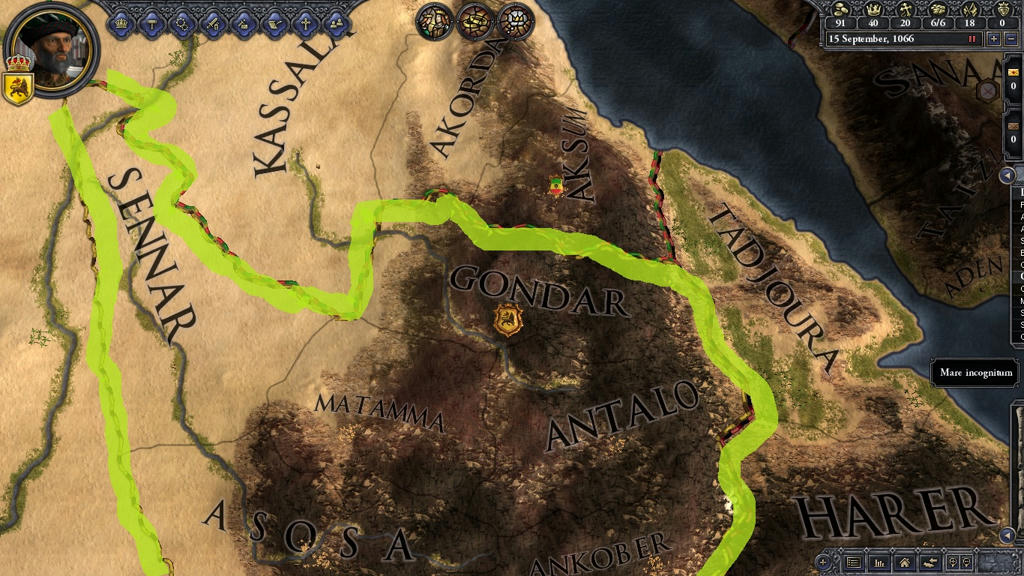 And this is our fertile season.
Abyssinia is tucked away as far as a medieval mind could imagine from the green forests and (relatively) populous towns of Europe. My capital is in Gondar, a uniformly mountainous area except for a sandy bit to the west. Travel is slow but one would hope my realm will be easier to defend. One would hope. Here are some typical views: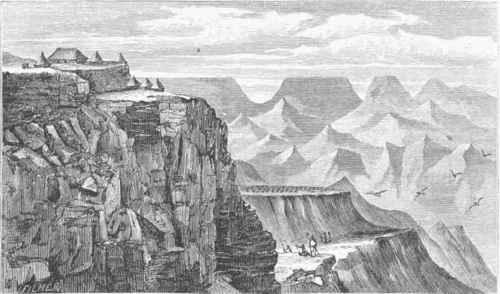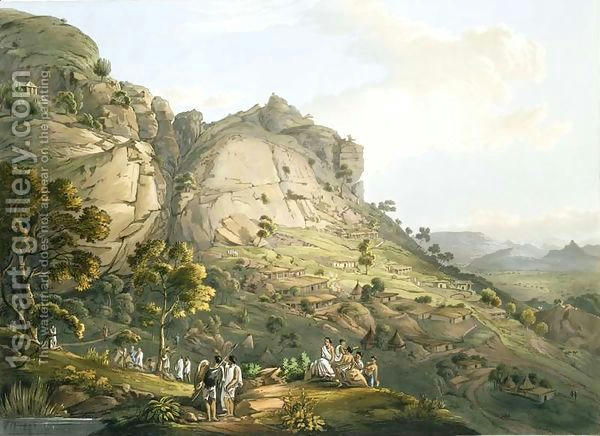 The first one seems a bit lonely, doesn't it? But if you get up close, there are a fair number of fun folks—on the second one is a typical village.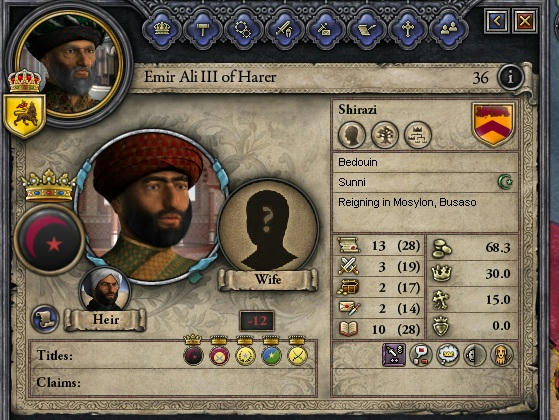 To the south and west are arid wastelands. Of more interest are my neighbors to the east and to the north. My eastern neighbor is Emir Ali III of Harer. He is trusting, shy, honest, and an infidel. He dislikes me a little, but I hate him, largely because I desire the land of Harer. The Emir will have to go. Unfortunately, many Muslims feel that Harer is the fourth holy city, so I can expect them to try to get it back once I take it. This is probably as good a time as any to mention that there are massive Muslim populations to the northwest, north, northeast, and to the east. We Christians down here are very alone.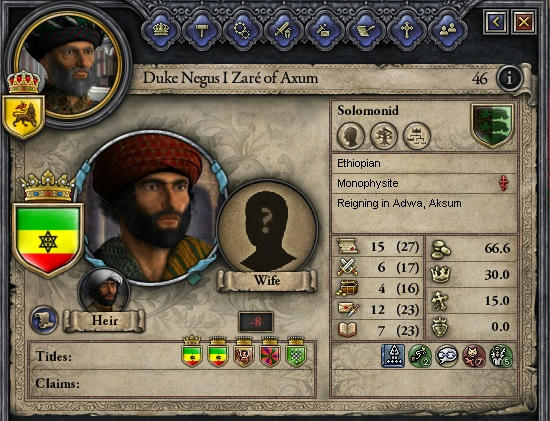 My northern neighbor is Duke Negus Zaré of Axum. Given he is the only other ruler of the Monophysite faith, you would think we would be the best of friends, covering each other's back against a hostile world. You would be wrong. He dislikes me because I own the County of Sennar, which falls in the Axum de jure duchy. Dude, your great-great grandfather Di Na'od lost it to my great-great grandfather Mara Takla Haymanot 150 years ago when Mara Takla married one of the Axums and started my Zagwe dynasty. Time to move on. Anyway, Axum falls completely in the de jure Kingdom of Abyssinia, of which I am king. So if anything he should just be glad he's still independent.
North of Axum are the Nubians, who are only relevant to me because one of their counties falls within my de jure kingdom. The Nubians are Orthodox Christians and so hate me as a heretic. The Nubians themselves neighbor the largest Muslim empire in the world, so it sucks to be them.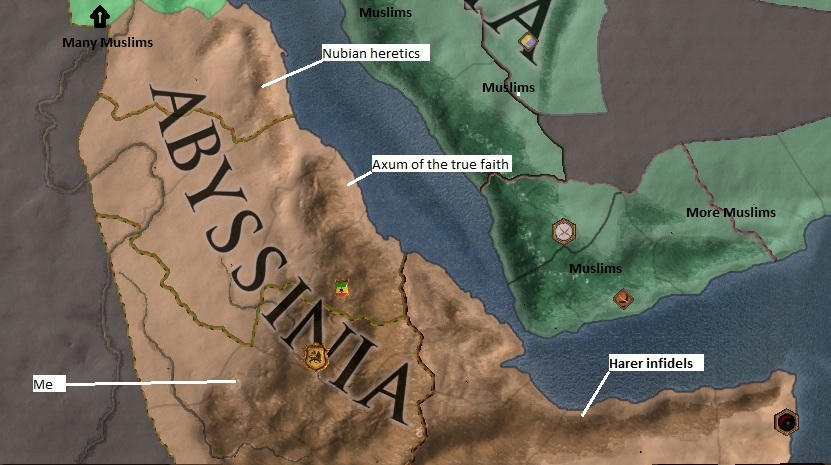 A map showing the de jure Kingdom of Abyssinia.
Here is my unofficial dynasty goal: Reclaim all the lands of my de jure kingdom of Abyssinia and make it a Christian power to rival the great European kingdoms. And also not be crushed into oblivion by the multitude of nearby infidels. To do this I will make some careful yet bold diplomatic maneuvering to attach my yoke to that of the biggest, strongest Christian nation which doesn't view me as a heretic: the Holy Roman Empire. That is the plan, anyway. This is the Middle Ages, what could go wrong?
Last edited: