Chapter 7
Ten years respite from the predations of the infidel Caliph will be helpful. As soon as the tournament is over, we can explore all our options and begin laying down strategy for our mighty return to power. So to escape from my larger problems I turn to decisions about what color tablecloth to use for the tournament refreshments, and who I should sit the incomparably dull Bishop Afework next to, perhaps next to… Oh, by the One-Natured God. Yet again?! How is this possible?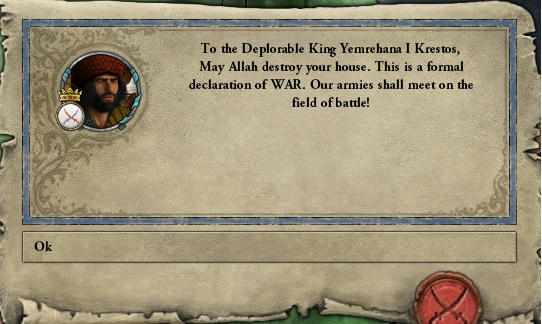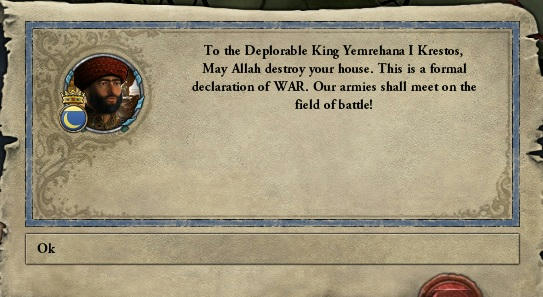 From across the waters of the Red Sea, in the southern part of the Arabian landmass, independent ruler Emir Fadl "The Ill-Ruler" of Sanaa heard reports of my weakened state and thought he would not do ill to benefit from it. With his just one puny county and a total levee of 1,018 he could never had beaten me before the Sack of Gondar Duchy. Now it will be easy for him. His casus belli is a Holy War for the duchy of Harer, the duchy which my son, Prince Kedus Harbe, cannot defend--the sullen Muslim population still resent their Monophysite overlords and wish for someone like Emir Fadl to liberate them. As soon as we receive Emir Fadl's declaration of war, we receive another, this time no less than the Emir Abu Mansur al-Nizar of Sinai, the same individual who started the blood bath against Azum. If easy spoils are to be had, Emir Abu Mansur doesn't want to leave them to riffraff like Fadl. The fact that Abu Mansur's liege has a truce with me means nothing to him in his private war. I doubt the Caliph will be sympathetic. We Abyssinians have a saying: "Lions leave, hyenas come, and gazelles laugh until morning." Actually I have no idea what it means, but it seemed to be relevant.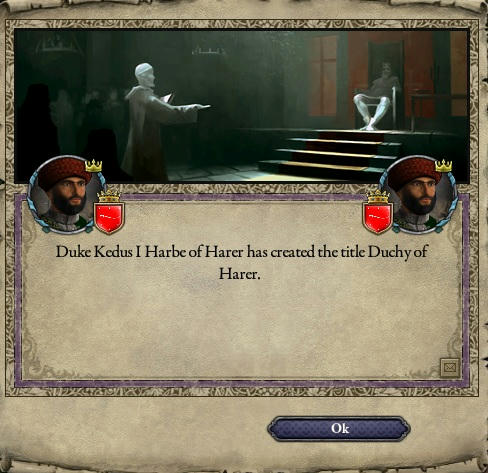 Suddenly my son springs into action to defend Harer, making the surprising--yet wholly unhelpful--move of creating the title of Duke of Harer.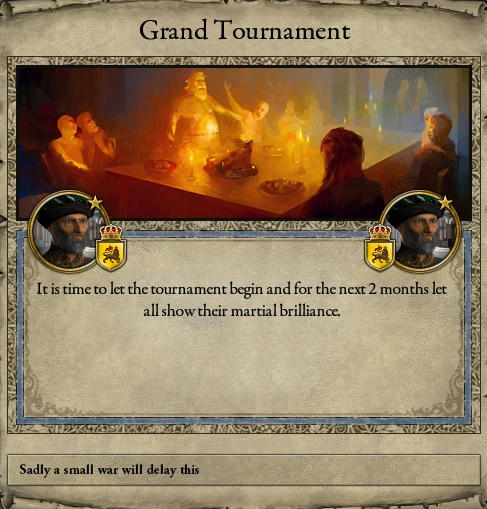 At least I get my tournament money back.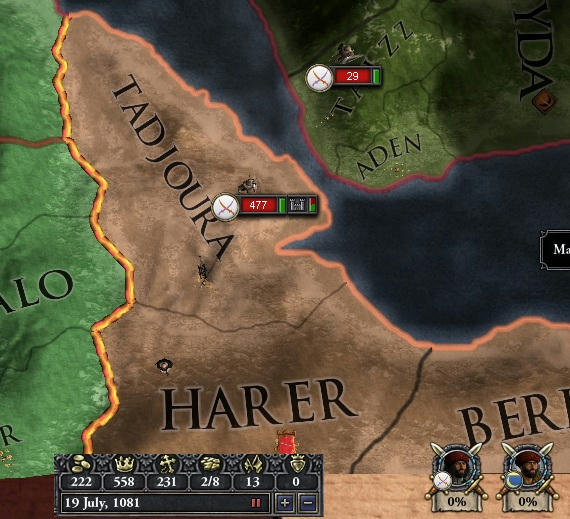 This is humiliating. This guy is attacking me with 500 troops and I cannot defend myself? Anyway, soon Emir Abu Mansur al-Nizar shows up with 1,300 troops to show his brethren how it's properly done. I can do nothing but sit and watch.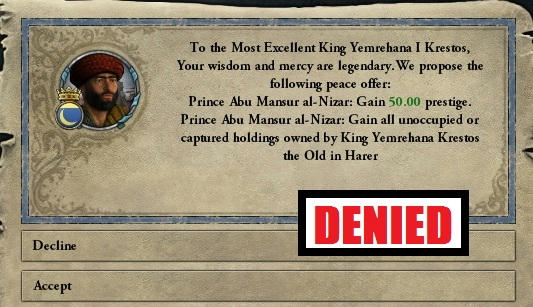 Prince Abu Mansur offers peace for the duchy of Herar. To spite him, I offer the lowly Emir Fadl the same deal and he accepts, getting most of it. The extent of my power to influence the region appears now to be limited to who specifically will enjoy the spoils from my remains. More noble refugees pile into my last county, including my son, his cynical wife Unia du Comborn (who still dislikes me partly because—inexplicably--she is envious of me), and his five children. Honestly, I didn't know I had five grandchildren. In my defense, I had a lot on my plate. One silver lining of the entire realm being torn apart is that people who normally would get all bent out of shape over your not knowing you had five grandchildren don't seem to care in the slightest.
I'm also surprised to see that the youngest of my son's children is a bastard from an affair he had with a Muslim woman in Sicily. How the hell did he manage that? But after waiting many years for his subjects to accept him, and now having lost his duchy and all prospects for a kingdom, Kedus is now much worse for wear: he has become slow and stressed. At 73, I have become known unimaginatively as "the Old." Indeed, I have lived past the age of my father, his father, and his father. On an unrelated note, I find out that my old generals Hagos of Gish Abay and Gebre Sawakin are now both dead, the former in the attack on Herar, the latter after languishing in a Cairo prison.

There seems nothing left to lose. I guess I should feel honored, as the Caliph himself has chosen my old capital in the County of Gondar to make his new home. With a long stretch to get to it and nestled in fairly fertile mountains, it is a pretty good place to call home. Probably what sold him on the area, though, was his trying the tej. Many others have tried in vain to copy our regional beverage. By December of 1083 he has stripped the duke title of Gondar from me.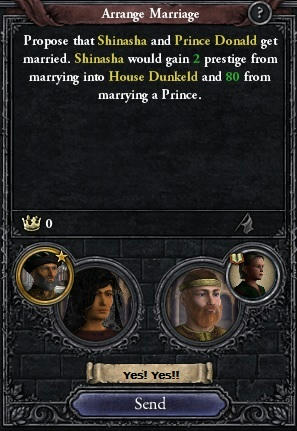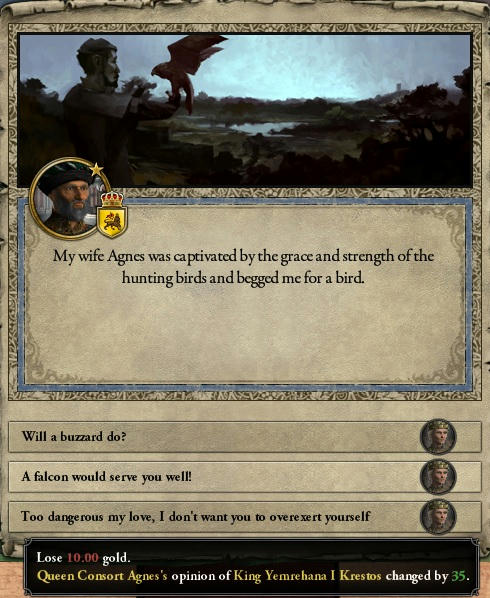 Love in the time of holy wars.
So that someone can be happy, I marry off a courtier to wherever in the world I can put her. Scotland's appetite for Abyssinian mates is still unabated for some reason.
I spend extra to please my wife, the one that is the mother of the unhelpful Kaiser of the Holy Roman Empire. I spend almost a year's worth of income for what's left of my kingdom. She's been through a lot, plus what the hell else can I do with the money?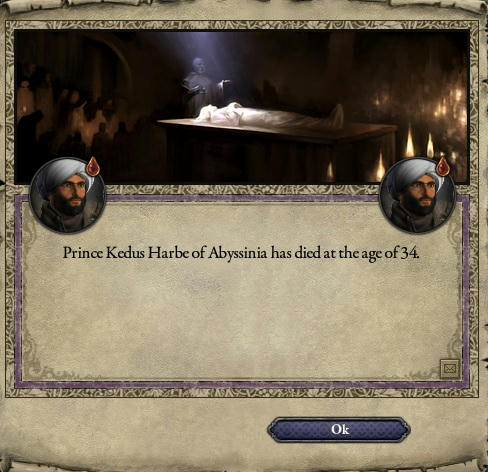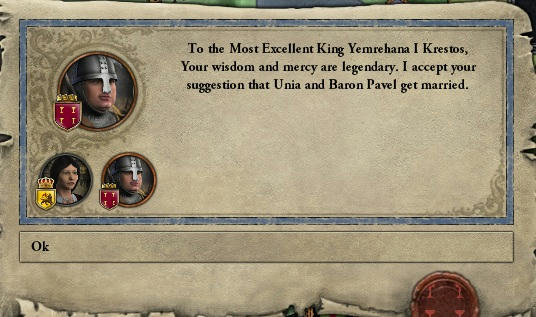 Prince Kedus Harbe dies. The heir to what is left of my Kingdom is now my eldest grandson, Tesfaye, a shy, fearful boy with a cynical attitude and European looks. Who knows, maybe that's exactly what we need.
I marry Kedus's widow Unia to a 16 year-old Russian to finally get her off my back. It's only when she has been sent off that I remember that they will hate her as a heretic because I had convinced her to convert to Monphysiticism. Oops! Remember the good times, Unia!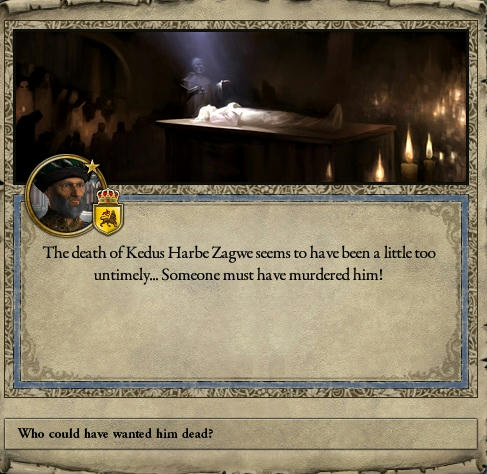 What? I find out that my son had been assassinated. By the Single Beautific Nature of God, if that isn't kicking someone when they're down I don't know what is. In any case, I can't think of any benefit anyone will have by my son's being dead… except, well, perhaps the husband of the Sicilian Muslim. Kedus didn't see that one coming?
Then my Chancellor tells me that the general of the Caliph's army that sacked Gondar, Prince al-Mustali, was indeed awarded the Sheikdom of Azum as a reward for his decisive victory over me. He will forgive me if I don't send him a letter of congratulations.
Kadus's death and the news about Prince al-Mustali both burn in my mind, along with the embers of my still-glowing ambition. Even at 78 years of age (and those are Medieval years, mind you), I tire of patiently waiting for the Fates to bring what they have in store for me--I want to wrest from their hands whatever further delights or tortures remain in my lot... OK, I'm not too hopeful about the possibility of delights, but I'm sick of waiting. I summon my marshal, Ogbai Ambassel, a man who barely knows which end of a sword to hold, and explain to him my plan, as he stares back in shock and confusion.