0100 January 15th 1947.
The Skies Above Vladivostok.
Air General Shima had the dubious honour of trying to destroy the Infantry division that was currently defending Vladivostok. One of only two airbases controlled by the Soviets in the area it was not likely to be completely undefended. This would be the case as eight Tactical bomber squadrons arrived over their target at dawn.​
They were greeted by one Polish Interceptor squadron which was easily handled by the Escort Fighter equipped bomber squadrons. The problems got a lot worse for Shima twenty fours later when a full Polish Interceptor wing arrived. Losses began to mount for the bombers as they tried to continue their mission until Shima ordered them to return to Sapporo.​
0100 January 15th 1947.
BB Division 1 Flagship. IJN Yamato, In Transit.
Ozawa was still a fair distance away from the Indian Ocean when parts of the Imperial Japanese Navy began their next mission. Carrier Group C was providing protection for 8. Kaigan as Mikawa sailed from Karachi with three Infantry divisions onboard his Transport ships.​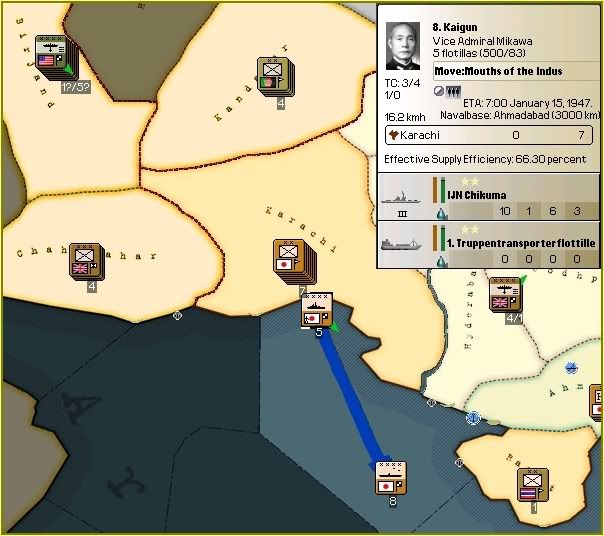 His destination was secret of course, but would not remain so for long. More ships were arriving in the area almost weekly with both Japanese Carrier Groups already having seen combat. Carrier Group D was carrying out repairs in Colombo as CA Division 3 arrived in Ahmadabad. Ozawa would take longer to be of much use as he had not left in advance like most of the fleets had done because BB Division 1 had supported operations around Vladivostok.​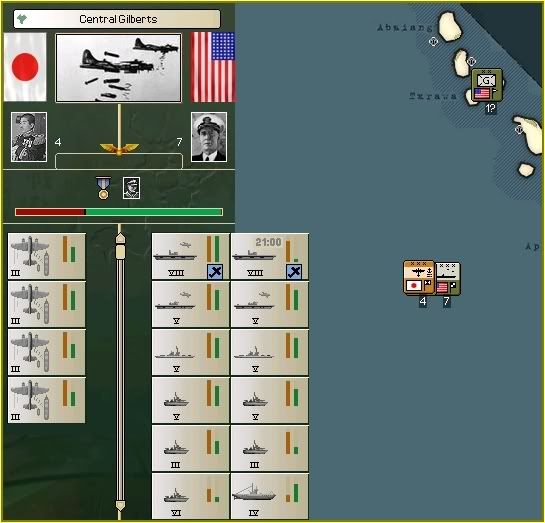 At 1700 hours on January 16th Ozawa received word from Ichimaru and Genda who had been tasked with hunting down Admiral King and the USS Shangri-La. After four hours of combat one of the escorting Destroyer Divisions had been sunk and the Carrier had begun to take damage as well. The hunt would continue as King headed west towards Japanese controlled islands.​
Good news arrived at midnight on January 17th as two new Light Carriers, IJN Ibuki and IJN Taiyo, left Japanese shipyards and made their way to join BC Division 1 in Tokyo. Admiral Koga would support operations around Japan and the Siberian coast until the two Battlecruisers under construction were completed at which point another task might be more useful.​
0100 January 17th 1947.
Kwantung Army Headquarters. Mukden, Manchukuo.
A moderately large Soviet army had moved forwards to occupy Erenhot province. Terauchi responded to the request from his fellow Army commander Higashikuni to remove them.​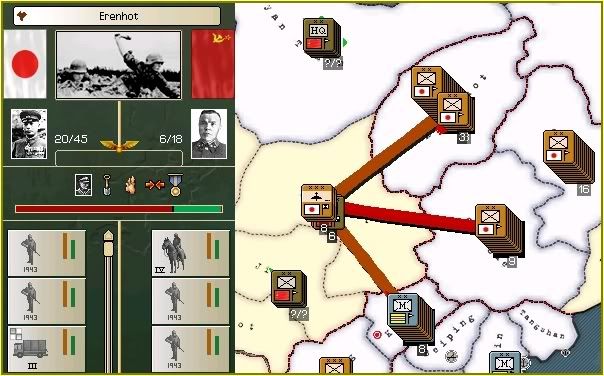 General Nishio led the twenty divisions from Japan, Mengkokuo and Manchukuo as they forced the enemy to retreat before sunset. The assistance of Dive bombers speeded the process along and these bombers would have plenty of targets for some time. Soviet forces were still moving behind the lines as the Red Army mustered for the coming Spring.​
0100 January 17th 1947.
The Skies Above Vladivostok.
Japanese Tactical bombers had been damaged during the previous attacks against Vladivostok but Shima was ordered to return with the six squadrons that were not badly damaged.​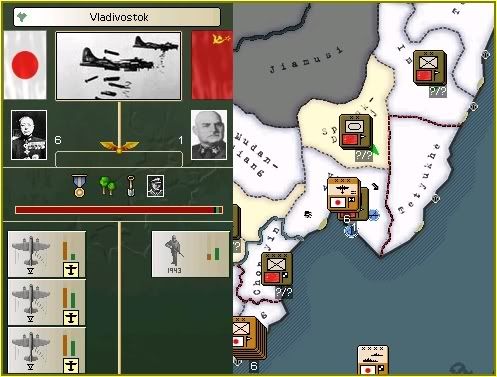 The single Soviet Infantry division was nearing destruction which might allow a small chance of invading the province if it could be finished off.​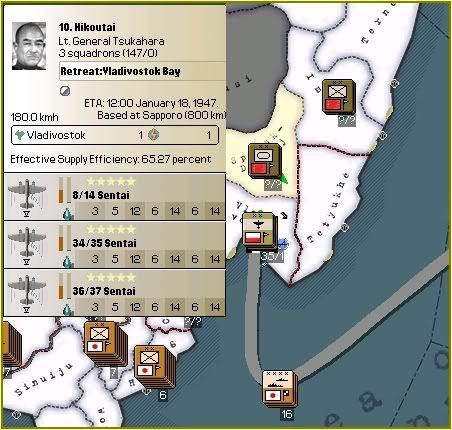 Shima returned on the 18th to try to do just that but was met by the large Polish Interceptor wing which arrived before the bombers could accomplish their goal. Tsukahara's bomber wing suffered the majority of the damage as it had no escorting Fighters.​
2100 January 17th 1947.
The Skies Above the Northwest Gilberts.
Ichimaru and Genda had temporarily lost King but they did manage to reaquire their target on January 17th as he headed towards the Solomon Islands.​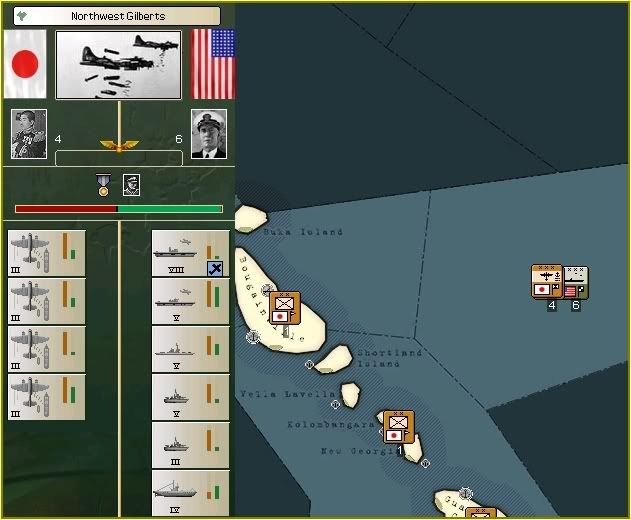 No ships would be sunk on this occasion but the USS Shangi-La was beginning to sustain considerable damage.​