1400 June 19th 1944.
Imperial Palace. Tokyo, Japan.
Emperor Hirohito had, until now, rarely intervened with the running of the Government of his Country. He was typically above such things and the members of Japan's Government only sought his approval when they were all in agreement on a plan or course of action. The current War was not going according to plan and his people were suffering greatly as a result, it was time for a change in philosophy, for the sake of his people.

In general the plans for Japan's expansion had gone well and He had agreed to most of the measures taken to ensure Japan's future. Japan's armies had never known defeat, but defeat was something they most definately were facing, as they tried to prosecute a War against superior technology and numerous foes. Their Allies, most notably Germany, were failing fast, and it was looking more and more likely that Japan would face most of the World's armed forces alone in the near future. Something had to be done to alter the present course and He would have to intervene directly to see that it was done. This was why he had summoned the current Cabinet to his residence.​
"Good morning Gentlemen. We are here at His Imperial Majesty's request and I think we should outline the current position before we get down to why He has summoned us here." Tojo Hideki, the Head of Japan's Government began.

"That will not be necessary Prime Minister." Hirohito said. "I am fully aware of the current state of both the Country and its enemies."

Most of the Supreme War Council were stunned by this response, although some hid it very well. The Emperor rarely even spoke during these meetings, being shy and reserved, as well as being above the trivial runnings of Japan. Something was obviously going to change this day and maybe not for the better.

"It has become apparent that things are not going Japan's way in this Far East War. Traditionally the Emperor does not become directly involved in such things. Sometimes traditions need to be modified, and now is one of those times. My people are suffering greatly and I am no longer prepared to sit idly by and let it continue. My people will have to make more sacrifices to achieve Japan's aims, but they will do so knowing that their Emperor is guiding them." Hirohito continued.

There was no outcry, or complaint to his words, He knew there could not be. He was Japan.

"There are to be some changes to the Governance of Japan. No member of Government can be expected to run more than two departments of that Government as efficiently as they need to be run, especially in times of strife. Prime Minister Hideki is currently being expected to control four different parts of Japan's Government. The Prime Minister is not at fault in any way for trying to manage things in such a way, and is to be commended for all of his work thus far. Two of the departments currently under his control will see a new minister and one current minister shall be replaced with one more suitable for our current military doctrine."​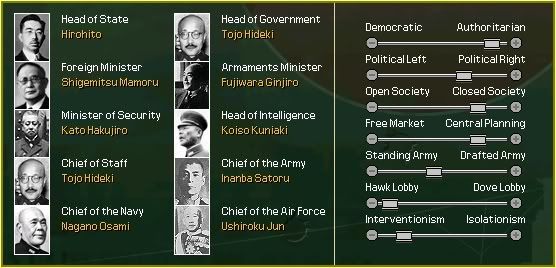 "Tojo Hideki will retain the positions of both Prime Minister and Chief of Staff, positions for which he is well suited. His current position as Armaments Minister will be filled by Fujiwara Ginjiro, who is an expert in industrialisation. The new Chief of the Imperial Army will be Inanba Satoru, an expert on logistics. Admiral Yamamoto guided the Imperial Japanese Navy towards the use of Aircraft Carriers and we need someone as Chief of the Imperial Navy who is familiar with their roll. Admiral Nagano Osami will take over from Toyoda Soemu in this capacity. The remaining positions will remain unchanged and I thank you for your service to your Country and wish you continue to provide that service.

Prime Minister I wish you to conduct the formalities with regards to resigning the current Government and overseeing the smooth transition to the new."

"As you wish your Majesty." replied Hideki.

"We will reconvene at midnight today for formal briefings on all aspects of Government." Hirohito stated as he quietly stood and left the room.​
____________
***
Favorite AAR, HoI 1/2 2008 Q1
***
***
Favorite Gameplay AAR, HoI 1/2 2008 Q1
***
***
WritAAR of the Week May 18th 2008
***
***
Favorite Gameplay AAR, HoI 1/2 2008 Q2
***
***
Favorite Gameplay AAR, HoI 1/2 2009 Q1
***
***
Favorite Gameplay AAR, HoI 1/2 2009 Q2
***
***
Weekly AAR Showcase, December 15th 2009
***
____________
Scenario: Gotterdammerung 1944.
Country: Japan.
Difficulty: Very Hard/Normal.
Version: DD v1.3a.
Mods: None.
Immediate Aim: Survival.
Long Term Aim: Undecided.
Initial Situation: Something to do with a Creek and a Paddle.
____________​
Last edited: