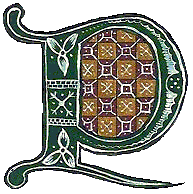 is for Portugal
Chapter 1
Pedro's Partial Prescript
​
Nuna Álvares Pereira, Supreme Commander of the Portuguese Armed Forces and closest friend to King João I:
The plan is preposterous, Sire!
King João I of Portugal:
Preposterous perhaps, Pereira, but possible nevertheless, don't you think?
Pereira:
No Sire, to be honest I doubt if it is even possible. And I really think there are very shaky grounds for even considering it.
King João, waving an age-worn scroll in the air:
But the parchment, man, the parchment!
Pereira:
Yes, well - read it out to me once again, your majesty.
King João:
"I, Pedro I do solemnly charge my sons and their descendants, upon my own death, to rule this Kingdom wisely and justly, to lead her to glory and greatness, and to triumph against all her enemies. In particular it is my wish that they must conquer..." whatever it says.
Pereira:
Smudge.
King João:
You can make out the P.
Pereira:
Is there no-one who knows what it might have said?
King João:
No-one still alive, no. And so it is my intention that, in honour of my dearly beloved father Pedro the Cruel...
Pereira:
He wasn't that dearly beloved.
King João:
Well, I thought he was quite nice. Anyway, in his honour we must make sure to conquer this "P".
Pereira:
Pride!
King João:
What?
Pereira:
Perhaps it said "they must conquer Pride"?
King João:
Poppycock! Would Pedro the Cruel ever have written something as namby-pamby as that?
Pereira:
Um... no, perhaps not.
King João:
Absolutely not!
Pereira:
Perhaps it was pagans - "they must conquer pagans".
King João:
It's a capital "P", Pereira.
Pereira:
Could have been a typo...
King João:
Look, Pereira, if I didn't know you better, I'd be starting to think all this prevaricating on your part was down to cowardice. Are you afraid to try and conquer every province in the world whose name begins with P?
Pereira:
No Sire, not afraid. You know I would gladly die fighting for my beloved King and country! I just have this nagging feeling that it might all be a big mistake.
King João:
Hah! Even supposing it were a mistake - what a great and glorious mistake it would be!
Pereira:
Well, perhaps so, your majesty. But meanwhile, what about the war with Morocco and Tlemcen?
King João:
Easy - we take from them all their provinces that begin with P!
Pereira:
Er... they're Arabs, sire. They don't have the letter P in their alphabet.
King João:
What? You mean they don't even possess any "P" provinces?
Pereira:
Not one, sire.
King João:
Well, for such impudence they deserve to be utterly humiliated. I want Sultan Yahya of Morocco and Sultan Mohammed IV of Tlemcen grovelling at my feet to beg forgiveness - see to it, Pereira!
Pereira:
Yes, sire!
Being a bastard, by rights João I should never have got to the throne of Portugal. This was no longer the age of Crusader Kings, however, and the people of Portugal had a more enlightened attitude. When João's elder brother Fernando I, eldest son of Pedro the Cruel, died without a male heir in 1383, his daughter Brites was proposed as queen by Castile. This seemed like a nice plan to Castile since Princess Brites was married to King Juan I of Castile. Portugal faced being effectively swallowed up into Castile or finding an alternative candidate. Enter João the bastard brother and his trusty friend Nuna Álvares Pereira. With the help of Pereira's military genius and the support of the wealthy English nobleman John of Gaunt, João soundly defeated the Castilians in a brief war and the people of Portugal willingly accepted him as their new and thoroughly Portuguese King.

Now it was 1419 and João was married to John of Gaunt's daughter Philippa, who had provided him with a healthy clutch of male heirs to keep the throne of Portugal secure. He also had a couple bastard sons of his own, the elder of whom was married to Pereira's daughter Beatriz.

What King João and Pereira were discussing was an old parchment that had just been unearthed in the Portuguese Royal Archives. It appeared to be some kind of last request by João's father King Pedro, but unfortunately the crucial word had somehow got smudged and was now unreadable. All that was clear was that Pedro's royal descendants were charged with conquering something beginning with P. King João decided that this would best be achieved by conquering everything beginning with P. Thus did the story of Portugal's glorious Age of Conquest begin...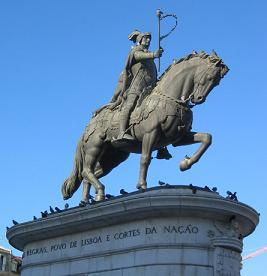 A statue of King João I that was later erected in Lisbon​
Game notes
Version: 1.09, AGCEEP 1.39
Country: Portugal, Grand Campaign
Settings: Normal/Normal (wimpish, as usual)
The Goal: Conquer every province in the world that begins with the letter P by 1819
Portugal's Stats in 1419
Provinces owned: 5 (3 cities, 2 colonies)
CoTs owned: 1 (Tago)
Income: 25.9
Supportable Army: 14000
Tech levels: Land 2, Naval 2, Trade 1, Infra 1
DP settings: Arist=7, Cent=4, Innov=2, Merc=9, Off=5, Land=1, Qual=5, Serf=7
Provinces owned that begin with P: 0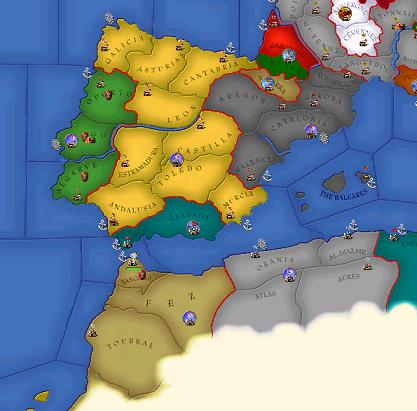 The Iberian Peninsula in 1419
Portugal is at war with Morocco (khaki) and Tlemcen (light grey)
Portugal also has two Level 1 colonies, in the Azores and the Cape Verde Islands​
A List of the 38 Provinces beginning with P
Western Europe (5): Provence, Piemonte, Poitou, Picardie, Pfalz
Eastern Europe (9): Presburg, Pest, Poznan, Prussia, Podlasia, Podolia, Poltava, Polotsk, Pskov
Africa (1): Palanas
South America (8): Potosi, Pastaza, Para, Parnaiba, Pernambuc, Parana, Pampas del Norte, Pampas del Sur
North America (6): Pinalero, Pecos, Powhatan, Penobscot, Placentia, Puerto Rico
Asia/Far East (10): Palakimedi, Pondicherry, Palana, Phuket, Perak, Palembang, Palawan, Panjab, Pimsk
(If anyone spots any omissions or errors in this list please say...)
Last edited: