Debased coinage
35 Badges
An Ulster Legend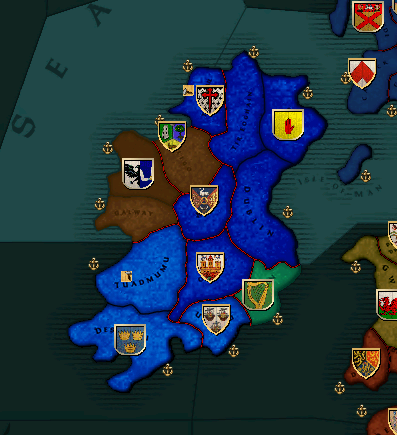 Ireland, January 1088
​
- 1 -
The Stolen Child​
Part One
Enri Ua Flaithri sat alone on the cold, damp grass, not minding the unpleasant clammy sensation as the wet dew of the grass seeped into his breeches. It was worth it, for a moment of peace, for solitude and tranquillity back at
Dún Phádraig
was near impossible. Below him lay the stream, and he enjoyed the sound of the gently lapping water and the sight of the setting sun's golden reflection upon the stream. It was cold, to be expected of the season, but the weak rays of the sun provided enough warmth for Enri.
He was a young man, having not seen twenty summers, fair of face and with a keen intelligence in his eyes. Yet when he had not even reached maturity he had found a great realm thrust upon him, the conquests of his father Cu Uladh, the Hound of Ulster, and a responsibility greater than even the most prestigious of his forebears, the Lordship of both Ulster and Meath, a land that covered much of Eire. And now, his wife had borne him a son, and the Kingship of all Ireland lay within reach.
My son
, he thought,
descendant of Brian Boruma, the golden child of destiny who shall rule as a true king…
But he knew it was not as simple as that. News had come that Lord Muirdetach O'Brien of Munster, father of his wife Imag, had bore another son with his new bride. There was a mutual dislike between the two Lords despite all the pretence of friendship, a jealousy on the part of Muirdetach who coveted Ulster's power and wealth, and a frustration from Enri who resented this man who would stand in the way of the unification of Munster and Ulster, who would try and deny little Dunechaid his destiny, his birthright.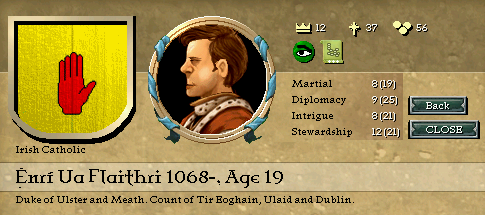 Enri's thoughts were disturbed by footsteps, at first distant but gradually louder. Enri smiled warmly as he saw his cousin Donnchad emerge from behind the ridge. He was a powerful man of thirty five years, once a strong, valorous warrior but now serving as Steward of Ulster, a position he was content to keep. In his youth Enri had taken on Donnchad as a role model, aspiring to match his bravery and his courage, and the two remained good friends.
"Ah my lord, there you are! I thought you might have come up here."
Enri chuckled. "Since I was wed to Imag I feel like I've not had a moment's peace, my good friend. I just needed a few minutes to clear my head and collect my thoughts."
Donnchad nodded, as the wind became more brisk. "Of course, of course…" He cast his gaze over the scene, and said, "Truly, I think Our Lord was particularly inspired when he made this land. You should feel blessed that He so favours our family."
"Do not talk to me of Our Lord," Enri said quietly. "My father's work was his own."
Donnchad breathed in sharply, and shook his head. "Oh Enri, I fear for you. I fear for your soul, and I fear that you may wind up gaining a terrible blight upon your person from His Holiness that will torment you for an eternity."
Enri regarded his friend solemnly before letting out a stifled laugh. "Do not worry, my good man, I've learnt my lesson. I would not want to have the church bribe me again for my carelessness and my loose tongue. I'll carry on and pretend that I am among the faithful, even though we are taught it is a sin to lie."
Donnchad was silent, as the sun began to disappear behind the horizon and the wind grew colder. Eventually he said, "I can't understand, My Lord, why it is you feel like you do, why you hate God so, when your dear father was such a good, pious man…"
"My dear friend, I do not hate God. Tell me," he continued, as he stood up and brushed himself down, "Do you hate the Sidhe?"
Donnchad's brow furrowed with puzzlement. "No, of course I do not. The Sidhe do not exist."
"Ah, then you must see why I do not hate
Our Lord
. Come, let us go back to the keep, for it grows inclement."
They walked in silence, and Enri could not help feeling somewhat bad, but he knew what was in his heart and that he owed it to himself to follow it no matter what.
If there was a just, all-loving God, he would not have taken Cillíne.
When they returned to the fort they found the place was gripped by some kind of a commotion, with servants and courtiers scurrying and hurrying their eyes filled with panic and confusion.
"What in blazes…"
Something had happened, that was obvious, and it was with great worry that Enri fought his way through the crowds into the Great Hall until he found Chancellor Affraic, whose face was as pale as a spirit.
"My Lady, what on earth is going on?" Enri said.
"Oh my Lord, it's so terrible…"
He grabbed her by the shoulders and shook her harder than he intended. "Tell me!"
"My lord, your son…"
"Yes?" he breathed.
"Your son, he is gone."
Enri stood back, his mouth gaping. "Gone? What do you mean, gone?"
"Just disappeared, vanished!"
Enri reeled with shock. It was not what he had dreaded, that Dunechaid lay dead, but somehow this felt worse. How could this have happened?
"Where is my wife? And the nurse?" he said.
"They are in the child's quarters, follow me."
He trailed after the young lady, only listening vaguely as she continued, "The nurse is devastated, and I believe her grief is genuine. It's inexplicable, that he should have disappeared, for it is simply impossible. There are people coming and going all around, there is no way anyone could have got into the room and away with the babe in tow without being seen."
When Enri came to the bleak room, he found himself set upon by the nurse, with limbs flailing and a flood of tears streaming from her red eyes.
"Oh my lord, I'm so sorry, I'm so sorry!"
He gently pushed aside, and saw his wife sitting beside the crib, looking at the emptiness where Duinechaid should have been. As his shadow passed over her she looked up, her expression blank.
"Who would do such a thing?" she said in almost a whisper. "Who would take my child?"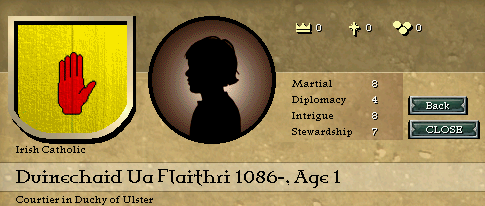 The Stolen Child
​