Hello everyone.
Unfortunately the Russian Kaiserreich AAR I started a few weeks ago had to end after I couldn't figure out why the save wouldn't load. This time I made sure to do my moding ahead of time and test out the changes extensively, so we should not have any problems.
This is a Russian Kaiserreich AAR which is meant to be the counterpart to KaiserMuffin's excellent Soviet Kaiserreich AAR. The idea is to play the same country (Russia in this case) and take it in different directions and see how history unfolds. As a result the only thing that I will absolutely not do in this AAR is turn Russia into a Communist country. Everything else is up to my readers.
My version of Kaiserreich is heavily moded. As a big Russian history buff I never liked the portrayal of Russian political history in Kaiserreich, and so I built up my own Ministers file from scratch and moded a lot of the domestic events that Russia undergoes. As needed I will write new events as well if the developments warrant it. The scenario starts out the same way Kaiserreich normally does, but after about a year in things should start to go differently.
KaiserMuffin was gracious enough to agree to help me with this AAR. He will be helping me make all the decisions (along with any other readers who want to contribute) and I hope he will contribute some of his excellent writing to this project.
And now, without further ado, I present to you my work:
History of Russia in the 20th Century through the Descriptions of the Lives of its Main Actors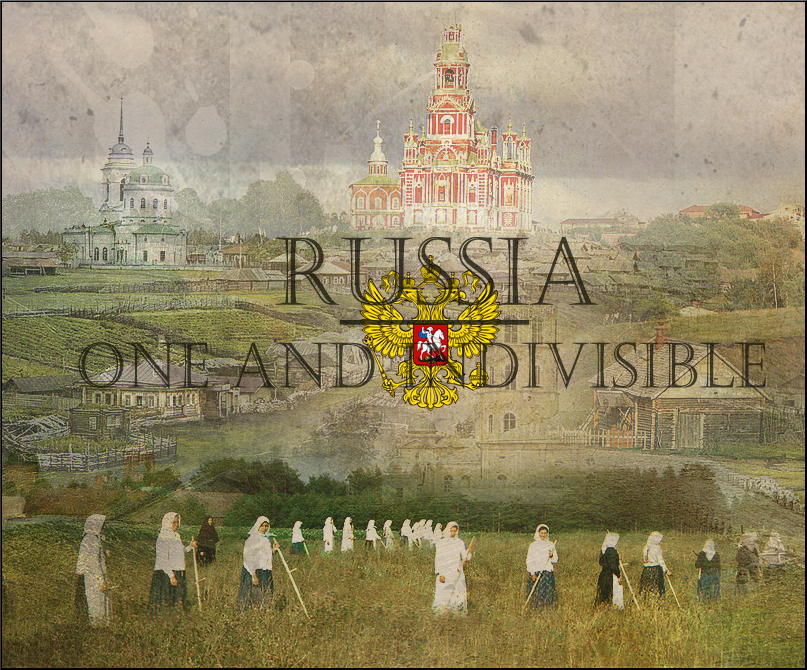 Political Situation in Russia in 1936 -
http://forum.paradoxplaza.com/forum/showpost.php?p=10482489&postcount=32
Politics of Russia 1937 -
http://forum.paradoxplaza.com/forum/showpost.php?p=10518450&postcount=206
Election Campaign of 1940 -
http://forum.paradoxplaza.com/forum/showpost.php?p=10530556&postcount=270
Election of 1941 -
http://forum.paradoxplaza.com/forum/showpost.php?p=10551041&postcount=379
Election of 1942 -
http://forum.paradoxplaza.com/forum/showpost.php?p=10567635&postcount=404
Election of 1944 -
http://forum.paradoxplaza.com/forum/showpost.php?p=10631165&postcount=455
Biographies
Alexander Kerensky (until 1936) -
http://forum.paradoxplaza.com/forum/showpost.php?p=10474056&postcount=1
Viktor Chernov (until 1936) -
http://forum.paradoxplaza.com/forum/showpost.php?p=10478665&postcount=25
Anton Denikin (until 1936) -
http://forum.paradoxplaza.com/forum/showpost.php?p=10478779&postcount=26
Peter Wrangel (until 1936) -
http://forum.paradoxplaza.com/forum/showpost.php?p=10478888&postcount=27
Dmitri Romanov (until 1936) -
http://forum.paradoxplaza.com/forum/showpost.php?p=10481696&postcount=30
Catherine Breshkovsky (includes events of January 3rd 1936) -
http://forum.paradoxplaza.com/forum/showpost.php?p=10482077&postcount=31
Irakli Tsereteli (January 3rd through 14th of 1936) -
http://forum.paradoxplaza.com/forum/showpost.php?p=10487712&postcount=66
Mikhail Smirnov (January 14th through July 1st 1936) -
http://forum.paradoxplaza.com/forum/showpost.php?p=10491292&postcount=71
Mikhail Tereshckenko (July 1936 through July 1937) -
http://forum.paradoxplaza.com/forum/showpost.php?p=10503679&postcount=124
Grigory Gershuni (July 1937 through August 1938) -
http://forum.paradoxplaza.com/forum/showpost.php?p=10517824&postcount=182
Sergey Markov (August 1938 through January 1939) -
http://forum.paradoxplaza.com/forum/showpost.php?p=10523605&postcount=247
Semyon Timoshenko (January 1939 through January 1940) -
http://forum.paradoxplaza.com/forum/showpost.php?p=10530005&postcount=262
Nikolai Yezhov (January through July 1940) -
http://forum.paradoxplaza.com/forum/showpost.php?p=10538008&postcount=336
Anton Denikin (July 1940) -
http://forum.paradoxplaza.com/forum/showpost.php?p=10545429&postcount=364
Konstantin Rokossovsky (July 1940 through February 1941) -
http://forum.paradoxplaza.com/forum/showpost.php?p=10550658&postcount=378
Andrei Vlasov (February 1941 through March 1942) -
http://forum.paradoxplaza.com/forum/showpost.php?p=10563716&postcount=397
Vladimir Paley (April 1942 – April 1943) -
http://forum.paradoxplaza.com/forum/showpost.php?p=10572227&postcount=416
Nikolai Kuznetsov (May - December 1943) -
http://forum.paradoxplaza.com/forum/showpost.php?p=10613549&postcount=425
Peter Struve (January - April 1944) -
http://forum.paradoxplaza.com/forum/showpost.php?p=10653219&postcount=464
Utopia Today - Reality Tomorrow -
http://forum.paradoxplaza.com/forum/showpost.php?p=10670062&postcount=471
Political Situation in Russia in 1936
We now have to take a break from the biographies of Russia's main historical actors to give some political context to the situation in January of 1936, beginning with the
overview of the government of the Russian Republic
.
The Constitution put in place by Kerensky in 1922 created a powerful
Presidency
that determines the domestic and foreign course of the country. The president has broad authority to issue decrees and directives that have the force of law without legislative review, although the Constitution notes that they must not contravene that document or other laws. Under certain conditions, the president may dissolve the Duma and scheduling referendums, as well as submit draft laws to the Duma.
The president is empowered to appoint the
Chairman of the Government
, with the consent of the Duma. The president chairs meetings of the Government, which he also may dismiss in its entirety. Upon the advice of the Chairman, the president can appoint or remove Government members, including deputy Chairmen. The job of the
Government
is the implementation of the President's domestic and foreign agenda.
Russia's legislature is divided into two houses –
the Duma and the Senate
. The 450 members of the Duma are elected in individual districts and the body has authority to consider any law, approve the country's budget, and hear reports of the Government. Members of the Senate are appointed by regional governments and can initiate only legislation that deals with trans-regional issues, although the Senate does have to approve legislation originating in the Duma. The Senate has no power over the Government but confirms many other presidential appointments.
A number of
political coalitions
have emerged in Russia during Kerensky's rule. There are
extreme nationalists
, mostly in the military, which include Peter Wrangel and Mikhail Meandrov. There are
aristocrats
that support Dmitri Romanov, Felix Yusupov, and the descendants of the Romanov family. The
landowners
usually, but not always, support the aristocrats and are led by Vladimir Purishkevich and former Imperial Foreign Minister Sergey Sazonov.
In the later years of Imperial rule a coalition called the
Union of October 17th
was formed, dedicated to establishing a Constitutional Monarchy in Russia. The group continues to exist, even if its goal seems outdated and its membership waning, mostly because of the efforts and popularity of its leaders Mikhail Rodzianko and Alexander Guchkov.
The two most prominent "anti-monarchist" parties are the
Constitutional Democrats and Social Revolutionaries
. First is led by Pavel Milyukov and the latter by Boris Chernov. The SRs have always been dedicated to the ideals of social justice and establishment of a "revolutionary" republic, while the Kadets are a party of middle class businessmen advocating liberal ideals. Kadets were part of Kerensky's broad coalition, but the differences between the two parties are significant.
Finally there are "radical" leftist groups, primarily the
Social Democratic Labor Party
comprised mostly of Mensheviks like Irakli Tsereteli and "rehabilitated" Bolsheviks like Nikolai Bukharin. Never part of Kerensky's government they have always thought that Kerensky did not go far enough in bringing socialism to Russia, but they do not support a violent revolution the way Bolsheviks did during 1917.
Finally we look at
the policies of Kerensky's government
, or rather the lack thereof. Since 1920 Russia has had virtually no economic policy with whatever little industry Tsarist Russia had left on its own. Kerensky funneled money into ineffective social programs to maintain his popularity with the workers but never outlined a plan for economic development. Russia's army is outdated, undersupplied, and uses tactics developed prior to the Waltkreig. General Denikin believes strongly in a drafted army and has refused attempts to change it. In foreign policy Russia has at first closely followed Germany but has since then drifted away from Kaiser's sphere of influence, but still has no coherent foreign policy to define its place in the world.
Alexander Kerensky
By all accounts
Alexander Kerensky
, born 1881, was not a dull person. In his youth he mixed his passion for knowledge with his boisterous nature and was always the center of his peers' attention for both good (from his point of view) and bad (from his parents'). This trend continued when he went to St. Petersburg to study law as he became the center of the social and political scene of his University. The only things he had more of than women were political ideas. Young and inconsistent in his thinking he still proved himself to be an ardent revolutionary and a liberal. He joined the Social Revolutionary Party of
Catherine Breshkovsky, Grigori Gershuni, and Boris Chernov
and actively worked to get members of the party elected to the legislature after the 1905 Revolution. The SRs boycotted the Duma elections in 1914, but Kerensky was elected as a Trudovik (a leftist party allowed by the Tsar to participate in the elections) which allowed him to play a major role in the events of 1917.
When the February Revolution took place Kerensky was perfectly positioned to take advantage of the opportunity. He was a member of the St. Petersburg Soviet (as were many other SRs) but he was also a member of the Duma and was a natural choice to represent the SRs on the Provisional Government. He briefly served as Minister of Justice under Prince Lvov until the Milyukov Crisis on May 2nd. The Government's Foreign Minister
Pavel Milyukov
sent a note to the French and British Governments on April 20th asserting that Russia would wage war against Germany as long as it would be necessary. When the contents of the note became public soldiers and workers demanded Milyukov's resignation which followed on May 2nd along with the rest of the Government.
Prince Lvov put together a Liberal-Socialist Coalition after the Milyukov Crisis in which Kerensky became Minister of War. The Government remained committed to the war and Kerensky organized what would later become known as the Kerensky Offensive resulting in minor and temporary successes against German and Austrian troops. On July 2nd The Liberal-Socialist Coalition fell apart over the issue of the status of Ukraine and Kerensky succeeded Prince Lvov as the head of the Provisional Government.
Bolshevik leaders staged demonstrations against Kerensky's new Government because of the Kerensky Offensive and the unpopularity of the war. The demonstrations were crushed and Bolshevik leaders went into hiding. On September 15th Kerensky reversed his earlier course of promising to hold elections for a Constituent Assembly to determine Russia's future and instead proclaimed the establishment of the Russian Republic.
Even before the proclamation the situation in St. Petersburg continued to deteriorate with the Government gradually losing power to the St. Petersburg Soviet. After receiving some very vaguely worded orders the Commander in Chief of the Russian Army
Lavr Kornilov
decided to restore order to St. Petersburg. It is debatable whether he believed that Kerensky ordered him to do so or whether he was using the vague orders as pretense. Regardless, in early September Kornilov began his march on St. Peterburg. Ignoring attempts by
Boris Savinkov
(one of the founders of the SR Party), who suspected there was a misunderstanding, to mediate, Kerensky dismissed his commander-in-chief from his post. Kornilov's attempted coup fell apart by the end of the month, but Kerensky's government was further weakened.
During the Kornilov Affair, Kerensky had distributed arms to the St. Petersburg workers, and by October most of these arms have found their way over to the Bolsheviks. On October 25 1917 the Bolsheviks launched the second Russian revolution. Kerensky's Government had virtually no support in the city and by the end of the day the Bolsheviks had seized power.
Kerensky escaped the Bolsheviks and went to Pskov where he rallied loyal troops for an attempt to retake the capital. His troops managed to capture Tsarskoe Selo, but were beaten the next day at Pulkovo. Kerensky narrowly escaped, and spent the next few weeks in hiding before fleeing the country, eventually arriving in France. During 1918 Kerensky decided to side with the White Movement and traveled between France and Britain trying to gather support. When it was clear that the Entente would not help Kerensky returned to Russia.
Kerensky traveled between the positions of numerous White generals, trying to negotiate a unified effort against the Bolsheviks. Eventually in 1919 the leaders of the White Movement met at Omsk and agreed to unite behind Kerensky creating a single front against Bolshevism. Amongst those present were
Anton Denikin, Peter Wrangel, and Alexander Kolchak
.
The war dragged on until the German Intervention in 1920 turned the tide decisively against the Bolshevik threat. Moscow was recaptured in September of 1921 and in October Kerensky was named the President of the Russian Republic.
Germany took a central role in establishing Russia's new Government after the Civil War. German mediation was essential in establishing the Treaty of Tartu between Finland and Russia and in forcing Russia to recognize the newly independent countries of Don-Kuban, Ukraine, Belarus, and Alash Orda. For many of these years Kerensky acted on orders from Berlin while trying to keep his tenuous position at home.
In 1924 Minister of Defense Alexander Kolchak attempted to remove Kerensky from power. Kolchak was infuriated by Kerensky's weakness in foreign affairs as were many Russian nationalists, but Denikin and Wrangel refused to support Kolchak and he had to flee Russia, establishing an autonomous government in Vladivostok.
Kerensky set out to consolidate power after Kolchak's failed coup and brought together a governing coalition that ranged from nationalists such as Wrangel and the liberals of Pavel Milyukov to leftist SRs such as Chernov and former Monarchists such as George Brasov. The breadth of the coalition practically meant that the Government could not come to any decision but Kerensky's position grew stronger as he assumed the role of the broker between the different interest groups.
During the morning of January 3rd 1936 Alexander Kerensky was supposed to be having coffee with his Prime Minister Pavel Milyukov to discuss the worsening economic situation in the country. He canceled at the last minute saying that he had an urgent meeting to attend without giving anyone any more details. Kerensky left the Kremlin, walked through the Alexander Garden and was shot twice near the garden's gate by a gunman. He was buried outside St. Basil's Cathedral two days later.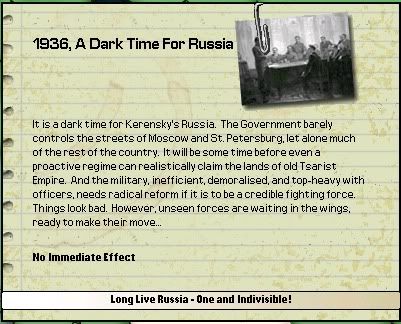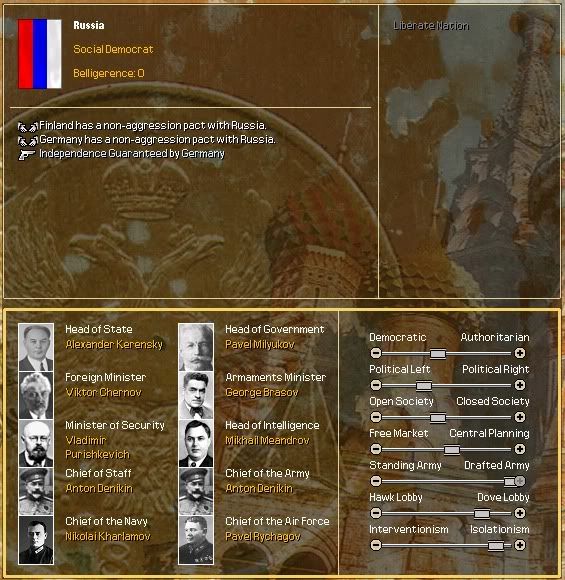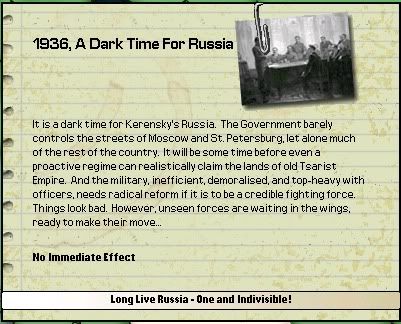 Presidential Administration
A lot of the power of the President in Russia comes from his ability to put together a Presidential Administration that helps in developing domestic and foreign policy for the country but is in no way accountable to anyone but the President. The Administration is made up of the Chief of the Presidential Administration and Advisers to the President.
Current Members of the Administration:
Chief of the Presidential Administration:
KaiserMuffin
Domestic and Economic Policy Adviser to the President:
Vincent of TRP
Foreign Policy Adviser to the President:
Colonel Ironboot
Army Affairs Adviser to the President:
FlyingDutchie
Navy Affairs Adviser to the President:
yourworstnightmare
Air Force Affairs Adviser to the President:
rule_them_all
Adviser to the President:
mad general
The Presidential Administration is now hiring! Apply for a position of your choice!

Last edited: