[MOD] Ogamod - A Revamp Traits mod v1.01
Ogamod[SUP]

v1.02

[/SUP]
A Revamp Traits mod.
(Only compatible with English, unless someone has the time and will to translate it for me. I wont work with Google translate.)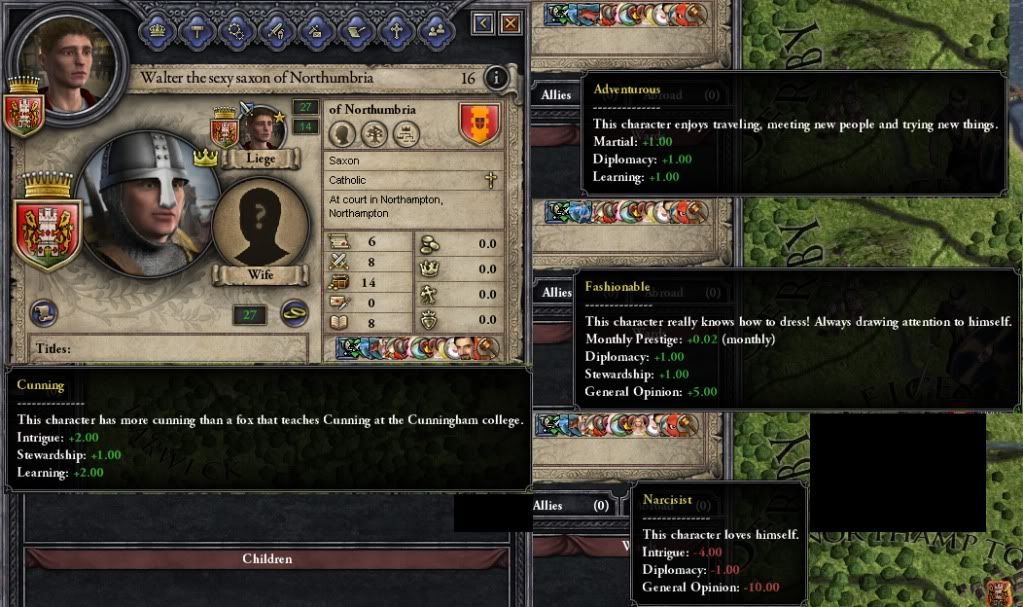 (The traits.)
(Examples of some of the events.)
(Finally... Dragons!)
​
Finally released!
*Note; Sadly all my free time allocated to mod is being devoured by "A Game of Thrones" mod, so this mod's development is on hiatus.
This mod features a total revamp of all the traits (with mostly JRR Martins universe in mind, as this is originally intended to be a modmod for "A Game of Thrnoes).
I also made significant changes to the opinion_modifiers so things will work better with my trait changes.
This mod really makes traits define relationships, rather then (almost) everything else.
People are more likely to get along or to be mortal enemies!
Features:
All the changes are listed in the attached xl sheet.
- 20 new traits.
- 30 new events.
- Events differ form a 1 option thing, to a 4 option branching event depending on the traits of the tutor.
- 15 new pictures.
- Really affects relations, for example; A deceitful cruel violent man will have a hard time making friends. Unless he is extremely competent.
- Matrimonial life is really affected.
- More rolls for women who can now be councilors & stewards.
- More traits that affect Taxation, Sex appeal & fertility.
- The randomizing of traits in the beginning can create totally different games every playthrough.
- Includes "Council Shuffling - "fired from council" mitigated at reassignment" mod, made by The_Chancellor.
(link in credits.)
So, here it is;
Ogamod! (v1.02)
Changelog v1.01
- Made it compatible with 1.04c.
Changelog v1.02
- Fixed the "doublication" of traits.
Permission
- If anyone wants to use this mod in their mods, go ahead. Just give credits.
Compatibility
- Yes/no. Not compatible with any other mod that changes traits. Unless you override their files with mine. Running them both at the same time will erase the internet.
Humor
- This mod contains humor, if you are offended by 3rd wall breaking humor you might want to save yourself the time, and download something else.
On a personal note; Everything should be 100% working. Yet i haven't really tested it for balance (should be balanced tho), so any feedback will be appreciated and will speed up the release of more balanced versions.
Credits:


Ash001

for this - http://forum.paradoxplaza.com/forum/showthread.php?585037-CKII-trait-list-and-effects


sunspear

/istrikeforce - For patience and advice.


Cabezaestufa

- For advice, and for kindling in me a passion to start trying to mod. Bug testing & inspiration. Moral support.


The_Chancellor

- For his mod; http://forum.paradoxplaza.com/forum...gated-at-reassignment&p=13480727#post13480727
Last edited: