Everyone loves free updates! With Green Cities, we have lots of free features and improvements for you.
First of all, let me mention probably the tiniest addition: three new parks. Sounds pretty small, right? The real deal here is that one of the parks is a floating building that you can place on water, and another one can also be placed on water but sits on pillars. The third is there just for fun. These new buildings types mean that modders can now also make pillar buildings and floating buildings by using these parks as templates. So while they are small, they open the door for lots of interesting new buildings. Some new trees are also coming with the update.
A larger thing is the info view toggling. Previously, when placing a building or for example painting a district, you could only see the one information overlay that had been selected for the tool. We have done lots of work to open up some information overlays to allow for more control when using tools and placing buildings. For example you can now choose to look at traffic congestion or noise pollution when zoning, to find the best spots for new housing. This feature is most useful when painting districts to be used as specialized areas. Now you can set the information overlay to show natural resources, so it is easy to place those natural resource reliant districts just where you want them.
One of my personal favourites are the electric cars. Citizens can now have Edison (yeah, see what we did there? ;D) electric cars in several models as their personal vehicles. These vehicles appear on the roads among other cars and don't need any extra effort from the player to appear. There is an actual benefit to them, as they do not produce as much noise as regular combustion engine vehicles.
Now that we come to noise pollution, it has big changes. Before Green Cities noise pollution is calculated based on road type and traffic congestion. With Green Cities, the free update changes this mechanic for all players. The new way of calculating noise pollution handles vehicles and their noise pollution values. This provides more accurate results, so that trucks generate more noise than other vehicles, as the road noise polluting is calculated by the vehicles using it and their noise pollution ratings. The change in existing saves is not huge, but allows for future use of more accurate noise pollution and more differences to vehicles. In the paid expansion, policies let you guide citizens towards using electric vehicles and owning them. For the free update, we wanted to give the updated noise pollution system to everyone, and spice up the look of the game by adding electric vehicles.
There are couple of other small additions: new props have been added for decoration and the intersection rules that came as a free update with Mass Transit can now be used on train tracks intersections as well. One that I like very much was inspired by a conversation I had at EGX Rezzed 2017 at London with the person who runs LuetinGaming channel on Youtube. I watch game videos, but had not previously thought of how important it might be to allow players to adjust how need icons show in the game. Need icons don't always mean you need to immediately do something about the issue, for example one way road ends show an icon and leaving them sit is a perfectly viable way to play the game. However, when doing a video, these icons can look messy and distract from the video topic. The free camera mode does not help, if you plan on playing, not only showing the city. To remedy this the game now has a checkbox in the gameplay options to turn off distant need icons. This makes the need icons show less and be less distractive. Feedback from different kinds of players is always very welcome, so don't hesitate to talk to us if there's something that could make your game better. We don't have the resources to make all dreams come true, and we have our own vision of what Skylines is, but ideas are always very welcome!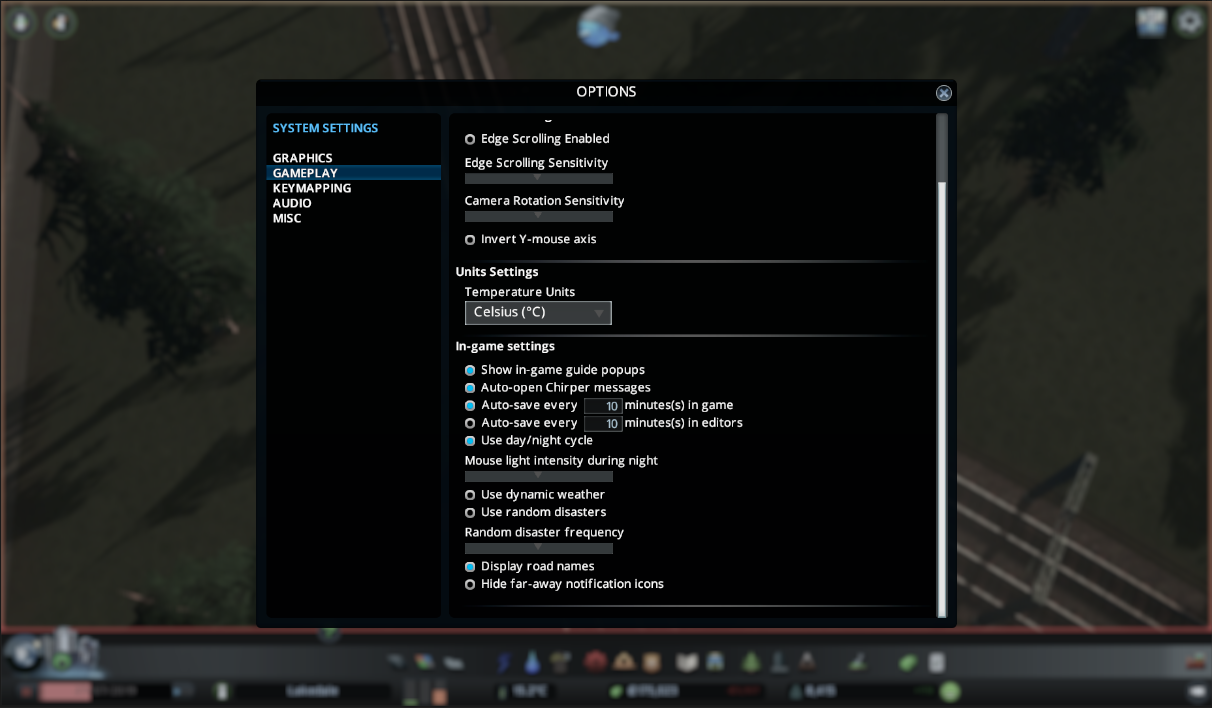 And last but not the least, we are finally opening up road modding. Another dev diary will go into details of how to create your own roads, but the main thing is that this will be possible with the Green Cities free update. I can't wait what you will come up with regarding roads!