I used a Google translator because I am not good at English.
I don't know where to put it, so I put it here.
1)
Traditions:
+10% Land fire damage
+1 Attrition for enemies
::Korea has long been famous for archery. After introducing the matchlock gun, it was also famous for shooting, and it was a sinpe, not a line battle.
::
https://en.wikipedia.org/wiki/Righteous_army
Hunminjeongeum(The Hangul Alphabet) 훈민정음
https://en.wikipedia.org/wiki/Hunminjeongeum
−5% Technology cost
+10% Institution spread
::Why is Hangul 5% when there are 10% characters in Manchuria?
Gyeongguk_daejeon(Grand Code for State Administration) 경국대전
https://en.wikipedia.org/wiki/Gyeongguk_daejeon
+0.25 Yearly harmony
−1 National unrest
::Gyeonggukdaejeon is a law books based on Confucian order.
Hyang'yak System 향약
https://en.wikipedia.org/wiki/Hyangyak
−0.05 Monthly autonomy change
+5% Production efficiency
::Through Hyangyak, the government tried to stabilize the system by preventing the exodus of farmers and rallying them into the community.
Geobukseon 거북선
https://en.wikipedia.org/wiki/Turtle_ship
+5% Ship durability
::Koreans want to raise the percentage of this ideology further, but I don't recommend this.
Reform the Army 군제 개편
+5% Discipline
https://ko.wikipedia.org/wiki/오군영
I can't find it in english wikipedia.
::reform the 오위O-Wi and 진군Jin-Gun to 오군영O-Gun-Young(삼수병Sam-Su-Byoung[Central army]) and 속오군Sok-O-Gun[Regional army].
Ogunyoung(Five Barracks Division)
Samsubyoung is Ogunyoung's army.(close combat, bow and gun's three battalions)
:: During the Japanese invasions(Imjin war, 1592-1598), the Korean army collapsed. To rebuild the army, Korea reorganized its military from the Owi-Jingun system to the Ogunyoung-Sokogun system. Ogunyoung was mainly composed of three battalions of close combat, bow and gun. Starting with the installation of the Hunryeondogam in 1593, Geumwiyoung was installed in 1682, and Ogunyoung was all installed.
Military Training Agency
King Seonjo and the Korean court finally began to reform the military. In September 1593, the Military Training Agency (훈련도감, alternately translated as Military Training Command) was established. The agency carefully divided the army into units and companies. Within the companies were squads of archers, arquebusers, swordsmen, and spear infantry. The agency set up divisional units in each region of Korea and garrisoned battalions at castles. The agency, which originally had less than 80 troops, soon grew to about 10,000.
One of the most important changes was that both upper class citizens and slaves were subject to the draft. All males had to enter military service be trained and familiarized with weapons.
It was also around this time that the military scholar Han Gyo (한교) wrote the martial arts manual Muyejebo, based on the book Jixiao Xinshu by the famous Chinese general Qi Jiguang.
https://en.wikipedia.org/wiki/Japanese_invasions_of_Korea_(1592–1598)#Military_Training_Agency
Dae-dong-beop 대동법
+10% National tax modifier
https://ko.wikipedia.org/wiki/대동법
I can't find it in english wikipedia.
:: Daedongbeop(Daedong-Law) similar to Single Whip Law. But Daedongbeop collected taxes only on rice(쌀米), hemp cloth(베布), and money(돈錢), not silver. Daedong大同 mean Public, General. Daedong is the ideal social aspect of Confucianism.(It's a story about Eastern thought, so it's hard to explain.) Daedongbeop was gradually established in each province over the 17th and 18th centuries, repeating its practice and elimination.
The Kyujanggak 규장각
https://en.wikipedia.org/wiki/Kyujanggak
−10% Idea cost
Ambition:
−10% Advisor cost
::Joseon is a highly centralized kingdom and consists of three prime-ministers(Sam-JungSeung) and six officials under the king. The king had to coordinate the factions of the officials and lead state affairs.
2)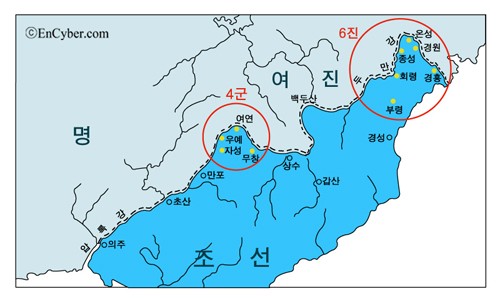 https://dbscthumb-phinf.pstatic.net...701_XHDG0S992.gif/82791_0.gif?type=ori_1&wm=N
(image link)
The Joseon Dynasty owned the Sagun(four districts) area in 1444. However, it was difficult to protect the four districts because they were barren and had no access to roads. So in 1455, we eliminated three of the four districts, and in 1459, we eliminated the remaining one. Later, it remained as Joseon's land for form, but it was not managed. It wasn't until the late 19th century that the Joseon government began to manage the area again. It looks like it's a good idea to make this area impassable.
3)
Don't let the names of the kings of the East appear in the names of King Sejong II. In the East, a king cannot have duplicate titles in a country.
4)
Cheong-ju -> Gong-ju or Hong-ju
Please change the terrain of Sangju to a hill and the terrain of Naju to Plain.
I don't know why Hamgyeong-do is changing into Jurchen culture, but I won't mention it because I heard that you are changing your mission tree.
5)
Originally, I would not talk about trade nodes, but I will talk about Joseon nodes when I see the creation of Valencia nodes. I hope you make a separate Korean node. Korea sold goods to Japan and imported them from China. Trade between Korea and Japan was limited to areas limited by trade restrictions by the Joseon government, which was also closed due to the Japanese people's turbulence. This happened decades before the Imjin War. Afterwards, trade will resume again at the request of Tokugawa Makbu. The Joseon Dynasty also granted tribute to the Jurchen tribes and managed the numbers that were subjugated. Let trade nodes from Japan and Jilin flow to Korea, and let Jilin and Korean nodes flow to Beijing.
6)
In addition, please don't change the last name of the kings of the Confucian countries. In the East, this is unimaginable, and changing the royal family name is changing the state. When Wang of Goryeo changed to Yi, the territory remained the same, but the name of the kingdom changed to Joseon. In the East, this is called the Reversal Revolution, and the state was treated as a property of a king's individual. In France, the Café dynasty is changed to the Bourbon dynasty, but not in the East.
This is my personal opinion and I'm going to inform you that Joseon has these kind of things. Thank you.
Last edited: