It is fantastic that PDX finally are doing a SEA patch, the timing have been a bit impeccable to me,
@Semi-Lobster
and
@fredrikslicer
as we've been working on a suggestion on that exact topic, there are still details that I think we can present from our suggestion that would improve upon the work of
@neondt
.
Here is a draft of the map we finished
I will not go over the whole map as it was as there's no pint in that seeing nedont already made his map, instead I will be looking at some specific changes we hope he will consider.
First I want to discuss issues of balance:
Comparing ours map with nedont's one major difference is where we decided to focus provinces, we had much fewer provinces on cambodia and more in Dai Viet, which were a decision made from balance POV. Cambodia at the time is a collapsed state while Dai Viet, was in a phase of major growth. In 1500 the Dai Viet state would have approximately 8 million inhabitants, Cambodia just over 1 million(
https://en.wikipedia.org/wiki/List_of_countries_by_population_in_1500
)
Population does not necessary mean historical outcome or development, but looking at history, Dai Viet should have significantly higher development than Cambodia, or Lan Xang (it's insane that in current game Dai Viet have less development than those two states)
I'm also definitly in favor of the culture group suggestion
@Shahanshah759
https://forum.paradoxplaza.com/foru...e-new-southeast-asian-culture-groups.1405880/
were presenting.
As part of representing Dai Viet's large growth as well as the kinh people's settlement of the south I had redesigned mahayana's religious mechanics to give give decreased development cost and cultural conversation cost. As Neondt stated that they won't rework buddhism, I'll not bother posting my overhaul suggestion but I still feel these modifiers should be available to dai viet.
Northern Indochina:
No one really knows what Lan Na is, it even lost it's own culture group in this update (sad). But it was a major power at the specific time of the euiv start date and would remain so for a century, unlike Lan Xang which had had it's golden age and in 1444 were in a state of collapse Lan Na should start as one of the major players in the region
To accomodate this we made the Lan Na area into 5 provinces (just like Neondt, but slightely different provinces) and then we looked into the actual sphere of influence of Lan Na at the time, which extended quite a bit larger than the modern thai borders (in general there is an issue that indochinese borders are trying to look to much like modern day borders, something the game has been moving away from in other cases, plz do in indochina aswell)
The main expansion phase of Lan Na was in the 1440's and 1450's so we might be a little bit preemptive on the exact reach of the Lan Na state:
We gave the mawkmai province to Lan Na, the history of the area is a bit obscure (like most of the shan) but it seems to have been within Lan Na influence (
https://en.wikipedia.org/wiki/Mawkmai_State
) Mawkmai was founded in the 1700's and it seems a bit unclear who ruled the area before then, probably petty kingdoms but the reach of the Lan Na mandala extended well into southern shan, as this maps show: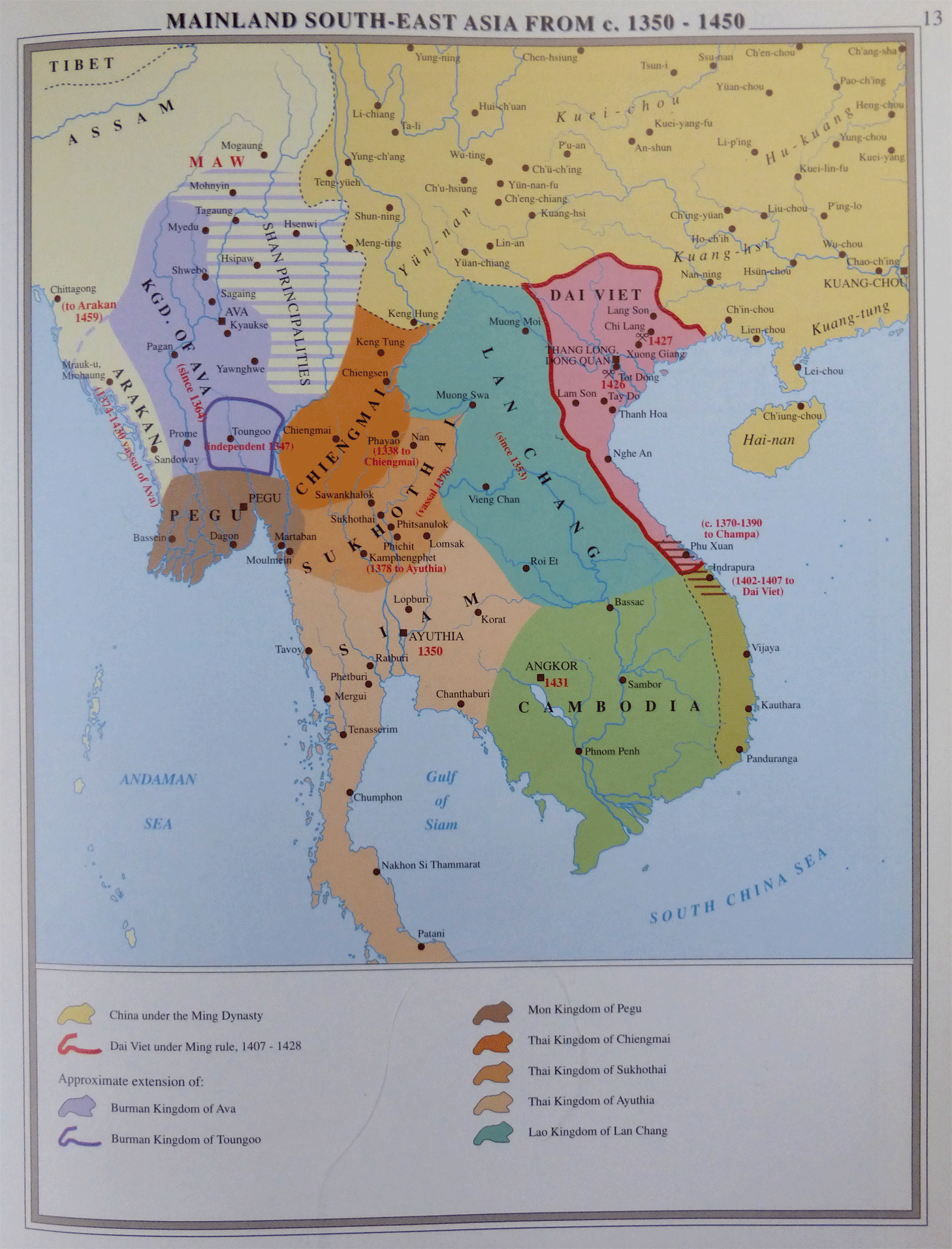 All maps showing lan na that you'll find searching for the state on google will show it extending further nroth than modern day thai borders
Also the province of Luang Namtha (name and province shape is anachronistic) was vassalized by Lan Na at the time (
https://web.archive.org/web/20120109064147/http://www.luangnamtha-tourism.org/lnt_info/history.htm
)
Further as can be seen on the map I linked above, Lan Na includes Kengtung and stretches into modern day china into the area of the Keng Hung state (later called sibsongpanna, making the in game name anachronistic) which both were within the Lan Na mandala (
https://en.wikipedia.org/wiki/Kengtung_State
https://en.wikipedia.org/wiki/Chiang_Hung
)
So in order to both buff the decidedly very strong Lan Na state to and to be more historically accurate, I suggest a new tag, Kentung, controlling the provinces of Kentung, Keng Hung (sibsongbanna) and Luang Namtha, starting as a vassal of Lan Na. (all territory marked by black circle)
As Lan Na takes 2 provinces from shan states, we also decided to increase the number of provinces in the shan area in order to make sure each state has at least two provinces.
(In our original proposal we added more Karen provinces, since Neondt instead opted to make a lot of the Karen territory wasteland, something I'm sceptical, I will adapt my suggestion a little bit to that.
I will move the province of Yawghwe to the Mong Pai tag, and instead make a new province of Mong Mit for Hsipaw based on the historical shan state
https://en.wikipedia.org/wiki/Mongmit_State
(I'm doing new markers on our map to make it easier to locate, Mong Mit is the big black '1')
Hsenwi also looses out on a province which had us make a Manglon province (combining the territory of Manglong and the wa states)
https://en.wikipedia.org/wiki/Mang_Lon
('2')
Mong Mao also loses a provinces so we've added Mong Lem
https://en.wikipedia.org/wiki/Mong_Lem
('3')
In summary our changes to the shan states are:
3 new provinces (Mong Mit, Mong Lem, Mang Lon)
1 new tag (Kengtung)
Some shuffling around of province ownership and Kengtung starts as a vassal of Lan Na. Having Kengtung as a vassal of Lan Na, is also fitting for the vassal strategy that we were aiming to improve through our reworked theravada buddhist mechanic and by having all mandala kingdom start with at least one vassal/tributary (well not cambodia but that's because they're collapsing)
As I said, I think that all mandala statesshould start with subject(s). Ava got it's tributaries, Ayuttahya got two, now lan na got one, cambodia doesn't cound as is collapsing, champa have the tay nguyen tribes (potentially) and dai viet is not a mandala. That leaves Lan Xang
Now Lan Xang is on the brink of collapse and spent most of the 1440's and 1450's in problematic civil wars, had an interegnum for a few years so having them as a strong and unified state is not an optimal get go to begin with.
Now the frontier area between lan xang and dai viet in the north were inhabited by tribes that were not part of Lan Xang, but variously tributaries/subjects of lan xang or dai viet or just independent. Muang Phuan
https://en.wikipedia.org/wiki/Muang_Phuan
and Sip Song Chau Tai
https://en.wikipedia.org/wiki/Sip_Song_Chau_Tai
constituted tribal chiefdoms in the area. To further extend on the mandala model of SEA I suggest that the existing tag of Muan Phuan starts as a vassal of lan xang owning the provinces of Xiangkhouang and sip song chau tai.
Edit: lol, I wrote lan na when I meant lan xang, corrected
I hope that Neondt will consider these additions to the Chinese frontier as they would help make the region more historical, better balanced and just more interesting with a more significant Lan Na.
Some other changes to Indochina:
Ligor is still represented as a malay sultanate then it really was a southern thai state (
https://en.wikipedia.org/wiki/Nakhon_Si_Thammarat_Kingdom
)
Burma should be used as a dynamic country name for burmese countries managing to do the empire mission (taungoo already got one, hopefully neondt makes a mission tree for ava and prome as well).
The Bamar people in central burma, while having a succesion of different states usually called by the dynasty or capital had a strong sense of continuity from pagan to ava to toungoo to later dynasties, having a burmese tag achieve empire status should define that tag as the de facto burmese state, not just another dynasty.
Map error: champassak town is not in the upcoming champassak province, it is rather in the Attapeu province.
No Karen provinces are added, but I hope they consider adding a Karen tag (as the culture is currently tagless), the 18th century principality of Kantharawady lends itself to the job
https://en.wikipedia.org/wiki/Kantarawadi
Then moving the focus to
Northeast india,
an area that is in desperate need to be looked at in order to solve some gross historical inaccuracies.
.First of the Kingdom of Tripura, a very interesting place which played a role in the region throughout the whole timeline, very underrated and in game represented as a 3 dev OPM....in the wrong province. The province designated tripura in game currently is the Lushai hills (modern day Mizoram state), the province called chakla is the actual tripura state and the province called sonargoan is actually chakla....
Article on the kingdom of tripura with maps
http://bangalistan.blogspot.com/2017/05/the-history-of-tripura-its-present.html
So in summary:
Rename Sonargoan to Chakla and have a tripura core (ownership unchanged)
Rename Chakla to Tripura and have the province owned by tripura and be tripura's capital
Rename Tripura to Lushai (hills) ownership unchanged
We also wanted to split chittagong in two, having a province for the chittagong hills belonging to tripura, and were looking at adding another province to arakan, but the priority here is just to get the rid of the complete error in the current set up.
On a bit northward we have another case of anachronism, basically Assam starts in a set up more accurate for the 1520's-1530's. We added a bunch of provinces to better portray the area aswell as the actual historic set up. But the most important changes are that the Ahom kingdom were in the 15th century very small and would rather be an OPM with the Kamata kingdom (from the 16th century ruled by the koch dynasty) controlled the territory west of assam and Chutiya dominating in the east and north. We laso opened up more of arunachal pradesh, the tibetan Monpa province and a province for the Nishi people (could be part of Chutiya or start as tribal OPM). The case for the Nishi hillpeople are they are part of the region, frequently raiding the chutiya and later ahom while also paying tribute, represting the region as complete wasteland, is inaccurate.
In my map I mark Chutiya with black circle, Kamata with blue and Ahom with green
So in short:
Assam should be reduced to an OPM only controlling its capital, Chutiya (renamed sadiya) controls eastern and northern assam as well as a new province in Arunachal. Kamata (renamed koch) controls western assam
In the larger region of Assam we have also removed the meghalaya wasteland and instead have a two province kingdom of Jaintia, controlling the provinces of Khasi and Jaintia
Also I suggest renaming the kachar kingdom to the historically correct Dimasa
https://en.wikipedia.org/wiki/Dimasa_Kingdom
Going over to southwestern china the ethnic tusi's there have long been a pet project of Semi-lobster who wrote this text about the guangxi zhuang tusis
The far reaches of Guangxi represented the furthest reaches of the authority of the Ming Emperor, far away in Beijing the emperor delegated commandaries and military garrisons faded into shared and deferred authority. The regions of the south instead relied on "tusi" local rulers who swore vassalage to the Emperor, while maintaining their own Zhuang local rule. The Zhuang people are a Tai peoples who long resisted Chinese domination and can trace their history back to the Yue states of classical China. The Zhuang are generally regarded as the ancestor of all modern Tai peoples, who began migrating from the region into modern South East Asia in the 11th century. In exchange for soldiers, rice, or gold, tusi offered their loyalty to China and in exchange they would gain recognition as the legitimate rulers of their polities. The Ming had little choice, their bureaucrats and soldiers where not used to the climate and could not effectively maintain rule over the area. Attempts to centralize the area by the Ming often simply led to massive spikes in murder and banditry and the loss of income. Many times in Chinese history, tusi acted as feudal marches to China's borders.
In Guangxi local 'great families' emerged from the Tusi, through marriage, warfare or espionage, these families soon controlling multiple Tusi. One powerful family that emerged in the early 11th century was Nong Quanfu, citing constant harassment and attacks on the Zhuang people by Dai Viet and the Song established an independent Kingdom named Changsheng which was eventually crushed in 1039. Although captured and executed by the Vietnamese, his son Nong Zhigao, would have more success, once using his family's network to raise an army and ruled an independent Zhuang state from 1042-1055. The Nong clan's success led to distrust by the other Zhuang clans who refused to aid the Nong and eventually the Nong clan were once again defeated and fled south to what is now Laos and Thailand. From then on, the preeminent families were the Cen, Huang and Mo clans. While the holds of the Huang and Mo were impressive the Cen controlled the most, including their capital, Tianzhou. The martial prowess of the Zhuang were well appreciated by the Ming, an example of this was Lady Wa Shi of the Cen clan, who poisoned her own husband, ostensibly because he was going to start a rebellion against the Ming. Lady Wa Shi was appointed to regional commander of Guangxi and her soldiers were integral to defending the coast from wokou pirates, winning key battle in modern Shanghai and Suzhou and Jiaxing between 1555-1557.
The power of the Guangxi Zhuang tusi were so powerful and integral to China, that not even the transition to the Qing dynasty affected them until 1726 when the local Tusi were finally liquidated. The 18th century from that point on in Guangxi would be a constant low level insurgency against the Manchu with true direct rule never truly being achieved in the wild western reaches.
In 1521, several years after defeating an invading Zhuang army from neighbouring Sicheng Tusi led by his cousin, the young Cen Meng had solidified his rule of Tianzhou but, either his success in retaining his title or the resentment of being demoted (the Ming would bestow tusi rulers official Ming government titles, often with salaries based on rank). In 1521 Cen invased neighbouring Sicheng tusi and by 1525, had taken more than half of all Guangxi tusi for himself, poisoned officials, robbed and murdered civilians, and stopped paying tribute to the Ming. In 1526, the Ming mustered 100,000 troops (including native troops from neighbouring tusi) under governor Yao Mao while Cen commanded an equal number. A series of decisive Ming victories over the entrenched Zhuang brought the war to a swift end. Cen Meng was captured and executed while fleeing to Vietnam and his wife, Lady Wa Shi, was made regent.
The provinces would need to be abstractions to avoid too many small states, instead I propose a simpler solution, 2 states with 2 provinces each, Tianzhou and Siming in 1444:
Tianzhou would have black 1 and 2 (Wenshan, and the capital Tianzhou), Leader: Cen Shao (older, with a son, Cen Yong with a weak claim)
Siming would have black 3 and 4 (Nandan, and the capital Siming), Leader: Huang Gang (older, with a son, Huang Jun with a normal claim)
Besides zhuang tusi we've also added the Nakhi tusi in northern Yunnan combining the tusi's of Lijiang and Yongning
https://en.wikipedia.org/wiki/Chiefdom_of_Yongning
(which also includes the later muli kingdom in tibet)
All the new tusi states follow the established pattern of being tributaries of ming at start
I think this is all from us now, might add up some detail later on but I hope Neondt have the opportunity to go over this and take the suggestion into consideration
Last edited:
7

4

4
Reactions: