I recently made a thread on yazidis, suggesting an implementation of their religion and a political set up. The thread was decently well researched and IMO a good thread, I kept reading about yazidism and kurdish history though, focusing on the kurdish minority religions of ahl-e-haqq (yarsanism) and alevism. Improving my knowledge on these three religions and an improved overview on general kurdish history prompts me to make a new, better suggestion. Sorry for the spam but I think this is some good content I'm suggesting.
This thread will be fairly long, with some discussions on the interpreting the source material to make this thread.
Let's look at some general changes:
Kurdish tags (except possibly hasn keyf) and luristan now starts as tribal federation, this is much more appropriate government forms for those tags

Kurds should get unique mission branch focusing on uniting kurdistan,

I'm thinking kurdish ideas should also have religious unity in them to deal with the very diverse lands they rule.
Understanding religion:
The area in question Kurdistan was extremely religious diverse, in 1500 maybe as little as one third of the population would be orthodox sunni muslims with the rest being either assyrians/syriacs, jews or belonging to some of the cults in the region, Yazidism, Ahl-i-haqq, alevi-kilizbash or smaller sects like shabaki etc,
Assyrians/syriac were in decline at this time but it's still likely that they do deserve having a few provinces with their culture and religion, particular population centres would be mosul and surrounding plain, southern hakkari, around batman and siirt, around mardin, midyat and nusaybin. To keep myself from loosing it when making this suggestion I'm not including assyrians in it. What makes it difficult to make conclusive statements on demographics is of course the lack of exact data and population censuses, which will be something I'm trying to consider when making this suggestion.
Setting aside assyrians* and jews, and focusing (primarily) on kurds they were within themselves a religiously diverse group. Understanding their different religions and finding reliable sources needs some work, as the topic is generally under researched (until around 2010 foreign sources still refers to yazidis as devil-worshipper for example) , the ahl-i-haqq are famously so secretive that there are no contemporary sources of their founder (sultan sohak) and their beginnings as a religion.
*EDIT august 2021: After reading more about the region, but some general mentions in litterature and articles I came across + two books This one
https://www.amazon.se/Forgotten-Genocide-Eastern-Christians-Arameans/dp/1593330774
which I got a swedish translation off from my library and a swedish language book "Korset och Halvmånen" by Ingmar Karlsson I'm convinced of the accuracy of the set up with Mardin beign coptic assyrian/syriac and Hakkari/Tyare being independent nestorian assyrian in the mountains
Another difficulty on researching this topic is the bias or understanding of religions like ahl-i-haqq and alevism and their relationship to islam. So for example there are contemporary movements to distance these religions from islam and make a case for them, together with yazidism being surviving forms of pre-islamic kurdish religion (often refered to as yazdanism or cult of angels).
Reading from page 137 in this book
https://books.google.ro/books?id=I9...ce=gbs_ge_summary_r&cad=0#v=onepage&q&f=false
discusses the cult of angel from a perspective I find dubious and claims yazdanism to be thousands of years old and the modern variations of it being a result of yazdanism "swallowing" other religions (shiism in particular). It is the style of writing, and how easily the book makes large statements about kurdish history, which while not necessarily untrue, are far from being backed up by historical sources and mainstream historical academia which makes this book and a lot of books and articles of similar style dubious, though still to some extent useful.
To mention a few other things I read that shows how sceptical I can be reading about this topic: A phd thesis I skimmed suggests that ahl-i-haqq is mithraism that basically replaced mithras name with Ali and added some influences from islam. Another articles claims that the avestani language, in which zarathusta wrote the core theology of zoroastrianism is actually an early form of kurdish.
On the other hand we have books like
https://books.google.ro/books?id=WY...Q6AEwAHoECAQQAg#v=onepage&q=yarsanism&f=false
Edit: as compelte pdf
http://hindiurduflagship.org/wp/wp-content/uploads/2017/04/Extremist-Shiites.pdf
Which discusses most of these religions as ghulat (exaggerated) sects of shia islam. While these sects (in the book discussing alevis-qizilbash-bektashi, ahl-i-haqq, alewites in syria and several smaller sects) have a lot in common and all deify Imam Ali, have syncretic elements with paganism/folklore and christianity at it's core a sects of shia islam, although exaggerated to the point there it can be discussed if they're still muslims. I guess a comparison would be to ask whether christianity is it's own religion or a jewish sect. Christianity started out as a jewish sect but developed into it's own religion deviating theologically and in terms of identity from judaism and because of it's large success was able to do so. These heterodox shia beliefs have never reached the influence of christianity and mostly remains minorities in the larger muslim world and thus haven't been able to take the step up form being an islamic sect to becoming it's own religions (very debatable statement, many members of these religious groups do not consider themselves muslims, nor do a lot of muslims consider them muslims, but it's not unanimous in either camp). There were thus many ways to interpret the source material to make up a representation good for the game and not wholly inconsistent/erroneus from the source material.
My conclusion is to make two new religions for the game, one is yazidism which will be part of the iranian religion group. They're the sect which are the most distinct from islam. The other groups, will all be put together into a religion which have no common name, though possibilities include Ghulat (meaning exaggerator/extremist and is not used by the groups themselves), batini/battiniyya (concept within islam focusing on more esoteric aspects of the religion), alevi (as all groups deify ali) which have been used as an exonym for all groups in my suggestion + some groups I do not includei n my terminology
https://en.wikipedia.org/wiki/Aleviler
.
EDIT: I have started to lean towards using the term Alevi, I think it's adequate, it doesn't really risk being mixed up with other religions, unlike batini which could also be used to denote ismaili groups.
maronites.1194552/
I think it might be a point to adress, there are many similarities between ismaili groups (especially certain sub-sects) and my alevi group, but ultimately the ismaili fall within islam and have a different bakcground/path.
However there are a few points to address.
Ismaili at the time was in steep decline after the end of the fatimid caliphate and the nizari state of Alamut (the assasins).
In game there are a handful tag using the ismaili school (about 5). 2 of them use ismaili not because they were ismaili but rather ismaili is used as any exaggerated/esoteric shia religion, I'm talking specifically about qara qoyunly and mushasha.
Qara Qoyunly was one tribe ruling over a vast any multi-religious realm, the religion of the QQ themselves are relatively unknown but have been described as some form of shia twelverism although not very advanced, i.e. religion were not very formalized, there could be an argument for making this into alevi, but afaik the QQ don't ft the other concepts that unite my alevi groups, i.e. deification of Ali, belief in reincarnation, the relationship to certain saints and holy people, so I would make QQ jafari.
Mushasha is really it's own sect of shia islam, with the mushasha (Muhammed Ibn Falah) declaring himself the Mahdi (the messiah basically). So while being an exaggerated shia sect, they also (to my extent) do the other things that categorize my Alevi fate, so I would have them as Jafari as that's where their origin as a group is, or make them there own sect
Also the druze religion which developed out of ismailism is distinct and I do not believe fit in in my group, I have a suggestion of it's own on how to treat lebanon's and it's unique religious nature
https://forum.paradoxplaza.com/forum/threads/lebanon-druze-and-
It does share certain traits such as the belief in reincarnation, but also since the group wouldn't actually be the majoirty in a province, but rather share a provicne with other shia groups it's enough to implement my suggestion (or similiar) to represent them in vanilla game
EDIT august 2021: I'm suggesting renaming the ismaili school to batini to make it less specific and allow it to represent more broadly esoteric shia islam that is still within the limits of shia ´druze
Let's start with the new map set up:
Nothing radical with only 4 new provinces added to the game and the hakkari wasteland made into a new province with some tweaks to existing
Redrawn provinces (purple):
Sinjar get's a little big bigger and now have kurdish culture and yazidi faith, belonging to the OPM Dasini that follows yazidi religion
1: Hakkari is no longer a wasteland
but belongs to Bitlis, culture kurdish or assyrian
nowstarts as assyrian OPM Hakkari/Tyare
2: Khoy have now been moved west, losing land to tabriz (3) but eating up remaining wasteland. Khow now starts with kurdish culture and yazidi religion, it belongs to the Donboli tag which follows yazidi religion
New provinces (Black)
1: Efrin province, kurdish culture and yazidi religion, belongs to mamluks but have Kilis as a releasable tag
2: Cizre province, kurdish culture and sunni religion, belongs to Bohtan (starts independent)
3: Dohuk province, extremely diverse province but for this suggestion I go kurdish culture, yazidi religion, center of religion modifier and belongs to bitlis but have a core for Dasini*
4: Tunceli province, kurdish culture Alevireligion, belongs to AQ but has core for Bingöl**
EDIT august 2021: Not only Donboli but also the Mahmudi tribe was yazidi, in this particular point in time they'd briefly taken over the area of the emirate of hakkari, a significant stretch of land to the southeast of van city, I would have this represented as Van province, enlarged with parts of the hakkari mountains (my assyrian province should shrink in size a bit) belong to donboli tag (cultureremains armenian)
Also become more certain of the having Efrin as yazidi
*Dohuk province would in the 15th century host both a yazidi principality, Sheikhan based in lalish and dohuk, and a muslim principality, Amadiya, as well as many subject assyrian tribes. I would let Amadiya have yazidi religion but be ruled by kurdish sunni muslims as they just been razed by them quite heavily, though sheikan wouldn't be annexed until 16th century
**I would rename this province to Cemisgezek and have it start as an independent kurdish emirate
https://en.wikipedia.org/wiki/Emirate_of_Çemişgezek
state religion be shafi sinnism, but provincial religion alevi, as the province is home to alevis and qizilbash and would join Shah Ismail
Additional provinces that will have Alevi religion:
Sivas, divrigi, Ardabil, Ilam, Kirmanshah, Tarabulus al-sham, ardalan, khoramabad and teke (teke was a center of shiism/bektashi movement)
Ardabil now starts with the Alevi faith. Ardalan and Luristan will have easy option to covnert to Alevi, though AI won't do this.
I would also suggest adding a Turcoman culture in central anatolia (primary tag Karaman)
I will discuss my choices in upcoming spoilers.
Because I don't think alevis in anatolia and alawites in syria are controvertial (they're already represented as such/shia in game) I will only write about, the ahl-i-haqq and the case of the safavid order in Ardabil
Additional source on safavid-qizilbash:
https://core.ac.uk/download/pdf/52925088.pdf
Discusses more in detail the religious development of the safavid sheiks, the influence form folk islam and bektashism and the cultrual set up in anatolia in the 15th century
The Safavid order was an exaggerated shia sect. They venerated Ali and deified their own leader, Shah Ismail claimed divinity and to be the mahdi
https://books.google.ro/books?id=ZUB-FEpPHsoC&pg=PA23&redir_esc=y#v=onepage&q&f=false
and their cult members became known as Qizilbash, they were closely connected with the sufi bektashi order (which became popular in the balkans and are still dominant form of islam in albania) and share an origin with them in the teachings of Haji Bektashi.
They were not twelver muslims. Shah Ismail converted to twelverism as a way of making his conquest of Iran easier. They started out as a sufi sect, probably sunnite (there's no evidence of shite beliefs in the early safavid order) and in the 15th century (probably) developed into a ghulat twelver sect. So while they did believe in the 12 imams and all that they would have exaggerated beliefs that did not fit normal shiism. Part of this is because a large part of the safavid-qizilbash-bektashi base was originally christian, especially a lot of the kurdish qizilbash were of armenian origin.
Now the time perspective is a little awekward, 1444 is not the best date to represent the safavids in, they didn't start becoming a real political and military power until sheik junanah (r. 1447-1460) and the major spread of qizilbash primarily happened under sheik haydar (r. 1460-1488 although probably the name qizilbash originaes with shah Ismail who was the safavid grandmaster1488-1501 when he captured tabriz.
Brief explanation of safavids from wiki
https://en.wikipedia.org/wiki/Safavid_order
otherwise the book I link about ghulat sects explains it in more detail.
So the point is that Ardabil, both tag and province should start as Alevii. In order to represent the shia shift that Ismail did, they should have a short mission tree (also kind of railroading them).
Mission 1: gather the qizilbash; have 100% forcelimit and 80% manpower:
Grants +3 professionalism and the modifier 'qizilbash followers' giving +10% moral and +20% manpower recovery speed for 20 years and a claim on tabriz
Mission 2: control tabriz, if mission is triggered they immediately annex tabriz with core,
and get an event with two options
1. (ruler) is the Madhi and we shall follow him to the end of time. Get modifier (ruler title and name) is the mahdi until ruler death giving +5% disciplin, +10% land morale +20% manpower modifier, -20% cost to enforce religion -3 tolerance of heretics, -20% improve relations +access to the deus vult casus beli
Once the ruler dies, a new modifier happens called "The Legacy of the Mahdi" giving +5% land morale and +10% manpower recovery speed for 20 years
Removes the qizilbash modifier
2. Proclaim Shah of Iran, moves capital to tabriz, converts the country to Shia islam of the jafari school, gives permanent claim on iran region and spawns a shiite center of reformation in Tabriz for 50 years. Get's the modifier "Shah of Iran" for 20 years giving +1 yearly legitimacy and -10% core creation cost
In order for the center of reformation to make sense, Iran should start majority sunni in 1444, as it historically was, Shah Ismail and the safavids force converted most of Iran and Shirvan to shiism.
Because the religious set up in the middle east is extremely anachronistic. At the time most of persia was sunni (some exception like qom) and the safavid spent 200 years making shia islam the majority religion in the country persecuting sunnis.
This then would make a lot of sense for ardabil to want to embrace shia islam to conquer persia
Alevi provinces in western Iran marked with green circle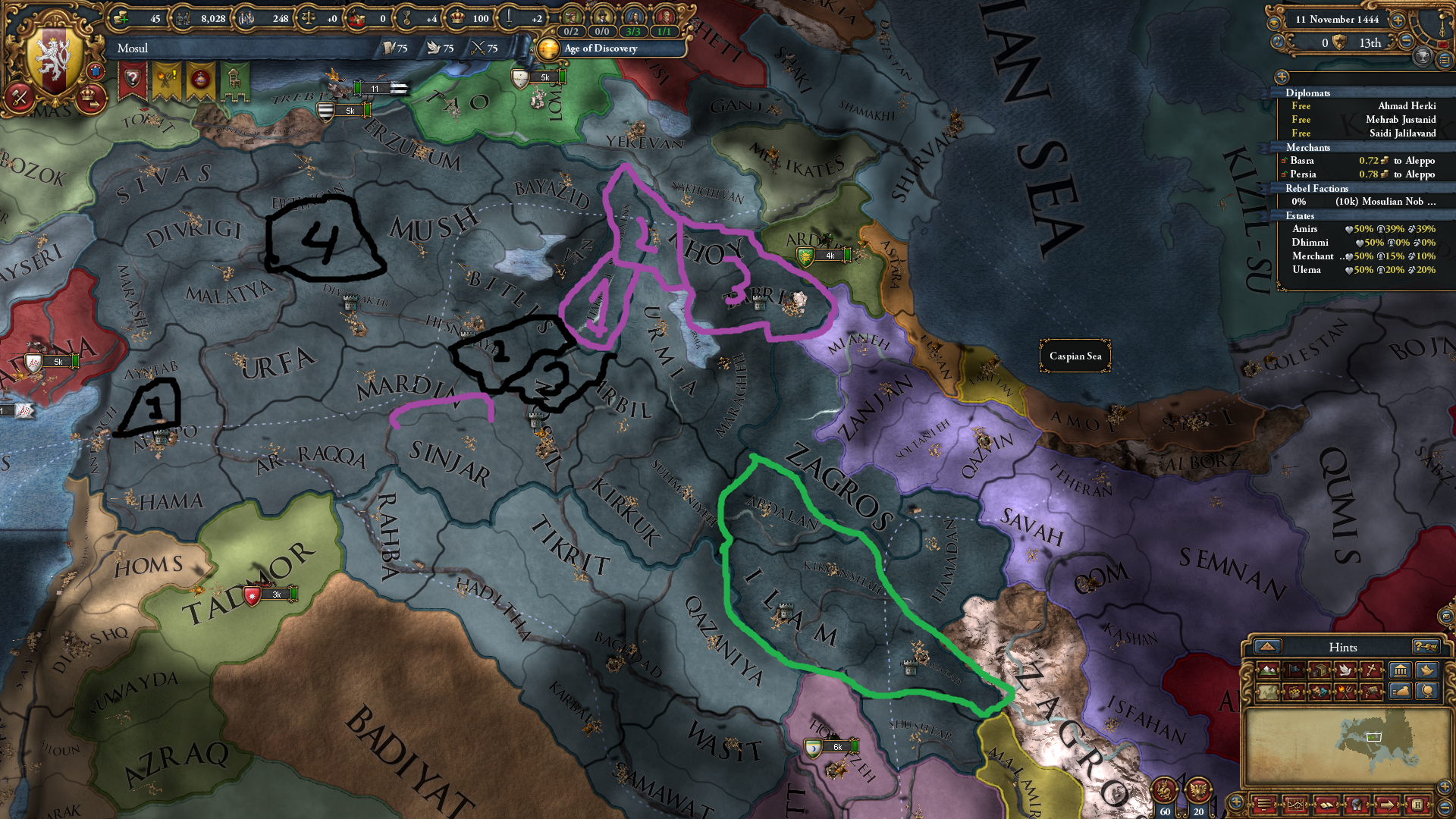 A religion of many names, often known as yarsanism and very diverse with several subsects and generally quite obscure.
Figuring out their exact demograpics today, not possible, in 1444, not possible. Some sources are very careful talking about ahl-i-haqq, while other sources do so biggly, I seen sources claim that ardalan was officially ahl-i-haqq and that the lurs were all ahl-i-haqq. Maybe a bit of an overstatement but the sect seemed to have been dominant among the gurani kurds which made up the population of ardalan which prompts me to put ardalan province as Alevi, but keep the tag as sunni. However there should be a decision for players to make Alevi state religion, as it seems the ardalan emirs if not members of the sect tolerated the sect. Kirmanshah and Ilam also seems to have had possibly an ahl-i-haqq plurality/majority. Lak kurds in the area seems to have been adherents of ahl-i-haqq before converting to sunni, likewise portion of the lurs as well
Additional source on Ahl-I-Haqq presence among kurds in the area
https://www.tirsik.net/danegeh/pirtuk/DavidMcDowall/A Modern History of the Kurds_DavidMcDowall.pdf
also note that ardalan controlled at least suleyman province (should be renamed as the city was foudned much later) and possibly kirkuk in 1444, at time both before and after 1444 ardalan would rule territories as far north as amadiya
It is also speculated that Ardalan might have professed Ahl-e-Haqq as state religion/religion of the ruling class at some point.
My decision to make khoramabad (and in theory this might extent to the rest of nothern luristan) Alevi and give luristan tag a similiar decision as Ardalan stems from well, it's clear that ahl-i-haqq were present among the lurs especially in the north, but religion in Luristan was heterodox with our without ahl-i-haqq. And we know very little about religion in the area from early modern era with most knowledge coming from 19th century sources
Because of the nomadic nature the lurs were not integrated in mainstream islam but lived without mosuqes and kept there religion closely tied to their folklore and superstition, local religious leaders etc to the point that in 19th century the persian government sent missionaries to "re-convert" lurs to proper shia twelver islam.
This looks more like syncretic and heterodox "Alevi" than shia islam.
Source
https://www.iranicaonline.org/articles/luristan-05-religion-beliefs
So in short both ardalan and Luristan are sunni countries, but have Alevi provinces and both tags have decisions that let them convert state religion without having to start rebellions or so (though not used by AI)
To elaborate on my idea of allowing ardalan and luristan convert to Alevi I came up with the idea of allowing any tag with turkish, azerbaijani, kurdish or luri culture do the conversion (once again AI should not do this).
Maybe syrian culture should also be included here for alawites, but I'm not sure, it makes more sense with tribal kurds and lurs and turkmens jumping on the train but for an independent syria tag I don't know

It could be made as a decision or if possible in the convert religion tab.
The decision would require the owner to have at least one Alevi province, and a mysticism of 50 (tentative number) and stability of at least 1 and no more than 7 provicnes in total
Enacting will cost 1 stability but give a modifier giving +3% missionary strength against heretics and +20 religious unity for 20 years (representing that while these religions became closed at certain pointsi n their history they did have an initial proselytization phase.
The difference between Bektashism and Alevism is primarily a social distinction. Alevi-qizilbash were the rural/tribal followers of the ideology of Haj Bektashi, while Bektashis are the urban and institutionalized group. Bektashi islam became populaar in parts of the balkan and to this day is the dominant form of islam in albania, and was the religion of the janissaries, I consider it possible to add events for conversion ofbalkan provinces to Alevi, especially provinces a lot of janissaries are recuited from ,if this is possible to achieve

I am tempted to include possibilities for ottomans to convert to bektashism/alevi through janissary coups but I guess that should also force change the tag.
Alevi religion: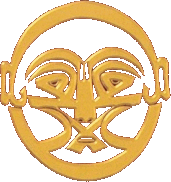 Icon of Alevi religion
What are the common religious denominators to hold on to when making a religion for Alevi? Using islamic mysticism meter is entirely pointless as these groups are already hardcore mystics. There are a lot of interesting concepts to work with and I tried several different approaches, trying to rework existing religious mechanics to make it work for the Alevi (to keep it simple for paradox developers). I considered giving them harmony mechanic, a mechanic like protestant church power or orthodox patriarch authority, in the end I came down to something much more simple, cults/deity mechanic like the hindus.
Why this? Alevi groups have traditions of deifying various figures aside from allah/god and venerate a variety of beings, many which are historical figures in their religion.
So like Hinduism, The Alevi select a cult every time there is a new leader and follows it until they die and choose again. So let's look at the cults of the Alevi:
Numbers are suggestions
Alevi modifiers:
+3 tolerance of heathens (representing their syncretic beliefs)
-15% stability reduction cost
-1% missionary strenght (most groups are closed and don't accept converts)
they have halfed relationship penalties with shia muslims, as they're considered exaggerated shia muslims.
All Alevi provinces receive -2% local missionary strength.
Available cults, I needed to make these cults strong and make the religion on par with other Islamic religions, I don't want choosing to play Alevi to nerf the country except possibly in terms of diplomacy as well as making ardabil a strong country
I'm trying to keep the cults wide to fit the different groups that uses them.
Cult of [Ruler_name]
: A cult that venerates it's leader as divine
The ruler of state get's +1 monarch point to their strongest attribute
+10% manpower recovery speed
+1 yearly legitimacy/corresponding
Cult of Angels
: A cult that venerates angels/divine emanations (babs) that guide mankind
+10% manpower in true faith provinces
-10% development cost
Cult of Saints
: A cult that venerates important saints like Haji Bektashi
+3% missionary strength against heretics (negating it's existing penalty and the natural penalty of muslim religons)
-10% idea cost
Cult of the Sun:
A cult that venerates the sun and fire as representations of the holy
+10% goods produced
-10% aggressive expansion
Cult of the Imams
: A cult that venerates Imam Ali and his successor imams
+10% morale
+20% defensiveness
Cult of Trinity:
A cult that venerates a trinity of divine figures usually including Muhammed and Ali
+50% religious unity
+2 diplomatic reputation
I can't say all Alevi groups followed all these cults, but at least some of them! Which makes it IMO appropriate enough.
Except for the mechanic itself I haven't gotten around much to create more content for Alevi.
One idea for a kind of event I have is to play on the syncretic practices and beliefs of Alevi groups.
So when Alevi meets a Christian country, they can get an event about celebrating mass and communion which will increase relations with target country, if they meet hindu country, they will get an event about reincarnation being common denominator giving relationship bonus. Maybe in the future I'd be able to get back to this and focus on writing some events or flavor content but for now this is what I have on the Alevi
Let's move on to yazidism. I recently made a thread on the matter, I mostly reuse my content from that thread but updated it a bit.
Politically we see an improved situation for the yazidis with two independent tags Dasini based in Sinjar and Donboli based in Khoy. As well as an additional two provinces professing yazidi beliefs, Dohuk in northern iraq (also their religious center and a core of Dasini) and the province of Efrin over in Syria.
Besides a lot of articles (most of them sourced in my previous thread) I found this book and while not able to read all of it, I read the parts covering yazidi history in the relevant timeline.
First published in 1993. Routledge is an imprint of Taylor & Francis, an informa company.
It's with help from this book I made my calls for yazidi provinces and tags. Primary sources from around the time describes 6-7 main yazidi areas, Dasini/Sheikan in the north of mosul (this time around I let the area be ruled from dohuk/part of bitlis because their are so many emirs and tribal leaders in the area all can not be represented)
Sinjar as a yazidi stronghold is not clearly documented before 17th century but seems to have hold up to that before.
There are some pockets of Yazidis in southeastern turkey, Bohtan might have professed yazidi religion at some point before 1415, I saw a mod have yazidi in the province but I didn't see evidence for that later on. The remaining pockets in anatolia, primarily around batman and southeast of van are too small to represent
The Donboli principality
https://en.wikipedia.org/wiki/Principality_of_Donboli
which now starts as an OPM vassal of QQ would be yazidi until later 16th century and are thus represented as such
Further west we see an isolated pockets of kurds in the kurd mountain centered on the cities of Efrin and Kilis, still to this day yazidis survive in the area. From sources we can't say if the majority of the population was yazidi or muslim, but even when ottomans conquered the area yazidi tribes were among the most powerful, making it possible.
For Dasini
@fredrikslicer
designed a set of national ideas (with some modifications by myself)
Trigger = Dasini
Traditions:
+15% Local defensiveness
+5% production efficiency
1. al-Yazīdiyya
A common misconception is that the Ezidi faith was created by the holy sheik. This is false
we were reformed by him and our rites purified by his wisdom. Yet we have existed since
the life of Adam.
+15% manpower recovery speed
+0.1 monthly purity
2. Zawiya
Sheik Adi not only formed the center at Lalish but also created an order of dervishes.
This order though dedicated to the Sunni Muslim faith remains a point of pride for the
community and brings us together with our neighbors.
+10% Institution Spread
3. Tough, rough men
The lands of northern mesopotamia are dry or mountainous, often both. It has given rise
to a breed of men that can survive even when deprived of nourishment and faced with the
danger of the elements.
-10% Land Attrition
4. Civata Ruhani
The descendant of Sheikh adi, sheikh Hassan, created numerous reforms to preserve our
community and carry on its practices. One of the most long lasting is the coucil known as
Civata Ruhani which still stands guard over our traditions and wellbeing.
-0.05 corruption
5. No mercy for blasphemers
To mention the name of the devil, or blaspheme on the name of Sheikh Adi or commit other sinful acts there shall be no mercy.
-33% harsh treatment cost
6. Yazidi marksmanship
Yazidis are renowned for their marksmanship, all Yazidi are armed with a rifle and capable of hitting a sparrow's eye at distance
+10% land fire damage
7. Line of Mir Mihammad Batini
Through a long series of trials and tribulations the Ezidi have been brought back together
under the Qatini faction. Their line will provide us with leadership well into the future.
Leader cost -33%
Ambitions +0.5 yearly army tradition
mostly copied from my previous suggestion
https://forum.paradoxplaza.com/foru...rities-in-the-cradle-of-civilization.1440923/
Introduction of Yazidi religion:
Yazidi belongs to the iranian religious group together with zoroastrianism. As yazidism is syncretic between old iranian religions and Abrahamitic religioins, due to being so different from islam and persecuted by muslims I find it to be the most suited placement,
Yazidism already exist in CKII converter so it actually already have modifiers and icon:
+1 Possible Advisors
-20% advisor cost with rulers culture
+3 Tolerance of the true faith
−1% Missionary strength
−1 Tolerance of heathens
−1 Tolerance of heretics

−1% Local missionary strength
As we can see Yazidis don't like non Yazidis getting
negative tolerance
and negative missionary strengths. The benefits of the religion though is very slim though, so I'm replacing the +1 possible advisor that is originally in converter games with something more more adapted to the Yazidi playstyle, tall and isolated! reduced cost for advisors with rulers culture (reduced cost for rulers religion would be better but I don't think that's an existing mechanic yet)
Edit: I found it unnecessary that yazidis would be less tolerant than other groups, thus penalizing them so heavily
The idea is that Yazidi religion should compensate for their poor expansionist playstyle with strong bonuses
Inspired by Zoroastrianism getting it's own mechanics finally! by reworking coptic holy sites I got inspired to do a similar thing for Yezidism, namely take the reformed fervor mechanic and rename it
purity
!
So reformed fervor is filled up as follows:
| | |
| --- | --- |
| +1 | as Reformed country (base) yazidi country |
| +1 | for being at peace |
| +1 | for each step of positive stability |
| +1 | for having luck (AI only) |
| up to +1 | from religious unity |
| −1 – +1 | from prestige |
| −1 – +1 | from Clergy depending on influence and loyalty |
| −2 | for being bankrupt |
Yazidi purity fills up the same way with the addition that converting costs 5 purity
Additionally religious idea 4 gives +0.25 monthly purity
You can also gain purity from the pilgrimage event I talked about before and there could be more events that give or cost purity.
just like the reformed faith you can choose three "
venerations
" namely the three holy figures of yazidism:
Telek Maus: +1 legitimacy (or corresponding RT, De etc) and +1 yearly prestige
Sheik 'Adi: -20% stability cost and +10% goods produced modifer
Sultan Ezid: +20 foreign spy detection and +10% land morale
choosing venerations work the same way of choosing a focus with the reformed faith
Each active
focus
veneration cost
5
fervor
purity points a month. It is possible to activate any combination. If the stored
fervor
purity points are depleted then the
foci
veneration will become inactive until there are enough positive points again. The
foci
venerations will deactivate in the opposite order they were implemented.
So this way yazidism is a self-serving religion, as bonuses circle around, activating sheik adi will make it cheaper to increase stability which gives purity, activating telek maus will give prestige which increase purity, don't conquer too many provinces, keep religious unity high and don't convert too many provinces, restore the sheik adi tomb and establish a liturgical canon (below) and you will easily sit on all 3 venerations at the same time
Yazidis also have decisions and missions unique to them (see spiler below)
They have two decisions:
"Establish liturgical canon"
The decision requires you to have +2 stability, loyal clergy, 100% religious unity as well as having a theologian advisor active and costs 200 diplomatic points. It grants a country specific permanent modifier which gives +0.25 monthly purity and +5% clergy loyalty equilibrium.

"Restore the Tomb of Sheikh Adi"
Own Dohuk and have it be yazidi religion, it costs 50 administrative points and will give Dohuk province a permanent modifier called "The Tomb of Sheikh Adi which gives +1 tolerance of true faith, +0.5 yearly prestige and +0.25 monthly purity it will also enable a semi-regular event to go on pilgrimage to lalish for ALL yazidi countries, which would enable a few pulse events similiar to the muslim event about the hajj (could maybe be turned into a mission)

Two unique missions also exists for Yazidis
Unite the Yazidi emirs:
Own at least five provinces with kurdish culture
Giving all kurdish provinces that doesn't have yazidi religion a province modifier for 20 years: "Yazidi emirs uniting under [ROOT] banner" +4 missionary strenght (to negate the negative modifier inherent in yazidism, in islam and + 1 to make it easier) and +20 manpower modifier

For this mission I decided not to make a scope around historical yazidi areas as it got too picky, they were spread out all over kurdish areas so I just made it generic like this

Cult of Angels:
Own, Dohuk, Sinjar, Tunceli and Ardalan as core provinces
All kurdish provinces get's +4% missionary strenght for 20 years
Gain permanent country modifier "Cult of Angels" Giving +10 manpower in true faith provinces and +5 maximum absolutism
Plays on the idea of the cult of angels pre-islamic fate mentioned before, Ardalan representing the Ahl-i-haqq and tunceli the alevi kurds

There are no yazidi missions giving claims on provinces, the idea is that there should be a kurdish mission tree giving that, and then based on religion the kurds should have extra missions for that (hisn kayfa having their own unique)
I think this was all, tagging
@Groogy
for good measures again, sorry for the spam. I might update this thread with some more flavor content, there are some more ideas I haven't fleshed out yet, but nothing major and would come as events or maybe decisions
One of the main reason middle east needs a revisit is the lack of mission trees for countries other than ottomans. Mamluks, persia, arab tribes/formable all need their own mission trees and in general there are other flavor content that needs to be done. Anyway to the main point:
I have sketched out some mission here, for ardabil and dasini so far. My idea is that there would be a persian mission tree coverign 3-4 rows, that all tags with iranian culture share, and then 1-2 rows of unique missions for tags or cultures (such as azeri, kurdish, persian, afghan/pashtun, Mazandari as well as having religious specific missions. Taking into consideration also timurid mission trees it can be a bit of a mess to design all this, but it's something that really should be done.
I also think that the Kurdish and Azerbaijani mission trees respectively would give them the option to change name (not tag) to Kurdistan and Azerbaijan respectively, both names are used in historic records for the respective people and regions

So for example Dasini would have mission tree combining three different elements, kurdish missions, yazidi missions and iranian missions. I would also suggest that Yazidi tags have the option to choose Yazidiya as dynamic name for their state isntead of kurdistan

Sunni tags get the sword of islam and custodian of the holy cities missions,
shia tags get the Najaf and karbala mission (and one more or so presumably)
Yazidi get's the unite yazidi emirs and cult of angels mission


I might get my hand to designing some of these trees myself, but that would be a suggestion of it's own. Anyway I have been carried away by my studies of the region which also led to my recent thread on badakhshan-afghanistan area.
Added august 2021
Alevi:
Since my Alevi group really encompasses 3 different religion, which are internally diverse and prone to changes there are many options for how to do this.
For a simple center of religion modifier (-5 missionary strength) Tunceli province with it's Munzur valley is a good fit.
http://www.munzurvalley.com/
https://en.wikipedia.org/wiki/Munzur_Valley_National_Park
Kermanshah province with it's holy sites for Yarsani/Ahl-I-Haqq
https://en.wikipedia.org/wiki/Yarsanism#Holy_sites
is a second option,
Furthermore there could be a province triggered modifier for owning both of these places, something along the lines of "Uniting the Alevi communities" which would grant which would grant +1 tolerance of true fate and +0.5 yearly prestige
Yazidi:
For yazidi I already did some suggestion for Lalish but taking itno consideration the new monument mechanic I'm expanding on that suggestion:
Dohuk province starts with a Religious center, giving -5% missionary strength. Furthermore it now has a monument which starts at insignificant level, can only be used by Yazidi religion and have the following levels modifiers:
Noteworthy level:
Provincial modifier:
+5% manpower
Global modifier:
0.25 yearly prestige
0.25 monthly purity
+1 tolerance of true fate
Starts the lalish pilgrimage events that create a semi-regular pulse event for ALL yazidi countries
Significant level:
Provincial modifier:
+5% manpower
+10% defensiveness
Area modifier:
+1% missionary strength
Global modifier
0.5 yearly prestige
0.5 monthly purity
+1 tolerance of true fate
Magnificent level
Provincial modifier:
+10% manpower
+15% local defensiveness
Area modifier:
+2% missionary strength
Global modifier:
+1 yearly prestige
+1 monthly purity
+2 tolerance of true fate
I love achievements so let's brainstorm some new.

All Saints Eve: As an Alevi country ally a Christian nation and go to war together

The Angels of Mons: As a yazidi country win a battle in the province of Hainaut
Last edited:
12

3

3

3
Reactions: