IamWhoa's SFX 1.1 (Updated May 16)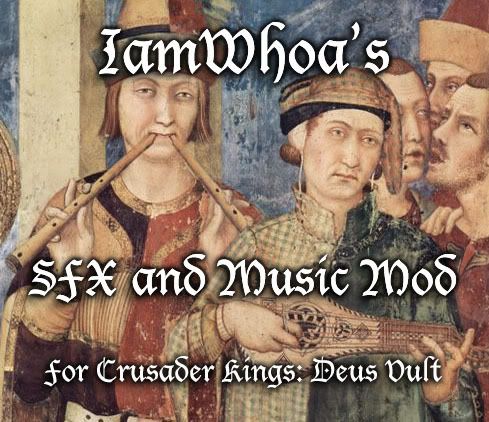 Description:
This mod is an attempt to craft what will hopefully be a more pleasant sounding experience. I was originally inspired to do this by Crusader King's loud theme music, which always made me jump. Secondly, some of the sound effects (especially the catapult one) were fairly abrasive. Almost all the SFX have been tweaked or replaced in some way. These sounds were crafted from a variety of sources, including those provided by Cheezy_Monkey and Crossbowman at Age of Kings Heaven.
The additional
Ambient Music Add-on
punctuates the current Crusader Kings music with more ambient sounds, like middle eastern instrumentation, rain, wind, and other medieval elements. Though I tried fully replacing the music with my own, it has proven to be beyond me for lack of proper equipment. I've included at least one of my own simple recordings to see how that flies.



To install:
- Make a back up of your music and SFX folders.
- Extract the two RAR's (if you download them both) to the Crusader Kings directory. Simple as that. Though you can listen to the sounds without installing the mod, just extract to a fresh folder on your desktop or somewhere else. You can pick and choose in this way as well.

Downloads:
Download at
MegaUpload
:
SFX 1.1
Ambient Music Add-on
Or Download at
FileFront
(not currently up):
SFX v1.1
Ambient Music Add-on
Previews
(Quality may be reduced in these)
War is declared --
Click here to listen!
Revised Catapult SFX --
Click here to listen!
What you will hear during the flank phase --
Click here to listen!
Leave feedback (including suggestions)
here!
Thank you.
Last edited: