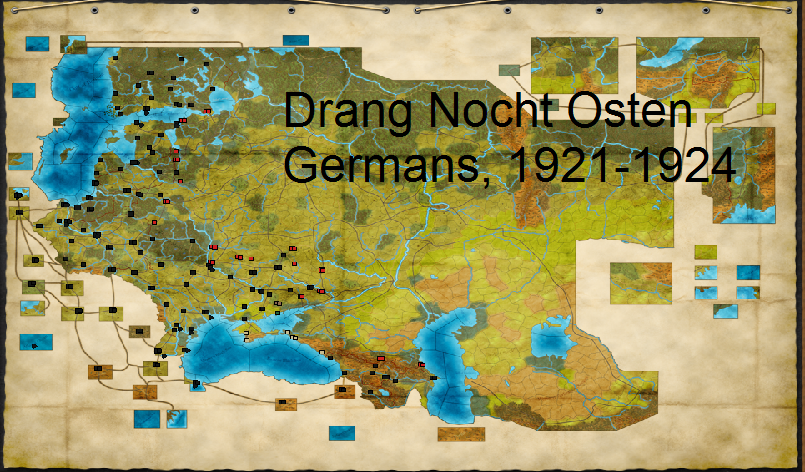 Sup everybody. I'm Axe27, and I've decided to add to a heinous workload with an AAR. Most of the AARs in this forum have covered the basic RUS game - that of the short campaign Civil War by Bornego. However, the RUS game came with another scenario called Drang Nacht Osten. Let's assume that WW1 is still going on in 1921, and that the empire of satellite states that Germany carved out of Russia at the treaty of Brest-Litvosk suddenly becomes the target of a reborn Russia, fresh from wrapping up its civil war. That's right - the
Reds are invading the Ukraine.
The Germans need to capture Moscow to force the Reds to heel, whilst avoiding a revolution in their own lands. The Reds need to either capture Ukraine, Finland, and the Baltic States, or force a German revolution. In short, it's a race against the clock for the Germans - beat the Reds before your NM falls to zero. And for the Reds - Either inflict massive defeats on the Germans, defeat the recently freed countries, or both.
Sounds like a mess, doesn't it? And I forgot to mention: The Revolutionary Anarchist Army threatens the Ukraine from the East, the Southern Whites persist in the Krim, and Greens are as ready as ever to revolt if you steal enough of their bread.
I'll be playing as the Germans for this scenario. I've never played a DNO campaign before, so this will be a learning experience for me. Luckily, I have three campaigns under my belt as all three factions in the Civil War - So, lets hope that experience transfers over.
Settings:
FW:Yep
Navy Box Handling: 75%
Commitment: Units will fight as soon as they meet
Force Pool:Historical(Armies are big enough as is)
Activation Rule: Normal (If unactivated, Generals can move, but very slowly, can't perform offensive actions, and have malus defending)
Randomization: Nope. Reds get to keep their crappy generals.
Attrition: Historical for me and the AI, meaning the AI can no longer set up a tent in a field forever. This is a first for me too, so another learning experience.
AI Bonuses:
Difficulty: Colonel (AI gets to move faster, recover cohesion qucker, and field larger armies
Detect bonus: Low (Unlikely this will come into play much)
Normal aggressiveness, though I may change this if the AI doesn't utilize its strategic opportunities enough.
Normal activation rules, meaning a +1 activation for the AI, meaning its (terrible) generals will activate more often than not
And of course, all behaviors.
And with that, a good luck to me, and a good luck to my reader, who choses to sit through and read this memoir of my failure to win a land war in Asia.
Last edited: