Gentlemen in Germany - a Brunswick AAR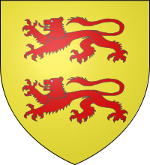 Game version: HTTT April 29th Beta
Grand Campaign (start date October 14th 1399)
Settings: Default


Special rules:
- No conquering without either having a core on the province or getting one upon conquest.
- Owning a non-core province is allowed only if it's immediately released or sold.
- Initial slider moves shall be taken towards Free Trade - not only for practical and RP reasons for a trading nation, but also to limit early spies.



* * *
​


With the game in my other AAR becoming quite intense, and my guess is that it will stay that way for a while, I decided to start a more relaxing game on the side. I'm not saying it's a particularly easy scenario with the country choice and rule set but it's definitely more conventional and more peaceful - I expect to do a bit of trading, zoom ahead at full speed and, when the opportunity comes, win some wars of often little reward despite having the odds stacked against me. That should be the case when the surroundings are like this and any rushing when the opportunity comes is essentially forbidden.

So, when I'd made the choice regarding game type, I thought what the heck, let's AAR this. Taking the screenshots etc. during gameplay is starting to feel quite natural by now, so might as well bring the EU III forum its second Brunswick AAR!

The rules will make unhistorically fast expansion a lot less likely. Therefore I've decided to go for a more historical feel (still with lots of pictures though). With this I mean the writing only: I'm not going to include many historical references because while I could probably pull that off in front of most audiences, I know that there are plenty of people on these forums that could burn me if I tried to do that with my relatively limited knowledge.


I'll also be doing heavy roleplaying: I try to make game decisions that make sense in the context of the story as it develops.

I'm not promising any schedule with this one - all depends on real life. However, I will bring this to some meaningful end, I just don't know when that will happen or what that end is. Maybe it's taking this to 1821, maybe it's forming Germany, maybe it's some other goal that's decided on along the way. Heck, with a nation of this size, if I get very unlucky maybe it's getting annexed a little while in.

We'll take a quick look at the starting situation before starting the AAR full steam.




* * *​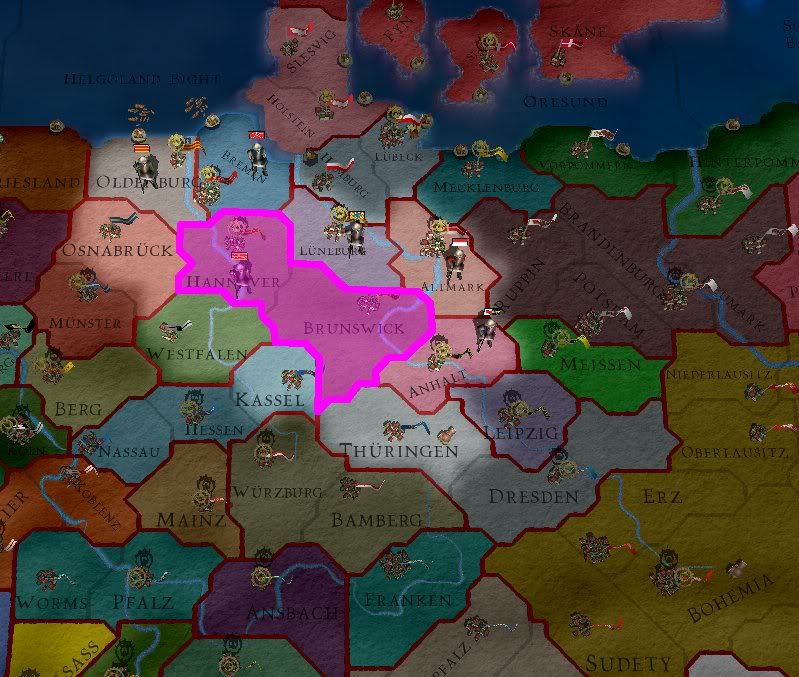 So here we have the two province minor Brunswick. And I still like to use pink for this stuff.
It's surrounded by other one, two and three province minors, so it's a safer start than some minors.

The capital Hannover is a base tax 7 cloth province and the other province, Brunswick, is base tax 5 and producing iron. It's a decent start for the economy in the province sense.

In the slider sense, not so much: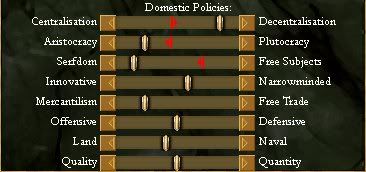 Lots of work to be done here to accumulate money and get trading going.

Brunswick's king is Heinrich der Milde (A/D/M 5/5/5), from the von Welf dynasty. There is no heir.

Without further ado, let's get going.
Last edited: