Managing / Game Director @ Triumph
16 Badges
Hi, welcome to Planetfall Dev Journal #22. This one is part of a two week piece on Operations (Ops). This week we'll be looking at the Strategic ops system.
Operations are used to support your Armies in the field, to increase the efficiency of your Colonies and to allow you to spy on your enemies. They vary from airstrikes to missile systems to more 'magical' psionic effects to edicts for your people called Doctrines.
As with AoW spells, most ops are flexible buffs and debuffs, and nice direct damage stings that can tip a battle or particular geopolitical situation in your favor. The usage of basic ops requires less planning then the slow building, upgrading and positioning of armies. Combat ops play a supportive role and won't win battles or games on their own. Doomsday weapons Ops
will
win a game, while high level (covert) ops take careful planning to reap great rewards.
Operation Types
The types of operations available to you are Strategic Operations, Covert Operations (both of which are only usable on the Strategic Map), Tactical Operation[ (which can only be used during combat), and Doctrines (which globally affect your empire).
Most of these operations are unlocked through research, and are dependent on the Race and Secret Tech you picked. Operations require the expenditure of Energy and operation points, and sometimes additional resources such as influence.
Strategic Operations
Strategic operations can be used to, for example, weaken enemy Armies by bombarding them or to boost your Colonies among other things. Operations targeting enemies have a chance of success and failure based on your Operational Effectiveness and the Enemy's Operation Defense.
Direct Damage Effects: Such as missile strikes and orbital cannons.
Deployment: Instantly summons characters on the world map.
Colony Buffs: Boosts various types defenses of and economic effects
Colony Debuffs: Weakening enemy defenses and economies.
Sabotage: Stop enemy buffs and debuffs
Doomsday weapons, which form are the Tech Victories. Read more about Doomsday Weapons in the Promethean Secret Tech here.
In order to use Strategic Operations, they first have to be
primed
. This costs Strategic Operation Points (Yes we split strategic and tactical "casting points") and energy and after priming the operation can be launched at any target within your vision range. Some of these operations require more strategic operation points that you have available. In these instances, the operation will use Strategic Operation Points on every following turn until it has accumulated enough to be primed. The types of available Strategic Operations depend on which race and secret tech you picked. Strategic operations can be used on any valid target where you Vision.
Three Dvar ops ready to be deployed, one is being primed. Prepare a Pearl Harbor surprise attack​
The Priming systems allows you to ready multiple ops at once (but only one instance per operation type). Priming was added to give you more flexibility when using ops compared to AoW3's spell system. There were many situations where you'd cast a spell over multiple turns, and then had to wait for the right moment to use it. Holding on to this readied spell would block any other strategic spells from being cast. Another advantage is that you can pause an operation from being primed and resume it later.
Celestian Ops PFX were inspired by Spirograph graphics​
Operational Strength and Defense
Operational Strength increases the chance of your Strategic Operations and Cover Ops succeeding. The higher your operational strength, the higher the success chance of your operations.
Operational Defense is a measure of how well protected you are from Strategic Operations and Covert Operations belonging to other players. The higher your operational defense, the lower the success chance of any operations that target you, your colonies and your armies.
Operation Success Chance: Covert ops have a 60% base chance of success. Each Point difference between the attacker's Operational Strength and the defenders Operational Defense will add or subtract 5%. There caps on 10% and 90% success rate.
Your Operational Strength and Defense can be upgraded globally by researching Empire Upgrades, and enacting Doctrines. Operational Defense can also be buffed through local, per colony effects to protect you from destructive enemy attacks.
Operations that require a success roll generally have a reduced-strength failure effect, so using these ops is never in vain. Note that the outcome of a success roll affects the detection chance of Covert Ops.
Tip: A particular undisclosed faction has a Hero ability that increases Operational Effectiveness for enemy Sectors it is located in. That same faction has a doctrine that does extra damage on units of a party they have Infiltrated.
Selecting a target Sector for a Celestium Op
​
Strategic Ops have a results window, indicating the op was successful or failed. ​
Spreading the XenoPlague
​
Duration and Sabotage
Offensive economic debuff Ops have a fixed duration so it is possible to sit them out as the victim. In AoW3 you had to disjunct or they'd last forever. Of course, it is possible to cancel enemy ops; this is done through the Sabotage operation. Sabotage uses the operational offence and defense values. When a Sabotage fails it shortens the duration. The cost of Sabotage is dependent on the priming cost of the target Operation.
Operations Overview
When zooming all the way out on the world map, the Overview Map of the planet appears; one of the lenses is the Operations view, which will list the operational defense per sector as well as the icons for active localized Ops. The overview maps are still work in progress, but here is a preview: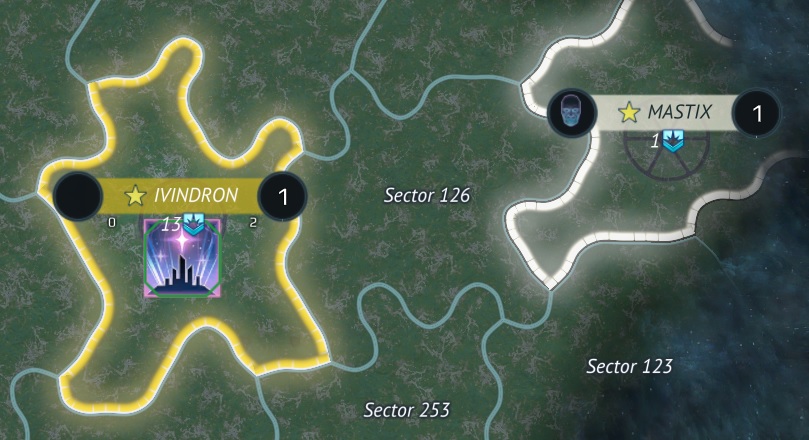 WIP Overview map listing Operational defense + Icons for active ops. ​
Check back next week for Ops Part II, which will deal with Covert Ops, Tactical Ops, Doctrines and I will discuss some of the crazy failed
prototypes including operations using an Orbital Map layer.