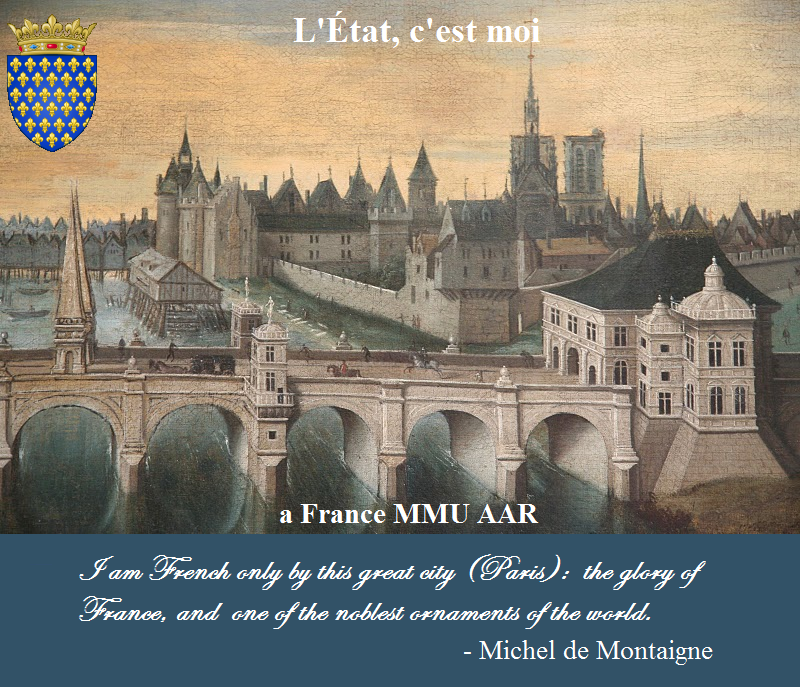 Table of Contents
​
Charles VII de Valois (1422-1466)


​
​
Louis XI de Valois (1466- )


___________________________​
To say that I've had trouble completing AARs I've started in the past is to be rather kind with my track record. Whether because of university or real life concern I've put off my previous two aars for several months. Upon finding that my interest in completing them had returned (as well as the time to do so) I found that none of the old files remained, not one picture or save game.
I decided to try and start fresh, and begin (and hopefully finish) a new AAR. Anyone who's recently been reading Chris Taylor's magnificent AAR
Porta Atlanticum, Portus Classis
will have probably seen me, as of late, dropping my two cents into his work. As such, it should come as no surprise that, in order to better my own manner of AAR crafting, that I should take notes (and stylistic choices) from the good man's good work. Of course, credit also goes out to axzhang's
Repubblica di Genova
, an amazingly crafted AAR that serves as the root for this style of AAR.
Of course, I am neither the artist that axzhang or Chris Taylor are, nor do I have the tools that they must have to craft such truly impressive graphics or images. I shall attempt to do my best with what I have, although if any of you have any suggestions for (preferably free) programs that would help with graphics, I would be deeply indebted to you.
The mods I'm using are the MMU 1.26 mod, alongside the superb Firenze Submod. Others might be included as I become more confident that I won't utterly ruin the program while trying to mod things in for 'flavor'.
And now about the elephant in the room: my country of choice, France, the infamous BBB. MMU, in my opinion, makes playing the game as France quite a bit more difficult if you have any aspirations of growth beyond the borders of France, its vassals and its starting cores, which made for an interesting pick.
Also, while I'm not a newbie, I'm not the greatest when it comes to Magna Mundi. So France, being powerful but also restrained by its position, seemed like a good choice when it would come to playing the game.
Some will say that I chose this simply to contrast with Chris Taylor's AAR. I will flat out state that this is not true. (Although I do encourage Chris to weep openly if/when France sends the Royal Navy to the bottom of the sea).
As for goals, I'll be trying to go for the state of France during the First French Colonial Empire. However, I'll be keeping my mind open for opportunities that would arise elsewhere (both with colonies and with Europe) as France had quite a few goals that weren't met (or, were met and soon enough lost).
Finally, a quick thanks to the Magna Mundi team. I've been playing with this mod for years now, and I must say that I have greatly enjoyed it and that it has enriched my experience with this game.
Last edited: