Random User Title
33 Badges
Welcome to my Roma Armageddon AAR!
As pointed out in an other thread, there are almost no Armageddon AARs.
Why? I don't know, because I think this scenario is hilarious, especially playing with Roma.
I had to abort my first game, when I played with them, but it was the first time I really felt challenged by a scenario. I had to abort my first Armageddon game with Roma, due to the bug with ridiculous long maximum fire distances for naval units, but I patched and fixed it and so I thought, for the second time, I'll do an AAR for it, just because there aren't any
I won't develop a story around it. If you want fun, a little bit story and so on, go to my other AAR. This will be pure gameplay and maaaaaybe a little bit fun stuff (sometimes, I can't stop myself
)
So with no further blabla, let's have a look at our situation.
I can describe it with many pictures or three words: We are screwed.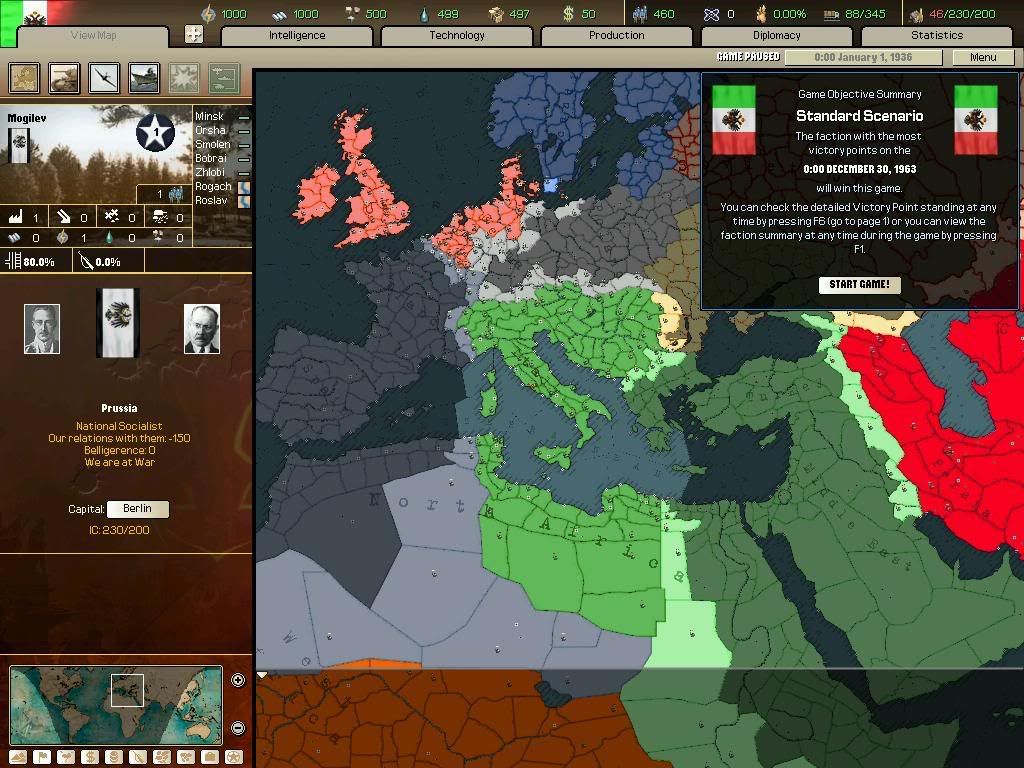 Enemies everywhere. To the west, we have the Bourbon-French, to the north are the Prussia-Germans, to the east we have the Cossacks and the evil Ottomans. Even in our holdings in Africa, we are bordering the French to the west and the Ottomans to the East. We have no access to any of our Stalinist allies that are spread all over the world. The next ones to us are the "European Soviets" to the north, they have the British Isles and a beachhead in the Netherlands and Belgium. I have to pay attention, that they don't get crushed between the French and the Germans, but eventually I hope to connect with their territory. In the south, we have the "APR", owning 2/3 of the African continent. I expect them to steamroll France and the Ottomans out of Africa, if I can't do it. The French and Ottomans will need most of their untis in Europe, so I don't expect them to ship too many troops over to Africa. And that's the end of the good news.
We have 1918 infantry unit in every border-province and some more at our Italian beach-provinces. In addition to that, we have 6 armored divisions in in Rome and we will have to think about the front, where we will use them. This gives us a total of 60 divisions, 54 infantry and 6 armored.
Let's take a look at our allies:
We also have 8 Fighter Wings and 8 Tactical-Bomber Wings, but they are only the superweak Interwar models. Good enough for some strength draining and organization bashing, but too bad to kill any divisions like hordes of German CAS
But let's go on with our overview. Every nation starts with the same technologies and that is almost nothing. We even have to research '36 infantry and so on. So this is what I chose to research first:
Explanation:
- Infantry '36 as we are relying heavily on infantry and they have an uber-advantage over '18 Infantry, so if we have them first, we will gain a huge advantage early on.
- Mech-Agri - NEEED MOOOORE MAAAAANPOOOWAAAAR
- Mobility Focus Doctrine - Obviously, the best doctrine, so why pick the other tree? Let's go for Blitzkrieg
- Basic Machine Tools - NEEED MOOOORE INDUSTRIAAAAL POWWAAAARR
- Medium Great War Arty - I had to choose between this and the next Tank-development, but I think that it will take too much time to research 2 tank-techs to upgrade my tanks, which is VERY IC-heavy and takes some time, so I will go for new arty, which I will need anyway, to stop enemy-tanks with my infantry (my own tanks can't be everywhere).
Let's go to production.
What we need is meat. Meat to cover our immensely overstretched lines. And something to make our meat a little bit harder to eat. Especially with tanks.
So what we will produce:
4x10 arty
This will cover all of our infantry in Europe and will also leave some arty for our African troops. The first arty-brigades are ready in 43 days. Time is crucial here, so the middle of February sounds fine. Maybe I will switch at some point to the new models, because the gearing bonus isn't worth that much here.
1x10 '18 Infantry + arty-brigade
It is crap to build them, when you know you have to upgrade them and you can build them cheaper after you have researched the '36 upgrade, but we REALLY need them. 81 days will be at the end of March. After that, we will hopefully start to build '36 Infantry.
2x6 Militia
Ewww...not that I like Militia, but we need something to fill the holes in our line and they are good enough to hold a mountain-province with the help of an infantry division, so they may free up some regular infantry divisions for other duties.
I can't think of any real other use for our IC at the moment. Navy isn't that important at the moment and building a decent airforce would cost too much IC and as long as we didn't research any further advanced airforce techs, it's a waste of IC and time. Two things, we don't have.
Oh and before I started production, I moved the slider towards Hawk Lobby. Faster and cheaper production for the win!
So that was a brief overview and I will highlight the fronts in the next update, their problems and chances and what we expect to lose and what to gain
Last edited: