Hail to you our Murunda, also known as Khan among our Turkish tribesmen. For too long our tribe has been driven away from our homelands in the east by the encroaching hordes of Turks and Yuezhi, our ancestral homelands have been abandoned and our tribe has been forced to swear allegiance to our conquerors, no more. With you portents tell of a return of the Saka Raukas, the royal Sakas. We shall retake the steppe and make it scythian once more, we shall restore the fire in our ancient temples of the south, we shall do what the Persians and the Parthians did before us and claim leadership of an Iranian Empire. If you will only lead us, Murunda Sharasa.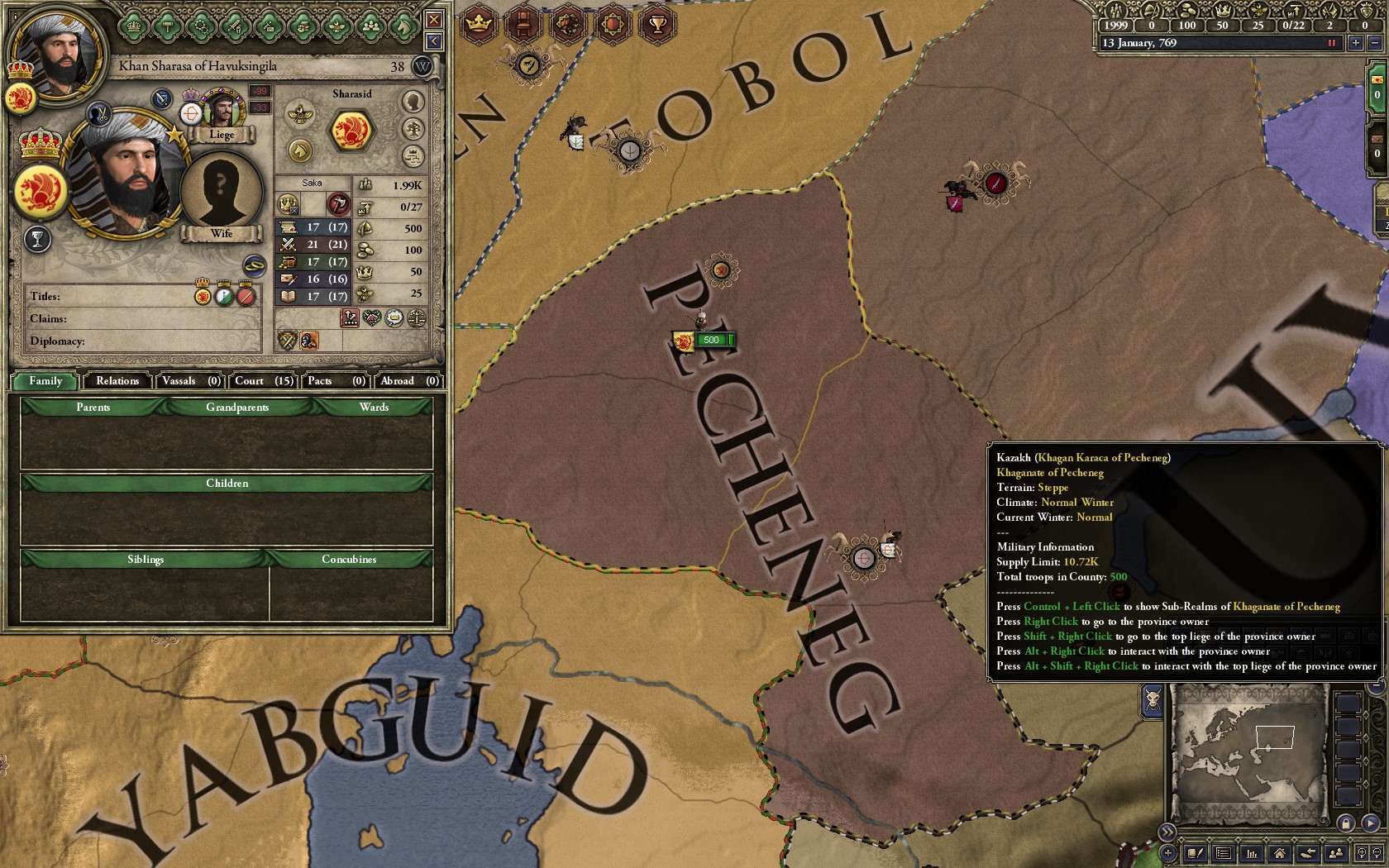 (I had to use console commands to get around the fact that there is a bug stopping me from playing as vassal nomads when using ruler designer, that is why the ruler and vassal of the Pecheneg have switched places.)
OOC: The Sakas, or Scythians as the Greeks called them, were an Eastern Iranian people who dominated the Eurasian steppes before they started being displaced by the Turks in the 7th century AD, they still survived in the Kingdom of Khotan in the Tarim Basin until the 11th century (hence why Paradox added them in the latest patch) but those are boring (and I have done them before) so I have used the Ruler designer to create some proper nomadic Sakas, who are also Zoroastrian. The justification for their existance being that they are vassals to Turkic Khagans who have not yet assimilated in the earliest start date (seems plausable enough). The goal is to take over the steppes and then pour down and conquer the Abbasid Empire, preferably with my first character. After that I will go for a more vanilla settled, Persian, playthrough but I will countinue supporting my nomadic brethren in the north. If and when I reach the end date I will probably convert it into EUIV and for that reason as well as to not make it too easy for myself I will reign my conquests in after I have established the Persian Empire, going more or less for the size of the Achaemenid Empire.
Also of note, I have not yet decided where I will have my capital, Esfahan has been it fore most of my previous Persian playthroughs despite the fact that it was not of significant importance during this era so while I am not completely discounting it other ideas, such as the restoration of Ctestiphon or Susa, are apreciated.
These are the following game rules for this playthrough:
Major Epidemics: Delayed Dynamic
Minor Epidemics: Default
Mongol Invasion: Delayed Dynamic
Aztec Invasion: Off
Chinese Invasion: All
Chinese Interactions: Within Range
Border Dispute Wars: On
New Casus Belli: On
Devil Worshippers: None
Secret Religious Cults: Default
Turkic Conquerors: Random
Non-Epidemic Diseases: Default
Shattered Retreat: On
Siege Assaults: On
Siege Events: On
Defensive Pacts: On
Gender Equality: Historical
Supernatural Events: On [Not going to use immortality if it appear as it changes the game too much but in general these events provide nice flavour]
Dynamic de jure drift: Restricted
De jure Assimilation Duration: Default
De Jure Requirement: Required
Nomad Stability: Unstable
Culture Conversion: Combination
Religious Conversion Speed: Slower
Raiding: Historical
Adventurers: Normal
Interfaith Marriages: Restricted
Matrilineal Marriages: On
Custom Realms: On
Story Events: On
Vassal Republic: Restricted
Vassal Theocracies: Restricted
Invitation to Court: Default
Diplomatic Range: On
Provincial Revolts: On
Provincial Revolt Strength: Very Powerful
Defensive Attrition: On
Pagan Reformation: Allowed
Regencies: On
Assassination: Plots Only
AI Seduction: On
AI Intrigue: On
Dueling: Default
Release Prisoner after Punishment: On
Titles Named After Dynasties: On
Cultural Title Names: On
Demesne Size: Half
Vassal Limit: Default
Grant Independence: Restricted
Childhood Focus Alerts: Close Relatives
Last edited: