Okay, I played a bit past where I ended the last chapter, and honestly, I've lost all drive to finish what my plan initially was. That war with the Ottomans ruined me, it was such a good war, that nothing else in this run can compare.
So, I'm going to post some end-of-the-game screenshots, just to give a feel as to how successful this run was. These are screenshots I took when I loaded up the save, so I'll just give a little insight as to what changed between then and me calling this over and a rousing success.
Ajuuraan (and then Sunda) was integrated, and France then became our ally, since we didn't have "too many relations". No one would bother declaring on us.
More of Persia turned to Zoroastrianism, and we fought a bunch of rebels, thanks to discontent from the Ottomans.
This is probably the second cleanest reformation I have ever seen.
Ottomans' army is in tatters, yet no one declared on them.
I actually forgot this ledger page existed, so this is partly to serve as a reminder to me, partly to show that we only lost 1.86 million soldiers.
Charts, because everyone likes charts, right?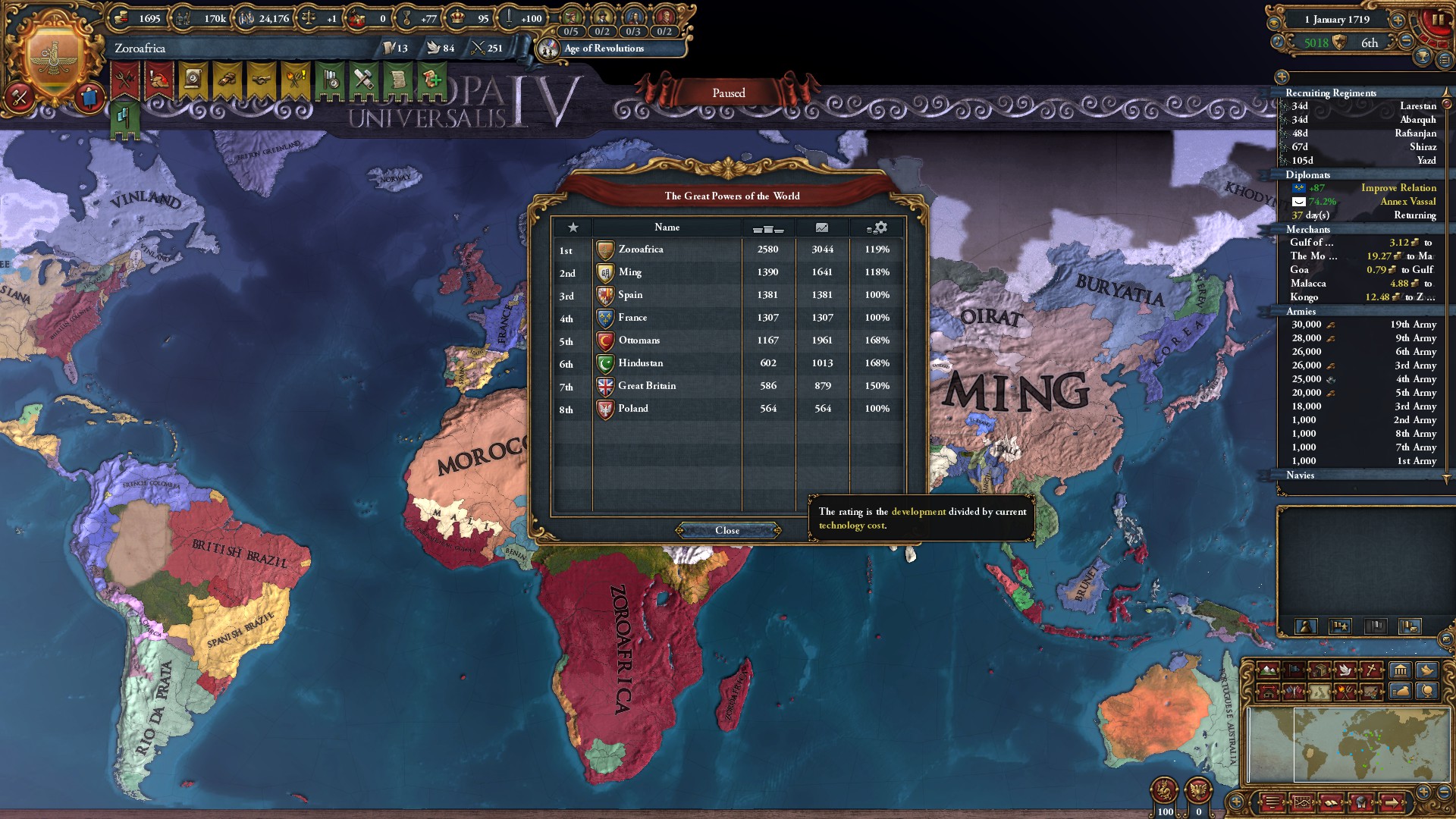 No one will usurp our spot as number one in the world.
And an overview of everything, for those who care to look. Sorry this ended so unceremoniously, but like I said, I was rushing to try and beat 3rd Rome's release, and I do have a couple of ideas for future AARs.
Speaking of, here's my plan for my next AAR. Now, after playing as the mighty Zoroafrica, I feel the need to play a nation with different ideas. Non-custom ideas, ideas that are stronger than our mighty ones (there are nations with stronger idea sets, shocking, I know). And, as I have no real desire to play in Europe, or Africa at the moment, I'm looking to the east. And I'm eyeing up one particularly powerful nation, one that blows the rest of the world out of the water. One that I have plans with, that only could come about due to the previous expansion pack.
Feel free to guess as to what nation I'm talking about, if you guess right, you'll get a prize or something like that. I'm not sure as to when that run will start, but I'd hazard that it'll start within a week or two.
Thank you all for reading, I'll be around if you want to chat or w/ever, and I hope to see you in my next AAR!