Our truce with Kongo is up, and we're looking to declare, when something stopped us.
Kalundwe, our staunch ally, who we have been with for time immemorial (I mean, it was at LEAST 20 minutes, that I know for sure!), has allied with our enemy! That cheating HARLOT!
The Zoroafricans needed to stabilize after such a shocking revelation...
So they did! War with Kongo will wait, for a few reasons. Mostly because another set of truces are set to end soon.
The truce with Kuba ran out, so they were DOW'd before our "ally" decides they want to be friends with them, too!
Twelfth verse...
Same as the first.
Shortly after the decisive victory over the Kubans, Zoroafrica learned how to turn cooking pots into machines of war, shooting large, iron balls at the enemy!
Meanwhile, in Europe...
Yup, Savoy has a PU over France. When I saw they had the same king, I thought that France was leading Savoy. Boy, was I wrong!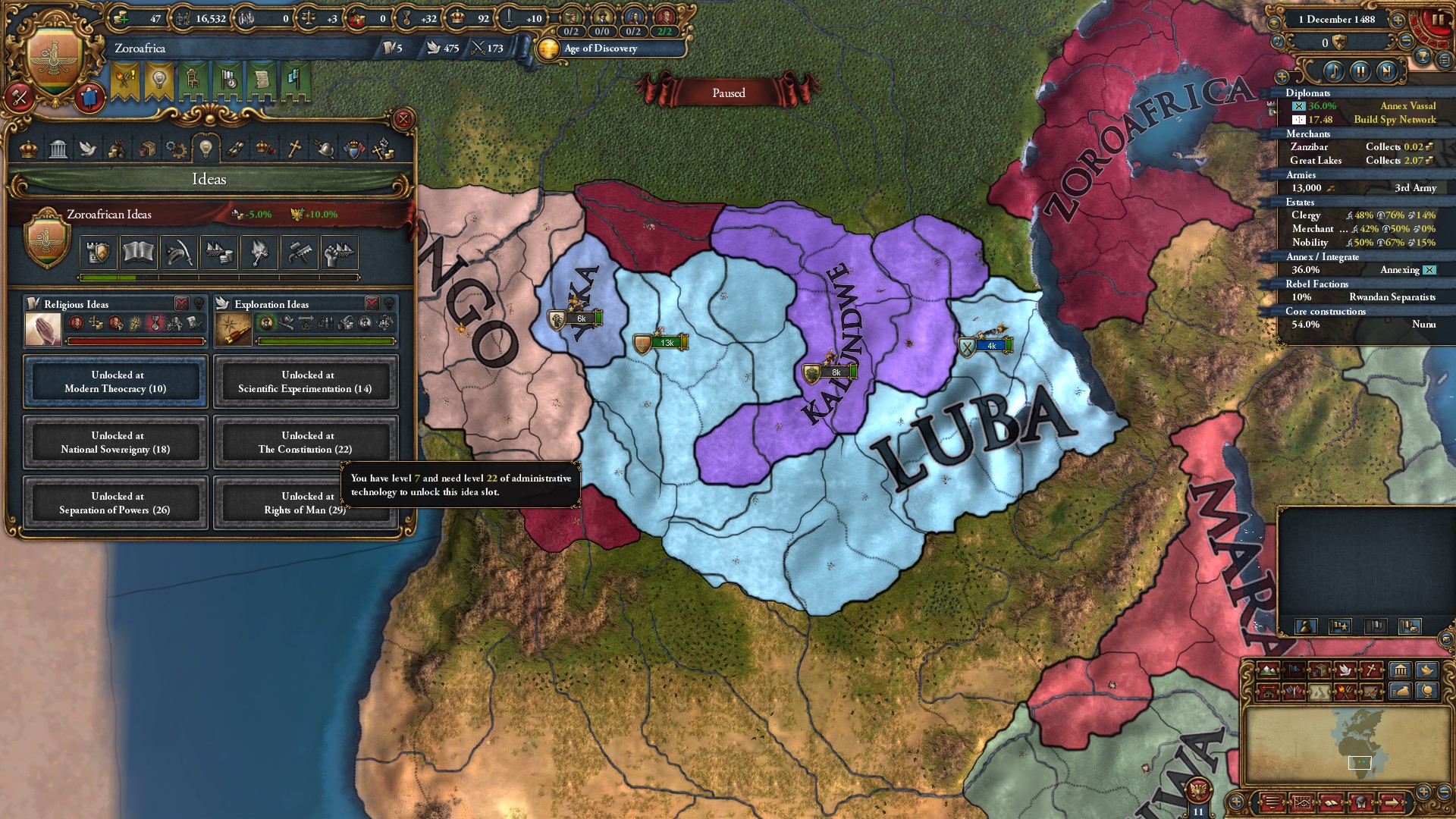 We finally hit Admin tech 7, giving us our second idea group, exploration! If we're to expand into the gold mines of Kilwa, we NEED this idea group. And getting a couple of CNs for colonialism down the line would be nice.

Back in Europe...


Easy come, easy go, I guess. I think Savoy abandoned the PU, but it would have been HILARIOUS to see a giant Savoy in France's place.




Okay, Kalundwe is cheating on us with not one, BUT TWO COUNTRIES?! That's the last straw, we're through, Kalundwe! I'm taking everything in the settlement, right down to the kitchen sink!




Take this! My love, my anger, AND ALL OF MY SORROW!




Shining Stackwipe!




You get some too, Yaka!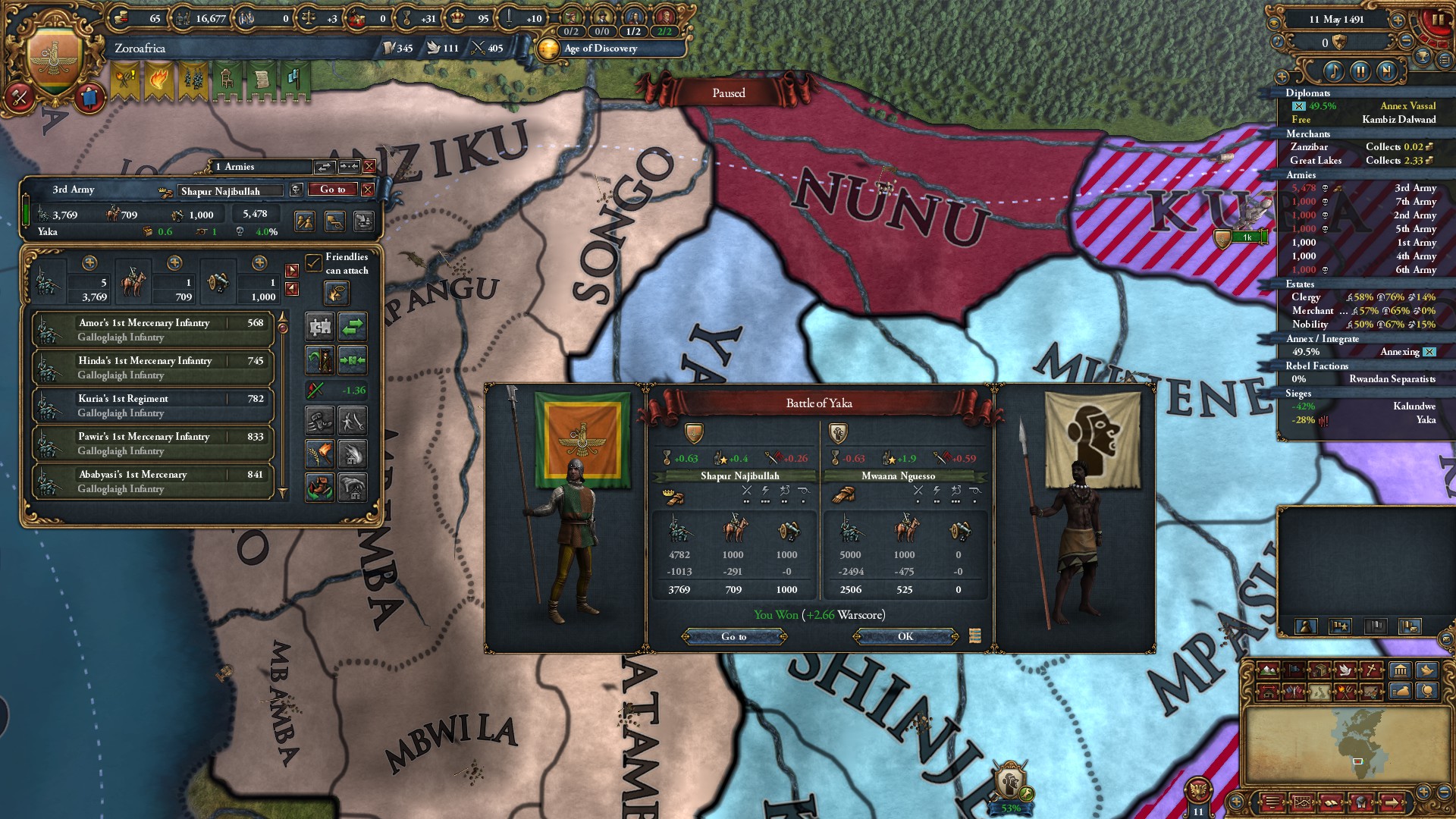 No wipe...
YET!


Get outta my Africa!




True to our word, we leave Kalundwe with nothing but the kitchen sink.




And we make Yaka wish they never got involved with Kalundwe.




We then turn around and face Kongo, who was still allied with Kalundwe.

Hey Kalundwe, know how I said you could keep the sink? I lied.




Killing the Kongolese, with ease!




Done and dusted.




With that, Kalundwe is no more than a bad memory, and the coalition of Fetishists is all but vanquished.




I actually got pretty lucky with this event, for two reasons.

1. My heir died while I was waiting for land to finish coring. He wasn't in combat or leading a siege, so no stab hit, but I was left without an heir.

2. The heir offered to me was actually acceptably average, and with a strong claim.




And our queen consort is above average, with the best trait I could have asked for.




But, you gotta take the good with the bad.




And the bad with the also bad. If only they would have chosen to spawn in the Kongo area, and not Rwanda...


This is the peace deal with Kongo. They're just a 4PM now, easy pickings for later on.




Zoroafrica's looking pretty good now! Not great, but pretty good!

Back in Europe, things are shaking up!
Protestantism has formed, which means the current age is coming to a close. Unfortunate, but it is what it is!
A lot of rebellions started popping up, thankfully they're mostly based around Kongo's tech!
We're also now rivals with Portugal! We're moving up in the world!
We also finally got our colonist, and we decide to NOT risk the natives. I mean, did you SEE what they did to Bunyoro and Kazembe?
So burn them all!
I believe our nobles have mistaken two Republican candidates for generals. These two should be in Italy, not Africa, silly
It's 1502 and still no colonialism, thanks to Castille and Portugal favoring the African coast. I hate you Portugal, GRRRRR
And now we have our second national idea! Time to rake in that sweet devotio- hold on, I've just been told that monarchies do not get devotion. Umm... NEVER MIND, FOLKS!
And I'll leave you all with a sight to behold: a stable and "powerful" Theodoro! The alliance to Muscovy explains it all, but I still can't help but feel proud of them for getting this far
I hope you all enjoyed this chapter, a lot was covered this time around!
Last edited: