A Hetman's Blog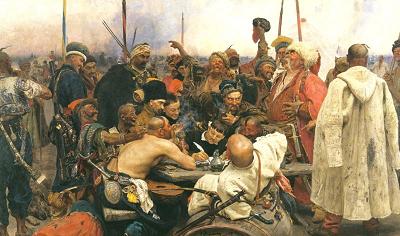 Wednesday, 30th May 1555

Hi, my name's Dmitri… or Dmytro… or possibly Dymitr… Personally I don't bother much about spelling, and frankly, if you lived in a place with a name like Zaporozhie, neither would you. You're probably saying to yourself "Where the heck is Zaporozhie anyway?" Well, I'll put you out of your misery - here's a quick sketch of our glorious Hetmanate…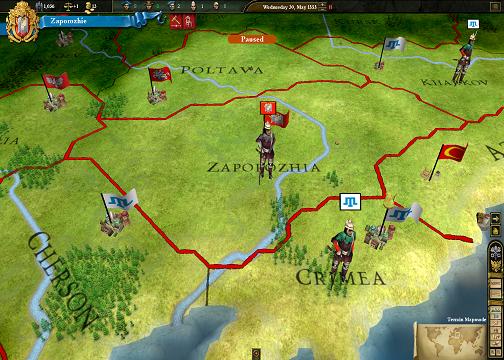 And that's me in the centre by the way, Dmitri Vishnevetsky, Hetman of Zaporozhie, master of all I survey. Well, when I say "master", OK I'm actually a vassal of his majesty King Zygmunt II August of Poland, but we won't talk about that for the moment. As you can see, Zaporozhie is a land of wide open spaces, rolling grassy plains and strangely tree-infested rivers. It was really only this year, 1555, that we were recognized as an independent… er… thing, mainly due to the fact that I personally established a Capital City for us, the fearless Zaporozhian Cossacks. Here's a picture of the said metropolis, situated on the Island of Khortytsa, in the middle of the Dnieper River: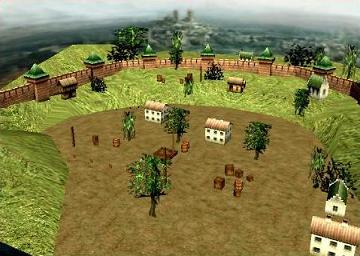 Unlike many other similar pictures of capitals which you might have seen, this one is actually pretty accurate. A dirty great wooden wall built around a few scruffy-looking houses pretty much sums it up. We Zaporozhians call it a sich, and if anyone wants to make any "sich jokes" about it, let me just remind you that Zaporozhians aren't known for their tolerant attitude towards people who laugh at them.

So, I'm Hetman of the Zaporozhian Cossacks, and I hope you're impressed. Now that we have International Recognition and are appearing on maps as a separate country and all that, there seems to be quite a lot to do. Hiring advisors, for example. For some reason, persuading great men of the world to come and live in our sich is proving quite difficult. And when we do manage to get someone to come for an interview and I say "So what can you offer us?" they come up with things like, "Well, Your Excellency, I can net you an extra two-fifths of a missionary every year." Bzzzzhhhhht - wrong answer! Well of course the idea of "two-fifths of a missionary" may appeal to the average Zaporozhian Cossack in one sense, but I'm not sure it's the sense he was meaning…

Then one day this Polish geezer, name of Waclaw z Szamotul, turns up at the sich telling me he's "a dab hand at looting". Well I didn't like to put him off with a lot of questions so I took him on straight away. Turns out it wasn't looting he's good at, but luting - bleeding court musician if you please! Well, as it happens the lads do enjoy a good sing-song of an evening, so I just kept him on anyway. Between you and me, I have a feeling it's going to be a rough ride over the next few years and we'll be needing all the light entertainment we can get.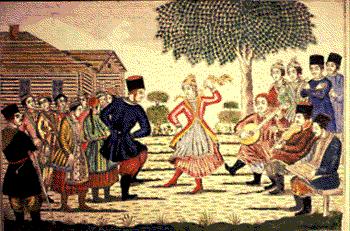 Relaxing back at the sich after a hard day's looting and pillaging​
Also, now that we count as a "nation" we have to sort out one or two "national ideas". National conscripts is one idea we already have - basically everyone in Zaporozhie is ready to fight anyone who crosses them at the drop of a hat. Actually this is not so much a national idea as an inborn trait for Zaporozhians. The idea of a "Grand Army" is another idea we cherish in Zaporozhie - a huge and unstoppable host crushing every enemy in its path. Somewhat theoretical at present since the entire population of the Hetmanate is currently less than 4,000, but one day… oh yes, one day you'll see… Meanwhile I have this idea of establishing a National Bank in the sich some time soon. Well, it would give us at least one building in the sich that looked a bit fancier than a glorified pig-sty anyway. It would also give us somewhere to store our modest wealth.

Yes, you were probably wondering how much money we actually have and where it comes from. Well, before hiring our resident lute-player we had exactly 13 ducats, and we're now down to just 11. Where do we get our money? Ahem, well the official line is "from wool", but that's just a euphemism for pulling the wool over everyone's eyes. The Zaporozhian economy is essentially based on banditry, which is easy money when you happen to live in an all but deserted wilderness that lies smack bang in the middle of an international trade route.

And what about our friends and enemies? Well the way we see things, the world is basically divided into three camps. First there's the nice Russians, our brother Christians, with whom we are on the best of terms. Then there's the despicable infidel Turks, to whom it would be paying a compliment to say they are the unspeakably vile scum of the earth. And then there's the Poles and all their Roman Catholic cronies, who claim to be Christian so we tend to just humour them. For now.

Which brings us to the prickly subject of his majesty King Zygmunt II August of Poland, who seems to derive an irritating amount of pleasure from reminding me whenever he can that he's my overlord. We just humour him on that score as well. For now.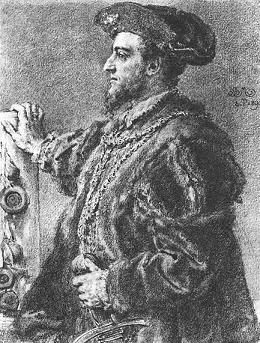 His Majesty​
And what's with writing it all down and publishing it for all the world to see, you may be asking. Well they say every would-be political success story needs to write his own blog these days, so I'm just jumping on the bandwagon really. One day when Zaporozhie is a household name, on the lips of every nation and people of the world, your children are going to ask, "Tell us, how did it all begin?" Well, you read it here first - so stay tuned for more adventures of the Zaporozhian Cossacks and their fearless Hetman, Dmitri Vishnevetsky!
Last edited: