Episode 29: Endgame
So the last fifteen years of the game. Basically all resistance has been crushed and all that remains is to make China the true hegemon.
In this episode, I have cheated a bit: I gave myself extra diplomats so that I could sell all the provinces I wanted to vassals. It was either that or spend most of this episode in peace cleaning up borders. It's not that bad a cheat, as it can be argued that the restriction of selling only one province at a time is more an interface issue than a real gameplay limitation.
So after some peace to sell most of my European and Indian provinces, I simultaneously declare war on Bihar, Gondwana and the Holy Roman Empire. One province Gondwana is annexed the same year. Rajputana, coming to the aid of Gondwana, is forced to convert to Confucianism in 1807.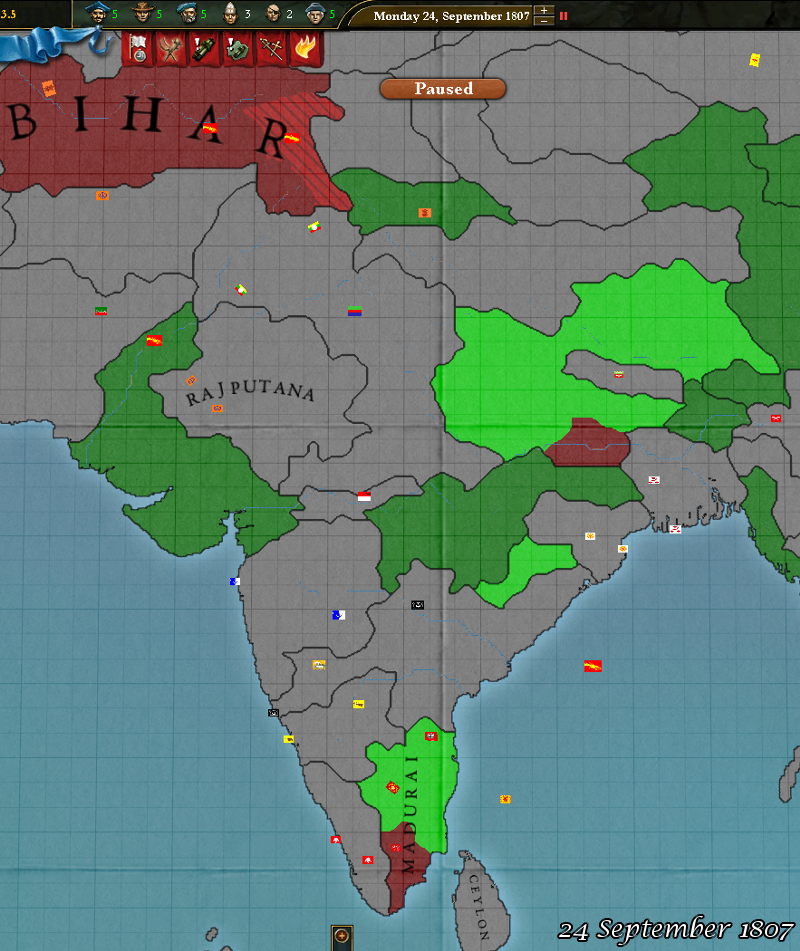 Bihar is forces to give six provinces, their last except one in proper India. I also get three provinces from Madurai, Bihar's ally.
Above you see how the wars in Europe in this episode play out. Most of the conquering is done by my vassals. Notice that in the South Granada and Saxe-Lauenburg lay siege to many HRE provinces, while in the north Chinese, Saxe-Lauenburgian and Bavarian forces have already assaulted many provinces. In 1808 I get the HRE to give me 10 provinces, all bordering the eastern border of Chinese Europe.
As my infamy is now 30, 8 over the limit, I release Gondwana (3 provinces), Sind (3 provinces) abd Gujarat (4 provinces). Infamy is lowered to 10.
In 1809 I declare war on France just as the truce ends. I send some troops to French South America to increase warscore, to my surprise Granada and Saxe-Lauenburg are also busy conquering in French South America. I love my vassals.
An illustration of the ludicrous dominant situation China finds itself now: the Grand Alliance can bear almost 800.000 troops and an armada that can take the fleets of the rest of the world three times over. Anyway, in 1811, as I slowly gain more warscore against France by taking colony by colony, I declare war on Austria. My little vassal hordes overrun the feeble Austrian defences. So in 1811 I take 6 provinces from France, leaving Paris as the only French European city.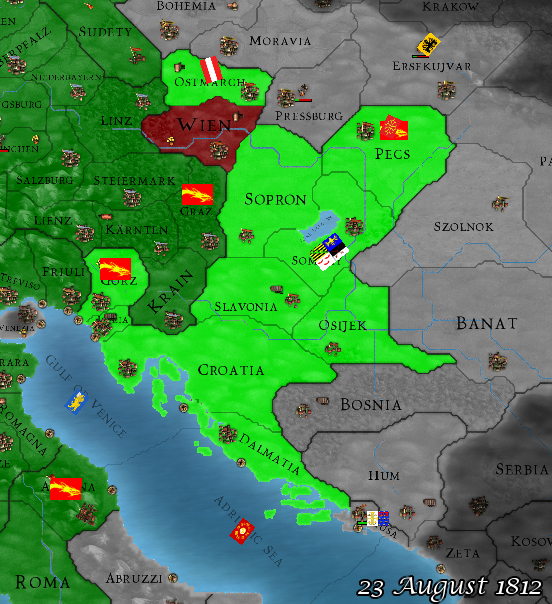 The next year I wrestle 10 provinces from Austria, isolating and surrounding its capital as well. I create Croatia (5 provinces), which cancels out the infamy gained from the Austrian war.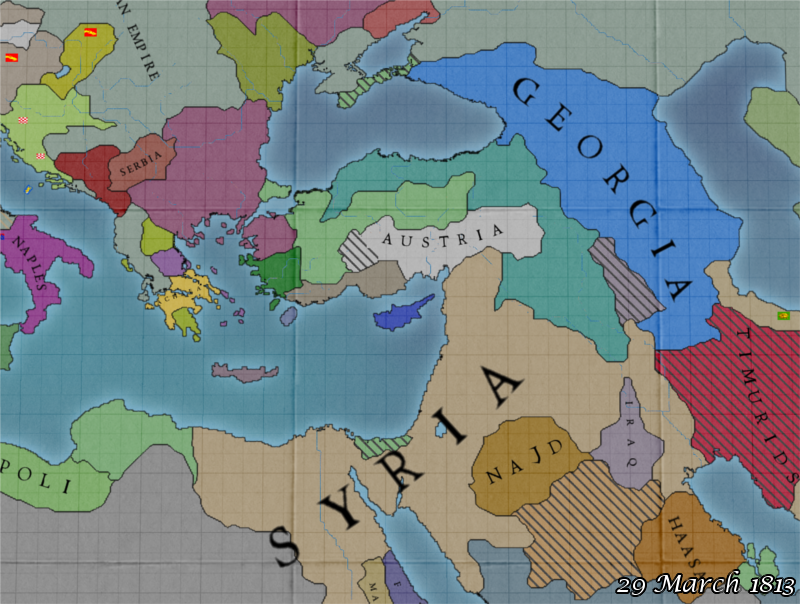 This causes the Austrian king to retreat to its Turkish provinces, where it shares the territory with a tiny Ottoman empire and a bigger Venician holding. Notice how close the European and Asian Chinese territory are to each other: on the far right you can see Confucian Persia. in the upper left corner you can see Croatia, Bavaria and a couple of Chinese provinces.
In 1813 the last great round of wars is started, as I simultaneously declare war on the HRE, Japan, Madurai, Bihar and Rajputana.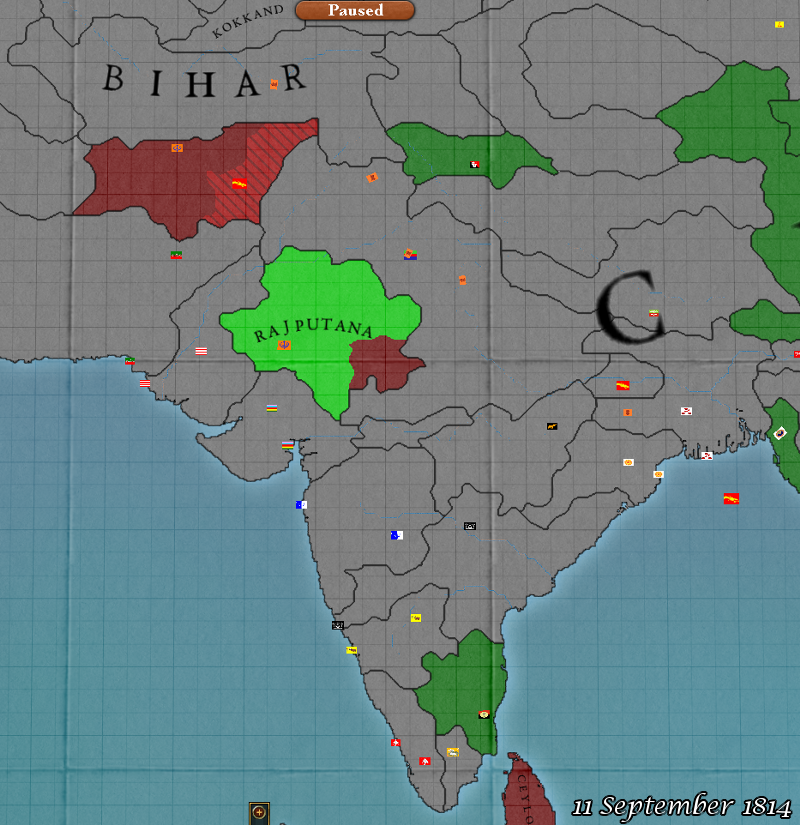 A year later Rajputana is forced to surrender 6 provinces, also reducing its presense in its native continent to it capital, after Bihar, France and Austria. Bihar gets the honour of being the first to surrender its capital to me.
While the fighting proceeds, I additionaly declare war on little Khandesh, which is joined by Manipur. Very nice, as Manipur is a nation I want as a vassal but is governed by a republican dictatorship. In 1815 I annex Khandesh and make Manipur my vassal.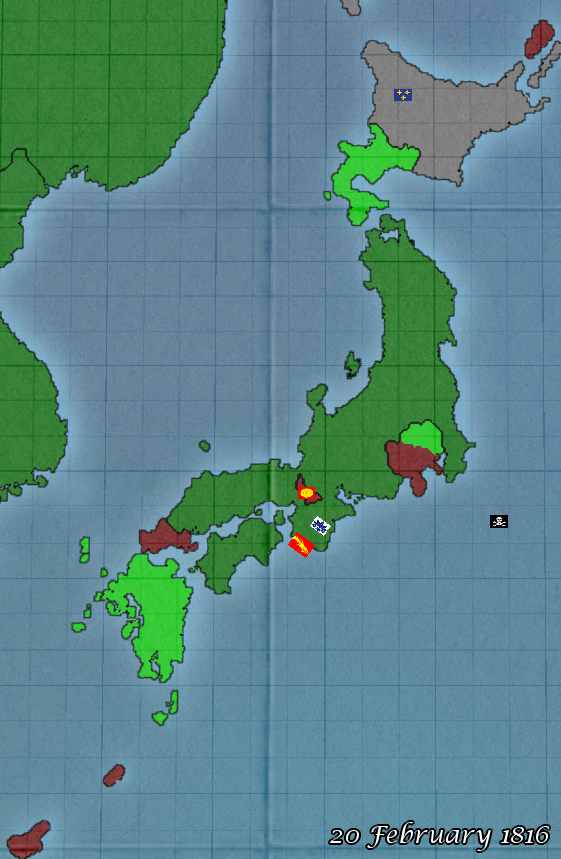 The Japanese emperor is soon forced to give me 8 provinces, so that only the three capitals of the three Japanese factions are left on the Japanese main isles. The peace with the other Emperor is even harsher: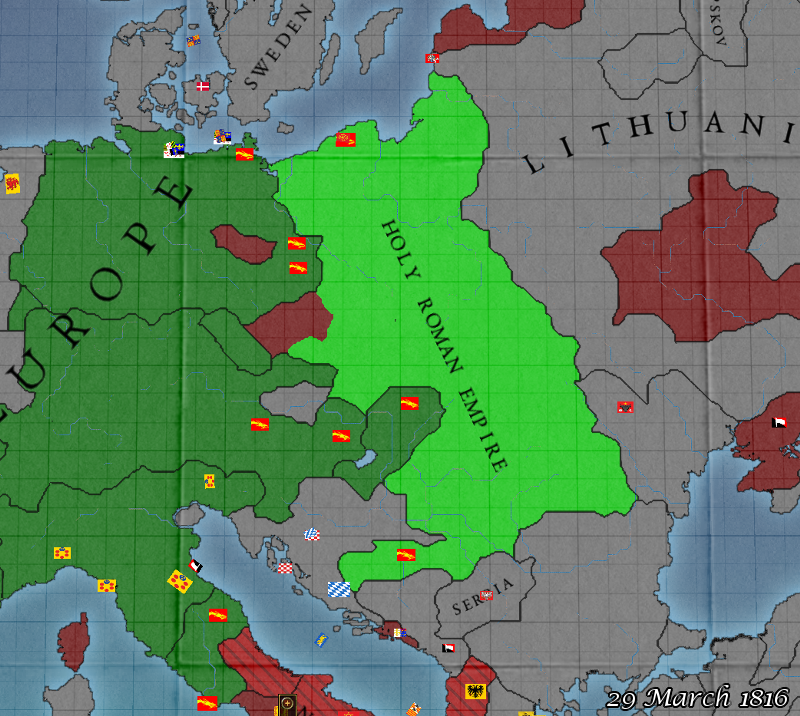 I demand and receive 27 provinces from the Holy Roman Empire, effectively surrendering almost all of its territory west of Lithuania to me. This has the consquence, however, of raising my infamy to a staggering 55!
I immediately reform east Europe to combat this: I release Hungary (7 provinces), Poland (5 provinces) and Prussia (4 provinces). I also release Khandesh (1 province), which finally lowers infamy to 20, just under the limit. Trust me, do not go over the limit for more than a couple of days.
In 1817 I declare a small war on France, taking Paris from the once great empire and banish the French king to South America. I also break a truce, the first time in the game, with Madurai, so that I can annex it and re-release it (4 provinces) in a more democratic version. However, by breaking the truce my stability falls to -2 and with the 19 war exhaustion I now have for the last couple of years, massive revolts break out in Chinese mainland and North America. I ship a lot of the European forces to those theatres to combat the dozens of rebel armies.
In the meantime, I declare war on Austria, letting my European vassals do most of the work against the battles with the Austrian ally Lithuania. In 1819, Wien is surrendered to me ( plus twoAustrian Denmark provinces). The Austrian capital is reseated in the Austrian West African territory. I also make a white peace with Lithuania that year, ending the final war.
The rest of the game is mostly spend with fighting rebels, regaining stability and finalize the borders, so that I leave a strong and neat Chinese empire behind.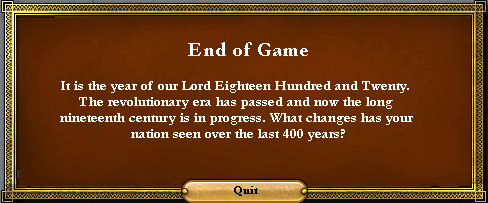 Next: The world in 1821