Episode 23: the dream has been realized
So after two months of peace, I want to war some more, so I encourage the Templars.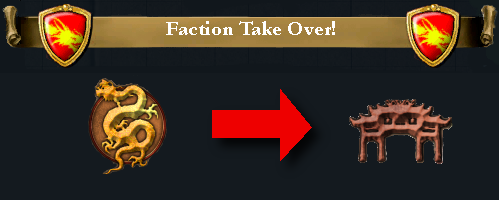 I declare a war of imperialism on poor Castille. However, I'm not the only one to take pity on the poor bastards and Bohemia and its vassals join the fun. As most of my forces, about a hundred regiments, are based on the Iberian peninsula, I make mincemeat out of the Castillians. However, 12th and 13 corps, stationed in Rome, are wiped out by Bohemian forces! No matter, replacements corps are ordered from the conscription camps at home.
In July 1701 I force Castille to give their last two North American colonies, plus 4 Iberian provinces that will be very welcome for Grenada.
An
honour the ancestors
event brings the Bureaucrats into power, so that I can build another five level 1 forts.
In 1702 I reach land tech level 36. The last decades I invested equally in all tech areas, but from now on I will invest only in Government. As I am at least three level ahead in Land Tech compared to the other Great Powers, there is little risk in pursuing this strategy.
In 1702 and 1703 little happens: events cause three faction turnovers, I move the National Focus to Kanawa as the previous NF covered provinces were all build up.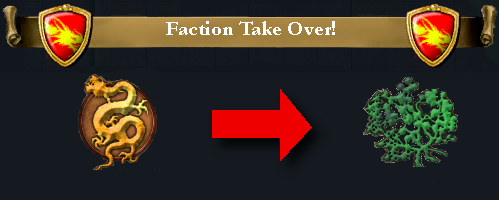 Castille is not only a punching bag for China. In December 1705 Sweden forces Castille to release Aragon, Genoa and some other nations.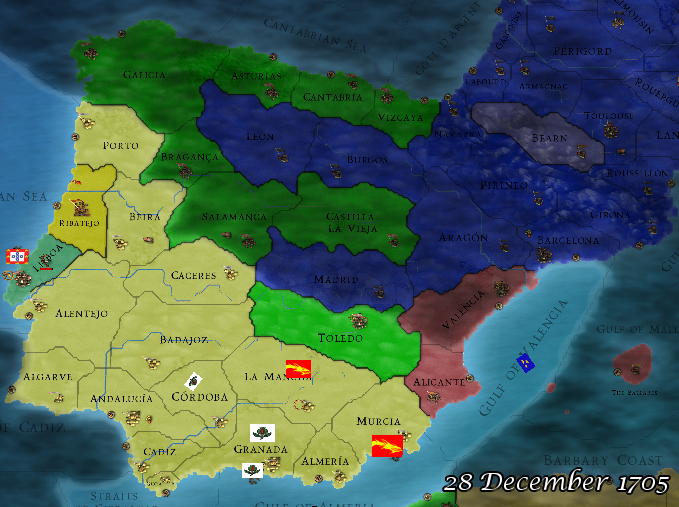 Interesting. Very interesting. But Iberia is not yet our target, it's Brits bashing time once again! I change to Templar rule and declare imperialistic war on GB.
However, it seems that Britain is very popular in Europe.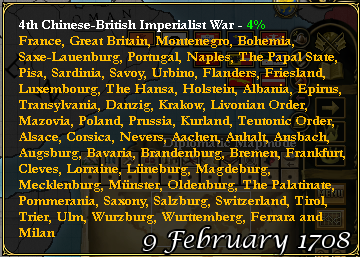 Basically all of Europe west of the Oder save for Austria and Castille is in war with me. Within a year the British forces have been annihilated once again and their island is conquered. However, another setback in Italy: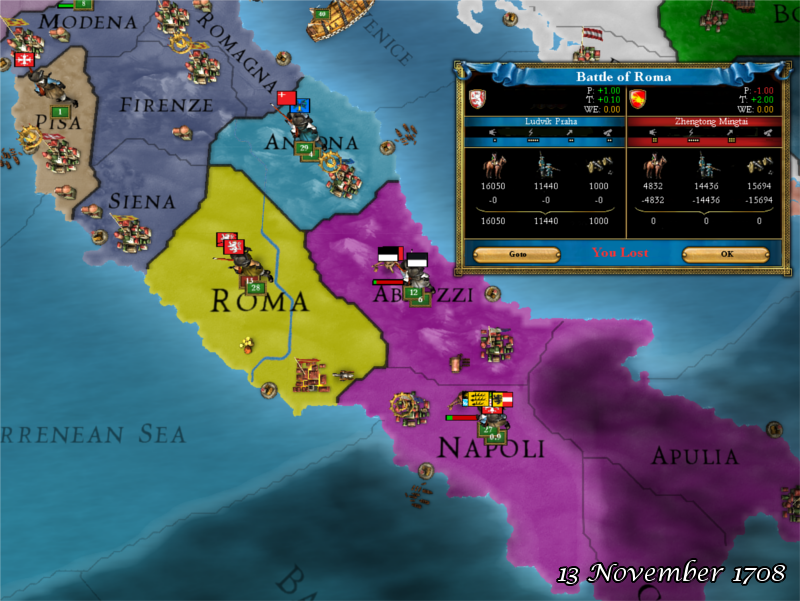 For the second time, 12th and 13th corps have been annihilated in Roma! It begins to look like the place is cursed! I request 40 new regiments to replace the fallen. I don't think I will station them in Italy, though.
But a measly 40.000 deaths will not stop me. In April 1709 I gain another three British provinces that will strengthen Confucian England. Infamy is now at a comfortable 7,9. I manage to get peace with alliance leader France by paying them the measily sum of 200 ducats, the income of only a week.
As a reward for his accomplisments, Menglin gets to have a
necropolis
, like his illustrious predecessor Song. This gives the Eunuchs the confidence to take the reigns.
But after sending the colonists and merchants, I want to drive Castille out of the Iberian pensinsula so in February 1710 I switch to Templars and I declare war upon the Castillian kingdom.
No European ally comes to the aid of Castille, probably for a very good reason. So I also declare war on Aragon, which is aided by Sweden. The war goes as planned, with the exception of a naval battle, in which I destroy 9 Castillian Big Ships and 14 Small Ships, leaving Castille without a fleet.
After conquering all Iberian provinces from Castille, I still have not enough warscore so in October 1711 I invade Castillian Africa, leading to the first "serious" Chinese batles in Africa. In 1712 I have control of all Aragonese cities and annex the young state. A white peace is signed with Sweden afterwards. As standard, conversion of the new territory is started immediately. I also reach Government tech level 41, granting me an additional National Idea, but I won't use that slot yet. As my Infamy is 7,6 and will rise much higher very soon, I switch to Eunuch control.
in August 1713, after conquering most of Castillian Africa, I finally have the warscore to get the peace I want: I gain seven Iberian provinces, leaving only one to Casille. Infamy is now at 18,1.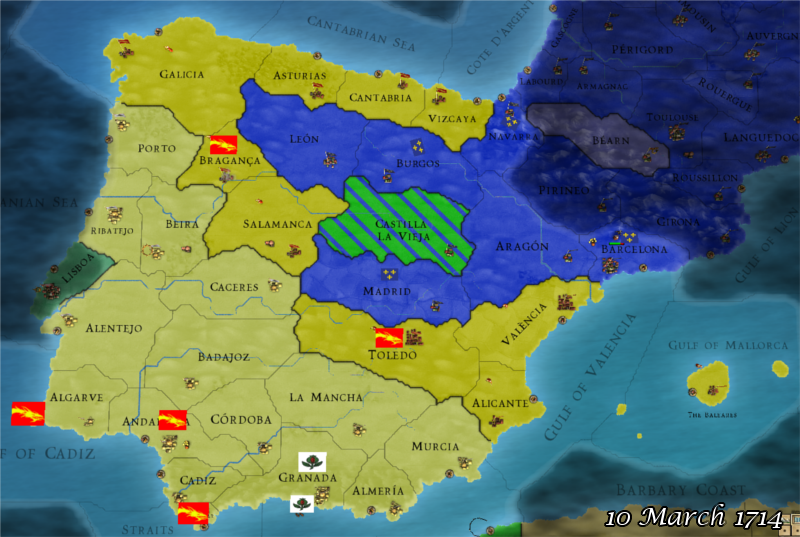 But if the capital of Castille is no longer in Toledo, then were in the world is it? Well, in Franken of course!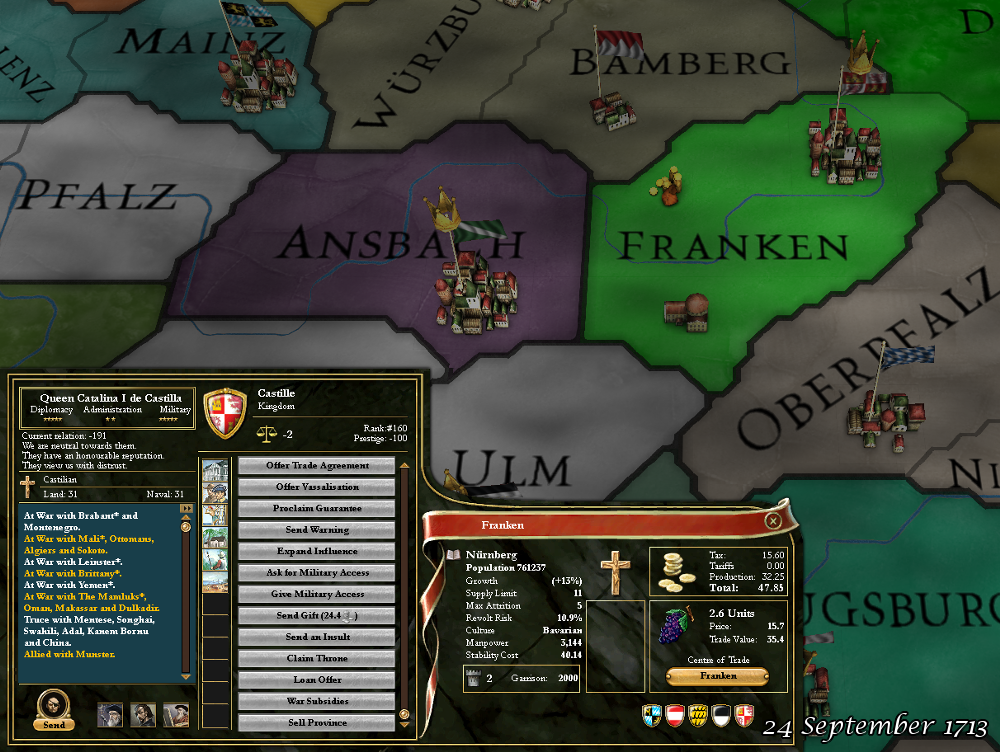 Probably because of their not inconsiderable conquests in Germany they moved the capital there, but still I would have expected that Castille's new capital would be in Africa, as the majority of its territory is there. But hey, I'm not complaining, it gave me a laugh.
The next couple of years are used as a breather. Three factions switches take place and a free slider move, which I use for moving towards Land.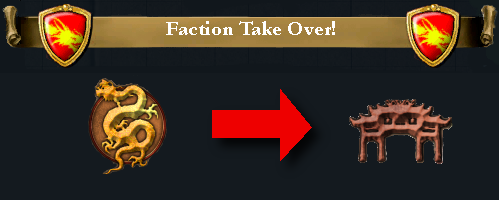 The great Menglin dies on 16 October 1717, leaving the Republic to another Menglin who, like his two predecessors, is quite balanced in his abilities.
Alas, it seems that there is a downward trend in monarch stats since Song. What will the future bring?
But there is no respite for the new Lord Protector. In October 1717 I declare Colonial war upon France, which holds the last foreign colonies in North America. On my side all my vassals join, especially Granada and its 30.000 troops. Bohemia and its many vassals join the French side, pitting me against formidable forces. But I do not intend to fight them all.
The 120.000 troops I have stationed in Granada pour into French territitory. The French were not prepared at all for this invasion: in seven months I manage to kill 64.000 enemy troops and overrun seven provinces.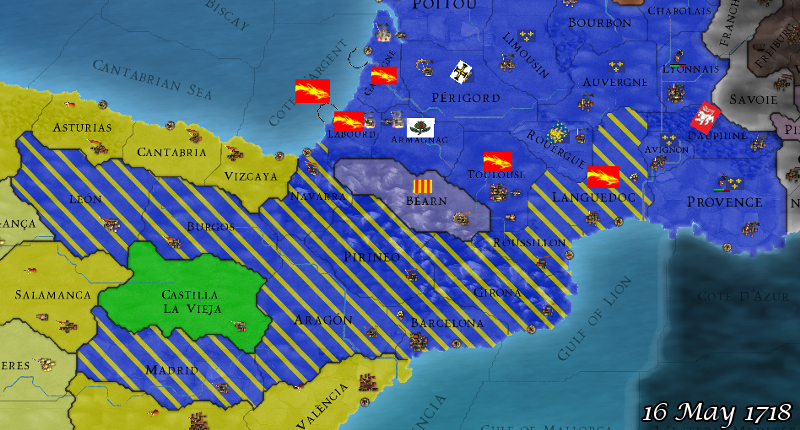 The back of the French forces has been broken and I rush my armies forward. In the next three months I kill 53.000 enemies, of which only 10.000 French: the rest of the casualties are divided equally between Bohemia and Venice. Even with all the heavy fighting going on, I manage to conquer an additional nine French provinces as well as all their colonies before I lose momentum.
I propose a peace they cannot refuse: all their North American provincess. As this would cause unrest, the French wisely accept. Because of the high speed of the war, only a few Bohemian forces were able to participate: most of its 300.000 strong army never had the chance to interfere.
With this victory, the goal of obtaining North America has been accomplished! Only a dozen or so provinces are left to colonize, out of reach of any competitor. The colonial wars are now over, after 150 years of bloodshed.
Besides the physical conquest the spiritual conquest of the American colonies is also almost over. Time to turn my attention elsewhere!
Stats
Code:
					change during decade		change since 1399	
			1710	1720	absolute	relative	absolute	relative
No. of provinces	223	241	18		8%		187		346%
Yearly income		10399	10818	419		4%		9.980		1191%
Yearly income/province	46,6	44,9	-1,7		-4%		29,4		189%
Inflation		0,6	0,9	0,3		N/A		0,9		N/A
Manpower (x1.000)	521	543	22		4%		458		539%
Army Size		182	242	60		33%		203		521%
Navy size		197	197	0		0%		148		302%
Code:
					change during decade		change since 1399	
			1700	1710	absolute	relative	absolute	relative
No. of provinces	222	223	1		0%		169		313%
Yearly income		10674	10399	-275		-3%		9.561		1141%
Yearly income/province	48,1	46,6	-1,4		-3%		31,1		200%
Inflation		2,8	0,6	-2,2		N/A		0,6		N/A
Manpower (x1.000)	520	521	1		0%		436		513%
Army Size		211	182	-29		-14%		143		367%
Navy size		197	197	0		0%		148		302%
Next episode: preparations