Years of Jolly Carnage
- A multiplayer AAR from a UK perspective
Starting countries played by humans
UK
France
Nationalist China
Soviet Union
Germany
Italy
Japan
Version:
Semper Fi v2
Starting Year:
September, 1938.
House Rules:
Can change countries within party in the start of each session; Manually "Bitter peace" if Moscow, Stalingrad, Leningrad and Vladivostok is lost; Max 5 fort in area with no starting fort; Max 3 para-divisions each – and a few more smaller and logic ones.
This is the third MP-campaign played by an all Swedish group. The first campaign turned out to be very atypical due to several quite severe noob mistakes from various players. The second MP-campaign is described in the AAR called "Wildfires" – from a Japanese perspective.
This AAR will cover our third campaign. The campaign is ongoing as this AAR starts but I will make sure that the game will be ahead of the AAR with more than a year. For that reason, the posting rate in this AAR will be somewhat slower than the rapid pace that Wildfires-readers got used too.
This AAR will, however, be more detailed. I will focus on the various battlefields were UK takes part but also mention others. The other players may add a few slides, notes or answer questions during the path of the story, but it will not be a mixed AAR. Except following the events, I will also follow the three Monaghan brothers more in detail, describing their various personal experiences. They are part of in game units and will react to events as they unfold. It means that I, when I start write, don't have a clue of what they will be dragged through.
...................................................
Part I - UK is making plans (planes)
September, 1938.
It was a beautiful autumn in London. The average citizen was happy and unconcerned about global politics. Sure, Japan waged war in Asia and made a mess out of things…. But who cared about China. Nothing could beat the royal Navy anyway. So why bother..?
In a Pub called "the Coal Hole", one of two lads started to talk about Hitler and his national socialists, saying they were a disgrace for the free world, and thus something that the Commonwealth should deal with swiftly. "Really...?" said the other. "We just went through a bloody world war! Nobody wants a new European war." "European?" teased the first man with a smirk. "Don't you know about their pact? They are the Axis." "Axes?" retorted the latter with a sceptical look. "Like a gang of lumberjacks?" "No, you fool. Axis."
If the talks in the pubs were colored with a low average of knowledge, the high officers and politicians were more worried, and they judged this Adolf Hitler quite differently. They all agreed that they needed to invest a little more into the military but were not quite sure how. Churchill wanted more fleets to secure the oceans. Lord Gort wanted more ground force and talked about
armor divisions
. Air Marshall Hugh Dowding said that the air force was the most powerful branch of modern warfare. 'If you owned the sky, you could bomb your enemy to oblivion'. Neville Chamberlain dwelled a long while on this.
In the end, he supported Hugh Dowding. Britain should put a little extra effort in the Air Force.
Air Marshal Hugh Dowding
Britain already had quite an amount of tactical bomber squadrons but they were spread all over the world. Air Marshal Dowding called them all home, in order to revise the whole organization. At the same time, they started to build 2 more squadrons of Hurricanes. They were not especially modern and the armament quite light. However, their speed was said to be superior. Anyhow, several teams of scientist and officers started to research how equipment and the skill of personnel could be improved.
Hawker Hurricane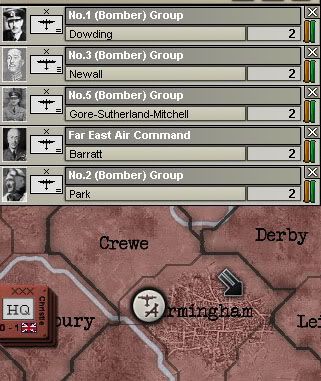 Hugh Dowding assembled the entire
Bomber Command
in Birmingham. Here, the highest RAF officers tried to rejuvenate their tactics and discuss about how modern warfare best used its bombers, and what kind of bombers. Cyril Newall, however, was firm in the belief that the heavy bombers were the most powerful branch, and that strategically bombing was the fastest way of defeating an enemy. Several, Keith Park maybe the most, claimed that tactical bombers versus troop concentrations were more effective and more humane. In the end, they could not reach consensus but nobody openly opposed Dowdning's plan to build up a strong
Fighter Command
which could support
Bomber Command
– as long as
Fighter Commands
reason for existence was to protect the bombers.
After the 3-day conference there was a big air show, but all the guns were taken off and there were no talk of war or actually using the bombers officially.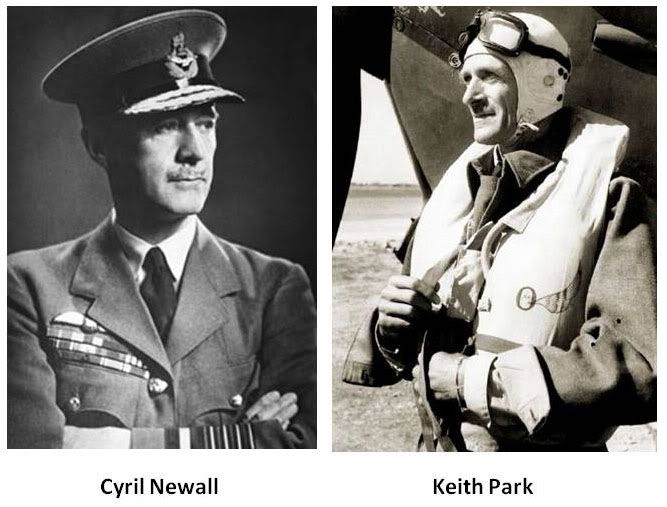 ::Amongst the crews in Birmingham was a young man,
Joe Monaghan
. He was co-pilot on one of Cyril Newall's Armstrong-Whitworth Whitley's. Joe didn't give a shit about the so called peaceful exercise. He knew they'd train for a reason. He knew about the war in Asia and the worries about Germany – and secretly – he longed for war. His father got a medal in the World War. His oldest brother Mark was in the navy and his shit-for-brains mid-brother, an ox-shouldered bully, was in the infantry. Or the "motorized" infantry as Dick called it and tried to make in sound better. Infantry? Who the heck wanted to be in the bloody infantry? That was just because Dick was a stupid sack of wind. Joe was a flyer. He knew he was going to be a hero.::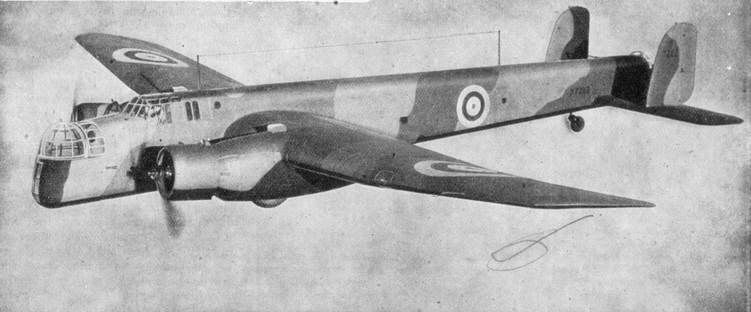 Armstrong-Whitworth Whitley – early heavy bomber
Coming soon: The war in Asia and a little bit of politics. The pot is brewing...
Last edited: