World Conquest – Story of One Nation and One Man ​
Ok, i've never done a WC before and i had to do a quick overview of it, i admit it is long and a bit rushed in places but it was an amazing game i have to share.
Details
ARMA Latest Patch
Hard/Furious
--------------------------------------------------------------------------
The scenario began in 1939, WW2 had erupted violently and now Germany was surrounded by its greatest enemies, the Allies and the Communist Hordes. To the East, Germany had only to contend with the weak nation of Poland, and to the west the decaying imperial power of France, it was a perfect t time for me to test out my blitzkrieg skills. I immediately began by obliterating Poland in a matter of weeks, with Eastern Poland going to the Soviet Union as per usual.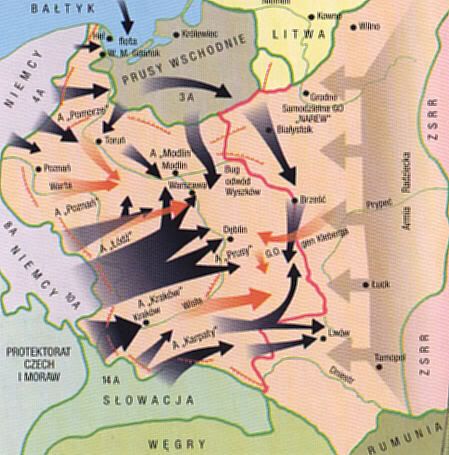 I then raced my army west, ready to attack France at the end of December, a normal player may wait until more favourable weather, in the summer months, however i decided that attacking in late winter would let me continue with attacks later in the summer of 1940. The war in France was a classic example of Blitzkrieg on my part, at least at the end of the campaign, France fell within a few weeks as Poland had, France however did pose a problem during the initial stages, as i attacked before most of my tank forces had arrived on the western front and the fierce winter battered my forces. But once the bulk of my army came to bear on France it fell with ease.
During this time i was simply building infantry and armoured divisions for the eventual fight against the Soviet Union, which would come a year earlier then historically, i chose not to invade the Nordic states, instead deciding just to declare war on Denmark and take them with the forces i had left to guard that border, my decision for this was simple, i didn't want the distraction while i concentrated on the Soviets. This was also the reason why i didn't invade the Balkan states, instead i influenced them to the point where they became my allies, to help with any campaigns in that area, the nations i allied with where Yugoslavia and Romania.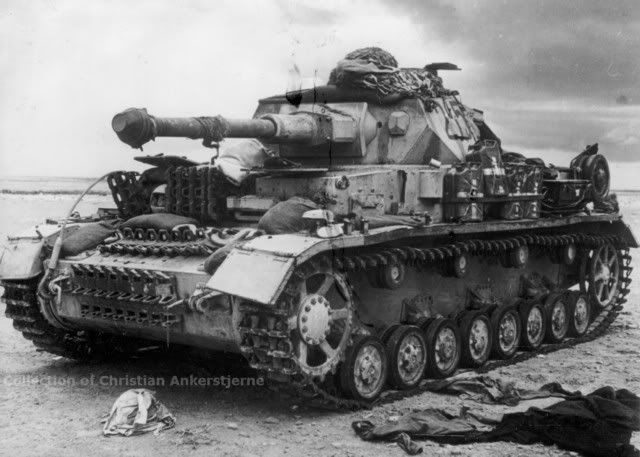 During summer 1940 i began Operation Barbarossa, the campaign started off as it usually does, with a year less to prepare then historically and my superior force Soviet forces where pushed back immensely, the easiest theatre was the southern area, Soviet forces became scarce in the massive landmass, in the centre and northern theatres, i employed the strategy of using small scale encirclements to gradually wear down the enemy, this strategy however proved difficult in the early months of winter. i took Leningrad before the winter hit, but Moscow somehow eluded me, though through sheer luck during my own version of the "Winter Offensive" i managed to take Moscow and make significant gains in the southern arena. It should also be noted that sometime during 1940, Japan conquered and annexed China, though didn't try to take British India for some unknown reason.
As 1941 began, i invaded Bulgaria and Greece with the help of my Balkan allies, this is where they came in handy, those two nations where obliterated, with Bulgaria being divided between Yugoslavia and Romania, and Greece being taken entirely by Italy. I also decided to leave Italy to their own devices; i was too busy keeping my mind on the Eastern Front to also help out Italy, though as we all know they'll eventually lose their possessions in Africa to the UK.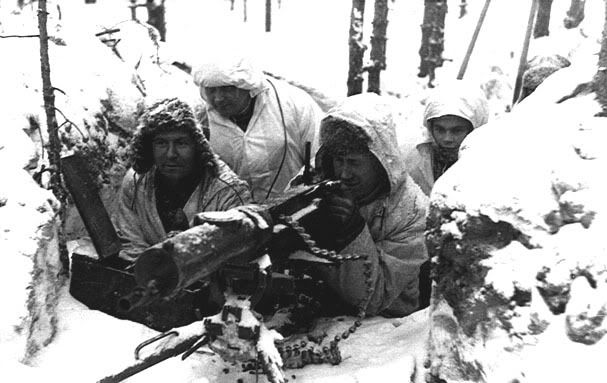 The war in the Soviet Union was coming to a close during the summer of 1941, or so i thought, i pushed deeper into Soviet Territory, taking Baku and pushing towards the last province in the centre of Russia that i need for Bitter Peace to fire. However as i started my way to it, the fighting became more intense, my forces started to feel the pressure and at some point my tanks halted, the Soviet Union had gathered a force that could hold my armies for the moment. I had suffered one of the weaknesses of Blitzkrieg, i had stretched my lines too thin, and as such i didn't have the force at the time to take that last province, so i had to wait for the necessary infantry and armoured divisions to come to the front to continue the battle, eventually, during September 1941 i took that last province and BP fired, with the very Eastern provinces of Russia going to Japan and me getting the usual provinces from BP. (You should know this was the first time i had ever gotten far enough in a game to get BP to fire)
I then prepared my next campaign, Operation Colonial Freedom as i dubbed it, i left a handful of forces to guard my new Soviet border and i took 90% of the forces i used in Barbarossa to attack through Persia into the last strongholds of the old Empires, i split my forces evenly and prepared for a dual invasion, one into British held India and one into Africa, which by this point was controlled entirely by France and the UK (except for Vichy's colonies of course).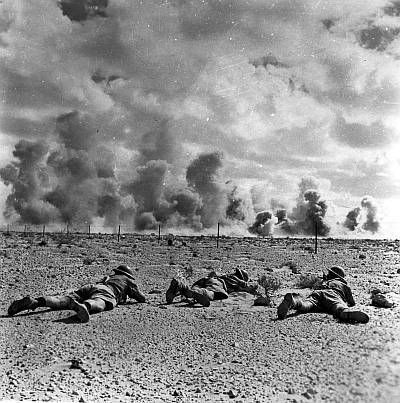 It was also through my extra land i had gained that i now had the IC to entirely revamp my army, i started pumping out my advanced Infantry and Armour, which i was now almost exclusively researching, which i must admit, did hamper me in the later game, especially when it came to my navy. Though with this extra manpower i invaded Spain and Portugal, i annexed Spain and vassalised Portugal in a swift lightening campaign. These troops where then transferred across Gibraltar to reinforce the few remaining Italian provinces in North Africa.
This with my combined push through the Middle East meant that North Africa was in my hands by the middle of 1942, to my surprise however by this time i had not even beaten Persia, i put this down to the rugged terrain, but to be honest i was simply too preoccupied by the North African campaign to care too much, but once that was over i began a serious attempt to destroy British forces in India, the campaign went extremely quickly once i entered India luckily. Winter did not affect my forces here, so i was able to capture the entirety of India by the end of 1942, after cutting off Japan from advancing and taking any part of India by sweeping across the north of the sub-continent.
1942 ended in massive achievement for Germany, British power had been cut immensely and it's only possessions remaining were its Home Islands and Southern Africa. This however would remain the situation until the end of 1942, as a few loose ends where to be sorted out, starting with the cleanup of Europe, i attacked and annexed the last few nations not aligned with Germany, namely Norway, Sweden, Switzerland, Finland and Turkey, the same was true for Asia, as i cleared out the Arabian Peninsula and overran Afghanistan with ease. The biggest prize was soon to be captured though, i prepared for the destruction of Communism, in mid-1942 i declared war on the Soviet Union once more, it was a two pronged attack, from the west, out of European Russia and from the south in German-held India. The attack was brutal and within the year Communism had been eradicated and the Soviet Union annexed, the Japanese did not help in this attack to my disappointment.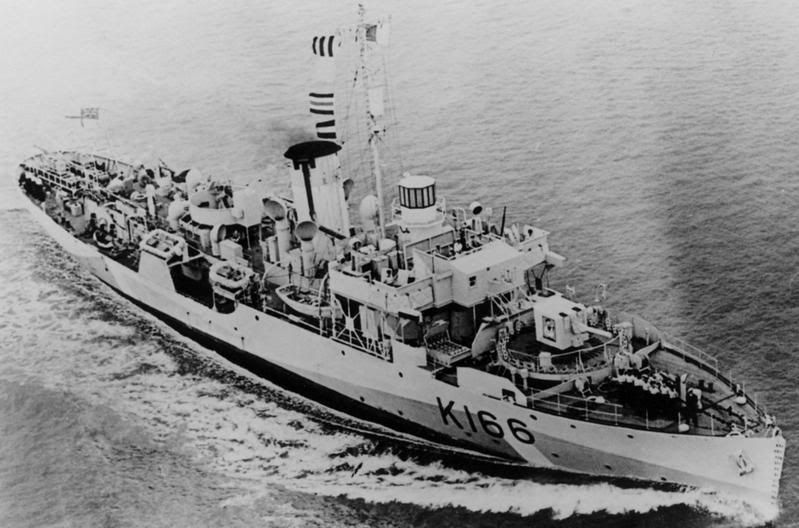 This war preoccupied me until winter 1942 when i finally launched my final assault against the UK, i pushed through British Africa, taking that by early 1943 and annexing South Africa later in that year, i also launched Operation Sealion, a well calculated attack, that almost failed because of my lack of naval power (my navy only had 30 vessels at the time) and naval research. I did however manage to land 10 divisions on the British Isles, and when these where reinforced a month later they were numerous enough to take them completely. I then took the UK's last VP in Ireland a few months later, annexing them and Ireland in the process, to my dismay though, their massive navy of 200 vessels were transferred to Australia. Though this was of no real concern at the moment, i had secured Europe, Africa and mainland Asia, and only had one powerful enemy left, the USA.
Of course i couldn't exactly fight them yet, their navy was massive, i would need to build my own up to even consider fighting them, so for 2 years i didn't fight, i researched techs for my navy, i built it and i was raring to go in mid-1945, by this time however the US had successfully invaded Ireland and was launching raids on Mainland Europe, this was of course unacceptable but they would be dealt with later, with my new state of the art navy, which was 300 vessels strong, i nuked Washington DC, and landed over 100 Divisions on the Eastern Coast of the USA in a matter of weeks. The US put up severe resistance, as our forces where equalled matched in numbers, but my fight skills where greater and by 1946 3/4 of the US was under my control and Canada had been annexed. By the end of 1946, i had pushed through to the west coast and retaken Ireland as all US troops abroad were recalled.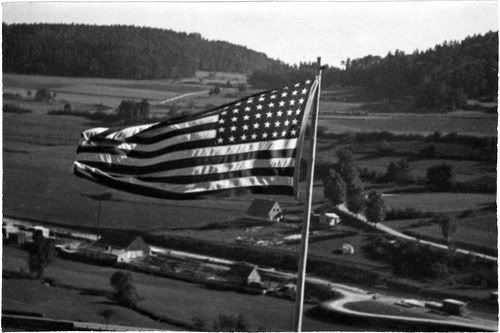 Then all that was needed was clean up, i captured the last remaining VPs of the US and annexed them in one of my greatest moments in HOI2, this campaign was one of the big three in this particular game, the first was Operation Barbarossa and the 3rd will become apparent at the end, though it was at this point that only Australia and New Zealand remained from the Allies, using my navy stationed at ports in India, i landed troops on both of the nations and annexed them with ease, i then took a sigh of relief, i was finally at peace for the first time in years, but i had no intention of stopping. I invaded South and Central America with my US invasion force and took them by mid 1947. Then i looked at the map the entire world was now under the control of the Axis, it was a great thought, but i knew that it wasn't good enough, it wasn't a world conquest and i needed one.
I began preparations for attacking my own alliance, i built up my forces in Europe and Africa and gave the order, i declared war on Vichy France, Portugal, Italy, Yugoslavia and Romania, the nations, seemingly strong on paper, with armies that rivalled my own, fell with ease, their VPs were carefully targeted and they were destroyed by my cruel betrayal. They were all annexed into the greater German nation and for the first time ever, Africa, America and Europe were united under one flag, and were ready for battle against the hordes of Asia.
The year was 1948 and the only nations that stood against me were Japan, China, Siam and Japan's lesser vassals, this would be the 3rd Great campaign of the game, as their armies were vast, numbering nearly 700 divisions, i sent 700 divisions against them, the battle would be tough as i fought through China and onto the Japanese Home Islands, with three main thrusts, one through the centre line, one through Siberia and one through Siam.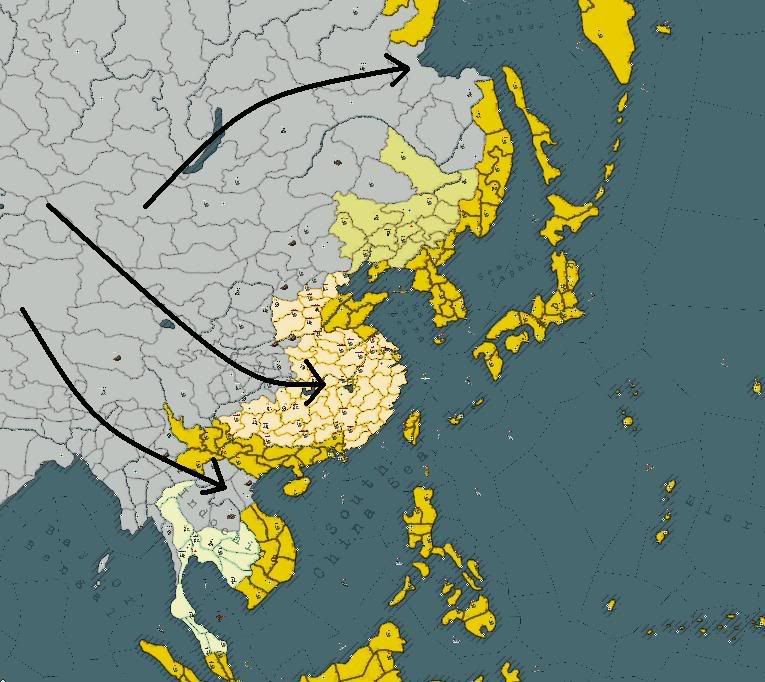 Japan's vassals in the north were the first to fall, they were weak in comparison to my forces but the fighting became more compact in China my advance began to slow, but only for a moment, i continued forward and by 1949 i had eliminated China and 95% of the Japanese forces in China, Japan had been shattered, their forces ground into the dust, their navy blown to pieces by my own, it was simply a matter of taking their last VPs before they were annexed and my first World Conquest was secured on April 21st 1950.
THE END​