Patron Saint of Suenik
57 Badges
WORKERS OF THE WORLD, UNITE!​
A preamble...
I love alternative history. I've taken to reading various kinds of "What If" books, where historians with large research grants and a lot of spare time (mainly due to living in comfort due to said grants) pontificate about what the world would have looked like if X had actually happened or Y hadn't been allowed to occur. Examples include, "What if the assasination of Archduke Franz Ferdinand had failed?", "What if Britian had sued for peace in 1940?", "What if the atomic bomb had never been invented?" etc etc
Therefore, I decided to fuel my current obsession by playing around with history via the wonderful medium of "Victoria".
My scenario was this. What if the USSR wasn't the first communist mega-state, but if it had instead happened in America a lot earlier. Basically, I started as normal as America but kicked off a socialist revolution, forming the nice shiny USAR (Union of Socialist American Republics).
I didn't intend to do this as an AAR - it was more just for a laugh - but as the game has worn on it's become quite interesting so I thought I'd share it with you nice guys and gals.
First off, aside from the "kick off a revolution" cheat, I've not been using any cheats. This is all hard work and (as you'll see) some terminal stupidity on the part of the AI.
An Early History of the USAR​
At first I wasn't quite sure what to do with the USAR. After the initial "Oooh! Look! A proletarian utopia in America in the 1830's!" (where said proletariat had taken it upon themselves to revolt every couple of minutes) vibe had worn off, I was left with a big, red country and not much idea of what to do.
The happy citizens of the USAR celebrating their joyus, prolotarian utopia
​
Thankfully, my ennui was broken when I realised that I could build loads of canned food and arms (oh and steel and clothes to make money), and create a massive mobilisation pool which I could then use to take all that land back from Mexico that was mine by divine right. Er...hang on. I'm leading a proletarian utopia, aren't I? Ok, forget "divine right". "Land that rightfully belonged to the valient workers of the USAR and which had been illegally siezed by the Imperialist pig dogs in Mexico."
There.
Much better.
I'll be talking with a bad Russian accent next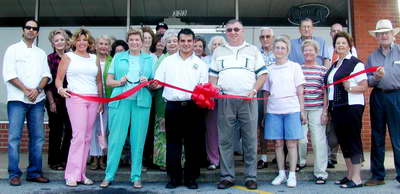 Mexican Imperialist Pig Dogs and their evil expansionist ways
​
In addition, I decided that the best way to improve the quality of life in my socialist utopian paradise (yes, I know that statement is contradictory but I couldn't just sit around, could I?) was to...er...have my nation's finest minds develop better ways to kill people.
Nothing says "Proletarian Utopia" like a big pile of guns
​
Anyway. Eventually the time came to spread the socialist message beyond the boundaries of the fair USAR. What, I hear you dear friends, was the chosen method of spreading this message? Socialist rallies? A poster campaign? Subversion of political parties? Carrier pigeon? A diplomatic conference where the attendees embraced in a teary gesture of universal brotherhood?
Weeeeellllll...
:rofl:
Yeah right.
I invaded and handed them their collective asses.
Yeeeeeee-haaaaw.
*ahem*
Sorry.
What I meant to say was that faced with my "rough wooing" they decided to embrace an all encompassing view of socialism.
The Mexicans embracing socialism​
As a gesture of their new found respect and love for socialism the also decided to hand me land which they agreed should rightfully be administered, for the good of the proletariat, by the USAR. Just until the Mexicans got the hang of socialism that was.
Anyway, fast forward a few more years of labouring away and industrialising for the greater good (or paying off the cost of spreading the socialist message) before the central party decided that the best thing for the destiny of the nation was to declare colonial war on the UK and nick all its colonial buildings (as it now had buildings in all the Canadian provinces bar the ones that I had cheekily constructed buildings of my own and a couple in American provinces). Not wanting to be caught on the hop I granted all my colonies statehood, mobilsed the People's Revolutionary Guard (my 200+ divisions of fodder) and sent them off to hang out in the cold reaches of Canada. Then, when everyone was in position I declared colonial war, snatched their posessions, claimed the colonies, made them states and then watched them mill around impotently for a few years, unable to move, until they eventually sued for a white peace.
Grinning smugly we sat around for a few years, bought Alaska from Russia in exchange for some tat we'd colonised in the Far East and Africa.
Eventually, it was decided that it would be advisible to strike out again against the Imperialist Pig Dog Scum and free more opressed workers from around the world (or, as one general put it, "a bit of a laugh").
So, for the next few years the factories of the USAR churned out ship after ship. Then these ships went for a little sightseeing tour to both the Far East and Europe (in particular all around the British Isles).
To cut a very long story short what followed was an extremely bloody and hard fought that seemed to last for billions of years where the brave loyal workers of the People's Revolutionary Guard struck at the vile British Empire to help free their opressed brothers that dwelt therin (or, to put it another way, I waited until they were embroiled in some massive conflict with Prussia and Russia and decided to sneak attack them).
The Revolutionary Guard indulge in gentelmanly, non-sneaky, combat
​
Eventually, with large swathes of their land under my control I managed to "liberate" the rest of Canada and free Ireland and Scotland from British rule.
So, that's roughly where I'm up to. I'll continue to post as I play. Oh yeah, one thing that I forgot. Some majory dumbassery on my part. You know how I mentioned that massive armada that I constructed to invade all over the place? Well, guess who forgot that it was at sea... I left it at sea for YEARS after the war had finished. My proud fleet was reduced to driftwood.
MAJOR dumbassery. Not glorious or revolutionary at all.
​
Incidentally, any feedback (good or bad) let me know!
Last edited: