How it Feels to be Something On
39 Badges
WIELKOPOLSKA - Phase 1 - Assembling Forces
Early 1938 Assembling Forces:
I'll begin 1938 with yet another slider move +1 towards Hawk Lobby. This maximizes this slider setting and gives me improved production time and cost and a little more manpower growth. I also now take the opportunity to Guarantee the Independence of Albania. When Italy attacks them in 1939, I'll get a boost towards Interventionism.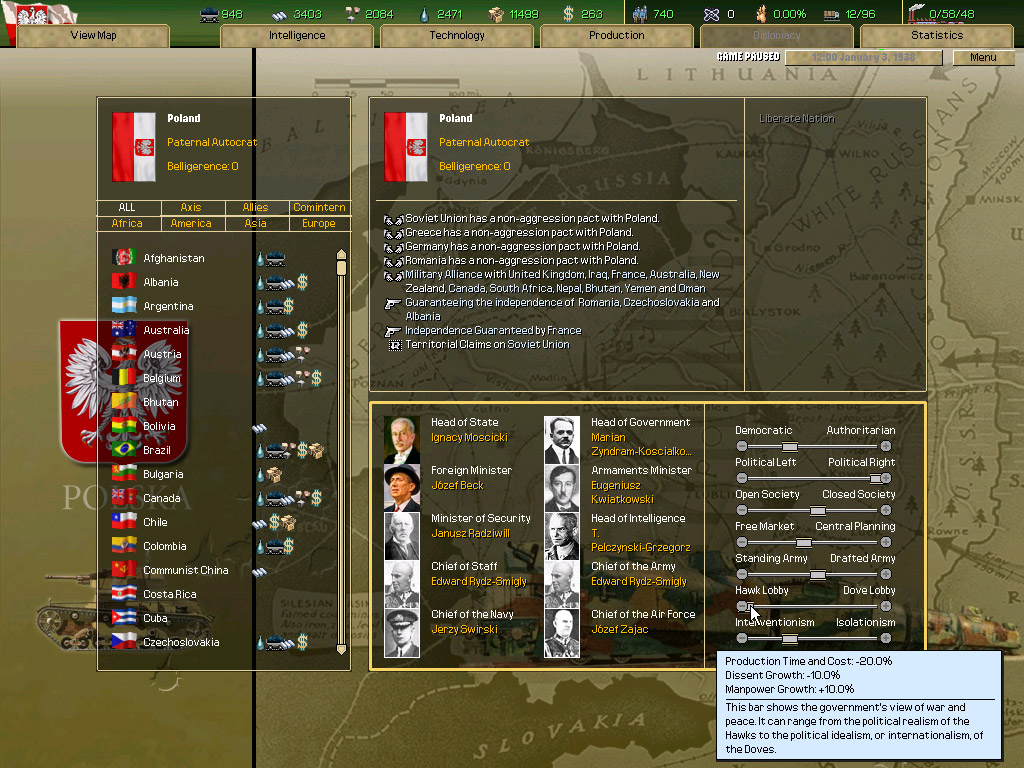 On January 7, upgrade of the HQ division is completed. This frees up some IC to begin construction of a land fort in Cracow. I'll wait longer until I begin to reinforce the understrength infantry divisions. The goal will be to time it so reinforcement is completed just prior to September 1939 to preserve the maximum amount of supplies. Inf '18 (.9) is cheaper to supply than both Inf '36 and Inf '39 (1.0).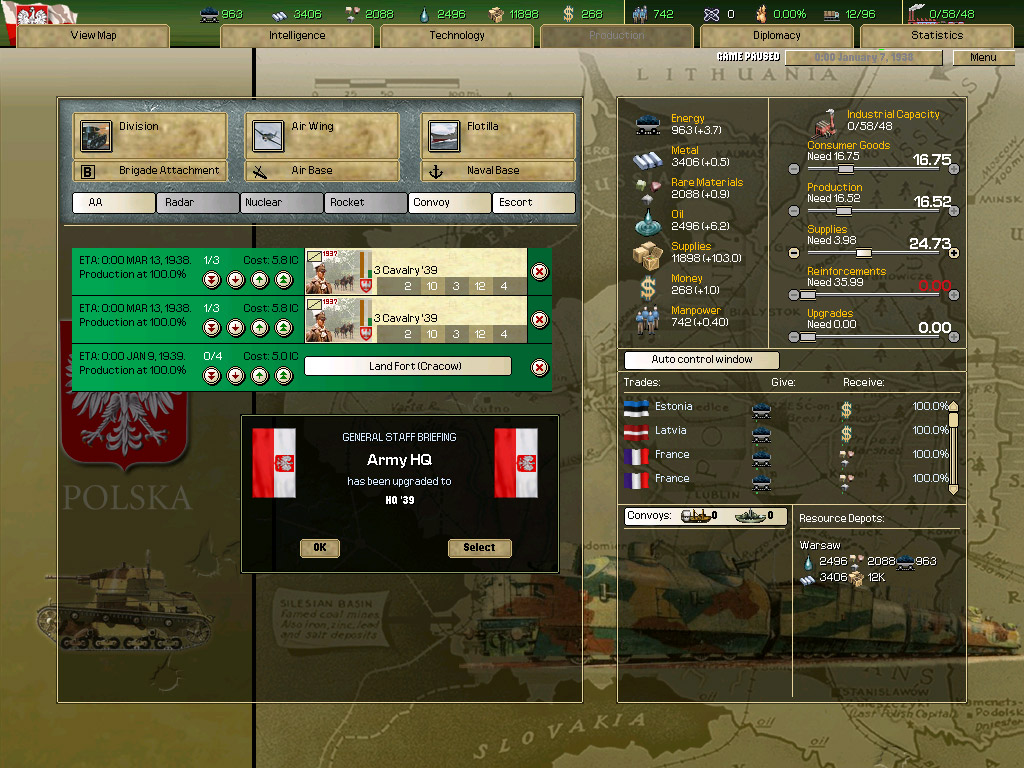 On January 10, I get another slider bump from the UK. Again it's a +1 move towards Free Market. One more slider move here will improve my production time and cost.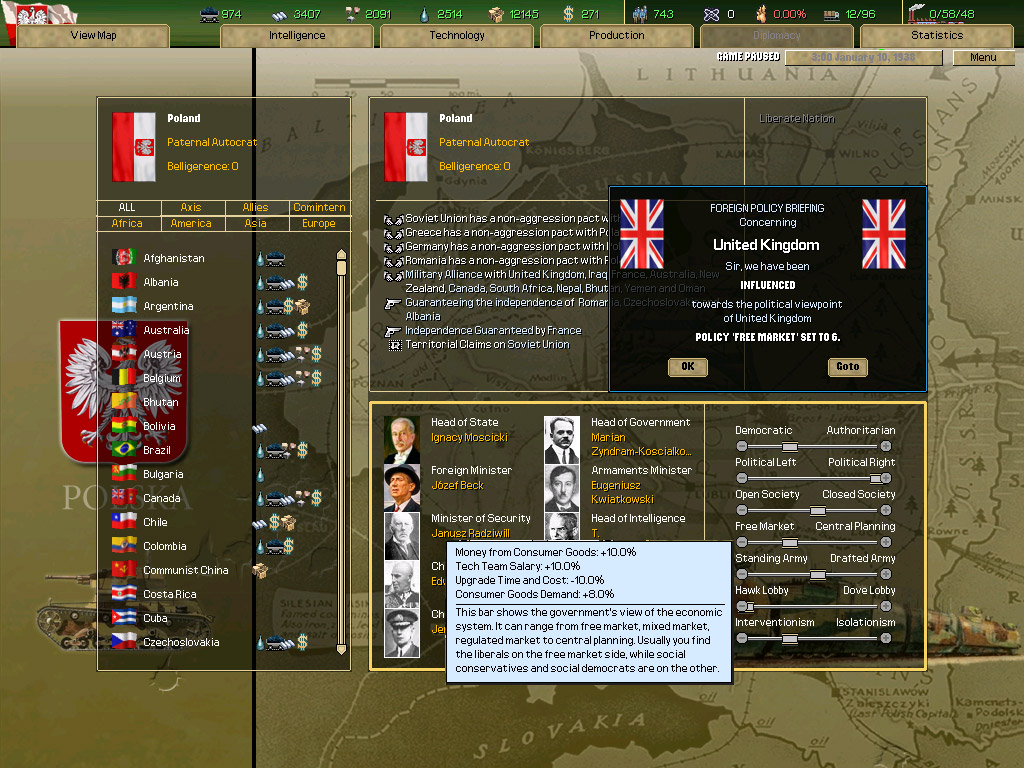 On January 16, Rejewski completes Improved Computing Machine (+5% Research speed). I'm now 1 year closer to the historical research date for Pre-Planned Defense Doctrine and I now can research it a little faster with Imp Comp Machine. I assign Kutrzeba to begin research immediately.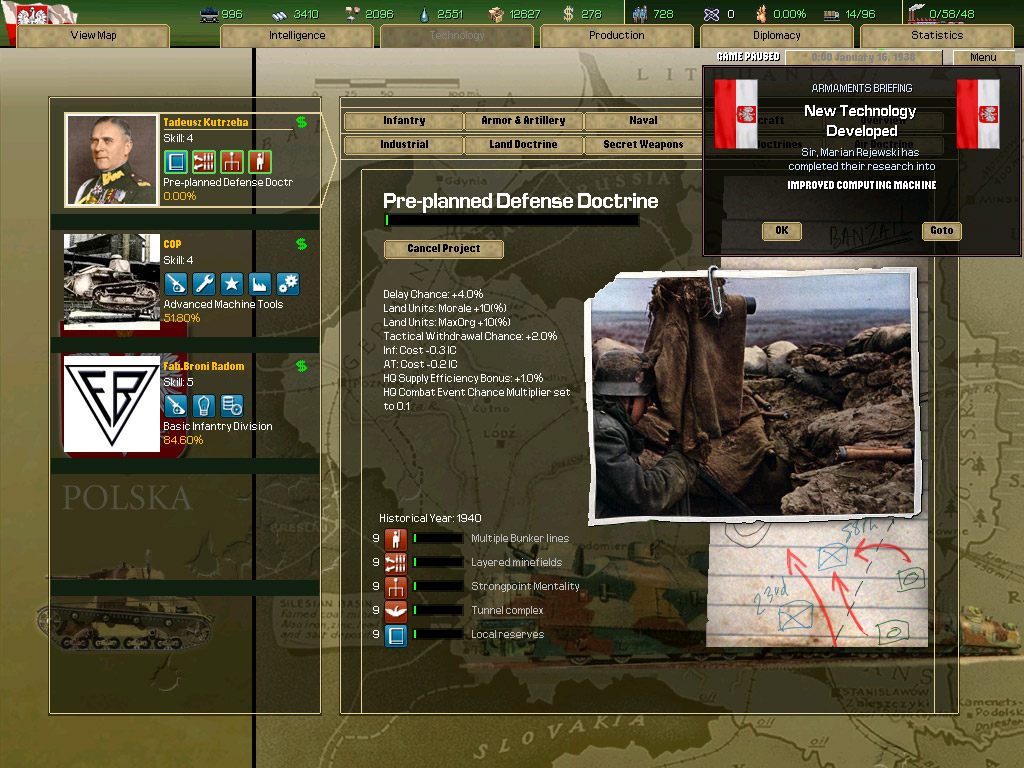 March 9 brings the completion of 2 research items:
COP completes Advanced Machine Tools (+5 Industrial Efficiency) and
Fab Broni Radom completes Basic Infantry Division (allows Infantry '39)
I need to wait until March 14th for the completion of the last 2 Cavalry divisions, then I'll begin a mass serial build of Inf '39 divisions. IN the meantime, I assign PZInz to research Basic Encryption Devices and Fab. Starachowice begins research for Basic Mtn Division. This will be prove later to be a useful research for trade with France.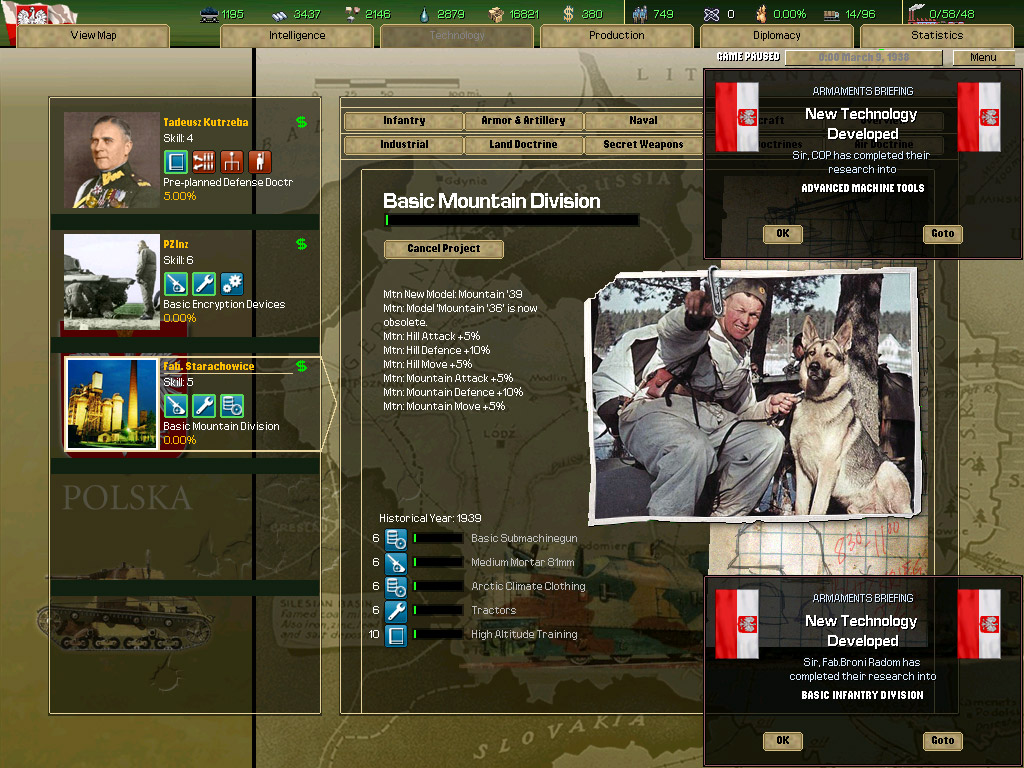 On March 14, I complete construction of the cavalry divisions, and I can now begin construction of infantry divisions. I create 8 parallel builds of 11 divisions each for a total of 88 divisions. These 88 divisions plus the 21 already deployed should give me a total of 109 infantry divisions. Current expected completion date is September 25, 1939. I'll be hoping for further Free Market slider bumps from the UK to help me complete these infantry builds before the August 30, 1939 deadline. I also begin to slowly upgrade my exisiting infantry divisions by allocating 1 IC to upgrading.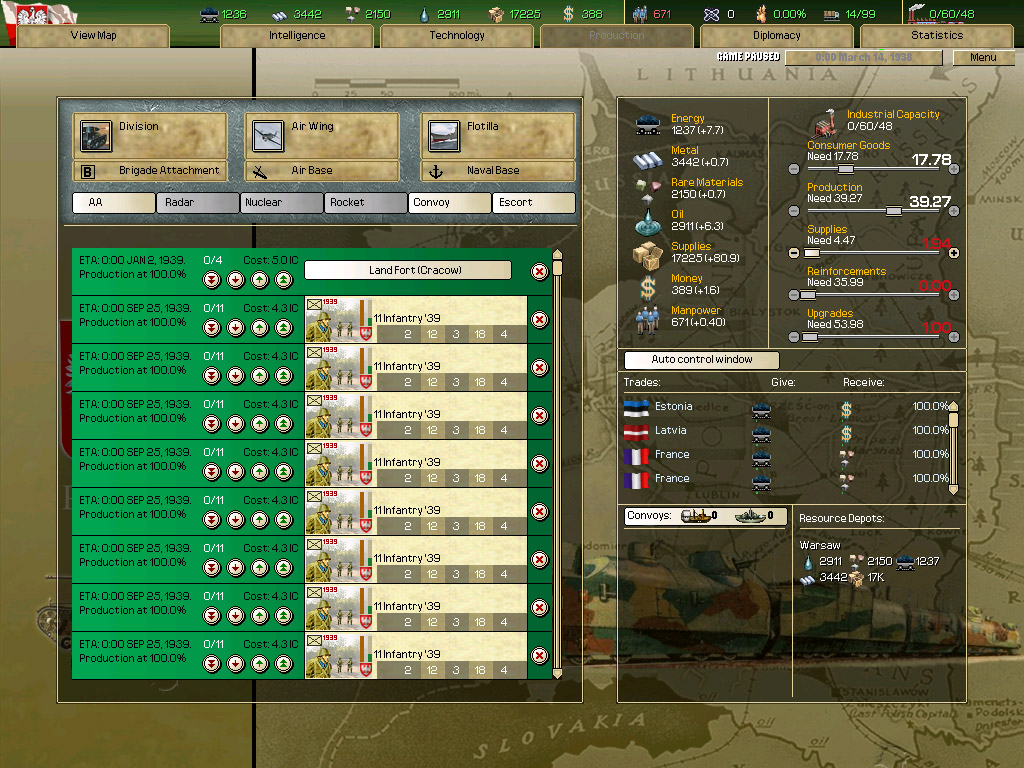 On June 28, my prayers are answered and the UK bumps my Free Market slider. This slider move pushes me over the edge and I receive -10% production time and cost). Because this happens so early in the serial infantry build, the end date for construction move from Sept 25, 1939 all the way back to July 30, 1939. This is a huge break and ensures that I can afford offensive supply when I go on the attack against the Germans. Very lucky.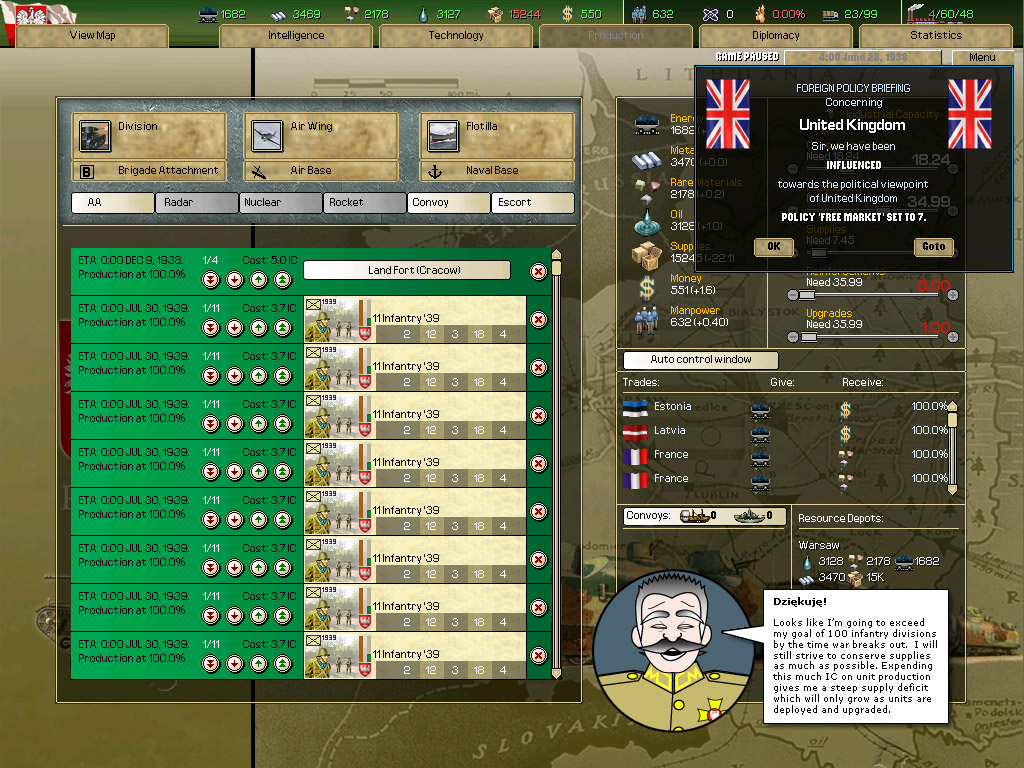 Last edited: