How it Feels to be Something On
39 Badges
WIELKOPOLSKA - Phase 2 - Battle for Poznan
September 3-4, 1939 - Battle for Poznan:
September 3, 1939 - 12:00
:
Directly on the heels of the victory in Memel, the Germans mount an assault on Poznan, a crucial hinge point in my attempt to encircle Bydgoszcz.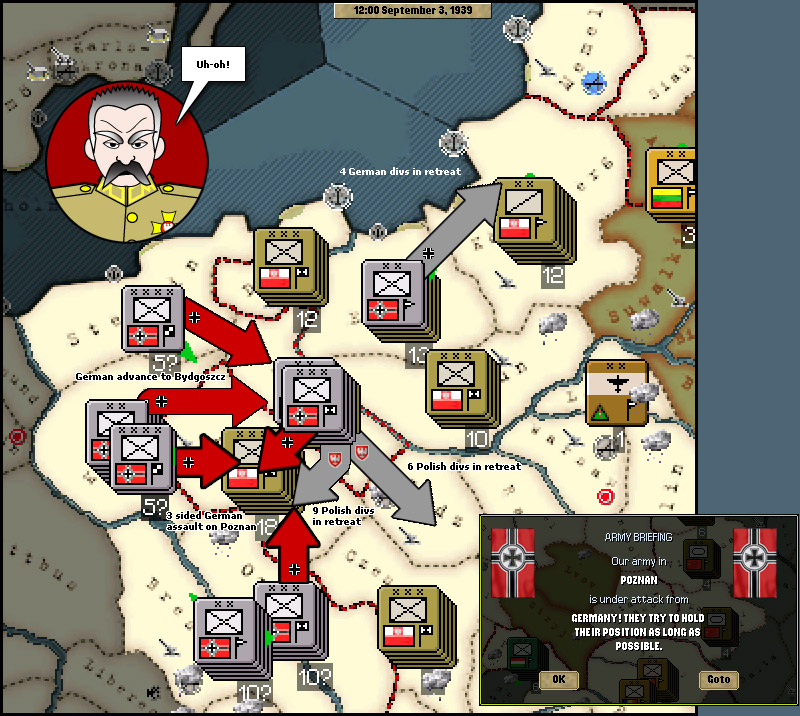 Meanwhile...in the south - 12:00
:
Before I get too distracted by the situation in Poznan, I check my advancing cavalry in Slovakia. I need to know when they're schedule to arrive in Banská Bystrica so I can coordinate an assault on Bratislava with my infantry in Zilina. Since I know the 7 infantry division advancing into Zilina will arrive at
17:00 on September 3
, I'll stop the cavalry in Banská Bystrica so I can mount a 2 pronged assault on Bratislava at dawn on September 4.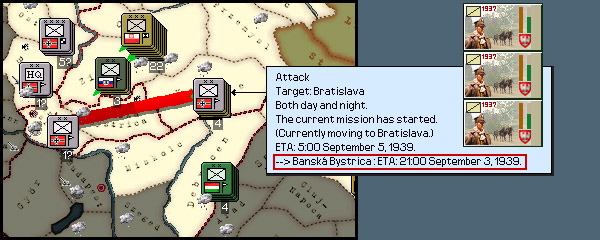 Battle for Poznan
:
My position in Poznan is almost immediately reinforced by the 3 retreating korps from Bydgoszcz bringing my total division count in Poznan up to 27. At first the battle seems to go well and I hold my own against the 3 sided German assault.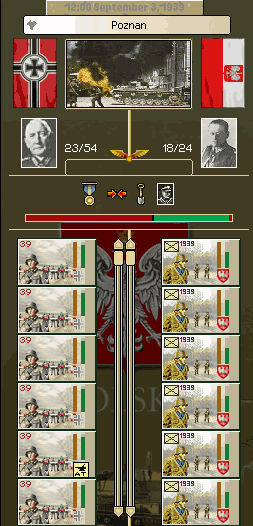 17:00
:
While the battle in Poznan rages, the 7 divisions from Cracow arrive in Zilina at 17:00. 4 hours later,
2. Korp Kawaleria
arrives in Banská Bystrica where I halt their advance to wait for a morning assault. In the process, the retreating Slovakian infantry division (originally defeated at Kosice) is overrun and destroyed.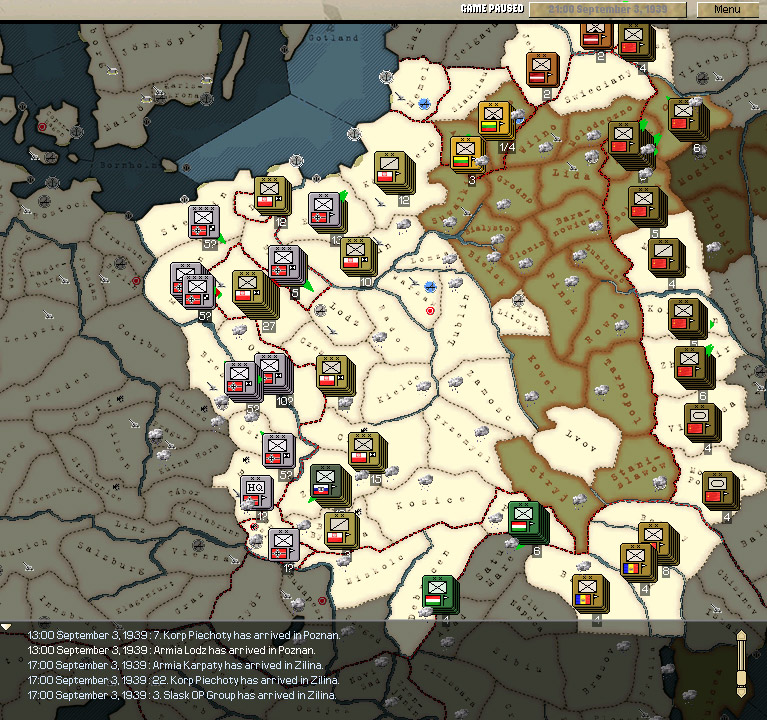 September 4, 1939 - 0:00
:
The first of my 2 retreating korps from Bydogoszcz arrives in Lodz. I move the HQ and 3 supporting korps from Torun to Lodz to reinforce the position.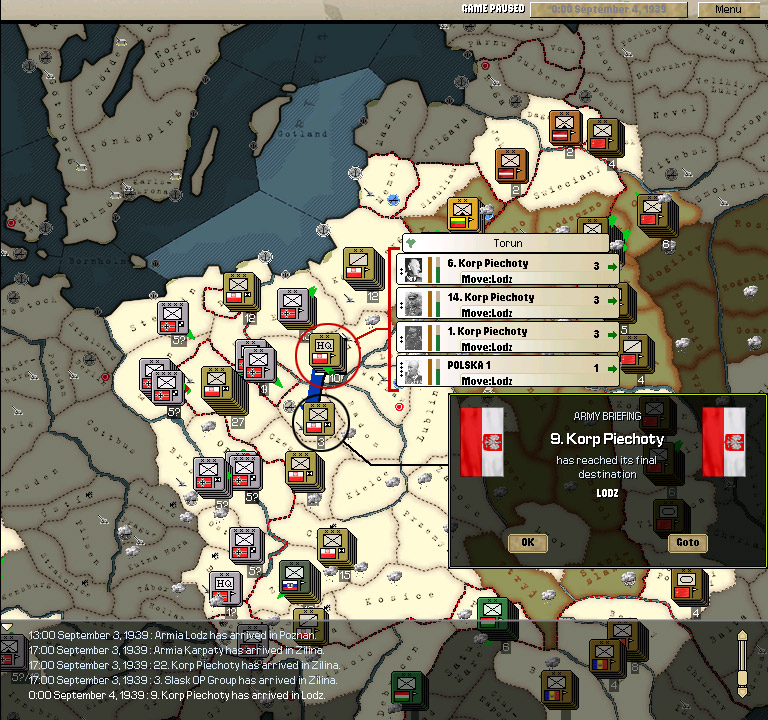 04:00 - 06:00 - Assault on Bratislava
:
Dawn arrives and I initiate an assault on Bratislava, the Slovakian capital. Rainy weather continues to persist.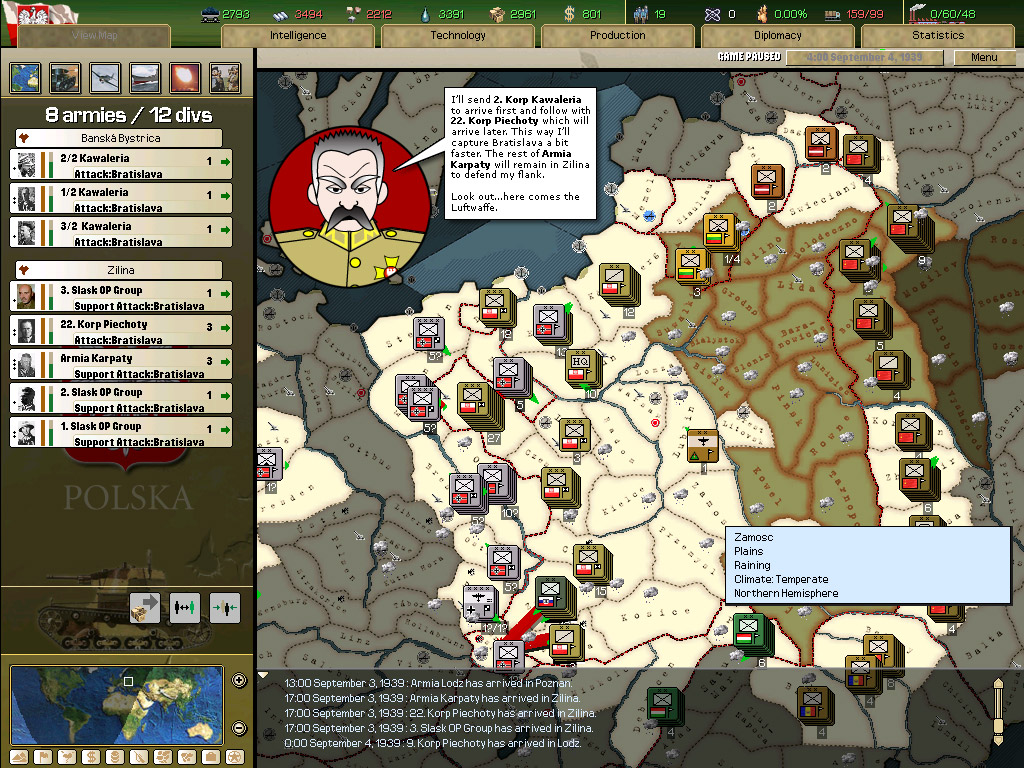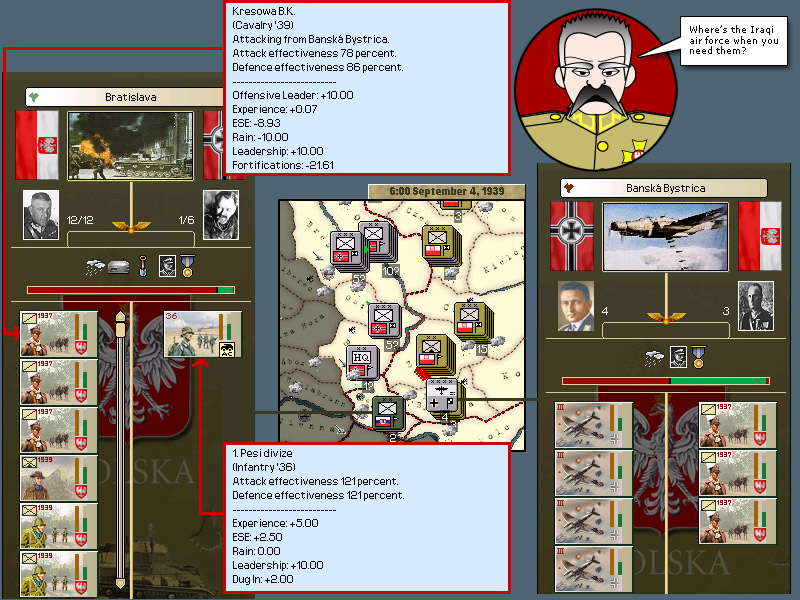 06:00 - Flank attack on Oppeln
:
The battle in Poznan continues. A significant part of the German attack originates in Oppeln so I seize the opportunity to make a flanking attack. I have significant forces in Czestochawa and Cracow, although the scale of my attack will be limited to the normal command capacity of the Generals since my HQ is still working its way south from Torun. I'm counting on the advantage I get with a flanking attack to offset this disadvantage.
08:00
:
The assault on Bratislava succeeds although my advancing cavalry continues to get pounded by the Luftwaffe.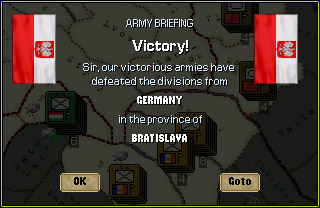 12:00
:
Armia Suwalki
, fresh off their victory at Memel, move south from Königsberg to Torun to replace
POLSKA 1
which is moving towards Lodz. Mud slows their movement. Simulataneously,
Armia Pomorze
in Danzig moves into the void at Stettin left by the German troops who have now arrived in Poznan. Both Stettin and Kustrin will be crucial provinces to capture to complete the encirclement of Bydgoszcz.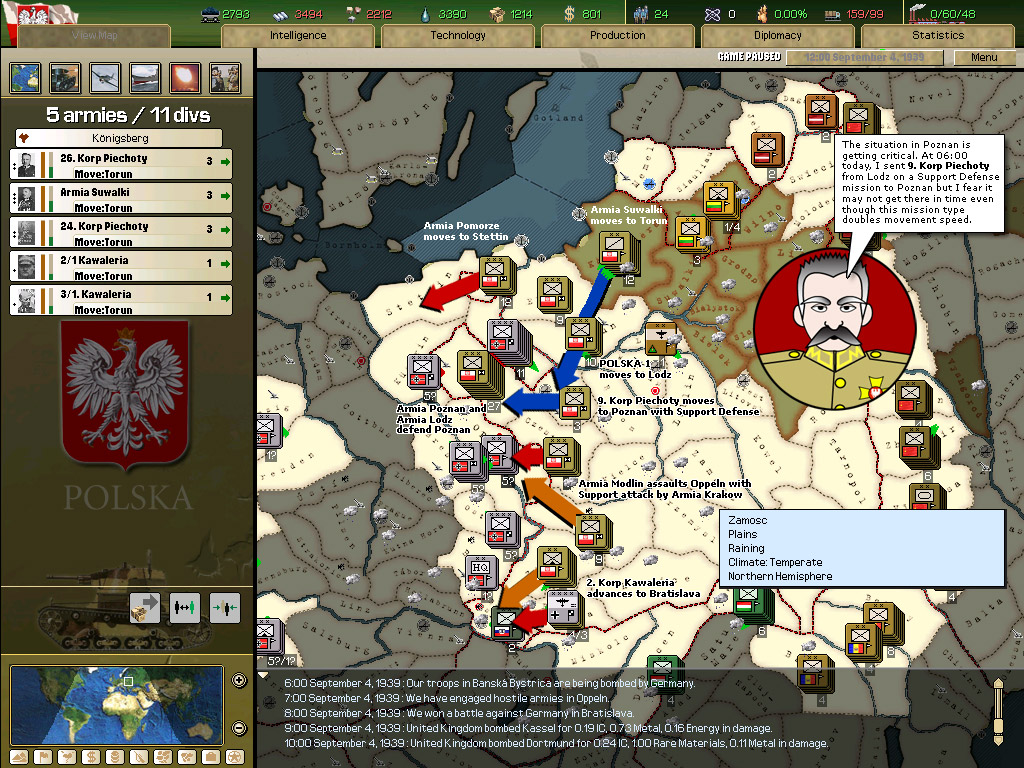 13:00
:
The attack on Oppeln, while succeeding, isn't giving the intended relief to Oppeln I was hoping for. I increase the intensity of the attack by throwing in my reserves. This will put me over the command capacity of the leaders there, but I'm hoping it will be enough to end the battle in Oppeln sooner.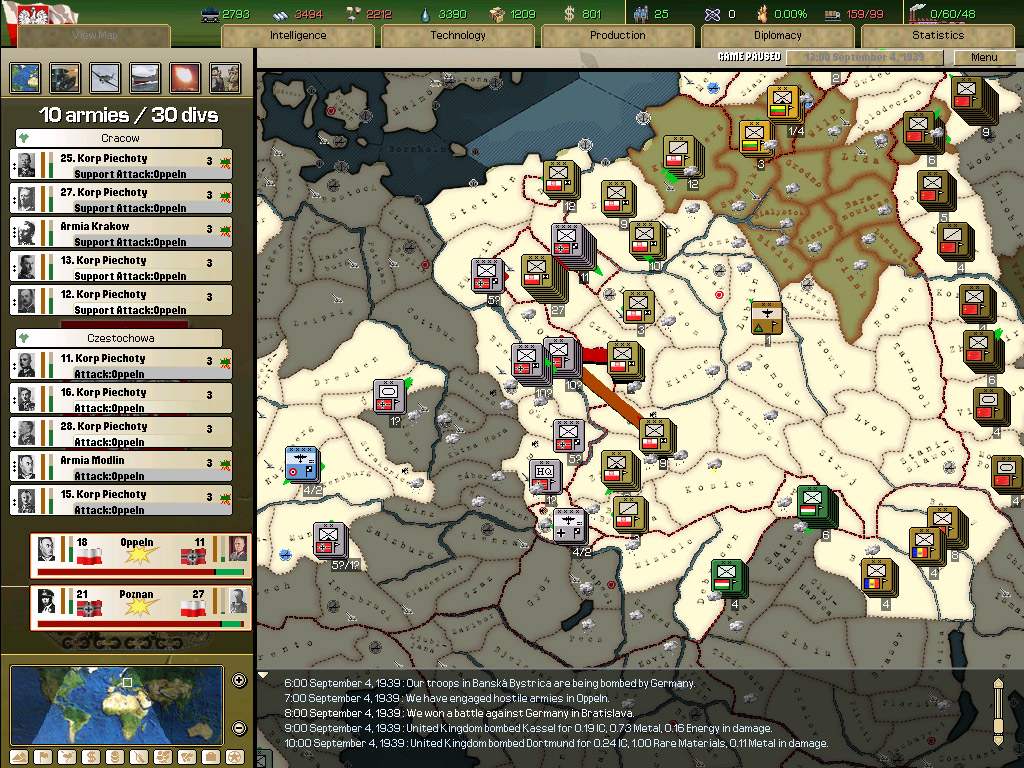 14:00 - Defeat in Poznan
:
I may have succeeded in luring a large German force into Bydgoszcz, but I'm unable to hold Poznan.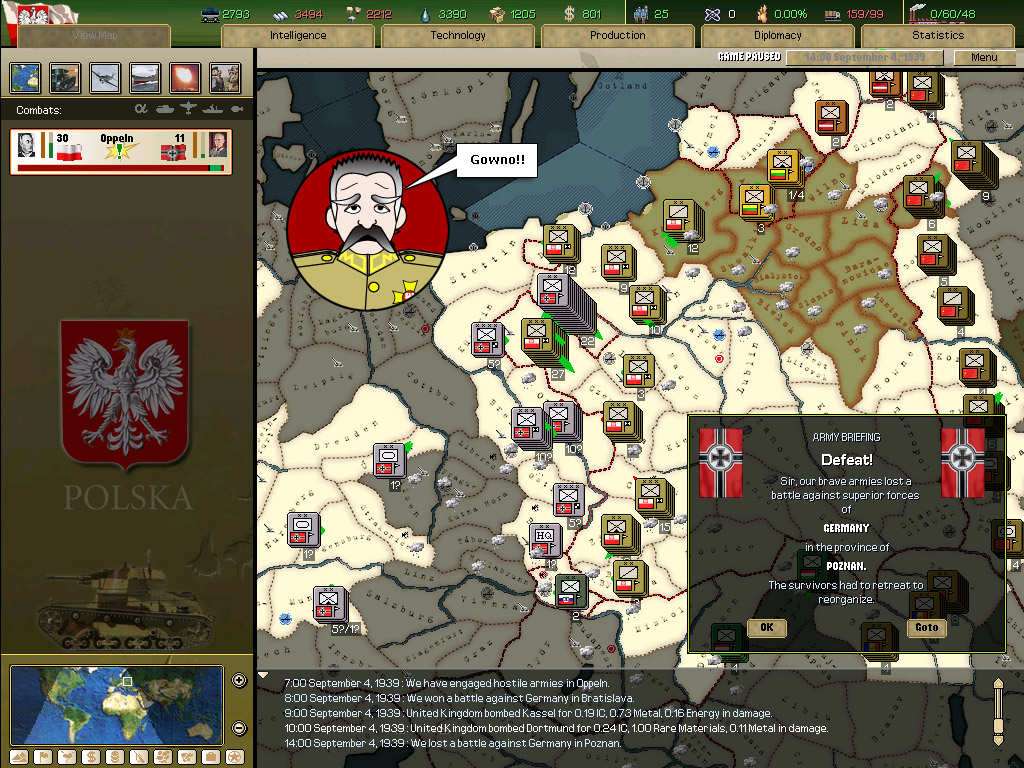 Last edited: