Turn 22 - Late March 1920: Meddling Poles and starving Reds
The Communist situation in this game has shifted from gloomy to desperate. They suffered minor setbacks on all fronts. As a consequence Communist NM is down to 24 points. To make things worse, Poland has decided to attack the wounded bear as well. The battered Red Army has to find troops to throw westward or they will be overrun.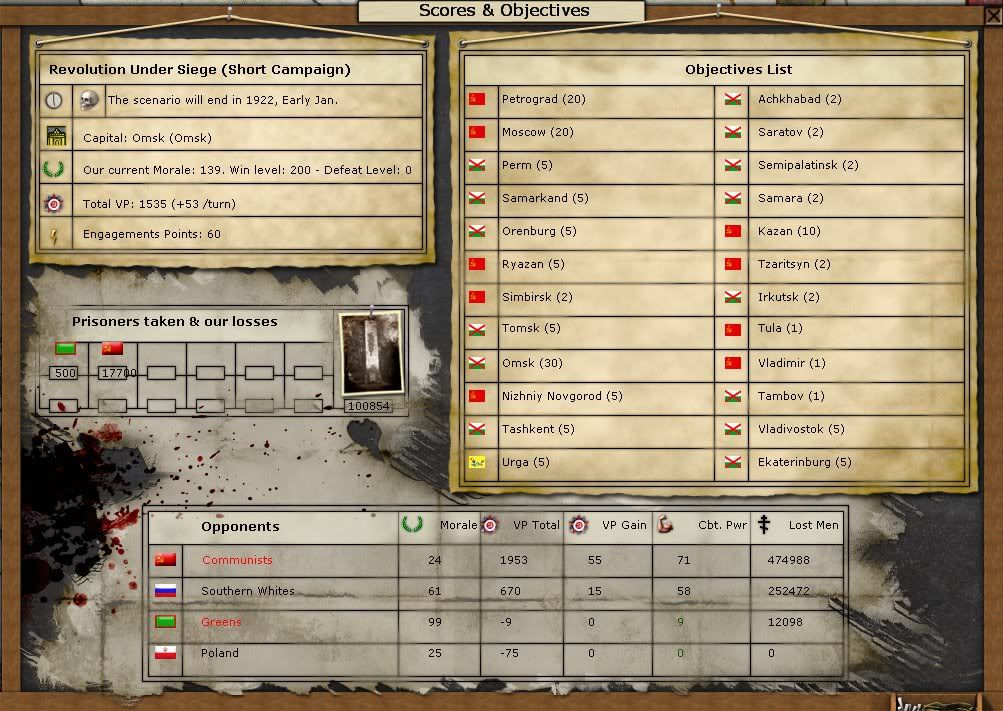 Polish front:
Strictly speaking there isn't just one Polish front but rather two. The Northern and Southern sectors are divided by the Prypiat Marshes - a huge swamp area without roads or railways. While raiders can pass through, a proper army would get stuck and eventually run out of supplies.
Belorussian front
(= northern sector): The obvious first target is the city of Minsk. Once this railway hub is under Polish control a railway route leads via Smolensk straight to Moscow. Unfortunately, Polish troops are limited to Poland, the Ukraine and Belorussia as their theaters of operation. If they venture beyond this area, they incur massive cohesion losses which render them essentially useless. Therefore any offensive in the North cannot go beyond Orsha.
Zygadlowicz and Szeptycki are ordered to assault Minsk this turn. The further Polish strategy will depend upon the Bolshevik reaction: If the Red Army should manage to scrape a strong force together, Minsk will be the keystone to an excellent defensive position behind the rivers Neris and Berezina. Otherwise Polish forces will venture east in order to take Gomel before attacking the Ukraine from the Northwest.
Ukrainian front
(= southern sector): The big price in the South is Kiev. Not only is it rich in ressources, but its loss will deal a harsh blow to Communist NM. Moreover, taking Kiev will provide me with Ukrainian reinforcements come May.
Currently, my Southern White allies are besieging the city but Durk has agreed to lift the siege and leave the capture of Kiev to the Polish Army (from what Durk told me he hasn't enough men to risk an assault anyway).
Pilsudski's plan relies entirely upon speed: he will cross the Ukrainian border with the main force while almost the entire Polish cavalry is send ahead to secure the railway all the way to Kiev. If all goes according to plan Pilsudki's entire force will board trains next turn and move onto Kiev.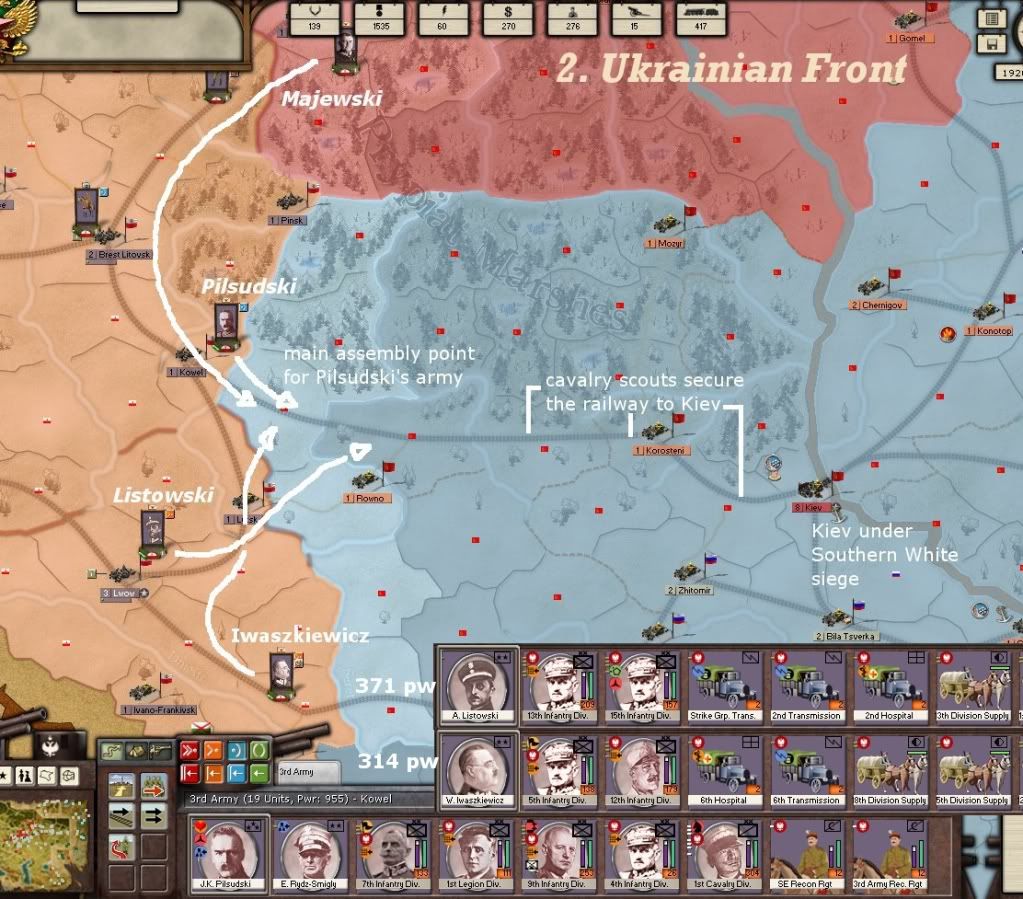 The plans for the Polish front have been worked out for months:
Operation Feint
and
Operation Hammer
. I am not sure if Ian knows about the limitations of the Polish army in the North. He might, but then again a bug hid this special (dis)ability when he played the Siberians in our first game.
The idea for Operation Feint is to blow up a lot of dust in the North with early, seemingly aggressive moves. Meanwhile the initial Polsih moves in the South are designed to appear a lot more timid. Hopefully this will trick Ian into deploying his scarce reserves to the wrong sector. Come April, Operation Hammer will be launched with an assault against Kiev. Even if the feint should fail, I believe that Kiev will fall. I doubt the Red Army has enough troops left to relieve the city.
In order to make the hammer more powerful, Majewski and a division worth of troops are transfered from the Northern to the Southern sector.
While the Polish Army is quite impressive on paper, Polish intervention comes with some annoying issues:
Although the Poles have two three star generals, it is impossible to give either of them army command (if I am not mistaken, there is a limit to the number of army hqs a subfaction can have. Apparently that limit is set to zero for the Polish). This particular problem can be solved, though: Tolstov is loaned to the Polish via instant redeployment.
Polish NM starts at 25! While the Poles share ressources, EP, railway capacities, etc. with the Siberians, they have a seperate NM and VP count. The hefty NM penalty for Polish intervention is entirely subtracted from the Polish NM (I thought the Siberian NM would suffer). Considering that the Polish would surrender if their NM should drop to zero, there isn't much room for mistakes.
There isn't a single depot in all of Poland. Polish intervention comes with its very own supply crisis.
More on Polish intervention in my
RUS game mechanics chapter on the subject
.
Northern front:
Here we go again, yet another attack on Votinsk.
Fifth Battle of Votinsk:
The attack wasn't as foolish as the result suggests, though. Last turn, starvation had reduced the cohesion of Pepeliaev's corps considerably: his strength had dropped to ~650 pw. Ian may have sensed an opportunity. He may even have thought, I would order further retreats. Luckily, I had managed to bring new supplies in last turn. This turn Pepeliaev's troops were well supplied again and his cohesion recovered. When Shorin attacked he faced a well entrenched army with superior numbers and the better commanders. Pepeliaev, the seasoned veteran of many battles, let his corps to another glorious victory. Gaida's troops never even got to participate in the slaughter. 11.500 Communists have fallen; White casualties number "only" 3.000. Kolchak is pleased; +2 NM.
For the moment, the Northern front will remain peaceful. The Red Army is likely to lick its wounds and I am still busy getting my supply issues under control.
Southern front:
The Siberian Army won two smaller battles: A Red cavalry brigade that was constantly interrupting the Penza-Tambov railway was punished by Akutin (out of 38 hits only 6 remain).
Further north
Operation Sickle
is off to a promising start: Saransk was taken with ease.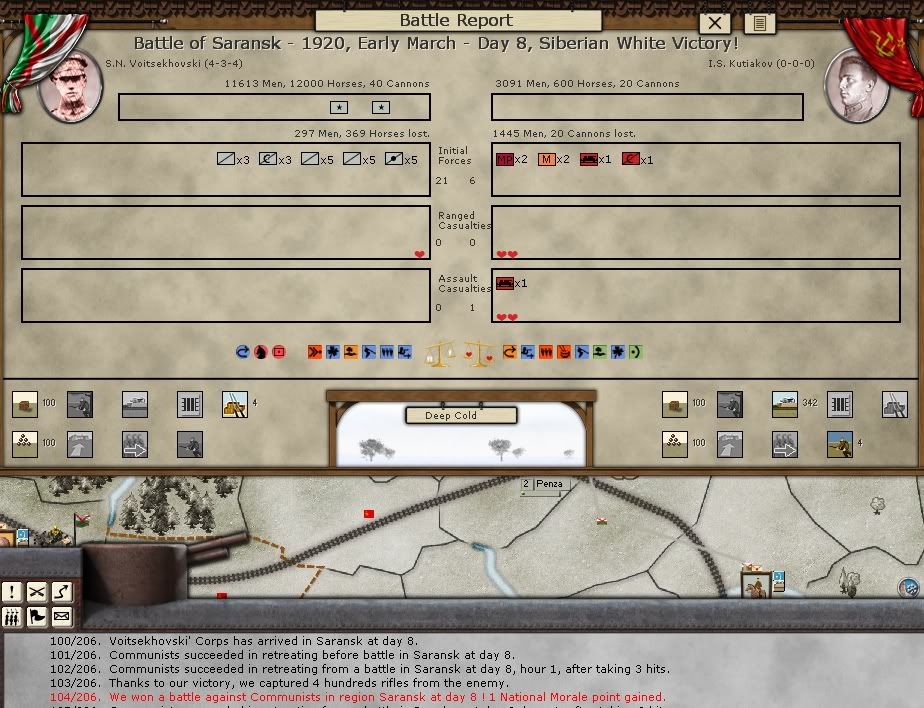 The most promising developpment is the siege of Syzran, though. Samoylo is down to 212 pw. There is only one possible explanation: after three months his army is finally starving. Keeping this siege in the middle of a nasty supply crisis was a constant nightmare but now my perseverance is starting to pay off. The Red Army command is clearly desperate: Samoylo tried again to sneak out of the city but aborted the attempt before a battle could ensue.
Obviously Kappel could assault the city now. But Trotzky has been reinforced by Parsky. This could be a sign that the Red Army is about to launch one more desperate attempt to lift the siege. I believe Trotzky would probably be too late, but with a march to the sound of guns, I can't be certain. Most importantly, Kappel would be vulnerable in assault posture, especially after a costly fight in the streets of Syzran.
I might have decided to assault anyway but with the Volga still frozen, my prey can't get away. I can afford to be patient.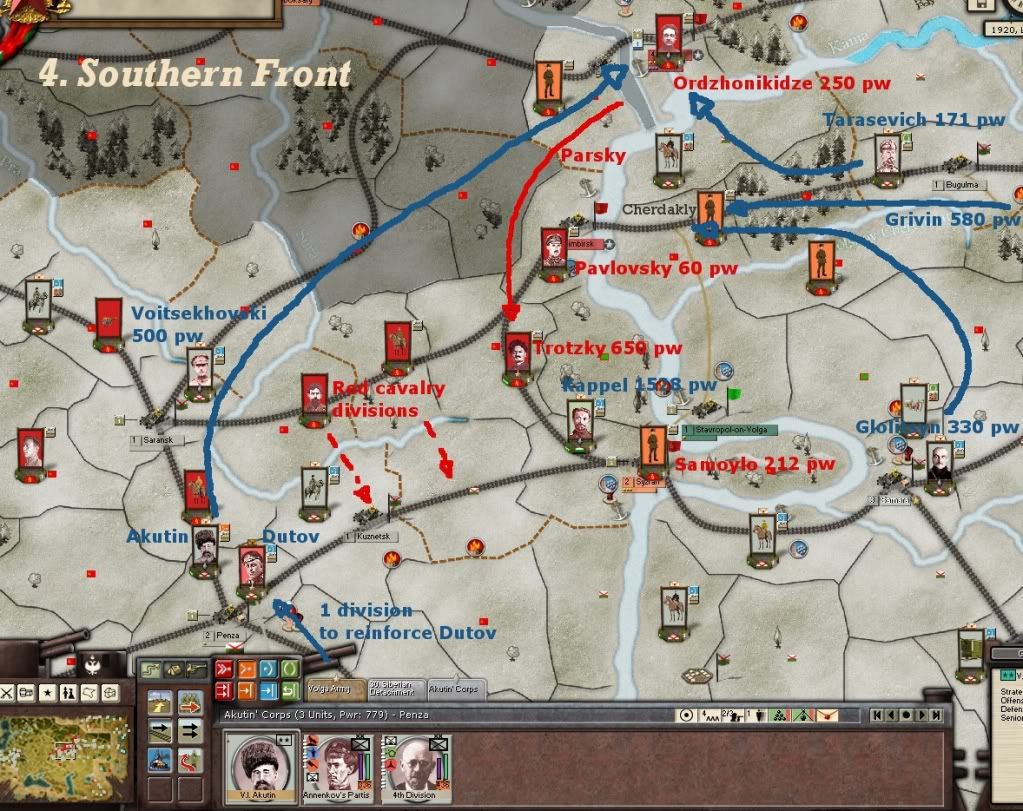 In the meantime, the second step of Operation Sickle is launched: When I initially planned the operation the target was Kazan, I wanted to link my Southern to my Northern front and isolate the Red forces north of Votinsk. The sickle would swing through the back of the Red Army and take its most valuable position on the Siberian front: Kazan. This prize gets even richer since the remnants of the Red Volga fleet are sheltered in its harbour. If it could be destroyed like the fleets at Sarapul and Saratov, Communist control of the Volga would come to an end.
The Siberian supply crisis had made me modest, though. For the last few turns the objective of Operation Sickle had changed to sacking Trotzky. In order to achieve this it would be sufficient to take Saransk and Simbirsk. Tarasevich's attack on Bugulma was intended to open a railway line to get reinforcements and supplies to Simbirsk. Now I am reconsidering: after Parsky's march south, only 250 pw worth of troops remain at Kazan. They are most likely well entrenched and should profit from the river (I don't know how high the bonus is for a frozen river).
As with the attack on Saransk, I have assembled an attack force behind the frontline: two infantry divisions with armoured support (which means they move faster than cavalry) have been assembled at Penza. Akutin is put in command. With almost 800 pw his corps outnumbers Ordzhonikidze's 3:1. Some of that strength will be lost during the march (only the first half will be by train). Still I hope Akutin's corps will prove powerful enough to take the city or at least force the defenders outside the city to retreat.
Tarasevich will again provide assistance. He is ordered to infiltrate Kazan on the last day of the turn. Hopefully his unit will only have to provide reinforcements against a possible counter-attack. If Akutin is stopped along the way or forced to retreat, Tarasevich has a decent chance to escape without combat: he is on passive posture and his division is small enough to have a good evasion value.
Glolitsyn and Grivin are ordered to secure a retreat-route in case Akutin fails. They will occupy Cherdakly on the east bank of the Volga, just opposite of Simbirsk. This should enable Akutin to reach safty fast if need be. Together Glolitsyn and Grivin will have close to 1.000 pw enough to push the offensive further.
Even with these safety precautions, the attack on Kazan remains risky: I reckon the chances of success are 60% at best. But I doubt Ian will see it coming - or even think it possible. Akutin's corps will have to cover an awful lot of ground. No small feat in winter.
After next turn, I expect to run into new supply troubles. Ian came up with a nasty little trick. He used a detachment of Samoylo's besieged force to blow up the railway line through Syzran. Through this railway any supply trains from the east have to pass in order to reach my troops at Penza, Tambov and now Saransk. New supply deliveries will be delaid by several days now. My offensive moves won't help matters either.
Even worse, the Polish now share the Siberian railway pool which has strained it to its limits. This turn, no railway capacities will remain to help out the supply network. I expect matters to get even worse: the Red Army has two cavalry divisions (brigade sized formations called division to satisfy Bolshevik dreams of grandeur) positioned to interrupt the railway between Syzran and Penza.
Recruitment:
currently unit building has shifted entirely towards supply trains. I need to build a supply network in Poland fast. Most of these new supplies trains will be transformed into depots quickly.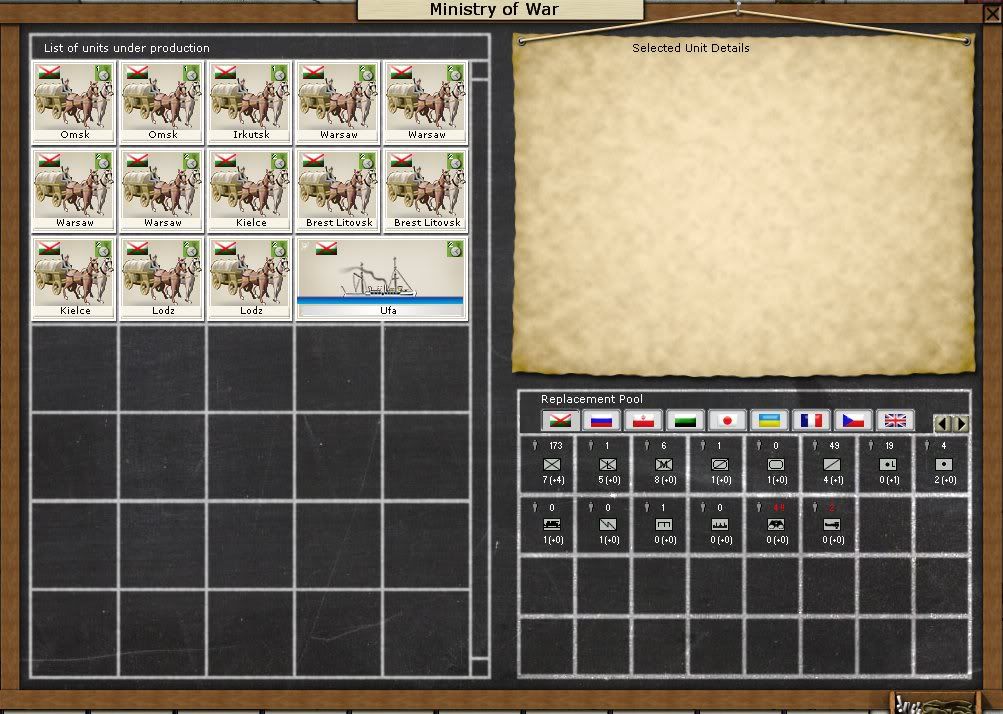 The Siberian brown water navy (a.k.a. Rustbucket Armada) has been strengthened slightly: it now has 8 gunboats in good condition and four more are currently under construction. Not much, but the Reds have lost a huge portion of their fleet during the winter. The Siberians may just be strong enough to challenge Communists rule of the Volga again.
Last edited: