The WDSSSS.
yay to abbreviations that give no meaning what-so-ever!​
I have created a little program after some ideas presented by Haubtmann in
this
thread. It focosus on the sunk ship statisics, which I feel are a little too slim. Espacially since the info required to fatten them out are in the save game.
The software will create a html file based on your save game. The output file will look something similar to this one.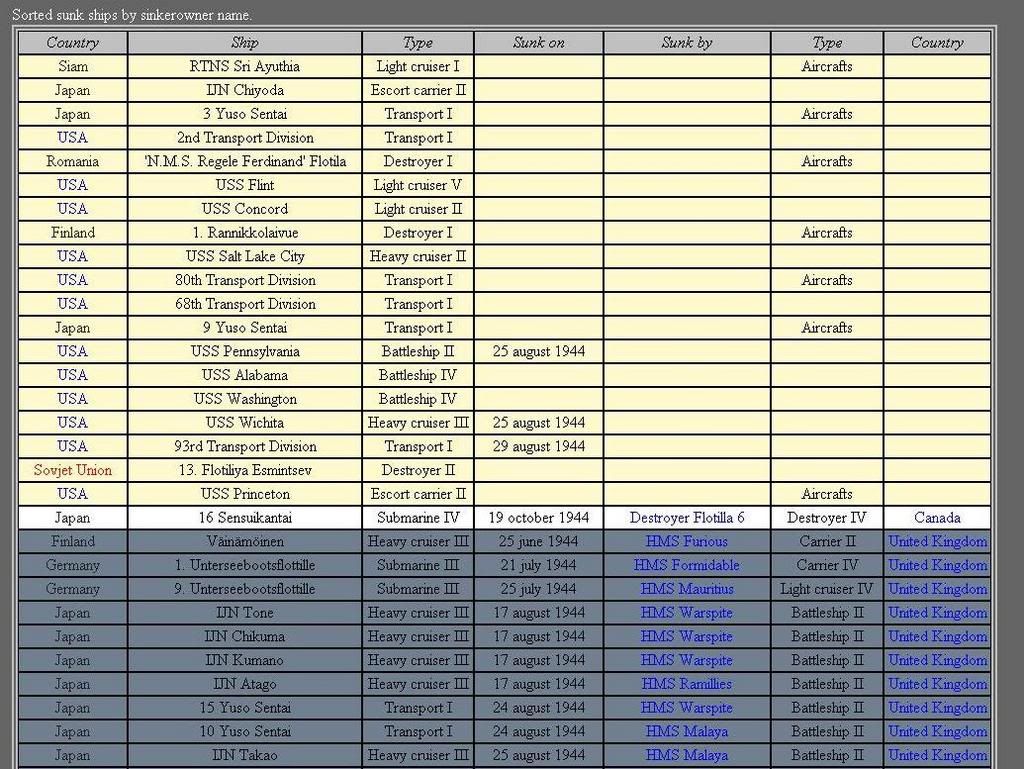 It might be slightly hard to see from this screenie, but nations are colored according to their alliance. Black is the facist, red is commie, blue is capitalist and the reminder is also colored in nation specific colors. Etc if japan and puppets are not axis, but have their own alliance. Then they will be colored in a unique color.
The names of ship that sink stuff are either colored blue or red. This has nothing to do with their alliance. But instead shows whether they are still roaming the seas. Blue means yes, and red means they are sunk as well.
Also displayed are the date of the sinkage ( doesn´t apply to air-ship kills ) and the level of the sunk vessals. Both are annoyingly enough not included in the in-game stats. You can sort the above mentioned data in "Don´t sort, Date, sunk (name of sunk vessal), sunkowner, sinker, sinkertype, sinkerowner and either A-Z or Z-A. If you choose to sort by date, then A-Z will put the first sunk on top and the last sunk on the bottom.
After creating this file, which basicly is just a improved version of the in-game stats. The software goes on to create some additional goodies.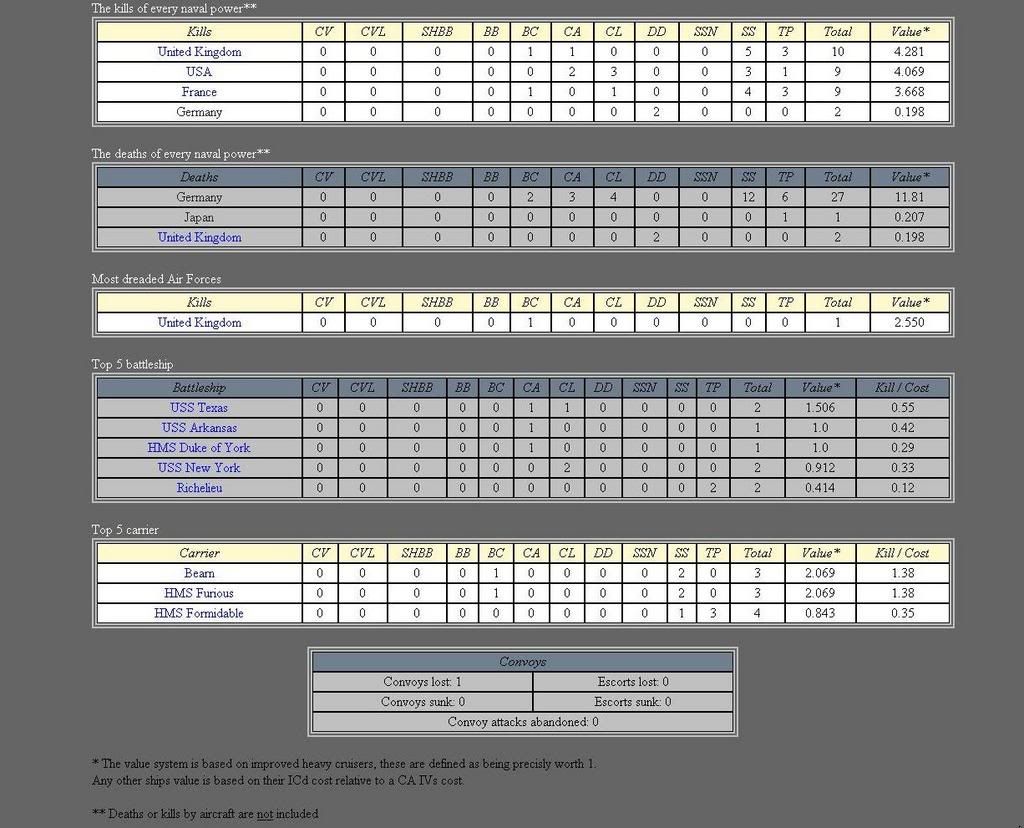 This stats show some intresting things about naval powers, who has killed or lost more. Also shows the combined number of convoys/escorts lost or sunk. Pretty nice if you´re running a sub campaign or trying to fend off one. I´ve also included some additional stats about convoys, but not in the same output file to save space and calculating time. These additional stats about convoys tell you how much you´ve sunk/lost pr month. But cannot, due to limitations in the save game, tell you who sunk your convoys nor who the convoys you´ve sunk belong to.

( note: the output file is normally notably larger )
Heres a screenie of the interface. Pretty, ehhh?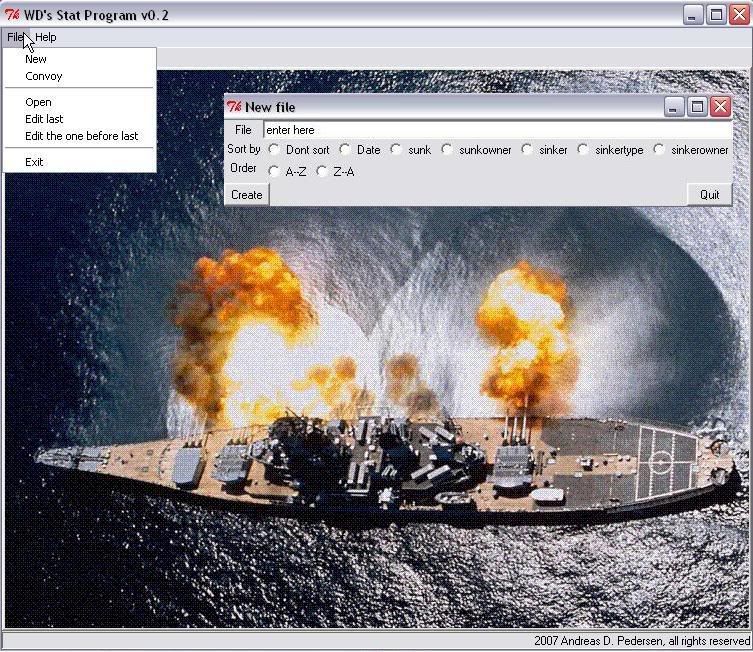 It still includes a few annoying things. For a bit deeper explanation,
read this
. However, none are software breaking and all are simply minor annoyences.
This version is fully compatible with any mod that has been, is or will be!
The problem with mods is they add new ship types to the game. Like the new levels of transports introduced by TRP. What the software do is check the checksum of your save game, then it opens the file value.txt and checks if this checksum is the same checksum as the mods listed. If no match is found it defaults to vanilla.
Now its up to you, the users, to expand your value.txt file if you use a mod that is not listed by that file. It isnt hard. Just copy one of the two blocks of text, and change it to your needs. ( backup first )
Installing and running the software is pretty easy. Download the file from the link at the bottom of this thread. Un-zip, place a save game (a copy) in the folder with the "stat program.exe" file. Run said exe file, and it should work like a charm.
Game is not compatible with the Arma 1.3 Beta Patch
This patch changes the save game structure, thus preventing the search algorithms from working.
Download it
HERE
Stay Cheerful
EDIT: Link gone. Forgot to update my 4shared account.
EDIT2: Link back. Remble had it. Thanks to him.
Last edited: