Baiter of Karens
48 Badges
Whan that Aprill (

maybe I should have saved this theme for the spring? ...Oh well

) with his shoures soote
The droghte of March hath perced to the roote
And bathed every veyne in swich licour
Of which vertu engendred is the flour
Whan Zephirus eek with his sweete breeth
Inspired hath in every holt and heeth
The tendre croppes and the yonge sonne
Hath in the ram his half cours yronne
And smale foweles maken melodye
That slepen al the nyght with open ye
(So priketh hem nature in hir corages)
Thanne longen folk to goon on pilgrimages
And palmeres for to seken straunge strondes
To ferne halwes, kowthe in sondry londes;
And specially from every shires ende
Of Engelond to Caunterbury they wende,
The hooly blisful martir for to seke
That hem hath hoplen whan that they were seeke
Bifil that in that seson on a day
In Southwerk at the Tabard as I lay
Redy to wenden on my pilgrymage
To Caunterury with ful devout corage.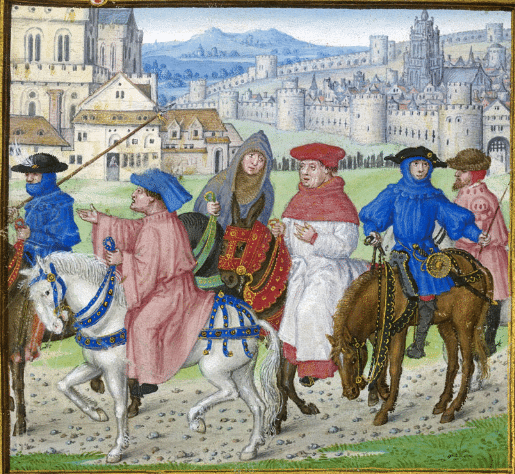 At nyght was come into that hostelrye
Wel ten and seven in a compaignye
Of sondry folk, by aventure yfalle
In felaweship, and pilgrimes were they… most
That toward Caunterbury wolden ryde.
The chambres and the stables weren wyde
And wel we weren esed atte beste.
And shortly, whan the sonne was to reste,
So hadde I spoken with hem everichon
That I was of hir felaweshipe anon,
And made forward erly for to ryse,
To take oure wey ther as I yow devyse.
But nathelees, whil I have tyme and space,
Er that I ferther in this tale pace
Me thynketh it accordaunt to resoun
To tell you all the condicioun
Of ech of hem, so as it semed me,
And whiche they weren, and of what degree,
And eek in what array that they were inne…


A Knyght ther was, and that a worthy man,
That fro the time that he first bigan
To riden out, he loved civalrie,
Trouthe and honor, freedom and courteisie.

With hym ther was his sone, a young Squier,
A lovyere and a lusty bacheler,
With lokkes crulle as they were leyd in presse.

Ther was also a Nonne, a Prioresse,
That of hir smylyng was ful symple and coy;
Hire gretteste ooth was but by Seinte Loy;
And she was cleped madame Eglentyne.

A Monk ther was, a fair for the maistrie,
An outridere, that loved venerie,
A manly man, to been an abbot able.

A Frere ther was, a wantowne and a merye,
A lymytour, a ful solempne man.
In alle the ordres foure is noon that kan
So muchel of daliaunce and fair langage.

A Marchant was ther with a forked berd,
In mottelee, and hye on horse he sat;
Upon his heed a Flaundryssh bever hat,
His bootes clasped faire and fetisly.

A Clerk ther was of Oxenford also,
That had unto logyk hadde longe ygo.
As leene was his hors as is a rake,
And he nas nat right fat, I undertake,
But looked holwe, and therto sobrely.

A Sergeant of the Lawe, war and wys,
That often hadde been at the Parvys,
Ther was also, ful riche of excellence.

A Frankeleyn was in his compaignye.
White was his bird as is the dayesye;
Of his complexioun he was sangwyn.

A Shipman was there, wonynge fer by weste;
For aught I woot, he was of Dertemouthe.
He rood upon a rouncy, as he kouthe,
In a gowne of faldyng to the knee.

With us ther was a Doctour of Phisik;
In al this world ne was ther noon hym lik,
To speke of phisik and of surgerye,
For he was grounded in astonomye.

A Good Wif was ther of biside Bath,
But she was somdel deef, and that was scathe.
Of clooth-makyng she hadde swich an haunt
She passed hem of Ypres and of Gaunt.

A good man was ther of religioun,
And was a povre Persoun of a Toun,
But riche he was of hooly thoght and werk.

The Millere was a stout carl for the nones;
Ful byg he was of brawn, and eek of bones.
That proved wel, for over al ther he cam,
At wrastlynge he wolde have alwey the ram.

The Reve was a sclendre colerik man.
His berd was shave as ny as ever he kan;
His heer was by his eyrs ful round yshorn;
His top was dokked lyk a preest biforn.

A Somonour was ther with us in that place,
That hadde a fyr-red cherubynnes face,
For saucefleem he was, with eyen narwe.

With him ther rood a gentil Pardoner
Of Rouncivale, his freend and his compeer,
That streight was comen from the court of Rome,
Ful loude he soong "Com hider, love, to me!"

I seyde thus, "Now, lordynges, trewely,
Ye been to me right welcome, hertely;
For by my trouth, if that I shal nat lye,
I saugh nat this yeer so myrie a compaignye
Atones in this herberwe as is now.
Fayn wolde I doon you myrthe, wiste I how,
And of a myrthe I am right now bythough,
To doon you ese, and it shal coste noght/
We goon to Caunterbury -- God us speede,
The blisful martir quite us our meede!
And wel I woot, as we goon by the weye,
Ye shapen yow to talen and to pleye;
For Trewely, confort ne myrthe is noon
To ride by the weye doumb as a stoon;
And therefore wol I maken us disport,
As I seyde erst, and doon us som confort.
And if yow liketh alle by oon assent
Hoold up youre hondes, withouten moore speche."
Their conseil was not longe for to seche.
They thoughte it not worth to make it wys,
And granted me withouten moor avys,
And bad me seye my voirdit as I leste.

"Lordynges," Quod I, "Now herkeneth for the beste;
But taak it nought in desdeyn.
That is the poynt, to speken short with oure weye,
That in this viage shal telle tales
To Caunterburyward, I mean it so,
Of aventures that whilom han bifalle.
And which of yow that bereth hym best of alle,
That is to seyn, that telleth in this caas
Tales of best sentence and moost solaas,
Shal have soper at oure aller cost.
And whoso wole my juggement withseye
Shall paye al that we spenden by the weye.
And if ye vouchesauf that it be so,
Tel me anon, withouten wordes mo,
And I wol erly shape me therefore."
This thyng was graunted, and their othes swore
With ful glad herte, and preyden me also
That I wolde been oure governour,
And of their tales juge and reportour,
And sette a soper at a certeyn pris,
And they wol reuled been at my devys
In heigh and lough; and thus by oon assent
They accorded to my juddement.
And thereupon the wyn was fet anon;
We dronken, and to reste wente echon,
Withouten any lenger taryynge.
​
The events of that night, however, indicated that it would be... rather a different sort of pilgrimage than most of us had expected...
​
Welcome to Werewolf Lite CDXX:

PERILOUS PILGRIMAGE!

Beware the Smylere with the knyf under the cloak!




Standard Werewolf Lite Rules
​

There shall be seventeen players. All roles will be handed out after the last person signs up. The game will then proceed to a night deadline.

The game is divided into two periods - night and day. For practical reasons these two periods are run concurrently, from one update till the next. Each update is 24 hours apart.

Each day, all players vote to lynch one of the players - the person they think is most likely to be a werewolf. Each night, the werewolves decide who to kill. In each 24 hour period, the village will lynch, and the werewolves will hunt. The villagers can try to lynch multiple people by creating a glorious TIE, and the werewolves may choose not to hunt anyone at all at night. Beware of Crovaxian slips as well!

The werewolves win if they manage to reach parity with the villagers.
The villagers and seer win if they manage to kill all the werewolves.


More Rules!​
§1. You sign up for the game by posting the word "In" in this thread. See the additional note on Roles at the end.
§2a. No new players will be admitted into the game once it has started, unless substituting for a current player.
§2b. Players who have been subbed due to failure to participate may not sub for others
§3. Orders not delivered on time are IGNORED.
§4a. NOT VOTING means REPLACEMENT OR EVEN DEATH, IMMEDIATELY. The granting of any "grace period" or forgiveness for late votes is entirely up to the GM.
§4b. Invalid votes (like voting for the GM, voting for dead people etc.) are treated like no vote is made. The GM has the final say in all matters.
§4c. Lying to the GM results in permanent ban from werewolf games.
§4d. Private messages from GM (whether true or fake) can be quoted in the game.
§4e. Your initial role private message can't be quoted in the game---i.e. you can quote from later in the role PM thread, but you can't quote the initial one.
§4f. Screenshots of private messages aren't allowed in the game.
§4g. Discussion of PM numbers is forbidden.

§5a. SPECTATORS AND GHOSTS MAY HAUNT, TAUNT AND FLAUNT, BUT NEVER SUGGEST ANY COURSE OF ACTION, AFFECT THE GAME IN ANY OTHER WAY NOR REVEAL ANY SECRET/INSIDE INFORMATION. ANYONE CAUGHT DOING IT WILL BE *PERMANENTLY* BANNED FROM PARTICIPATION. NO EXCUSES ARE VALID.
§5b. When doing ghost/spectator commentary, please use a non-white color, but don't use the GM color, which is... however you'd describe this color.

§6. Alliances which aren't based on your roles in the game between players are forbidden. These alliances which continue from one game to another undermine the whole idea of the game.

§7a. Vote in the following way. Write "VOTE" and the person you are voting for in CAPITAL LETTERS on a line separate from any other text or pictures in your post.



VOTE ALYNKIO



If you wish to unvote someone, write "UNVOTE":



UNVOTE ALYNKIO

VOTE THE 'LYNKSTER

Bold text and size 5+ Font are recommended. Other votes will only be counted at the discretion of the GM. Spelling errors are subject to oversight. In case of revoting without unvoting the original vote will be the counted vote.
§7b. At the end of the day player with highest votes is killed (lynched). If there is a tie, all leading candidates will be killed. At deadline, the person or people with the highest vote count should be considered dead must thenceforth follow the previously described Ghost Rules (See 5a).
§7c. The hunt victim will still be considered alive until I provide the daily update.
§7d. Editing vote posts is strictly forbidden.

§8a. - The GM can and will remove players if the GM believes the player is not participating at his/her full capacity. This will be done through the use of killing the player's role, or using substitutes, if they are available. All such decisions are made solely at the discretion of the GM. DO NOT SIGN UP FOR THE GAME IF YOU KNOW YOU CAN'T PARTICIPATE.
§8b. - When asking to sub then please do so by PM; the GM will keep a hidden sub list.
§8c. - The GM is always right.

§9a. – Trust no one. Especially not the GM.
§9b. - Always Trust the GM.


ROLES!



1. The Knight -- Noble and chivalrous, polite and humble, the knight has been fighting for decades now and is nearing the end of his soldiering career. He has been all around Europe and the Middle East fighting heathens and has accumulated much wisdom in his travels. He is proud to have his Son squire for him.

2. The Squire -- A handsome lad of 20, very eager to follow his father's example and become a knight himself. Stays up all night seducing the village girls -- somewhat to his father's dismay. He knows about chivalry, but doesn't really have the life experience to understand how to be chivalrous.

3. The Prioress -- Polite, guileless, and tenderhearted, the Prioress runs a Benedictine nunnery. Fond of puppies. Puts effort into always comporting herself properly -- too much effort. Can speak French, but not with an appropriate Parisian accent -- perhaps a bit of a social climber. Dresses a little too nicely for a nun.

4. The Monk --The outrider of his
monastery, this monk is responsible for supervising the estates associated with it. Consequentially, while learned in the faith, this monk is rather more practical-minded than most. An avid hunter. He privately confesses he doesn't enforce strict austere monastic discipline on the novices he oversees, though less a spiritual failing and more, once again, practicality. Handsome, despite the tonsure.

5. The Friar -- A limiter. Tall and imposing. A bit of a gossip. Given power to hear confession and dispense absolution... which he did rather freely -- especially to rich people capable of donating generously. Surely generosity is a sign of a penitent heart? Good singing voice. Takes in a lot of money in donations -- enough to quietly arrange marriages and dowries for the ladies he's seduced. Not fond of the Summoner, but... who is?

6. The Merchant --- Well dressed. Dabbles in enterprises of slightly questionable legality, but is honest and forthright in his dealings with others. Unhappily married.

7. The Clerk -- Skinny as a rail, with a serious disposition, the Clerk is a student of philosophy at Oxford. Shabbily dressed, as he's spent all his money on books. Very quiet, but polite and well-spoken.

8. The Sergeant at Law -- An experienced lawyer. Has used his knowledge of the law to purchase property. Uses big words, but dresses relatively unpretentiously.

9. The Franklin -- A wealthy landholder. Fond of good food and fine wine, known for his hospitality. Modest. Has served as a Knight of the Shire, a justice of the peace, and royal sheriff.
10. The Shipman -- A bit of a rascal. Privately admits he occasionally steals from the merchants with whom he works. Has had many encounters with Pirates, whom he likes to drown instead of capture.

11 The Doctor -- Greatly learned in medicine. Fastidiously healthy eater. Gets kickbacks from apothecaries to whom he refers patients (some things never change, I guess
)

12. The Wife of Bath -- A talented maker of clothes. Outspoken, but refreshingly so. Has had five(!) husbands, from whom she's managed to accumulate wealth, and wisdom about what makes for a happy marriage. Prefers the 'be wedded' part of Paul's Epistle to the 'burning' part. And, let's be honest, chastity isn't for everyone... or really for anyone. Fight her if you disagree. She'd win.

13. The Parson -- The real deal. Determined to practice what he preaches. Lives humbly and honestly. A model clergyman. One of... few.

14. The Miller -- An enormous drunkard with a hairy wart on his nose. Talks loudly about uncouth and unworthy subjects. Charges thrice the permissible rate on the grain he mills... but have you ever met a miller who doesn't? Jovial, if obnoxious. Not fond of the Reeve.

15. The Reeve -- A slender and mean-spirited old man. Skillfully manages his young lord's estate... but has secretly been skimming off the top. Petty. Not fond of the Miller.

16. The Summoner -- Little nice can be said about the summoner. Disfigured by acne. Thoroughly corrupt. A creep and a crazed drunk. Not fond of the Friar.

17. The Pardoner -- Also thoroughly corrupt, but his greed is slightly tempered by self awareness (and perhaps self loathing?). Sells fake relics and the like. Drunkenly confesses that he doesn't care even a little about the souls of the people he cons, and views them with utter contempt. Androgynous looking.

Of these 17...


12 are Regular Pilgrims (Villagers)
1 is a Master Storyteller (Seer), whose insights into the human condition allow him to discern those among his compatriots who might not be... exactly as they seem
4 are Murderous Pilgrims (Werewolves)! Who knows what sort of dastardly deeds these 4 have planned! (Hint: MURDER!)
DEADLINE IS 01:00 GMT
CONVERT THIS TO YOUR OWN TIMEZONE IMMEDIATELY TO AVOID CONFUSION!
A VOTE CAST AT 00:59 Will Count!
A VOTE CAST AT 01:00 Will Not!
​
Last edited: