This is my first AAR, and my first post! The promise of CK beta keys finally got me out of years of lurking and I made an account so I could post this AAR.
I will write it as a history book/story mix, I hope you enjoy! First chapter will be rather short, but the second chapter will be split into two or three parts!
Due to just registering the game, I wasn't able to post the updates and all. So I will have to post them all together even if in seperate posts, sorry!
CHAPTER I: FOR THE SAFETY OF THE CLAN.
DATE MOCHIMUNE 1393 – 1470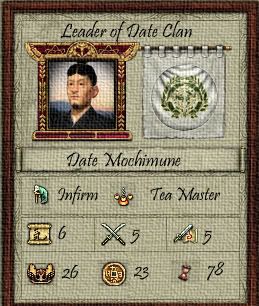 The news of the Onin War had reached Date Mochimune and he was quick to react. Old age had made Date Narimune venerable, constantly surrounded by servants for his everyday needs as he no longer could stand properly, but he was a good leader nonetheless. To better supervise his dominion he handpicked the loyal courtier, Date Fusadas, and gave him the regions of Uta and Okitama. He had ruled the Date Clan in relative peace for many decades and he was known for his wise rule.
But the war had changed him, he knew he would have to react quickly if he wanted his clan to survive; he began to plan the invasion of Mogami to strengthen his domain. Recently the tensions had grown between the clans, for Date Clan had never acknowledged Mogami as true governors of Tohoku region and only war would determine who was. He secured his family line by giving his son a woman to marry. The sudden war caused by Uesugi out of mere vengeance against Ashikaga-Koga had startled the old clan leader aswell; he was quick to exchange his daughter as hostages to keep the peace. But the mighty Uesugi Clan refused, which only worsened relations.
The war had made Date Mochimune cautious of his neighbors. The Mogami, Osaki, Ashina and Uesugi were the largest threats for Date Clan. He secured the peace with Ashina by exchanging hostages while he turned his attention to the north. There was war all over Japan, and he had to react quickly if he wished for his clan to survive. After a year of preparation the war had begun between Date and Mogami. Date Clan had managed to rally five thousand strong Date kinsmen who pushed through the deep forest of Mogami region. The Date Clan outnumbered the enemy by at least a thousand which made Date Mochimune over-confident that they would win the war. But the Mogami were no fools, they tried to thin out the Date forces by a sudden forest ambush in the Mogami region. The Date forces suffered many numbers before they could react, but they managed to regroup and defeat the enemy forces.
But it would turn out these were not all of the enemy forces. The rest had gone past Date forces and laid siege upon Okitama castle which was almost defenseless. But Date Mochimune took the risks and ordered to continue the march on Mogami Castle. He had done wisely by doing so for the castle had less than two hundred men by their walls and a quick assault made them surrender.
It would seem the news reached the Mogami leader quickly as he rallied his remaining forces to protect his other provinces and led a desperate assault upon the superior Date forces. The enemy forces suffered severe losses which would end the possibility for Mogami victory. Though the war went well for Date Clan, they found themselves suddenly at war with another enemy. The misguided Clan Daihoij leader ,Daihoij Junuji, over ambitious to bring glory to himself attacked Date Clan.
While it could've meant the change of tides for Date Clan, it was not. The neighboring clan Nikaho took advantage of Daihoij Junuji's foolish decision and invaded the province, aswell as defeating the Daihoij forces. By late 1469 Mogami had been defeated. Date Mochimune thought long and well of who should rule the unstable conquered regions, as revolts were his greatest fear. He installed two loyal courtiers, Date Haruhino and Harunaga as kokujins of the conquered provinces.
Date Mochimune would take the first steps that would lead Date Clan to greatness. In January 1470 after accomplishing the conquest he died suddenly in his sleep at the age of 78. His son and heir Date Narimune becomes clan leader, with ambitions of his own…
DATE CLAN AFTER HIS DEATH: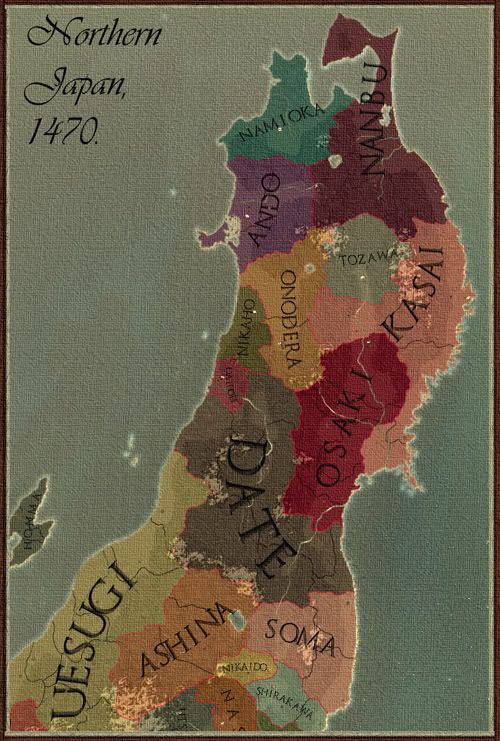 WESTERN JAPAN:
Thank you for reading! Do give me suggestions if you think I should add something!
Last edited: