First Lieutenant
Community Ambassador
86 Badges
Paradox Interactive and Double Eleven today announced Undead, the eighth and spookiest expansion for Prison Architect. Undead introduces a new objective for players: survival. Undead rise from the grave and can infect anyone they bite, so inmates and guards band together to make it out alive. Prison Architect: Undead arrives in the land of the living when it launches on October 11th for PC, Xbox One, and PlayStation 4.
Barricade the door and entertain yourself with this trailer:
The undead are a relentless bunch and can spread quickly through prison populations. Placing a Graveyard Quick Room adds a bit of spooky flair to your compound, but be ready to deal with the Undead hordes it spawns.
If you can't manage the outbreak effectively, your prisoners become infected and increase the size of the horde. Whether you call in extra help from bounty hunters or make use of everything at your disposal as a weapon, do whatever it takes to keep your inmates alive.
Undead also introduces the "Undead Overlay" option in Settings, letting players add a layer of darkness and suspense to the creepy content update.
Prison Architect: Undead Key Features (also available in "Escape Mode"):
Welcome the Graveyard
This brand new Quick Room satisfies your inmates' needs for Freedom and Comfort, making them feel calmer for 12 hours. Be mindful when you add gravestones though, as they will easily interrupt this peaceful atmosphere…
The Rise of the Dead
In Undead, no one is safe. And there are many ways to become infected. One inmate can get sick, some others can be bitten by an unfriendly undead, or again a bunch of infected inmates can rise (aka spawn) directly from the Graveyard. Wardens have no power over the Infected units, they will move and act independently in the prison until stopped. Inmates and guards can try and fight them off, but if they fail, they will join the deadly bunch!
Who you gonna call? Bounty Hunters!
When things go south (because they will) and your prison can't hold off the outbreak, call the Bounty Hunter Emergency Service: tough, trained bounty hunters will join your fight against the undead.
New traps, techniques, and weapons
Desperate times call for desperate (and creative) measures. Use Undead chum to lure the undead, build a walled-off area and lock them inside, or steal that glorious chainsaw you've been eyeing for a while: everything is allowed to fight off the horde.
The Kickstand
Launching alongside the Undead expansion is The Kickstand, a FREE update available to all players. This update brings a range of additions and improvements to the game. Two new dogs, Corgis and Siberian Huskies, arrive for some cuddly fun, and three quickrooms expand your prisons: Security, Kennel, and Parole. Additionally, cameras can now be locked and monitors can be made a priority for guards. Courtesy of community feedback, we've also added a new empty room that players can use to separate prisons into different sectors without the need to wall them off.
Be sure to follow us on our social channels to stay updated on the latest news!
Facebook:
https://pdxint.at/PAfacebook
Twitter:
https://pdxint.at/PAtwitter
Discord:
https://pdxint.at/PAdiscord
Coming October 11th!
Wishlist Prison Architect's Undead on Steam: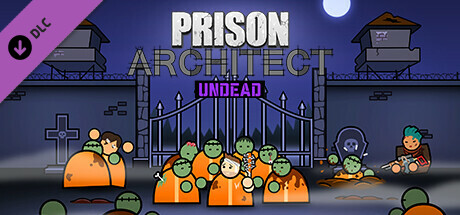 Undead brings a whole new scenario to Prison Architect: one where the only objective is to survive! With this new, spooky, expansion wardens will have to fight off the undead attacks to save their inmates and free the prison from an unprecedented catastrophe.

pdxint.at
For more information on Undead and Prison Architect, visit paradoxinteractive.com
Price will be 2.99 USD/ 2.09 GBP/ 2.99EUR.