1st of Thw al-Hijjah of the year 564 from the Hijra
(August 26th, 1169 A.D.)
This last year has seen the first stages in the war between Sunni and Catholic forces at the lands of Sarkel. And, even though we have occupied a few Hungarian holdings, this will not be a brief war, nor an easy one.
A few days after my declaration of a Holy War against the Hungarian infidels, as I was preparing to march with my troops to the west, I found myself in a most unexpected situation. My Cheif Qadi informed me that Daniyah had asked him to arrange a divorce, as she no longer wanted to be my wife!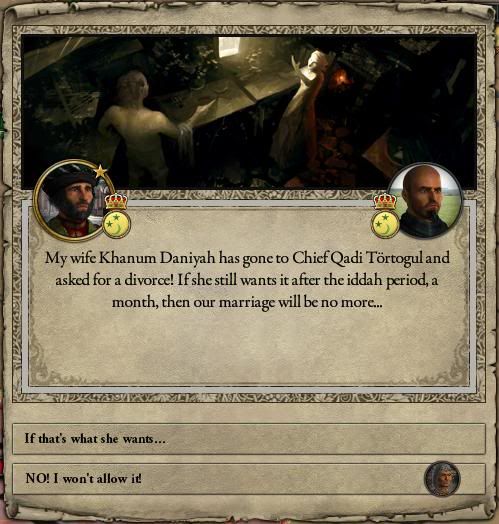 This was unexpected
I need Daniyah´s skills to mantain my good relations with foreign rulers! Also, I planned to entrust my son Girgen´s education to her... with her skills, my son will have a much easier rule than I do. I immediately went to her, and told her I forbade her to carry on with the divorce. She is clearly distraught by my prohibition, but she agreed to remain as my wife when I told her about my plans for Girgen. I will watch her closely, nonetheless.
After this small dispute, I departed Bulgar, leading my demesne army to Khopyor, where we would join the rest of the realm´s soldiers. My family would remain in Bulgar, protected by my personal guards. Nevertheless, before leaving I held council meeting. There, I instructed my Spymaster Aepak to look after my family, and, should anything go wrong in the war with the Hungarians, to make sure Girgen grows up out of harm.
The travel to Khopyor was a long one, and it would take my armies several months to gather there in significant numbers. Shortly after the march began, news arrived that the King of Croatia would send aid to Queen Luca in the defense of the Catholic faith. I had expected other infidel rulers to join the fight, but I hoped not many others would step up.
My army reached the province of Lower Volga, next to the Hungarian border, in the month of Raby` al-Thaany (January in the Christian calendar). There I learned that most of my vassals´ provided soldiers had arrived already, and were advancing to Hungarian territory, still unopposed. However, Volga-Bulgaria´s army for this war comprised about 15 thousand strong, not quite as much as I had expected. Apparently, my vassals had sent a small fraction of their forces, as they do not respect me enough to support this aggression against the Hungarian infidels! Damn them!
As I arrived to lead the siege of the Hungarian province of Don Portage, reports from my scouts informed me about the response from Queen Luca: about 8000 Hungarian soldiers were approaching from the west.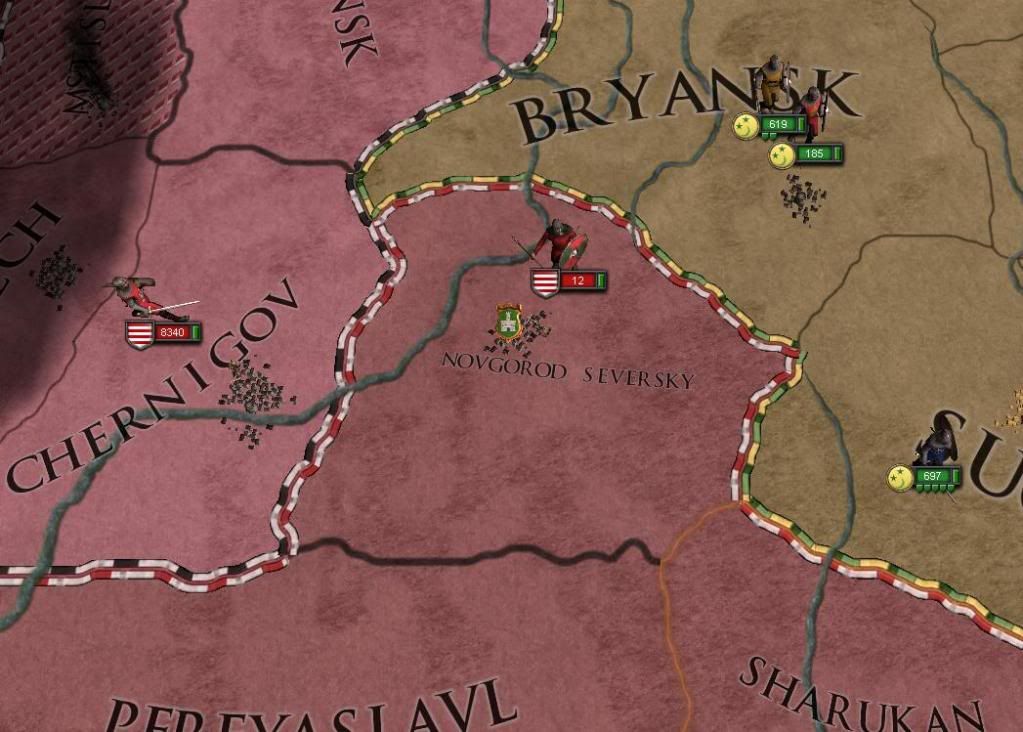 The defending forces arrive
As my vassals had initially dispersed their forces to take several holdings simultaneously, I immediately sent word for them to regroup in Sugrov, to face the infidels with a single, strong front. I left the siege of Don Portage in charge of my generals, and marched with a batallion to battle the Hungarians along with the bulk of my forces.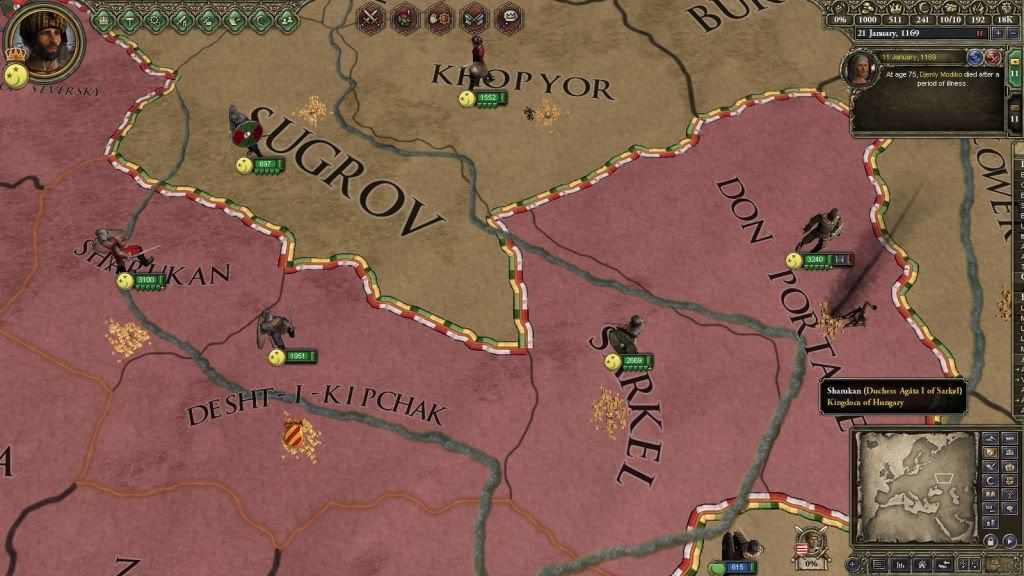 With my full armies combined, the Hungarians will not stand a chance
As I marched to Sugrov, I was informed that both the Kingdom of Poland and the Venetian Republic would lend their forces to Hungary... our list of enemies grow longer. As my allies´ armies would still take time to reach Sarkel, I sent a messenger to the Turkomen Company, a mercenary band, to hire their services. Their forces consist entirely in light cavalry, both melee and ranged, so they would be able to travel quickly from Bulgar to the battlefront.
According to my reports, the Hungarians were advancing to Don Portage, in order to liberate the county of my sieging forces. My plan was to intercept them at the province of Desht-I-Kipchak, attacking from Sugrov.
On the 6th day of Rajab (April 6th in the Christian calendar), the battle of Bakhmut started. It was a long battle, lasting over a month, but in the end we emerged victorious!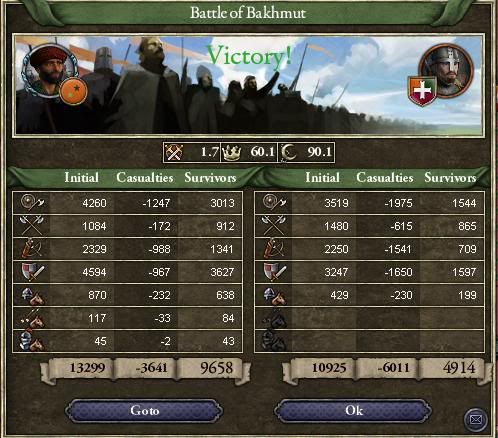 The first battle in the war for Sarkel
The remaining Hungarian soldiers fled to Sarkel, where they were swiftly routed. There, my armies received their first reinforcement from my allies, as Hooshyar arrived leading his army, consisting in about 2000 soldiers. I then divided our forces: part of my army along with Hooshyar´s would siege the province of Desht-I-Kipchak, while another part of my forces would remain laying siege to Sarkel.
On the 30th day of Sha`baan (May 29th in the Christian calendar), my son Girgen turned six years old. As I had instructed before leaving Bulgar, Daniyah became his guardian. I hope that under her tutelage he will become a great ruler when the time comes.
In the month of Shawwal (July in the Christian calendar), new reports of a Hungarian army of about 4000 approaching from Lower Don reached my ears. I immediately marched with my forces stationed in Desht-I-Kipchack to intercept them. It seemed strange to me that a small force such as that would be sent by Queen Luca, but soon after our victory in Lower Don I learned the reason for the approach: my spies informed me that the infidel Roman Kaiser had pledged to send aid to Hungary in their time of need, and ships from the Empire were already on route to the Black Sea.
This war has just got much more difficult
It appears that Queen Luca´s plan was to join her forces with those of the Kaiser´s in Tana, as today about 14000 Empire´s soldiers disembarked there. I have sent word to my men in Sarkel to advance to Tana, and meet me there with my and Hooshyar´s forces from Lower Don. Only combining our full armies may we be able to defeat this new enemy. I will now march to meet the infidels... may Allah watch over us!
We must prevail!
Last edited: