Blasted Conniving Roman
99 Badges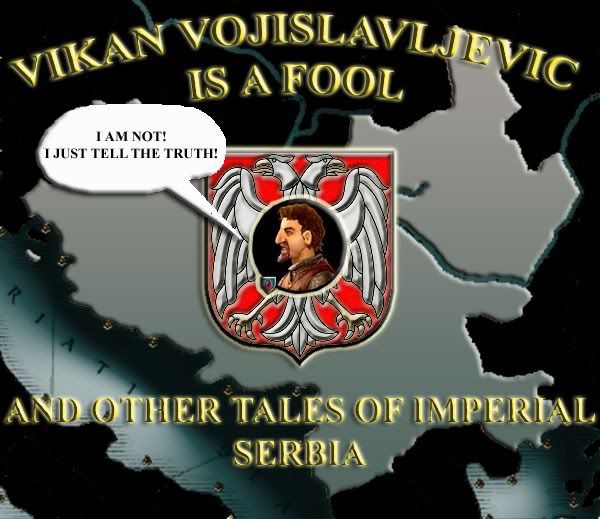 From the sourcebook companion to Richard Lightfoot's History of the Serbian Empire, June, 2008
-
In the summer of 1961, a team of researchers from the Sorbonne, University of Paris, made a remarkable discovery in the dusty archives of remote St. Michael's monastery near present day Durrazo. Hidden amongst the dusty old scrolls and tomes were a series of missives penned by none other than Vikan Vojislavljevic, sometimes Bishop of Hum, sometimes rabblerouser, sometimes fool. At first, many believed the text to be a fraud. While many of the traits of the author clearly follow traits other sources ascribe to Vikan Vojislavljevic, some of the claims within were so contrary to what was known about the reigns the Tsars that many within the academic community felt it to be a jest, a forgery written to humor some later ruler. However, radio carbon dating on a section of the scroll in 1981 confirmed that it likely
was
written in the early 12th century, adding immensely to the credibility of the text. It is now accepted that if Vikan himself was not the author, he likely had some role in the writing of the following.
The texts describe the personal and family relationships of the Vojislavljevic Dynasty, the founders of the great Serbian Empire of the Middle Ages. Vikan had the great fortune to see the rise of the Serbian Empire in its entirety, from its birth at the hands of his grandfather Mihailjo, through the reigns of succeeding Tsars. His text was obviously written in haste, and provides a useful counterpoint to the standard "glorious chronicles" of the rise of the Serbian Empire. His recording of events are short, even brusque, and his opinions sharp and open. As his recollection is fairly short, we have also included the annotations added by his scribe, one Iljko Lazarevich. These provide a useful counterpoint to many of the claims Vikan raises in his narrative of the rise of Serbia.
As you read the following, ask yourself some of the following questions. What qualifies Vikan to be an observer of these momentous events? Does Vikan have a bias? If so, what is it, and if not, why do you think he might be impartial compared to other sources in this sourcebook? What events do you think Vikan should have included in his testimony, or what events do you think he purposefully left out? And finally, what does Vikan's opinion tell us about the rise of the Tsardom of Serbia in the 11th century?
Vikan Vojislavljevic, as of the writing of the first section of his chronicle in 1109
==========*==========​
Yes indeed, I'm starting another AAR. This is intended as something short and fun I can do between writer's block and savage plotting in
Rome AARisen
. The original idea comes from the travels and wacky experiences of a side-character to a CK game I was playing, a man who never held power himself (though I bet he wished he did) who lived and served through the reigns of at least four Serbian tsars, and all the hijinks, escapades, and stupidity he found himself in due to his honesty and bluntness. It'll be updated sporadically at best, but it definitely won't be a narrative. I'm going to give the "biased chronicler" form of AAR a shot. I hope you all will enjoy Vikans poignant, perhaps pungent, views on his family and contemporaries as they gain more power than they could ever imagine…