Since for this particular game the developers don't seem to have any interest in the paradox forum I figured that I would start collecting info an pictures in a sing thread for everyone to get info that they need.
Be aware info is subject to change and will be updated when I know more.
Thanks to Olaus Petrus for getting me started with links and a video:
Vital Stats:
Hearts of Iron: The Board Game
Publisher: Eagle-Gryphon Games
Official Site:
https://www.eaglegames.net/
Players: 1-4 (Up to 6 with Expansion)
Estimated Game Length: 180-360 minutes
Expansions: Yes -Planned Release same time as base game
Kickstarter: Planned Est Start: Dec2019-Feb20202
Box Cover: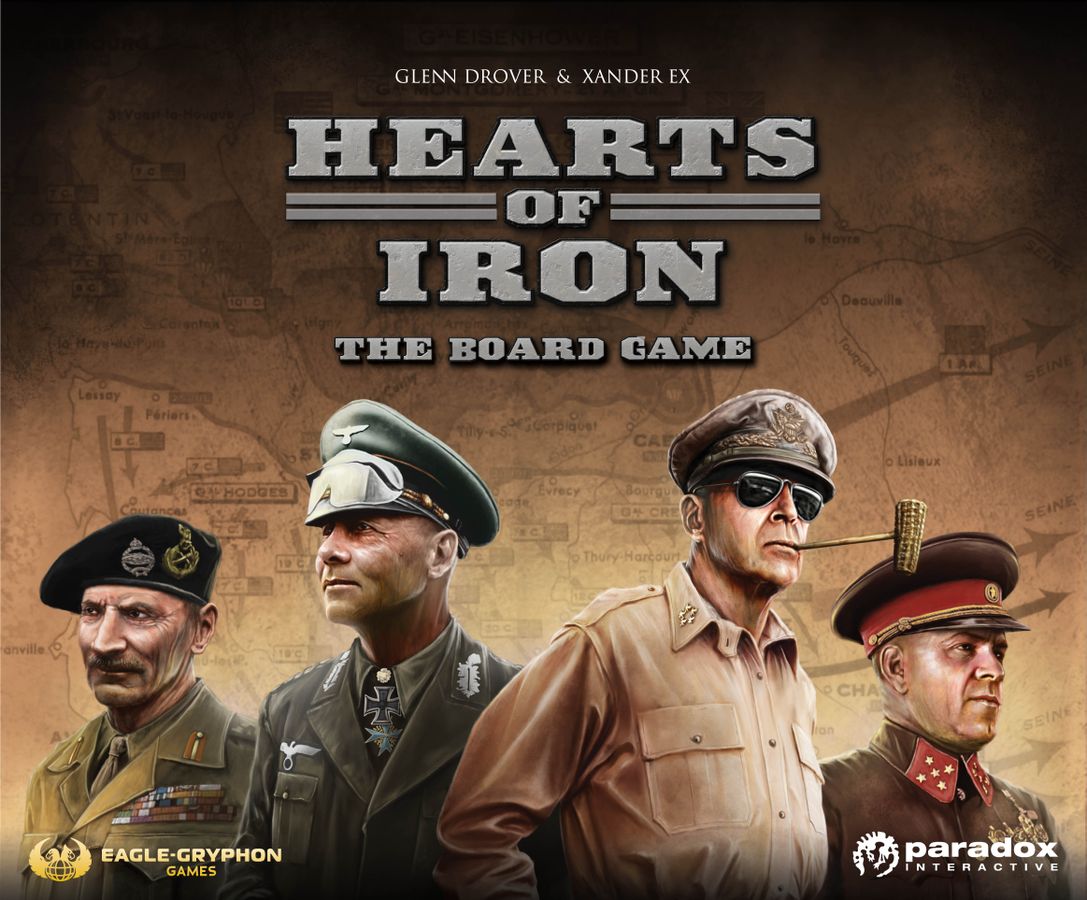 ​
Base Game Info:
Playable Nations:
Britain, France, Germany, Italy (
Expansion:
USSR & Turkey)
Game Style:
Euro-style strategy game based around earning victory points
Turn Style:
Turns are divided by seasons, with each round containing four seasons
Strategy:
Based around worker placement and deck building There are player designed division which the player can field.
​
Map
The base game map covers from Portugal in the west to around halfway though Poland in the east. From the United Kingdom in the North to the very top of North Africa in the South. The expansion adds the rest of Poland, some of the Soviet Union, Turkey, and some additional axis minors. Below is an image of the base game to the left with the expansion to the right
​
Battles:
Battles will be conducted on a separate map, with battles resolving over multiple seasons(turns):
Battle Mechanics at 1;43
Will upgrade and complete post soon, if anyone reads this enjoy
--------------------------------------------------------------------------------------​
Reference Links:
4Gamer.net:
https://www.4gamer.net/games/483/G048372/20191028044/
DingAndDentCast:
http://www.dinganddentcast.com/archives/dee-s-2019-spiel-diary-day-3
Wargamer.com:
https://www.wargamer.com/articles/hearts-of-iron-board-game-pdxcon-2019/
MarcoOmnigamer: youtube.com/watch?v=sTGPLRGyiCE
Thanks to:
Olaus Petrus
Last edited: