I've started also some work on the Greek Army and Navy, doing unitpics and a unitnames.csv aswell as a slightly changed OOB for them.
Here are the first pics:
Greek old Monitors/Ironclads BEN Aktion and BEN Amvrakia, which were still in use during the Balklan Wars and WWI: (I don't know what to do with them, because there is no shipclass in the game which could ossibly represent an old monitro/ironclad:
Greek pre-dreadnought Battleship BEN Limnos, Ex-USS Idaho, built 1905 in the US, bought by the greek 1914, but seized by the french at the outbreak of the war. It was given back as soon as Greece joined the entente. Her Sister-Ship was the BEN Kilkis, Ex-USS Mississipi.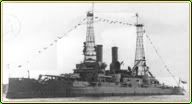 The famous Flagship of the Greek Navy in the Balkan Wars, Armored Cruiser BEN Giorgios Averof, which was highly succesful against the Turkish Navy. Built 1908 in an italian-shipyard. First Picture shows the ship bombarding Smyrna, second pic shows the Averof in harbour.
US-built (1912), former Chinese Light Cruiser Fei-Hung, bought by the Greek in 1914 and renamed BEN Elli: