Tsar of the Whole World – A Russian AAR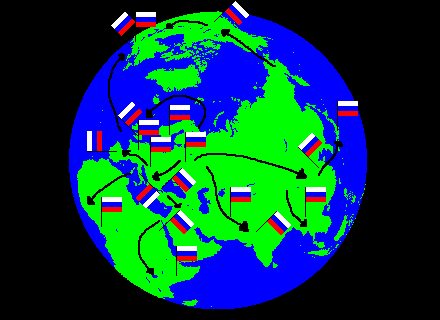 Admit it. You all get this warm fuzzy feeling inside when you go to click on the "Annex" button.
Annex here, annex there, and annex everywhere – no doubt for many of you the biggest knocks on Alexander the Great and Napoleon were their lack of ambition. All this talk of cash reserves, prestige, and which factories are profitable have tragically distorted the raison d'être of Paradox games – ANNEXATIONS!! :rofl:
To get the forum discussions back on track and to satisfy my addiction for annexing every country that irritates me during gameplay, I intend on painting the entire map Russia's puke green. By 1920 all sovereign nations will wiped permanently off the map and all claimable colonies will answer directly to the Tsar. That peaceful prestige route people who play Sweden talk of and boast about winning is nonsense! :wacko: While they waste their energies to discover experimental psychology, I will warmonger with hordes infantry, artillery, and cavalry and show that baby blue farce how prestige is truly measured. After annexation, their 1000s of prestige will instantly turn to nil.
Why Russia?
If for the only reason they would take forever to annex because all of their damn provinces and their insatiable colonial appetite. Great Britain would seem the only other viable candidate for WC, and for me they seem to be an inferior choice. Britain will release dominions which Russia can take swathes out of separately, and, significantly, at the same time since they all will answer that bitch Victoria's call for help. Russia also has a huge population which is key to fueling my tariff driven economy. I can't have free traders wrecking my agrarian driven protectionist agenda. Russia's geography is also most convenient; the only country in the world I'll have a hard time attacking without a heavy naval investment is France. Russia has a drawback in they will be technologically behind and will never catch-up because of the 1000 of so BB she will accrue by the time research is >10/year. Thus the bludgeon, not the rapier, will be the preferred method of warfare.
Plan:
• Immediately attack Turkey and claim the "Tsar of all Slavs event." This will add nicely to tariff income, place the entire Balkans to my realm and avoid a too early showdown with Great Britain in the Crimean War. "It will fall like a house of cards"
• Annex China in one fell swoop. China's hordes are needed for cannon fodder and tariff subsidies; without them it is impossible to recruit and finance an army large enough for annexing central Europe, let alone the world. If this is not done by 1850, I'll never have enough time.
• Remove the German presence from Central Europe and the British stench from India from 1855-1880. Recruit Chinese hordes during this time and create a 3rd South American front (Brazil is a potential problem with all their provinces) and a 4th USA front not later than 1875.
• Annex every uncivilized country on the planet in between big wars so as to keep war exhaustion at manageable levels.
• By the 20th century, hopefully my only concern will be time in finishing off Great Britain and taking out the USA and France. France is a potential thorn in my plan since they are the last country I can target. Blocking French colonies will be critical.
Potential Problems:
• Time. France and the USA may have too many provinces/colonies to take out in a 30 year period.
• Ability to DOW only one country at a time.
I need to attack countries with independence guaranteed and interlocking alliances to get around this bizarre rule. Discipline in taking a quick 7 province peace treaty will have to be heeded in favour of the 10 I might get in another year's fighting. Napoleon once said, "Ask me for anything but time. Space and men we can recover, lost time, never."
• War exhaustion. From 1850 on, the Russian people will know no peace.
• France; already noted.
• Countries like Venezuela. I just might not find the time and resources to annex these huge backwaters.
• Finances. Russia will have to have a huge permanent standing army at full maintenance from 1850 on. I will not have the luxury of promoting craftsman and building a nice industrial infrastructure. Chinese tariffs, though enormous, will have a ceiling which I will reach sooner or later. Great Britain must be smashed, Brazil annexed, and the USA reeling before I reach this preset limit.
----------------------------------------------------------------------
1836. Situation: If Russia were a general, the attribute I'd use is "sad sack."
o Literacy rate is literally a "pisspoor" 15% and costs hundreds of pounds a day to run at 100%. The military, while having a nice 75 rating, must be described as "inept" because much of this is invested in worthless man-of-wars which I cannot afford to maintain anyway. There are literally 100 worthless provinces which can never be railroaded because it will drive an economy into the ground and take a century to recoup your investment. What's the point in building a railroad in Kamchatka? I've got 15 years to tap the Bear's enormous potential and transform it into an annexation juggernaut.
The play:
Immediately pause the game. Tariffs, education, army maintenance at 100%. Crime, naval expenses at 0% and defense spending as low as possible. I leave taxes as is. Placate the fools with cash so they don't revolt or devolve, I'll get it all back via tariffs anyway. Guns and food are set to buy 0. Every one I build must be stockpiled to build the 3 million man army I need in 1850 to conquer China. Set machine parts to buy around 150. Russia does not start with many but has enough prestige (15) where I might get the first ones for sale.
Diplomacy: Russia has no railroad tech. I ask Prussia who I have good relations for Clean Coal and Railroad for Steamers and something else. They accept. Agents of their own destruction, I like that.
Warmongering: All troops head towards the Moldavia-Wallachia-Ottoman border except 3 divisions whose sole function is to prevent the Turks from walking through the Caucasus region. Checking Turkey's military rating is unsettling as they probably have rough land parity with me. I don't have the resources to recruit more soldiers so Blitzkrieg will be the watchword. I only have to occupy Sofia, Constantinople, Beograd, Bucharest, and Tirane.
I notice I lose *a lot* of money on 3 January 1836. Luckily I got whatever machine parts were available and now have the means to industrialize quickly.
Here is how the situation stands after my initial moves:
Russia Opening Moves
Note the income fall off from all the machine parts on the 3rd. Tariff income will allow me to build a factory every other week. Here is what I build:
January 21 - Fabric Factory in Minsk
January 30 - Regular Clothes Factory in Smolensk
February 6 - Paper Mill in Tsaritsyn
February 27 - Furniture Factory in Saratov.
March 23 - Steel Factory in Moskva.
April 30 - Lumber Mill in Niznij Novgorod.
May 18 - Fabric Factory in Kuban
July 6 - Winery in Odessa.
August 24 - Cement Factory in Kyjiv
September 8 - Canned Food Factory in Kursk.
October 1 - Steel Factory in Sevastopol
October 6 - Lumber Mill in Valakia (Annexed from Wallachia)
November 15 - Steel Factory in Sankt Petersburg
December 17 - Lumber Mill in Kazan
December 21 - Steel Factory in Kazan
May 7 - Steel Factory in Samara
August 1 - Lumber Mill in Vitebsk
I would have liked to build another ammo factory, but it was too many machine parts. With the prestige I get for Tsar of all Slavs, I will receive a constant flow of machine parts to build my war armament industries later.
As soon as my troops are in position on 18 May 1836, I hand the Sultan a DOW.
Last edited: