Introduction, Table of Contents

ferocious native
34 Badges
-----Trek Wars: The Final Frontier Strikes Back-----
​
by diskoerekto
Country:
Transvaal (will become South Africa later, more information below)
Start date:
1836 (the Grand Campaign)
Patch lineup:
Victoria II HoD up to 3.04 patch (latest) with a self made mini mod. The mod includes Boer republics to Americas and Oceania as a preferred migration spot for POPs and adds a decision to form South African Republic.
Introduction:
This is my first AAR as far as I remember, and will mostly be an alternate history gameplay AAR with some narrative in between and of course some screenshots and some other images for fun. I will be an in game character ordering the president, ministers, generals etc around. They will probably believe I am a sort of a time traveler / semi benevolent demigod. I played Victoria 1 with Transvaal and it was a fun run. Let's see if some of that experience translates into Victoria 2.
All comments are welcome, well I can only hope people show interest, sign up and comment. I really want to make here an inclusive place and try to take every voice into account. I aim to make a couple updates per week but of course it will depend on how much motivation and time I have. Also, my girlfriend doesn't really like it if I spend a lot of time playing computer games, but that is another topic
My in-game goal is to keep as much of Africa from the western powers as I can. This means aggressively expanding (well, as aggressive as my puny military and economy allows me) early game for securing a good starting position when the Scramble for Africa begins.
​
So we will be trying to stop these guys
In the meanwhile I need to tech up at the correct places to be one of the first ones to start colonizing. Also, the nation needs to be industrialized ASAP to be able to produce stuff necessary for colonization (steamer ships, maxim guns, quinine tablets and others). Lastly, for sustainable industry, we need a lot of immigrants.
"Whatever happens we have got
The Maxim Gun, and they have not"
Luckily, even though we are much weaker than the Great Powers, at least we are colonizing our own garden. I expect this proximity to help us during the colonization process. Also, there will be some discovery of diamond mines so that should help the economy. To stockpile on some important stuff while the diamond mines are not operating yet, I plan to bankrupt once early game. I hope that doesn't come back to bite me.
Lastly, if I can figure out how it is done, I will try to make this first post a threadmark thingy where you can see all the chapters and jump to them etc. Also, I'd like to thank
Bullfilter
for encouraging me to start this. He has some nice AARs going and I recommend you to take a look at them. Even more lastly, I have to say that English is my secondary language so I am sorry in advance in case I write something stupid.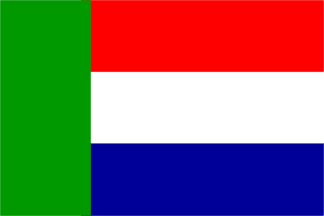 De Vierkleur

Chapter 1, Section 1: Here we go (01/01/1836 - 01/01/1836)
Chapter 1, Section 2: Here we go, this time for reals (01/01/1836 - 06/11/1836)
Chapter 1, Section 3: Musings of a trekker (07/01/1837 - 02/08/1841)
Chapter 1, Section 4: It's me, again (02/08/1841 - 27/03/1842)
Chapter 1, Section 5: Sunday morning (27/03/1842 - 07/04/1845)
Chapter 1, Section 6: Let's finish this (07/04/1845 - 13/01/1849)
Chapter 1, Section 7: My Dear Sirs (01/01/1849 - 22/02/1851)
Chapter 1, Section 8: (First) Passage through the Heart of Darkness (22/02/1851 - 06/12/1851)
Chapter 1, Section 9: Back through the Heart of Darkness (03/02/1852 - 29/01/1854)
Chapter 1, Section 10: In Pursuit of 3rd Wave Coffee (29/01/1854 - 11/12/1856)
Last edited: