Future Battle Bishop
On Probation
53 Badges
I've been meaning to post this for a long time but just never got round to it, and then I got locked out of the forum for about six months. Also, I realize the mod has a silly name but it was originally only ever meant to be a private collaborative effort for a few friends on Steam.
To be clear, this mod is
not
a total conversion of any kind and doesn't attempt to be ambitious in any meaningful sense. I've never believed in trying to reinvent the wheel when it comes to video game mods, and I don't like vast, sweeping mods that are riddled with bugs, half-finished work and horrible placeholder GFX. None of that here.
TIP is a longstanding - it's been through several versions, some with map edits - project to improve the basic vanilla CK II experience with new content, new GFX, bug fixes, and improved historicity. My aim has only ever been to improve on what Paradox have already done, and so although this mod plays like an improved and far more polished version of the base game, it doesn't add any new mechanics or fundamentally change the way anything works. This mod is likely to appeal to dynastic history buffs or people with mild OCD, but probably not to casual gamers (Achievement hunting, map-painting etc.) or anyone looking for anything overly ambitious or radically different. My ideal audience is someone who prefers to spend the first 45 minutes of every game just looking through family trees.
So, what is TIP and what does it offer?
two new bookmarks: The Anarchy (1144) and Fall of Acre (1291)
major improvements to all existing bookmarks, including a heavily revamped 936
around a hundred new historical bloodlines
revised de jure setup
new de jure duchies: Strathclyde and Narbonne
new de jure kingdom: The Isles
hundreds of new historical title and dynasty coats of arms (and all DLC ones improved)
heavily revised culture file (names, links, etc.)
1000+ new historical characters and dynasties, including dozens of important cadet branches
countless database fixes and revisions (years' worth of work)
new government flavor names
Cognatic succession for Pictish culture characters (as well as Basque)
new mercenary companies
new minor titles: Mayor of the Palace, King of the Romans, Junior King and Symbasileus
new cultures: Scots and Berber
100+ new historical nicknames
new decisions to form Cumbria, Great Moravia and the Serbian Empire
legitimizing bastards is now limited to certain cultures (or pagans)
new/improved cultural conversion events and decisions
an event to rename Neustria to Normandy if ruled by Normans or Vikings
an event to form the Capetian dynasty
two new starting wars: Fatimid Invasion of Egypt (936) and Invasion of Northumbria (936)
decisions to embrace Scots and Bulgarian cultures
localization improvements and new ruler titles
new geographical regions for events and decisions
dozens of broken family trees fixed
map fixes
bug fixes!
Note: Due to the improvements and changes made to the DLC coats of arms packs, if you own them I'd advise disabling them whilst using the mod just so there are no overlap issues.
If you've bothered to read this far then I'll reward you with a download link
here
.
A few screenshots to cynically convince you: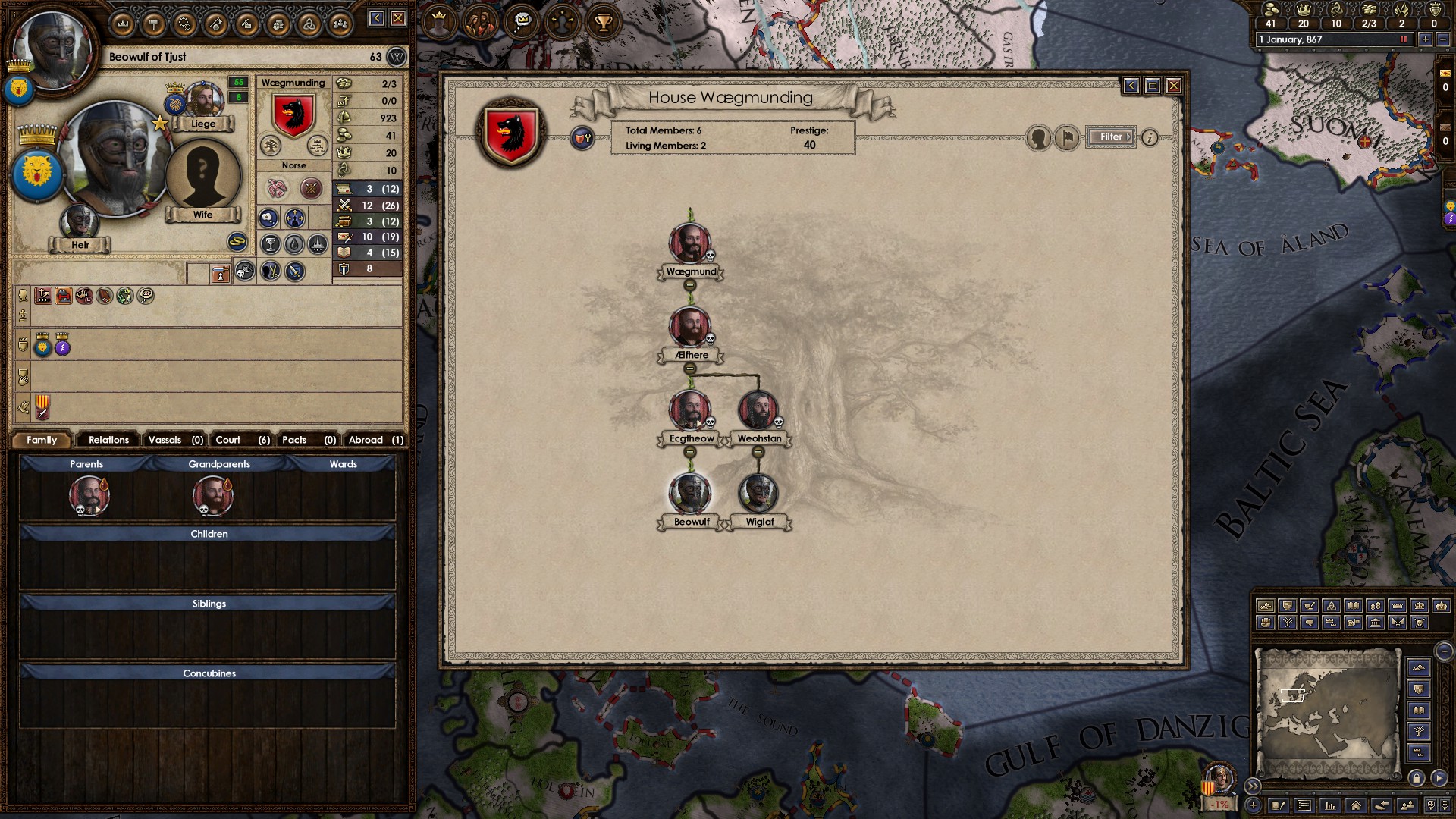 The legendary Wægmunding dynasty of the Beowulf saga, playable in 769 and 867 (as the man himself)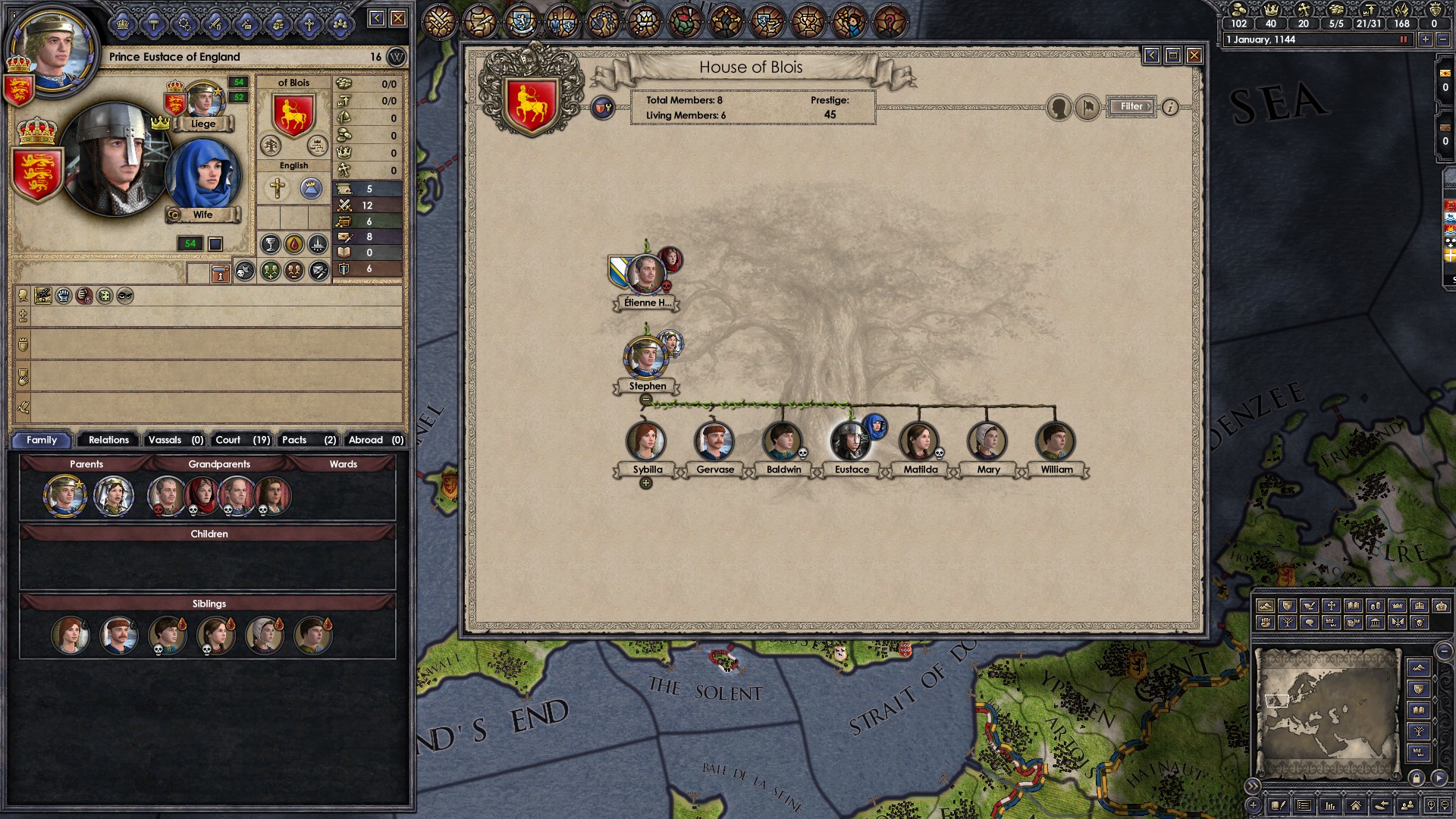 Prince Eustace, Stephen's son and heir in the new 1144 bookmark; can you lead him to greatness over his Angevin rivals? (note the 'classic' traits)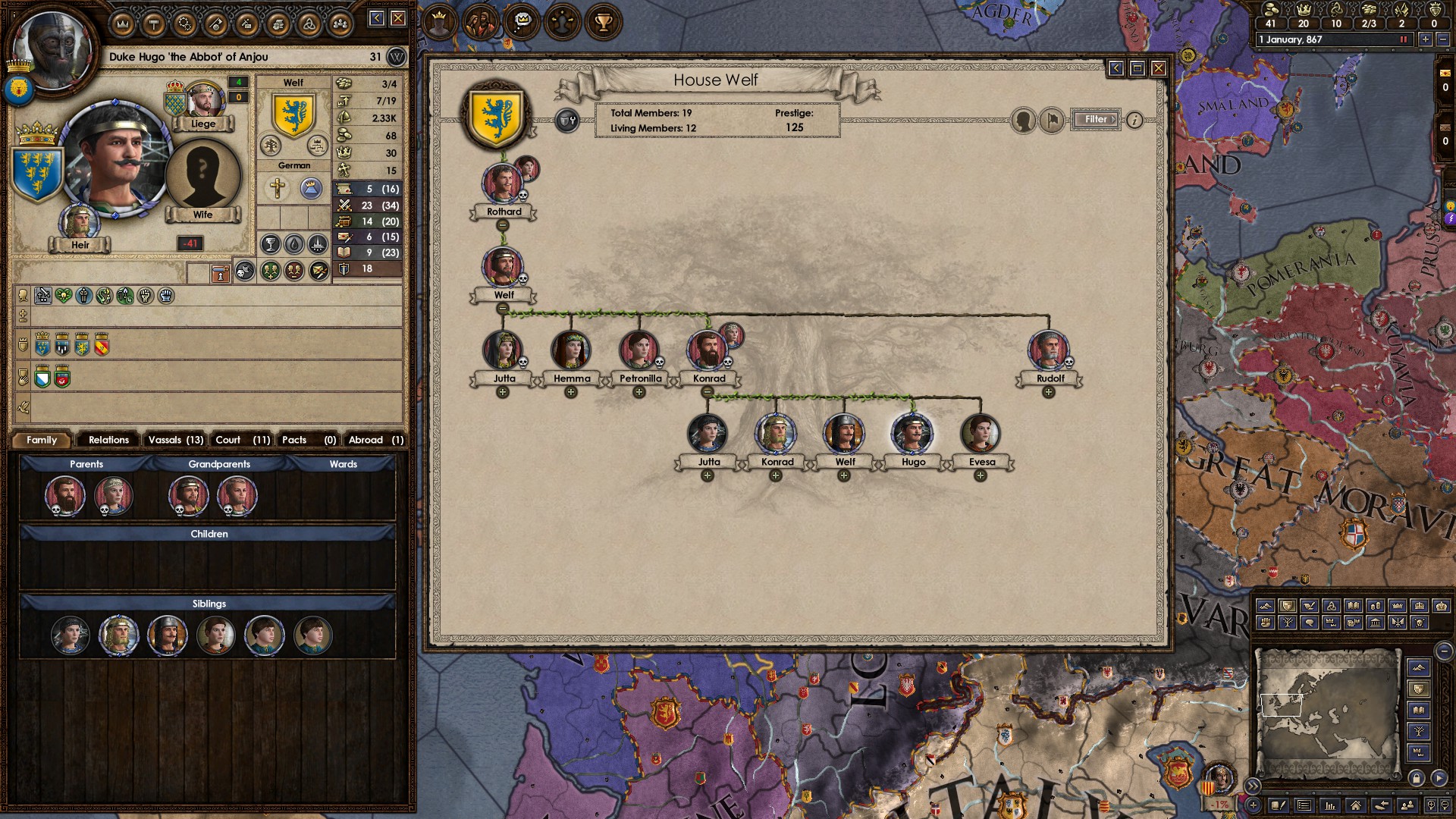 Hugh the Abbot, Marshal of West Francia in 867 - an impressive Martial score, but good luck starting a family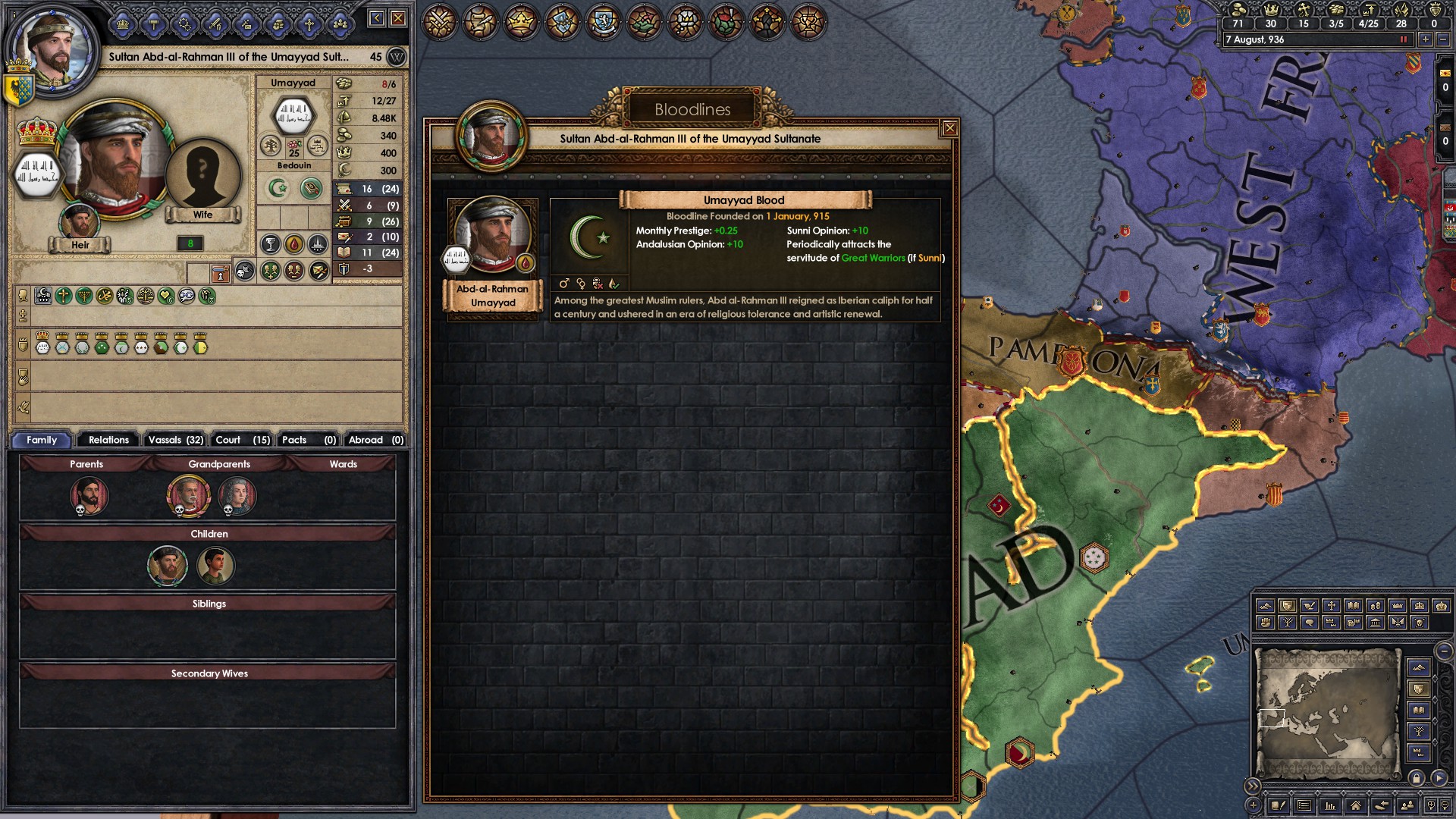 The Umayyad bloodline of Abd-al-Rahman III, a man with excellent traits but a tendency to die rather quickly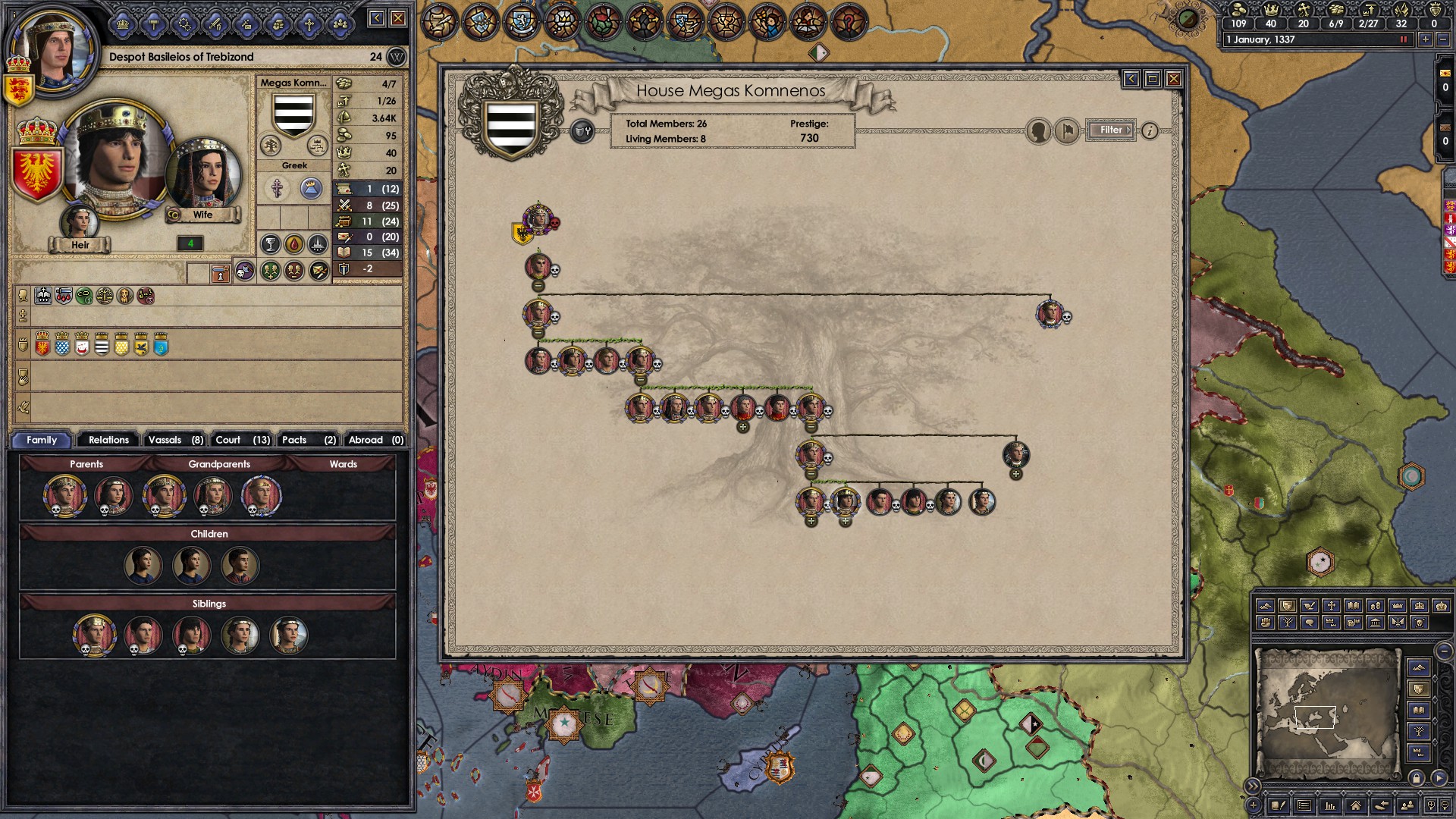 House Megas Komnenos, one of the many new cadet branches in TIP (with unique coat of arms, naturally)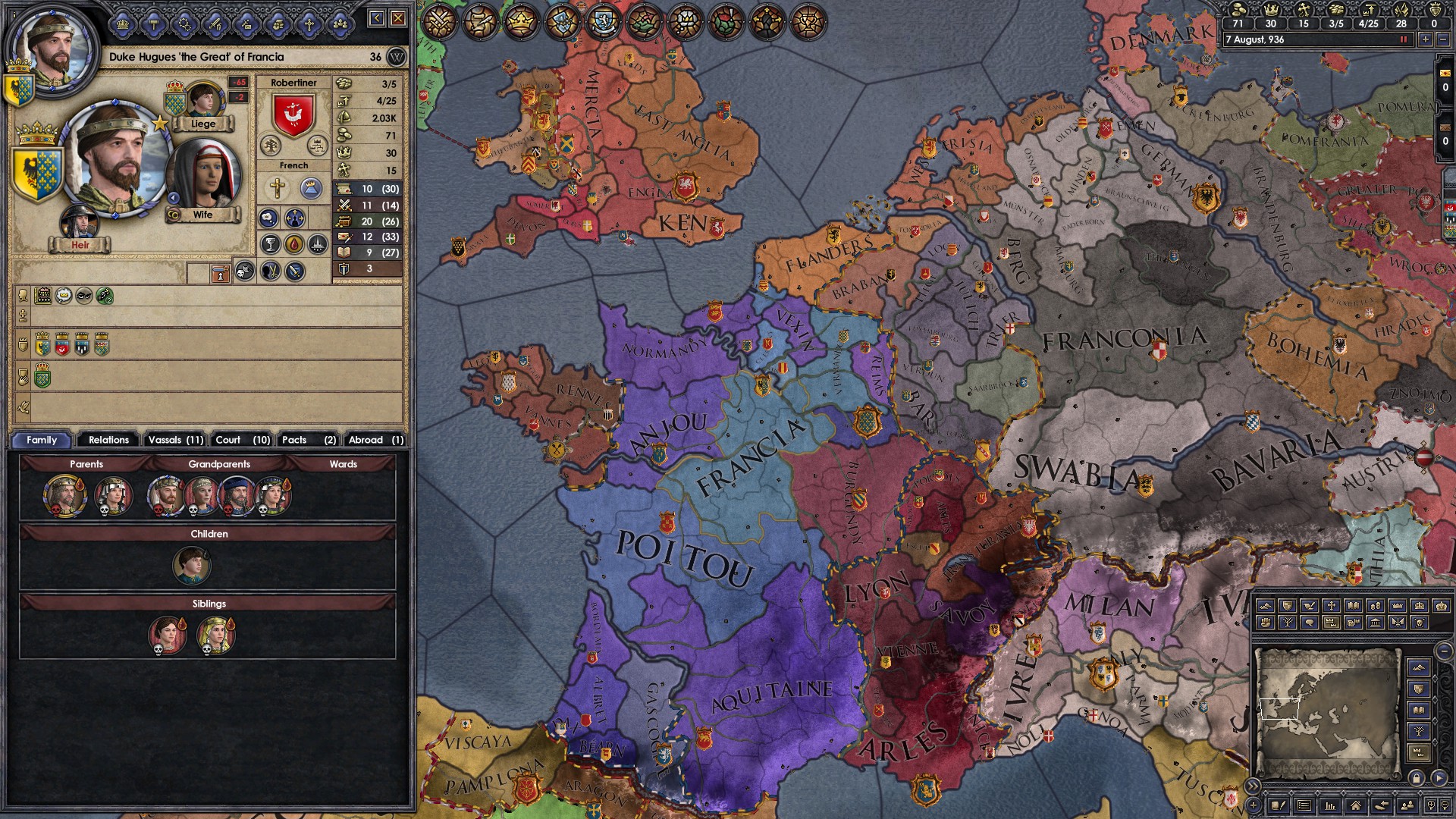 Western Europe's direct vassal holdings in 936, and the Robertian dynasty of Hugh the Great - if you want to see Capetians then you'll need to reclaim your father's throne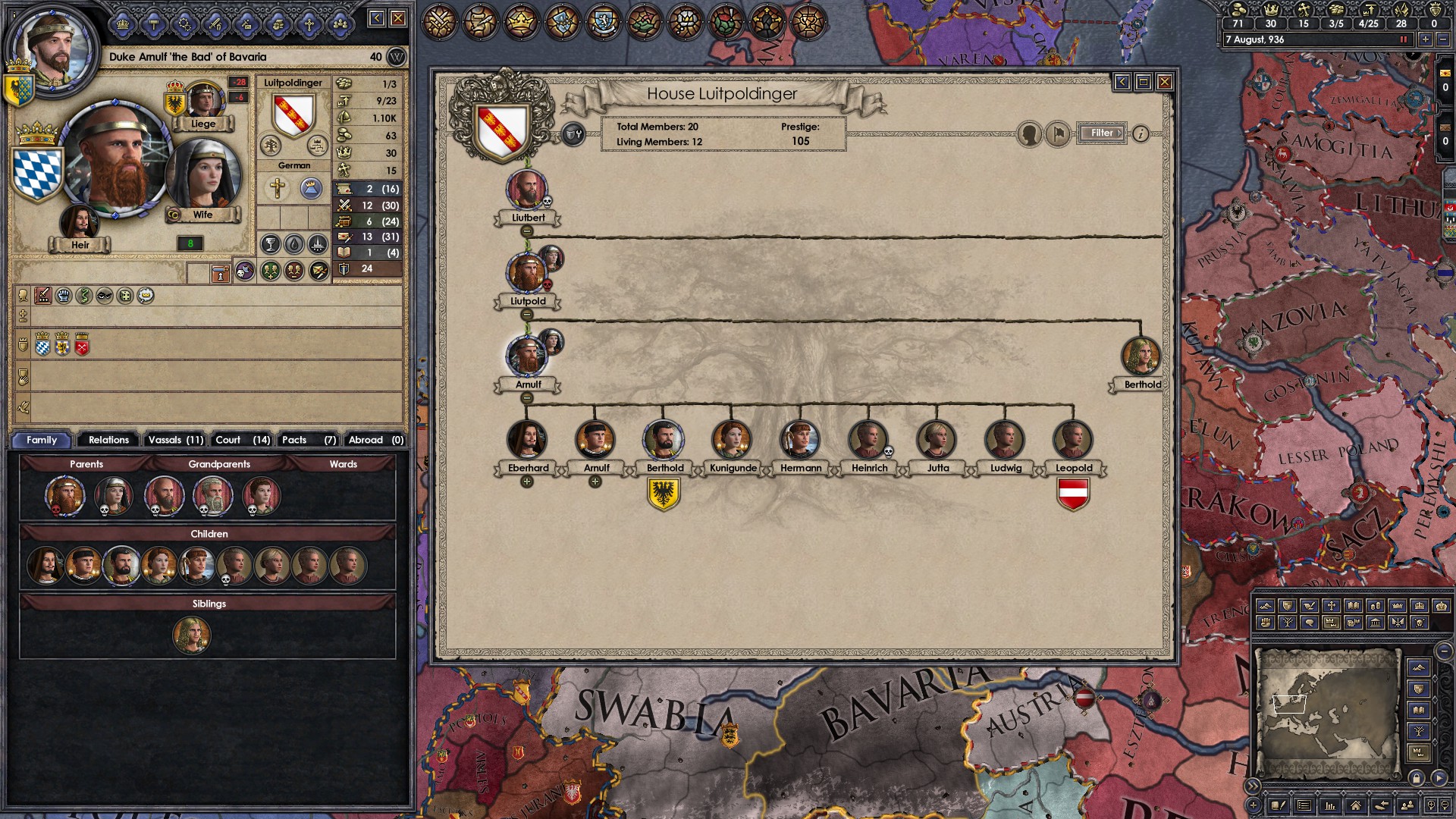 Arnulf the Bad, one of many interesting (if deeply unpleasant) characters playable in 936 - his youngest son Leopold is progenitor of the Babenberg dynasty
Thanks for reading - I hope you'll take the time to try the mod and provide some feedback. Have fun murdering inbred kids! (in-game)
Last edited:
6

2

1
Reactions: