Tonga - the Quest for Civilization
Tonga 1337-1357 Humble Beginnings
In 1337 Tonga was only a shadow of the great Tongan Empire of the twelfth century. Cut off from the rest of the world by vast oceans and by islands full off hostile natives, time had been standing still in this last refuge of Polynese civilization and the island was little more than a chiefdom. There was shell trade with the neighbouring Fijians and Samoans, who were degenerated Polynesians uncapable of any form of organisation, and highly aggressive. But noone really knew what trade was, or how it was properly conducted. Usually the one with the bigest boat got the biggest supplies, as Polynesians dreaded emptyness.
Apart from the Fijians and the Samoans, Tongan society was familiar with the island of Niue, but it was believed cannibalism was still pra ctised by its inhabitants, and the island was therefor left unvisited for the time being by the Tongans in their canoes.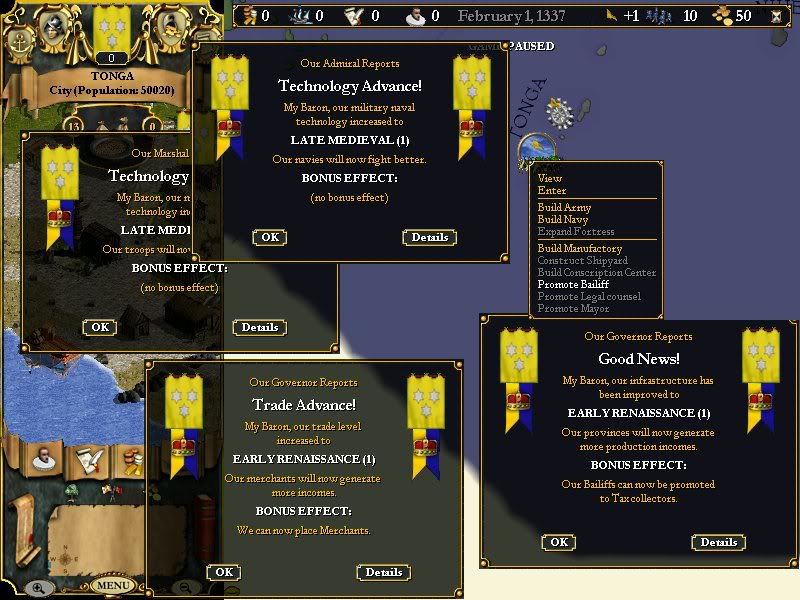 All this was about to change. In february 1337 Tongan society underwent a revolution as the secrets of trading, taxing and organised warfare were unveiled for them. The scarce surplus previous generations had generated was invested in promoting a tax collector. Careful study of the possibilities of this new knowledge proved that trade was the way to get rich and that it was something that had to be conducted in the trade center of Wismar, but noone was sure where it lay.
Wismar... the very name became synonym to paradise in Polynesian culture. It was said wealthy merchants went there after they died. It was supposed to be a great village with over a thousand huts in a great, white lagune where one could find the biggest and most beautiful shells. It was believed in Wismar people traded according to common principles, which led to great wealth and civilized manners. Some located it in the east, others believed one should sail westwards to find it. Everyone agreed the time had come for Tonga to try to go and find it.
The voyaging was all the more remarkable in that it was done in canoes built with tools of stone, bone, and coral. The canoes were navigated without instruments by expert seafarers who depended on their observations of the ocean and sky and traditional knowledge of the patterns of nature for clues to the direction and location of islands. The canoe hulls were dug out from tree trunks with adzes or made from planks sewn together with a cordage of coconut fiber twisted into strands and braided for strength. Cracks and seams were sealed with coconut fibers and sap from breadfruit or other trees. An outrigger was attached to a single hull for greater stability on the ocean; two hulls were lashed together with crossbeams and a deck added between the hulls to create double canoes capable of voyaging long distances.
The canoes were paddled when there was no wind and sailed when there was; the sails were woven from coconut or pandanus leaves. These vessels were seaworthy enough to make voyages of over 2,000 miles along the longest sea roads of Polynesia, such as the one between Hawai'i and Tahiti. And though these double-hulled canoes had less carrying capacity than the broad-beamed ships of the European explorers, the Polynesian canoes were faster: one of Captain Crook's crew estimated a Tongan canoe could sail "three miles to our two."
By 1357 large parts of ocean were uncovered, but no contact was established with the merchants of Wismar, nor with any other significant center of civilization. However, the wind began to blow from another direction in the Southern Pacific...

Last edited: