Vultec Executive Officer
86 Badges
"May Tomorrow's Sun Shine Today"
​
[...] A proverb of the Estwani since time immemorial, an expression of our industrious and pioneering spirit, undoubtedly Head Chair Ketrill chose to take our motto from it because it represents progress - progress is what keeps us alive, man, woman, clan, corporation; everyone and everything must move forward. [...] My clan have worked in the Mineral Resources division for generations; growing up, I knew I was meant for more (and I don't just mean MR Management), I always told grand-daddy Ghuum so. If he could see me now, he'd surely wrinkle his nose, he'd probably tell me not to be too full of myself. [...] I understand, these are worker's hands. [...] We all stand together, Estwani, united, looking forward, with one vision - one phrase - in our minds and on our lips, "Tomorrow's Sun, Today".
~From Executive Jesslur's inaugural "Tomorrow's Sun" address
VC-Archives, Central Routing, Full Access - Tomorrow's Sun, Today
- Navigation: Bookmarked Documents
- 1. Doc.#1,400,339,776_"The IE Memorandum"
- 2. Doc.#3,359,192,787_"Excerpt From Emergency Board of Directors Meeting-242.2207"
- 3. Doc.#49,603,944,132_Internal Communique, Declassified
- 4. Doc.#92,108,298,729_VC-NEWS Emergency Signal Broadcast-69.2242
- 5. Doc.#124,982,710,815_VCM Report To Executive Advisory Board: Destroyers-379.2251
- 6. Doc.#197,106,382,812_Excerpt From Executive Advisory Board Meeting-272.2277
- 7. Doc.#239,818,301,239_Advisory Board Recommendation: The Grand Fleet-008.2300
- 8. Doc.#273,279,010,798_Advisory Board Recommendation: Cynur Interference
- 9.​
The IE Memorandum
[VC-Archives, Doc.#1,400,339,776]
Jesslur in Profile
[Complementary Document, VC-Archives, Unsorted]

Addressed: All Vultec Corporation Employees
Addressing: Executive Jesslur
Date: 129.2193
Subject: Foundation of Interstellar Enterprises Division
Recent successes corporate-wide (but especially in new initiatives with mining-satellites in orbit of Hadrigga's Bastion) have resulted in unprecedented gains - both in credits and materials, for the Vultec Corporation.
This windfall has substantially increased stock-values, and proportionally increased the monetary worth of all Vultec employees according to their Lifetime Stock-Wage.
Rather than simply enjoying this new wealth, the Board of Directors and I have decided to reappropriate holdings from all stockholders equivalent to recent gains, which will not only allay the planetwide inflation that would surely result from such economic growth, it will grow Vultec's corporate coffers substantially.
The credits gleaned from this redistribution will be put to good work for the corporate clan. As you all know, CSO-E Darmug of the Engineering Sciences division has made new breakthroughs in his work on Stargate technology in recent years; we have an opportunity now to open an entirely new Vultec division. This "Interstellar Enterprises" division will look outwards from Wani, putting our substantial resources into exploration, exploitation, and even colonization outside of our home-system.
Here we are writing a bright new chapter in the history of the Estwani people and the Vultec Corporation
May Tomorrow's Sun Shine Today,
Jesslur
Internal Communique
[VC-Archives, Doc.#1,709,003,119]
Addressed: Interstellar Enterprises Division Head
Addressing: Science Officer Veltassa
Date: 001.2200
Subject: Taking her for a spin
As you know, our first deep-space exploration vessel has left the orbital drydocks precisely on schedule. As per tradition, the crew and I decided on a name once she was sea... spacebound, you'll like it, Lahvon the Impudent. We're scheduled to take the Gate to Zimmatulon at the end of the year, but it's occurred to me that this is a brand-new vessel - we should stretch its legs before plunging it headlong into the abyss. I've charted a leisurely trip around Wani, I'll use the opportunity to go over the celestial bodies in our own system and make sure the calibration on our instruments is spot-on. I wish you could be here - but then, you've got your own history-making work to do.
Love, your clansmate
Veltassa
VCS Lahvon the Impudent Surveying
[VC-Archives, Doc.#1,909,145,760]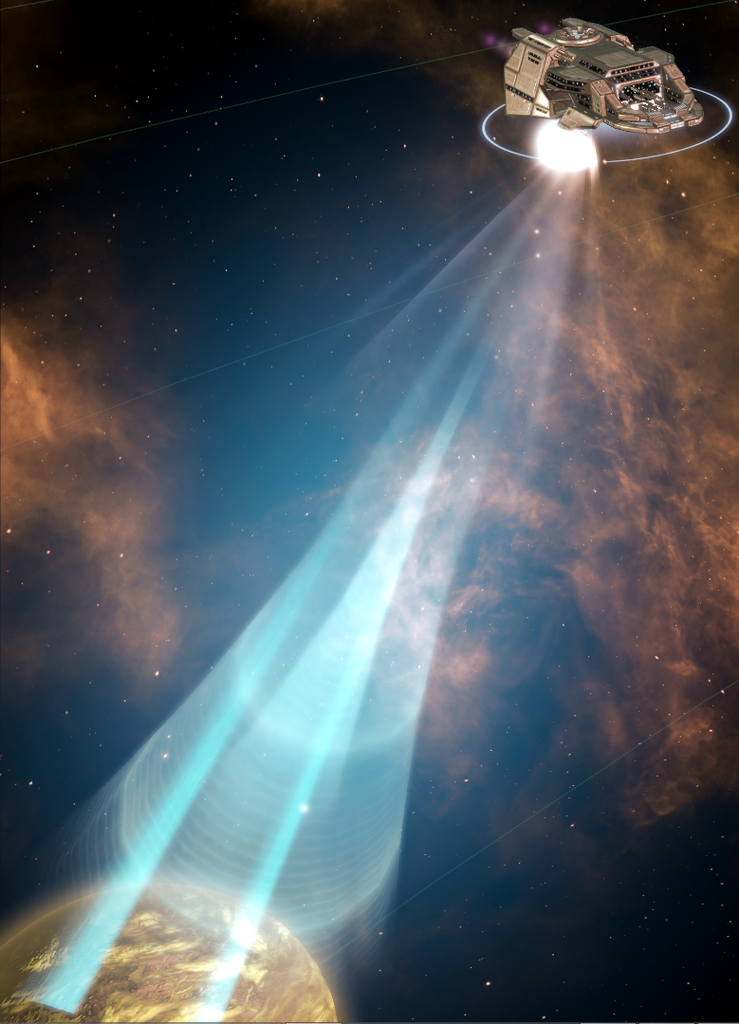 Internal Communique (7)
[VC-Archives, Doc.#2,010,624,438]
Addressed: Interstellar Enterprises Division Head
Addressing: Science Officer Veltassa
Date: 202.2202
Subject: Taking her for a spin [re]
Exciting news - the [sensor packages] onboard the Lahvon have continued to outperform the old pre-gate probes by an impressive degree; as I write this, we're in orbit over Mondak's Retreat. We're picking up more than some previously undetected valuable gases and minerals this time. I don't know how to qualify the readings yet, we need more time to perform in-depth analysis, the whole science deck is abuzz - and frankly so am I. More information as the situation develops.
PS
.
That's fantastic news, clansmate, I wish I could have been there for the ceremonies; I dearly wish you both the best, May Tomorrow's Sun Shine Today.

Love, your clansmate
Veltassa
Declassified Document
[VC-Archives, Unsourced]
Addressed: [Redacted]
Addressing: [Redacted]
Date: xxx.2202
Subject: [Redacted] Sighting
While performing [in-system planetary scans], the SVC-S Lahvon the Impudent detected [redacted] entering the [redacted] on a heading suggesting approach from [redacted]. It is unclear what we are witnessing, but it is certainly not space debris of any sort. The sighting is considered highly classified, only you, I, SO Veltassa and the Crew of the Lahvon, and certain other officials are aware of the existence of these [redacted]. Internally, the [redacted] are being called "Alpha Menace", it's been decided by [redacted] that information regarding Alpha Menace should be quarantined from the public until we can learn more.
[Redacted]
Declassified Document
[VC-Archives, Unsourced]
Addressed: SO Veltassa, SVC-S Lahvon the Impudent
Addressing: [Redacted]
Date: 245.2202
Subject: Anomaly on Mondak's Retreat
It has come to the attention of [Redacted] that your crew has discovered [Redacted] while performing scans on the planet Mondak's Retreat. You are to submit further findings on the anomaly to the head of the IE and Science departments, as well as [Redacted]. Otherwise, none except your crew is to learn what you have discovered until proper in-depth analysis can be performed and relevant experts consulted; but that is a matter for those of us planetside, and not for you to worry about.
Once you have exited the Wani system, it is [redacted] understanding that you have been granted autonomy regarding the course of your explorations, but you should make visiting the indicated system and world a priority, again, report your findings there only to the aforementioned,
On another note, [redacted] offer you congratulations on your prestigious position, you are at the forefront of the IE department's efforts, a great honor, and not to be take lightly.
May Tomorrow's Sun Shine Today,
[Redacted]
Excerpt From Board of Directors Meeting-341.2202
[VC-Archives, Doc.#2,015,111,843]
Hephanir
: This world, Zimatullon IV, Zeltassa claims its atmosphere and climate are conducive to habitation by Estwani.
Bernalon
: True, but according to his reports, it is 3/4 the size of Estwaana, or smaller - would it not be wiser to give the Lahvon time to survey the other surrounding systems before making a decision? The Science division claims that bygone planetbound astronomers identified several worlds within the theoretical range of our stargate that might prove habitable - choosing the best world first would not only...
Jesslur
: The measured approach, as always, Bernalon. Tomorrow's Sun, Today, gentlmen! We will colonize Zimatullon IV, just as we will colonize or exploit other life-bearing worlds, once the Lahvon identifies them and...
Bernalon
: Your zeal is commendable, Jesslur, but need I remind you we have an obligation to the Estwani people, our shareholders...
Jesslur
: Don't crinkle your nose at me and spew your drivel about obligations, I haven't been a child for many years and I'd be grateful for you not to treat me as one; at any rate, whatever comes, it won't be tomorrow. Reports from Chief Science Officer Ralpakin indicate he is still as many as 3 years from completing a suitable colonization vessel, if we don't have all the information we need to make an informed decision on the Zimatullon matter by then, we never will.
Kashnak
: Jesslur is right. Zimatullon raises a more pertinent question - we cannot continue to conceal the existence of advanced forms of life beyond the surface of Estwaana. Disregarding the fact that, sooner or later, such information will find a way to disseminate on its own; there's the simple matter that a colonizable world is no good if we can't put Estwani feet on its ground. We must discuss the right time and manner to break the news of extraterrestrial life to the public...
Excerpt From Executive Jesslur's "Life Among the Stars" Address-181.2203
[VC-Archives, Doc.#2,094,735, 665]
[...]
It is clear to us that life can exist amongst the stars and on other worlds - we have known this for centuries, since our ancestors first established temporary satellite colonies in orbit of our own world, and more recently the permanent mining colonies orbiting Hadrigga's Bastion. [...] It is not just us, though - other, alien forms of life prowl the reaches of space, and have likely even visited Wani in the past. We cannot afford to be intimidated by the unknown; we must push ever outwards. [...] Even now our scientists toil in the pursuit of a vessel capable of establishing a self-sustaining off-world colony, and the Board of Directors is examining a number of possibilities for that ship's first destination. [...] In the present, the honor of establishing the first inter-stellar Estwani population goes to my co-workers in the Mineral Resources division. The nearby Zimatullon system has a number of hostile worlds containing never-the-less valuable mineral and gas deposits, and a construction ship is on its way there now to build the first Estwani mining station in another star system. [...] Tomorrow's Sun, Today!
Zimatullon I Mining Station Thirty-day Report
[VC-Archives, Doc.#2,230,230,109]
Zimatullon I Orbital Mining Station
[Complementary Document, VC-Archives, Unsorted]
Addressed: MR Division Chief of Out-of-System Operations
Addressing: Zimatullon I Station Chief
Date: 94.2204
Subject: 60-90 Thirty-day Report
Production up from previous report 23% - Zimatullon now most lucrative extra-terrestrial mining operation; will be filing official petition for proportional Lifetime Stock-Wage increase for self and crew. In addition, unexpected thermal spikes on planet surface resulting in unforeseen difficulties for station, extra wear-and-tear, will need parts delivered in order to make repairs, preferably treated for extreme heat resistance (to prevent further breakdowns (and repairs) in the future). Specifications and cost-breakdown enclosed in attachment with manifests.
Tetruugh
VCS Lahvon the Impudent Survey Report (Waizirin)
[VC-Archives Doc.#2,286,024,318]
Addressed: Interstellar Enterprises Division Head
Addressing: Science Officer Veltassa
Date: 164.2204
Subject: Waizirin
Incredible! The Waizirin system contains not 1, not 2, but
3
life-bearing worlds. 2 of those worlds are suitable for Estwani colonization. Additionally, we chanced on a once-in a lifetime event over the barren world of Waizirin VI; we were able to observe a sudden gravitic shift, the world's magnetic poles actually
reversed -
and we were in orbit recording! Full data work-ups on the 3 aforementioned worlds, as well as the Waizirin VI event are enclosed in attachments.
Love, your clansmate
Veltassa
Memorandum from Chief of Biological Sciences to Board of Directors
[VC-Archives, Doc.#2,407,001,534]
Addressed: The Board of Directors [Exec. Jesslur, Exec. Hephanir, Exec. Ghuum, Exec. Bernalon, Exec. Kashnak]
Addressing: Chief Science Officer of Biological Sciences Sub-Division Ralpakin
Date: 187.2205
Subject: Final Colony Ship Design, Ready for Production
Executive Jesslur, Executives Hephanir, Ghuum, Bernalon, Kashank, I am pleased to inform you that my team has at last settled on a design for a colonization vessel which will be capable of transporting the bones and personnel for a
self-sustaining
outpost on a hospitable life-supporting world. I have personally gone over the schematics and run the numbers 3 separate times - it's ready. If Executive Jesslur would be so good as to visit the labs in Estwaa, you can look things over for yourself and give us the go-ahead to contact the orbital drydock with the designs.
Impatiently
Ralpakin
Last edited: