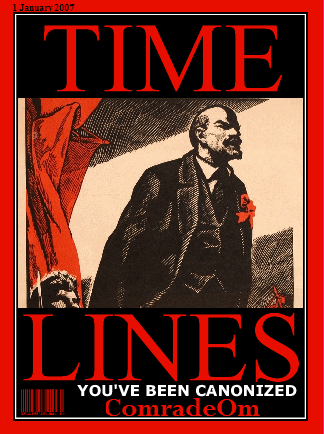 You've Been Canonized!: ComradeOm​
canonized: Hi again folks ! As you may know , I'm letting RGB do a special interview here between him and ComradeOm . I'd like to thank both RGB and ComradeOm for their participation ! Part of INSTRUMENTALITY and the Canonization series has always been about expanding horizons and trailblazing . By combining RGB and ComradeOm for this interview , I think both achieve to further that here and I hope it continues to make the canonization series and INSTRUMENTALITY dynamic and exciting . The format will be the same as the usual interviews but since ComradeOm and I haven't formally met one each other AARs the interview will be about RGB's and ComradeOm's AAR . I will deliver a closing statement at the end of the interview as well . Let's get to it !
Good evening everyone and welcome to this edition of You've Been Canonized! Today is a somewhat special edition, because I, RGB (author of a Year's Education), am a guest interviewer, kindly invited by your regular host
canonized
, author of Timelines: What if Spain Failed to Control the World? and today's guest is my good friend ComraedeOm, author of the scholarly historical aacount called Sins of the Fathers. Since he is not a regular reader of canonized's excellent Aar, we're going to ask him about my work, his work, and his experience as a writer. Nowe let's go to the questions !
RGB
: Thank you for agreeing to do this interview! Can you tell us a little bit about yourself?
ComradeOm
: I've been a minor feature on these forums for a few years now but only ventured into AARland around this time last year. I'm still feeling my way around the place.
RGB
: What took you so long to discover the glory that is the AARland? i.e. why do you think you only became a writAAR recently?
ComradeOm
: Well in a way I've always been writing AARs in my head, it's just recently that I decided to stick them down on paper, so to speak. I can vividly remember constructing my own epic stories when playing CivII all those years ago and I'm the same with CK or Vicky. I don't know what pushed me to enter AARland but it was probably something as simple as boredom
RGB
: You said you write stories in your head first. Do you spend a lot of time polishing them and trying to make them just right before they hit the paper?
ComradeOm
: For me that's all writing is - polishing up my ideas so that they're fit for consumption. I don't write for the fun of it, its merely the process of translating my mental scenarios into something that others can enjoy. Perhaps that is one reason why I have very little faith in my writing abilities and thus a reason for the torturous amount of work that I put into updating my AARs. For example, each update of Sins of the Fathers went through at least three ( usually four) drafts before I posted. The first would have been written a month in advance and only the bones of that would have survived to posting. Actually that is a habit that I'm trying kick. I think its a confidence thing more than anything else.
RGB
: The amount of work definitely shows! You're often complimented about how trim and focused your writing is, both in terms of content and style. You're also notable among us writAARs for actually finishing AARs within reasonably short amounts of time. Do you set out to write one saying, oh, this and that happened but I'm only going to cover one aspect of it, and finish it within this many updates?
ComradeOm
: When I start an AAR the ending is not set in stone but the general theme is and I'll often have specific gameplay goals around which I'll build the story. Focus is my watchword and I work almost exclusively in defined story arcs. Either that or I'm just too lazy to produce update after update week after week. This feeds in nicely with my fondness for keeping stories/updates terse. For my last AAR ( SotF) I specifically set out to tell the story within 12-15 updates. The only time that I abandoned this model was with Les Journals d'Artois and that story came badly unstuck and still needs to be salvaged
RGB
: I was just coming to that. You're the author of two finished works, and a third ongoing one, which differs slightly from the other two stylistically. Can you tell us a little about each of them? Which was your favourite to write?
ComradeOm
: I suppose that my first AAR represented the template that I'm most comfortable with. The de Lusignan Dream was a straight up history book AAR with a decided focus on crusading. I got very lucky in that my first ever effort almost wrote itself with each update being devoted to a different campaign by Hugues de Lusignan. Despite that I did learn a lot and Sins of the Fathers (detailing the rise and fall of Papal Italy) was really just an extension of this. I learned a lot from both AARs (and the reception of both was deeply gratifying) but from an experience standpoint my one great failure was invaluable. Les Journals d'Artois was originally supposed to be a brief interim effort but it rapidly snowballed and I ended up with twenty updates detailing two years of game time in which nothing happened. It taught me a lot about the importance of planning and pacing. I look forward to returning to the story soon with my lessons learned
RGB
: Okay. Speaking about themes, what made you choose the rebirth of a crusader kingdom and then the nineteenth-century papal state? is there anything in particular that attracted you to the theme?
ComradeOm
: They were simply scenarios that I liked to play. Both the Levant (CK) and the Italian peninsula (Vicky) are interesting arenas that I enjoy stomping around in. I had little background in the history of the Crusades or the Papal States but learning about both merely added to the fun.
RGB
: I was really hoping for a more humorous answer, you know.
ComradeOm
: How about this: the de Lusignan crusade was a metaphor for Western imperialism in the region. Plus I also drove the Pope out and burned the Vatican. You can mention that under my hobbies
---
RGB
: And now we'll talk about a Year's Education:
ComradeOm
: Aww now I have to talk about you? Get ready for some short answers
RGB
: You're one of my earliest readers. What made you pick out this particular AAR and stick with it?
ComradeOm
: Should I claim that the AAR has cured my pet's cancer?
RGB
: That'd help.
ComradeOm
: Poor Tiddles was miraculously cured after glancing upon one of your animated maps! Seriously though, it was probably a combination of the presentation (always important to me), the sheer depth of historical knowledge on display, and the trick of perception where you have history being told through a modern voice. Three reasons why it caught my eye and three reasons why I'm still reading. Since picking the AAR up I've been kept enthralled by the highly believable history that you've created. History book AARs are something that anyone can write (I'm talking from experience here) but I find that there are very few authors who manage to convey extremely detailed and, in your case, complex timelines while maintaining an interesting story.
RGB
: You mentioned that you find the story realistic; as a writer, my experience was often trying to come up with a realistic way of explaining the odd things Crusader Kings springs upon the unwary player. When some rather unusual things happened - such as the main event that lead to the creation of the Barbarian Empire - what was it that made you believe it?
ComradeOm
: Well that is half the fun of an AAR. Ultimately we can either ignore the game or try to explain it away. It's the latter that works particularly well in A Year's Education and the key to this, to my mind, is the tone of the work above all else. So assuredly is the history discussed and unveiled, and so common are the throwaway historical details and references, that you can't help but be convinced that it was supposed to be this way.
RGB
: Any other AARs you could compare this with?
ComradeOm
: Probably the best comparisons that I can think of in this regard would be (the now-unavailable) Prussian Moderation or Advantages without Obligations.
RGB
: Thank you for mentioning them – incidentally I'm only vaguely familiar with both of them, but I'll try to catch up now to the one that remains. This AAR promises to be a mega-campaign. Any particular era you'd like to especially read about?
ComradeOm
: My latest period of interest is the 19th C but its hard to imagine just what your Europe will look like after a few more centuries of Rurikovich squabbling (and Paradox games!). Still the emergence of new classes and politics is always interesting to behold. Of course Victoria II will probably be out by the time you get to this era.
RGB
: At the rate I'm going, more than likely!
ComradeOm
: Did you ever figure that it would take this long to cover two centuries?
RGB
: It was roughly pre-planned in terms of updates, but I had not counted on the updates taking a year to produce!
ComradeOm
: So its really been a "year's education"? Ho ho!
RGB
: Which part of those 200 years did you enjoy the most? What part of this history particularly stands out?
ComradeOm
: I'm particularly enjoying the current Mongol troubles and watching how the Empire survives the storms from the East. But even that can't surpass the intense dynastic squabbling that had previously wracked the Barbarian Empire. Ekaterine Monomach really was a character to behold and to remember
RGB
: If you were to change one single event in the presented history which would lead to a result you like better, what would it be and where would it ideally lead?
ComradeOm
: Leaving aside the scenario in which the peasantry overthrows their corrupt Rurikovich overlords before establishing a utopian commune…It's hard to think of a single point where I'd like the history to have gone the other way. Its possible that the end of the Barbarian Empire might be such a moment (I do find Greece more interesting than the steppes) but its too soon, as a reader, to tell the impact that this will have.
RGB
: Thank you for attempting my most difficult question! And now we get to talk about you again!
---
RGB
: Let me introduce your excellent AAR by asking the most difficult questions right from the start - after that we can banter. How do you view the history of the Papal States yourself? Were they doomed as a temporal power no matter what happened, or did their dramatic fall have the same roots as their dramatic rise?
ComradeOm
: I don't believe that any regime at any time has ever been doomed to fall. Plenty of nations or governments have been placed in difficult scenarios but ultimately its decisions taken by those at the top that determine a regime's survival. Its only when the wrong decisions are taken, or no decisions are taken at all, that a collapse becomes inevitable. In the case of the Papal States it was the determined refusal of the Popes to acquiesce to the changes of the modern world that doomed it. When Pius IX, in my history, determined that he could only rule as absolute monarch trouble was bound to follow. I may have hastened the effects slightly for the sake of the story but the social tensions were bound to explode at some point.
RGB
: I find that you're very focused in keeping the iron grip on your country as the pope. Although many real-life monarchies did just that, Victoria players often blink and surrender some of the power to keep their POPs happy. Did a pre-determined game goal help you not take the easy way out of the dangers absolute monarchy has in-game?
ComradeOm
: I try in, all my games, to be as faithful to history as possible. For the Papal States in Vicky this means keeping a hard line against the sins of secularism and liberalism. Its just part of the mental story that I weave when playing. This AAR wasn't the first time, and won't be the last, time I unite Italy as the Pope only to see it explode. That's all part of the fun for me
RGB
: I noticed a good deal of attention on the Pope's mercenary troops in your AAR. Any particular significance to that, in your mind?
ComradeOm
: I read a reference to the Pope employing Swiss and Irish mercenaries during the period and I found the idea appealing. It allowed me to give the Papacy a reliable military force that was impervious to the emotional waves sweeping Italy at the time. In turn this was useful in both establishing Papal dominance and portraying the final fall of Rome.
RGB
: Well, being a writAAR is an education all in itself…
ComradeOm
: Very true. I knew next to nothing about Italian unification before that AAR. Yet I still fooled you all into thinking that I knew something. Mwahaha!
RGB
: in a response to one of the comments in your AAR you said that you try to avoid making up "historical" quotes unless they actually are. Any particular reason for this?
ComradeOm
: Lack of imagination. Really, that it. There are very few words that I can put into someone's mouth that a) someone hasn't already said batter, and b) wouldn't seem artificial. Besides, that would have run contrary to the broad macro approach to history that I was taking. So I confined myself to beginning each update with an apt historical quote. It still would have been interesting to have Marx comment on the affairs in Italy though
RGB
: Now that Marx has been mentioned, can I once again ask about the heirs of the Italian Revolution. To much consternation by your readers, the AAR came to a most definite end, although a sequel was hinted at; what is the likelihood of us reading it some day?
ComradeOm
: A sequel is planned for sometime next year. I have a rough outline drawn up and ideally I'll be dealing the impact of the Papacy's demise on wider Europe. I can't say much that that though. None of my projects to date have been as deliberately plotted as this one and that is somewhat scary. What I have planned is ambitious and it remains to be seen whether I have the time to carry it all off. Of course my first priority is finishing Les Journals.
RGB
: Oh yes. Tell us more about them! This is your ongoing project; tell us more about it...what's it about, and why we should all go and read it?
ComradeOm
: Well Les Journals is essentially a series of dairy entries chronicling the life in exile of the very bitter (and mildly insidious) Jacques d'Artois as he tries to manipulate the court of Brittany to his own ends. The premise had great promise but poor planning on my part meant that it eventually got bogged down with events leading nowhere. I'm working on a series of updates that will change the format and close of the story with a bit of adventure and action. So watch this space!
RGB
: Well, thank you very much for sitting though this interview. It was a pleasure talking to you!
ComradeOm
: A pleasure. Really. Although I still feel that I should have plugged your AAR more. Lord knows it needs the readers.
RGB
: Your words, not mine!
RGB
: With this we arrive to the end of my interview segment; I'd like to thank
canonized
for giving me the opportunity and
ComradeOm
for patiently answering my silly questions. Stay tuned for the next edition of
You've Been Canonized!
canonized: Thank you for reading once again and we hope to see you all next time ! I'm very thankful for RGB and ComradeOm once again for doing this on our New Year's Edition of INSTRUMENTALITY . Although ComradeOm and myself might come from separate ends of the hobby spectrum - wink - it's nice to get to know more about him and share that with the community . Please tune in next week when we'll be interviewing ForzaA ! Good fight , Good night !