Let's look at Kham and it's periphery. (For more maps see my threadmarked posts).
Kham's early history is the history of tribes and small kingdoms, a lot of Kham's history is not properly known before the 17th century even. Though we know about the major realm of the Kham region, many which originated in the mongol era.
The major realms in Kham during the first centuries of the EUIV era include: Hor, Nagchen, Lingtsang, Chakla, Batang, Nyarong, Powo, Derge, Muli, Lithang. SOme of these were established before 1444, and some after. Obviously some sort major simplification is needed to represent this area and in this post I will talk about guidlines in how one can approach Kham.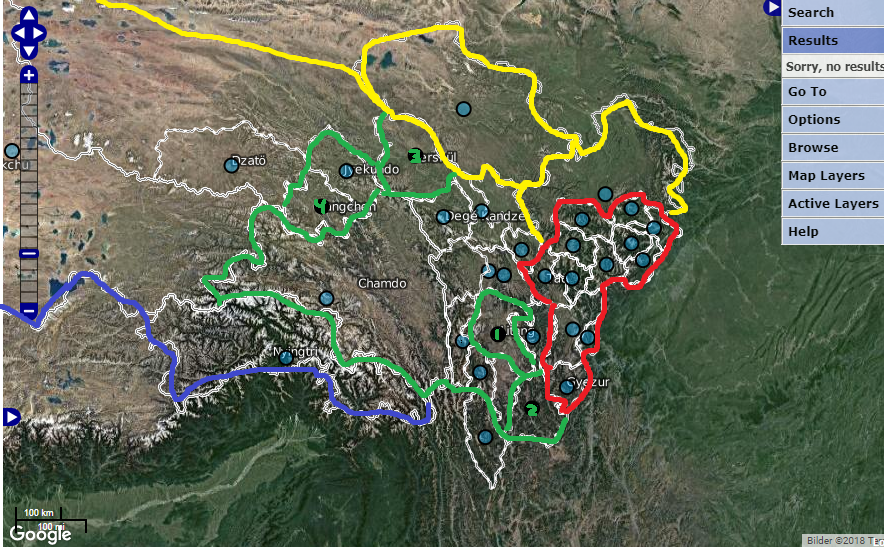 This map is based on modern tibetan counties within china, many which to some extent correspond to historical principalities and regions (many principalities are based around valleys and are thus 'natural' administrative units.
For the record I need to say about my previous suggestion on the Kham region, that I have advocated for a Lingtsang province in the southeast taking up most of thecurrent tachienlu province. This have been somewhat of an error from my part before, as I didn't realise Lingtsang and Lithang were different states. Map update of my suggestion still stands, but the proposed Lintsang province should be called Lithang (I marked the modern Lithang province with a 1 and the county corresponding to the center of the Lingtsang province with 3).
2 is the Muli county and 4 Nangchen both corresponding to the historical states.
What I have marked out with my colorful circles are cultural regions:
Green
corresponds to core Kham.
Red
corresponds to Gyelrong, a region sort of overlapping with Kham.
Yellow
is the borderland between Kham and Amdo proper, including Golok confederacy territory and the Songqu areas.
Blue
marks the border of core Ü-Tsang (and also for some stretch the border to Arunachdal Pradesh but let's not care about that)
The area north of blue, west of green and south of yellow are poorly defined periferial regions which according to various map I have seen during my studies have been taken to belong to any of the three different main regions, but also as some sub-regions of their own. Reason why the region has been so hard to define is because tibet have been so fractured and then categorizing region there no strict borders exists, different methods will yield different results and maps are sometimes based in various degrees on language, culture, religion, political history etc. The regions marked with red and yellow likewise are a sort of cultural and political border region between Kham and Amdo areas.
Karl Ryavec in his book "a historical atlas of tibet" describes the tibetan macroregions (Ngari, Ü-Tsang, Amdo and Kham and then goes on to describe the borders between the eastern region:
"while similarly vast and vaguely defined folk regions historically separated these core areas from one another. The Hor and Powo regions separated Kham from U-Tsang, while the Golok and Gyelrong regions separated Kham from Amdowhile similarly vast and vaguely defined folk regions historically separated these core areas from one another. The Hor and Powo regions separated Kham from U-Tsang, while the Golok and Gyelrong regions separated Kham from Amdo"
For a long time I have asserted that the Hor state was located in the area between Kham, Amdo and Ü-Tsang. I have just realised that there might be two political structures using the name 'Hor' one located in northern Kham just under Golok (most commonly refered to as five hor states) and the other one the one I have previously asserted which is refered to as 39 Hor tribes. Many sources have mixed this information up, and been inconsequent while describing (some sources use 5 hor states for the 39 tribes and vice versa) what I now take to be two different states having the same name (at least when transcribed in western sources).
and he leaves us with this map of tibetan regions:
I have frequently argued that Kham and Amdo should be split in two seperate states, that chinese Taozhou province and Songqu province be moved into the tibetan states. Now Iwant to discuss again what we can do with Kham and it's periphery.In theory we could get 4 new states by breaking out the above mentioned subregions, Powo (Ningchi province) Hor (Nagchu province), Golok (new province) and Gyelrong (Songqu and the new wasteland in a new tachienlu province, with the remainder of current tachienlu province be renamed Lithang).
Is this too many small insignificant countries? Maybe, though PDX are making the map more and more detailed, with a better rework of the Dokham region it wouldn't be a problem to have 5 states or so in the region. For now, after Splitting Amdo from Kham, I would prioritize getting the Gyelrong state up and running, a province for the Golok confederation, though part of Amdo state is a fairly important addition.
Before continuing looking at the Hor tribes and Powo, I want to take a look at the very large Gyeshu province. It is the sort of big province that includes a lot of sparsely inhabited lands, but it also includes one fairly important tibetan kingdom Nangqen, also known as the 25 tribes of Yushu. This state is also considered part of Kham but like all these regions borders are porous. While I would prefer to keep Gyeshu with Kham, it's not entirely impossible to put the province in a Hor state that I consider plausible.
Personally I would like Powo and Hor to become states in their own rights, but I can understand that compromises might be necessary and merging them or including Gyeshu in the state is also plausible option. Throwing in an extra province in such a huge area could aslo be a plausible option to help sort out these border areas better.
For a final peripheral area to look at, we have the Naxi Jang kingdom based in the Ming province of Lijang. The Naxi king were for a long time a tusi (local ruler) for the Ming but ruled his state fairly independently and conquered parts of southern Kham (gyelthang kingdom). This could be it's own kingdom aswell, though not that important. More notabl the Lijiang area is inhabited by tibetans and Naxi people following tibetan buddhism so the province should at least change religion to Vajrayana.
Last edited: