A man was sitting in a grass field on a nice spring day, relaxing and listening to the bird sounds around him. Suddenly a unrecognizable bright white silhouette appeared, accompanied by a screeching sound. A bang, a flash and then a strange machine stood on the grass.
The man, flabbergasted by all of this, looked at the machine in amazement. Even more bewildering was that he could read a word on the machine.
"Chronodyne", the man thought, "in Latin letters! Is this Roman trickery?"
Two men stepped out of the machine. One was a short, agitated man in a labcoat and wearing weird goggles. The other was large and muscular but somehow looking very servile. The smaller man started to laugh.
"I did it! They said I was mad, that it would never work, those incompetent FOOLS locked in their ivory towers! But here I am, in the past! Ready to take over the world!"
The larger man nervously looked around. "Dr. Ferro, are you sure we're at the right place? This doesn't look like Rome..."
"Silence! Do you doubt my calculations? Do you doubt my plan? It's pure brilliance in its simplicity: taking over the world right at the moment Augustus becomes Princeps of the Roman Empire. We take over his mind using my Persuadatron and we will rule the Roman Empire."
"But Doctor, we might have drifted off-course..."
"Everyone tries to take over the world in the current time, at which so much opposition exists, no wonder no one has managed it. Only a genius such as I could make the creative leap and try another way: go into the past, take over the leading empire of the time and
then
take over the world. So let us enter the Eternal city and..."
The man in the labcoat fell silent as he looked at the nearby city. While large and well-built, even to the most ignorant eye it didn't look like Rome.
"Mmmhh, perhaps you are right, my faithful servant. Go and ask that native where we are."
The larger of the two strangers walked to the man sitting in the grass, who was still trying to grasp what was happening. In perfect Latin, he said: "Hello, my name is Red. Could you tell us where we are?"
The man in the grass looked at Red with big eyes. "We are near Paris, Gaul's capital. You Romans sure have strange machines."
Dr. Ferro angrily kicked at a stone, then regained his calm. "Okay, okay, we have missed our target a bit. We just contact the local Roman governor and get an audience with the Emperor of the Roman Empire..."
The native man interrupted him. "Look, I don't know what you Romans are up to, but Gaul is quite independent from Rome, thank you very much, and last time I heard you Romans still had a republic, so I don't see the sense of calling your holdings in Italy the 'Roman Empire'.
A terrible thought began to dawn on Dr. Ferro. "
What year is it?
"
"I could give you the year on the Gallic calendar, but that wouldn't tell you Romans a thing. In your calendar, it is the year 490 from the founding of your city. Look, it seems you are greatly confused. Do you need...?
"That's not 26 B.C., Doctor, it's 264 B.C. Looks like you misplaced a comma..."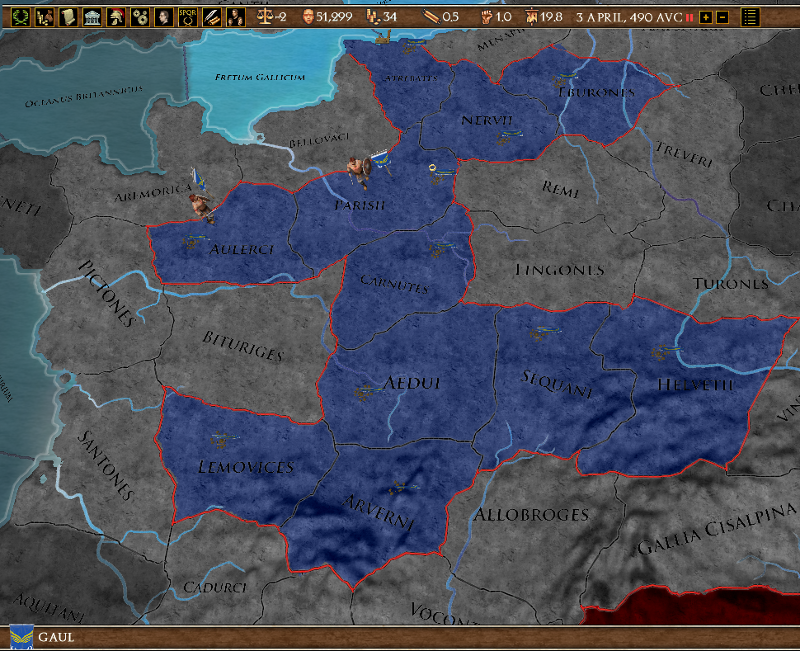 "Do'h!"
----------------------------------------------------------------------------------------------------------
Nation: Parisii, converted into Gaul.
Start date: 474 AUC (280 B.C.)
Hard Difficulty.
Version: EU: Rome Vae Victis, Beta Patch 2.35.
Modification: some changes in title requirements: what and why I changed will be explained later on.
Goal: To have fun, perhaps even TAKE OVER THE WORLD.
I have played EU:Rome VV now for about 20-30 hours and this will be my first long-term campaign. Don't worry if you are not familiar with the game, I will explain the mechanics as part of the AAR.
As you can see, I will write from the viewpoint of the time-travelling Dr. Ferro as he controls the fate of Gaul. Will he succeed in taking over the world or were they right to call him mad?
Last edited: